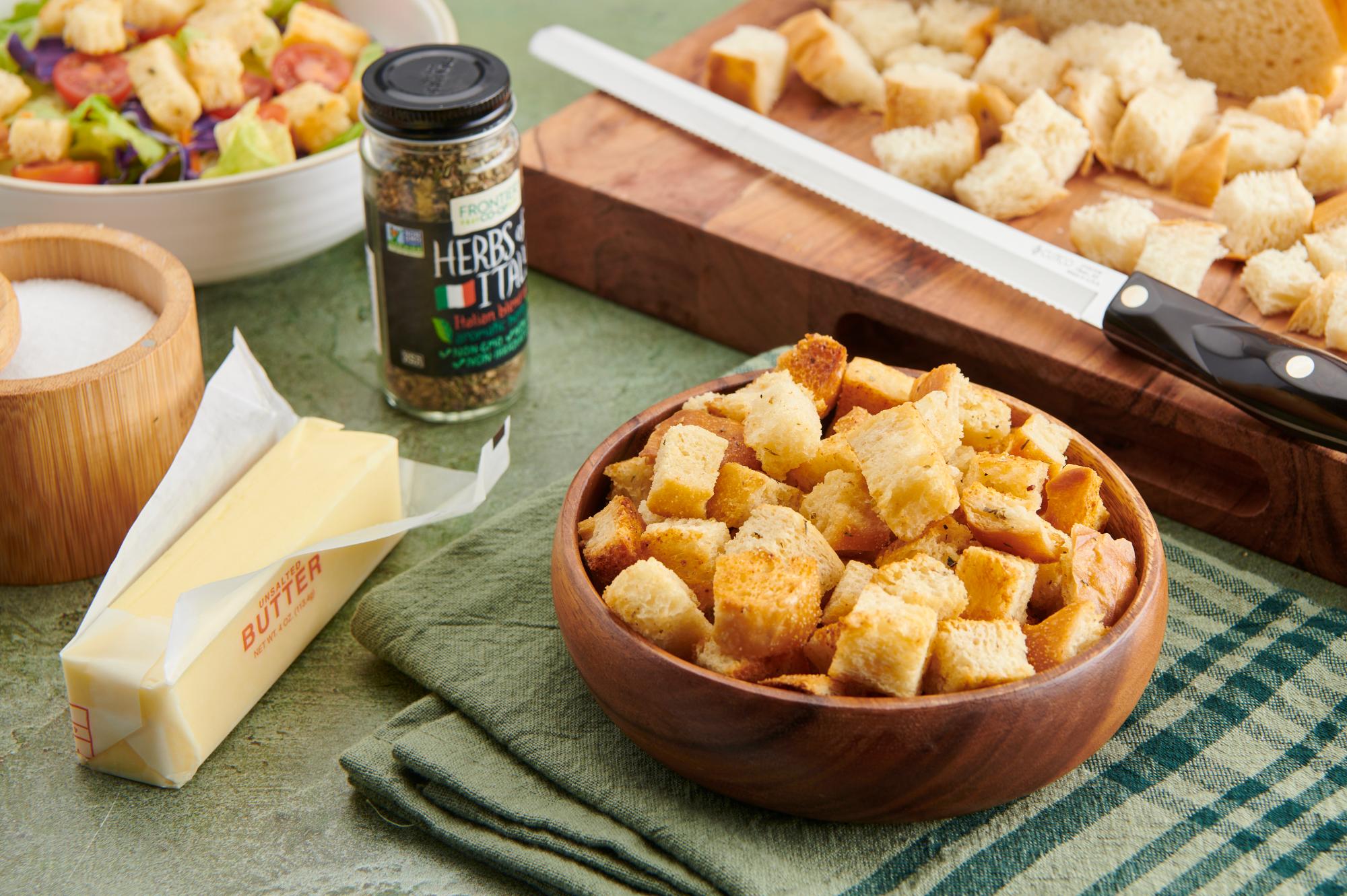 You may never use store-bought croutons again after making these Homemade Croutons. We could barely contain ourselves from gobbling them up before they were photographed.
They are buttery and savory, and are crunchy on the outside and slightly soft on the inside. With only five ingredients, they're incredibly easy to make.
Preparing the Croutons
This recipe uses sourdough bread, but French bread, pumpernickel, rye and cornbread would also taste great. If you use fresh bread, the croutons will need to bake a little longer, while slightly stale bread takes less time.
Slicing fresh bread can be frustrating if you don't have a good, sharp bread knife, like Cutco's 9-3/4″ Slicer. It moves through bread easily without ripping or tearing it.
When slicing, try to keep the bread cubes about the same size so they cook evenly.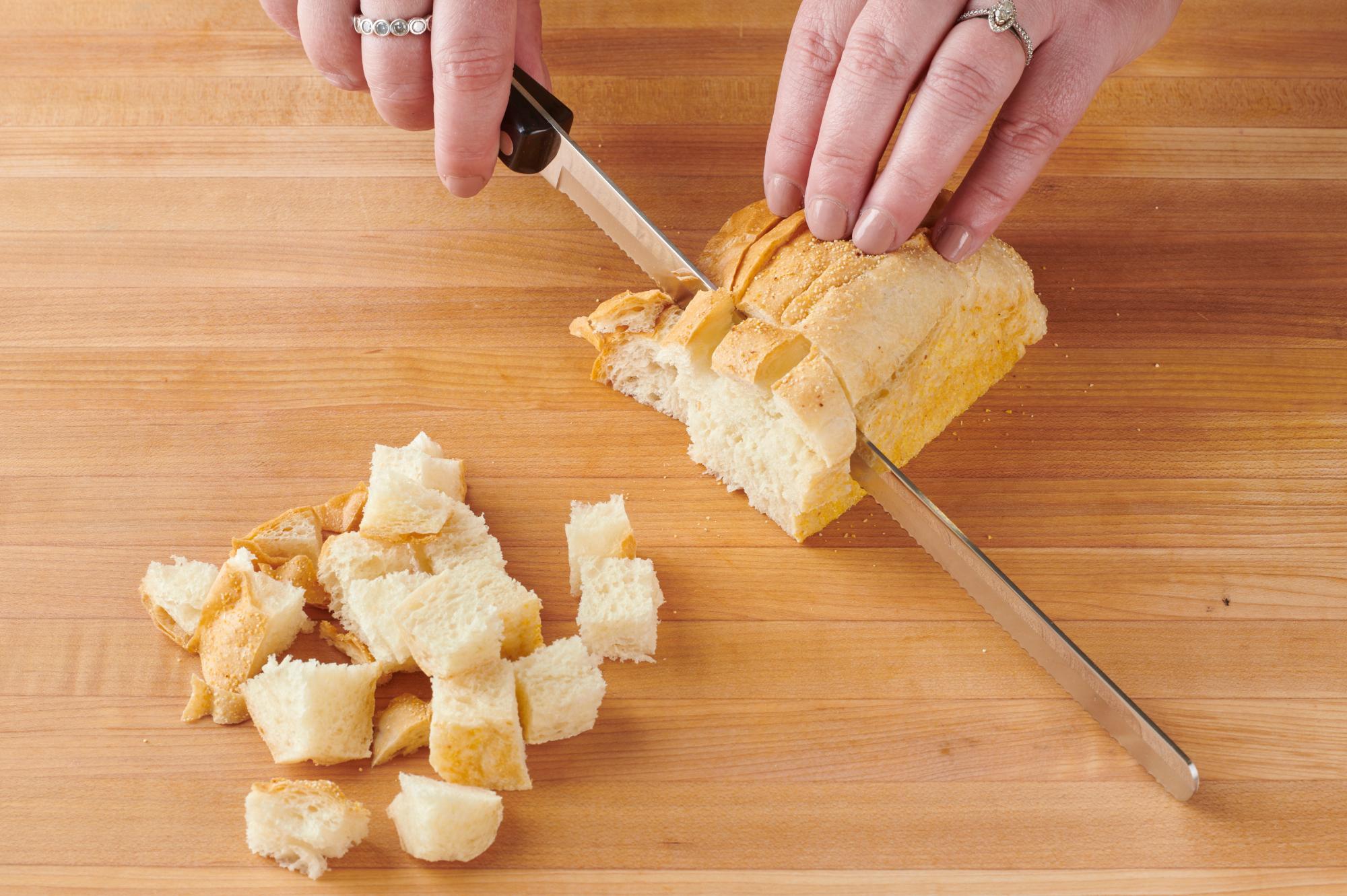 If you're using a smaller loaf of bread you can use the 7-3/4″ Petite Slicer, which has a shorter blade. Use the size bread knife that best matches the size of the loaf.
Once cubed, place the bread into a large bowl and toss with a mixture of garlic powder, Italian seasoning and sea salt.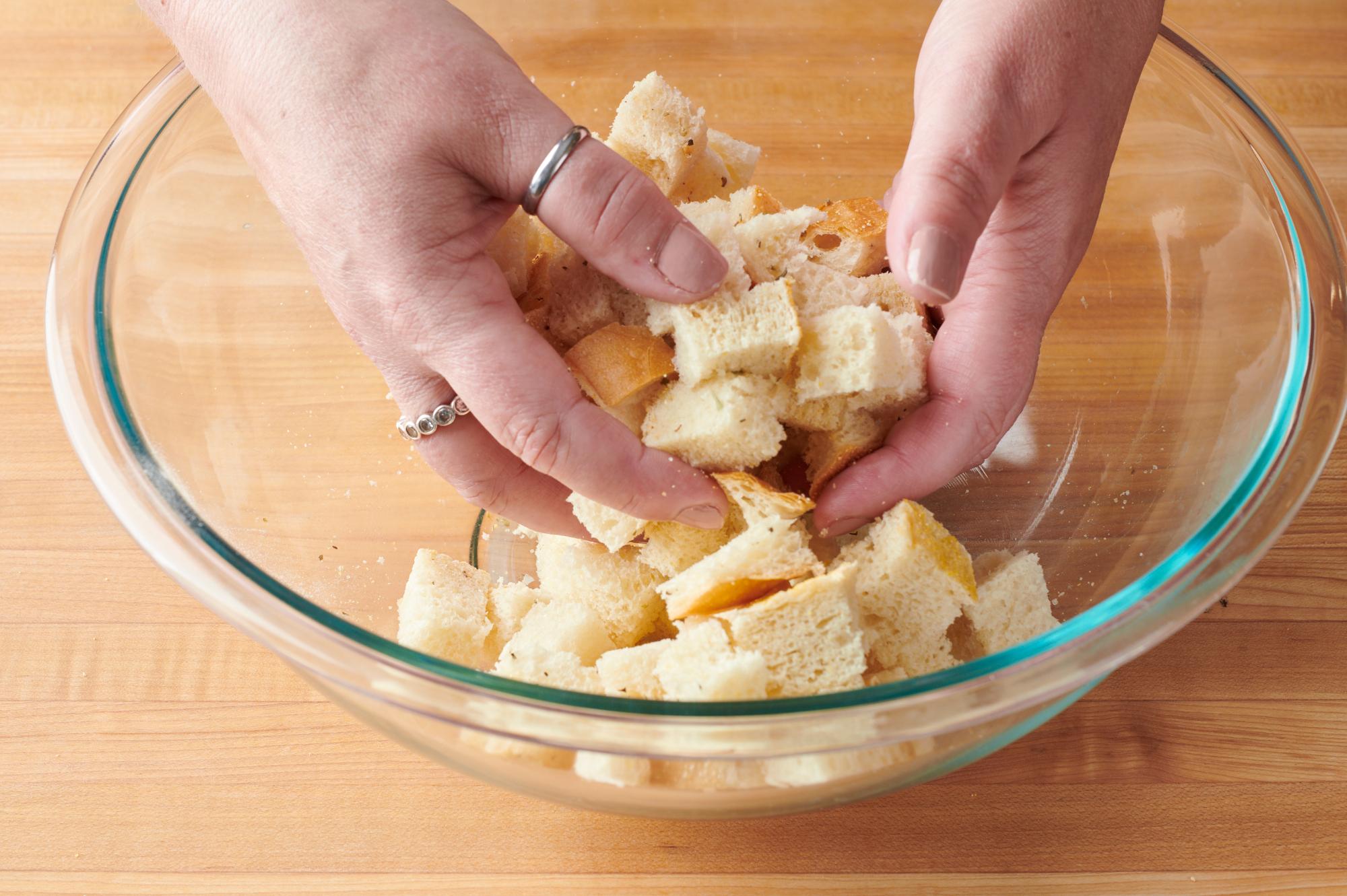 Feel free to play around with other seasonings like dried rosemary, dried parsley, onion powder or chili powder.
Once the bread cubes are seasoned, drizzle half a stick of melted, unsalted butter over the top of them.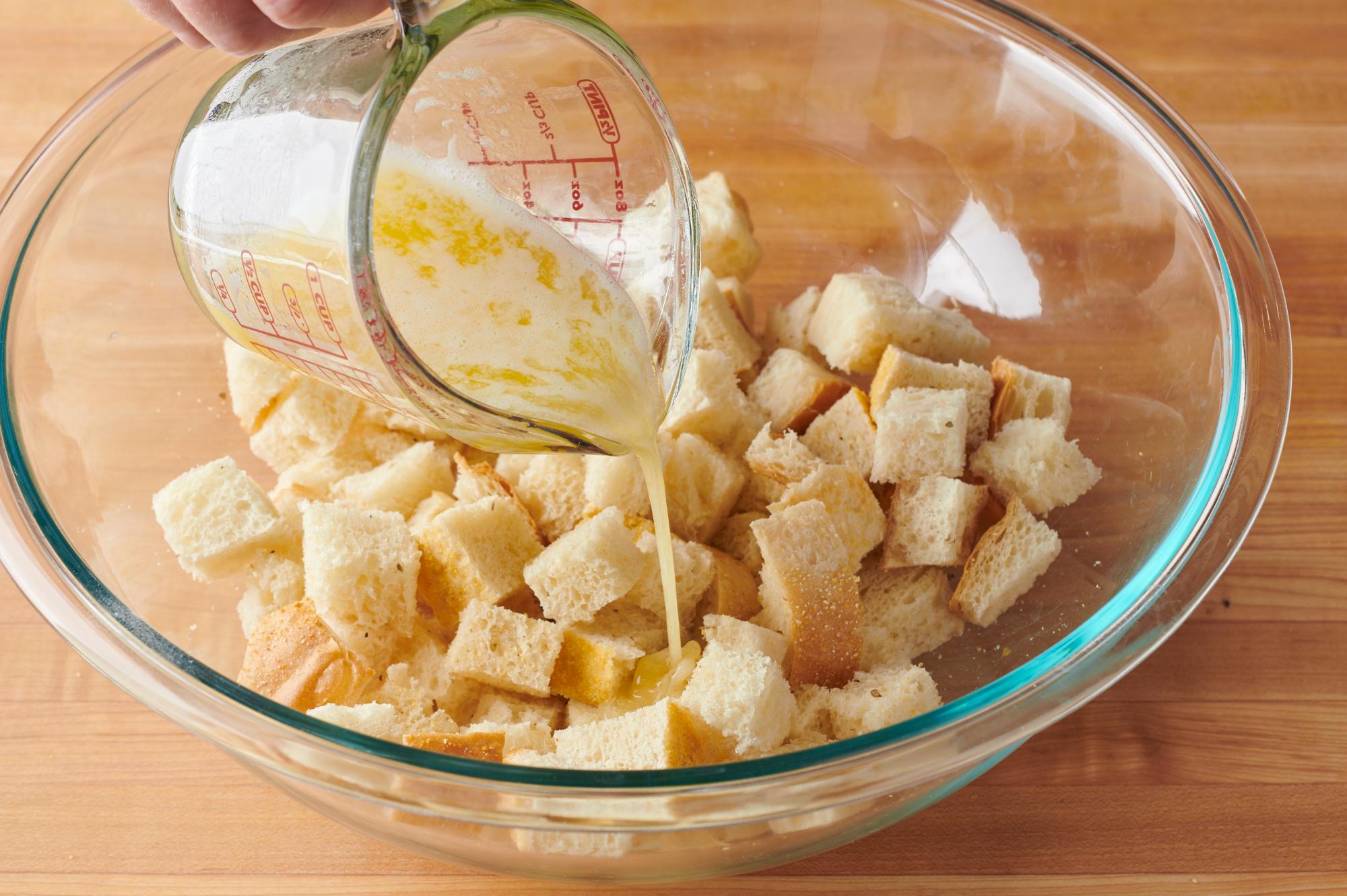 Be sure to use unsalted butter, since the recipe calls for adding sea salt. This allows you to control how salty you want your croutons to be.
Toss the bread cubes until coated in the butter and spread them onto a baking sheet, making sure not to overcrowd them.
Baking the Homemade Croutons
Bake the croutons at 375 F for 10 to 15 minutes, remembering that the freshness of the bread and the size of the cubes may impact how long they bake. Keep checking them, flipping them with a Slotted Turner about half way through the cooking process.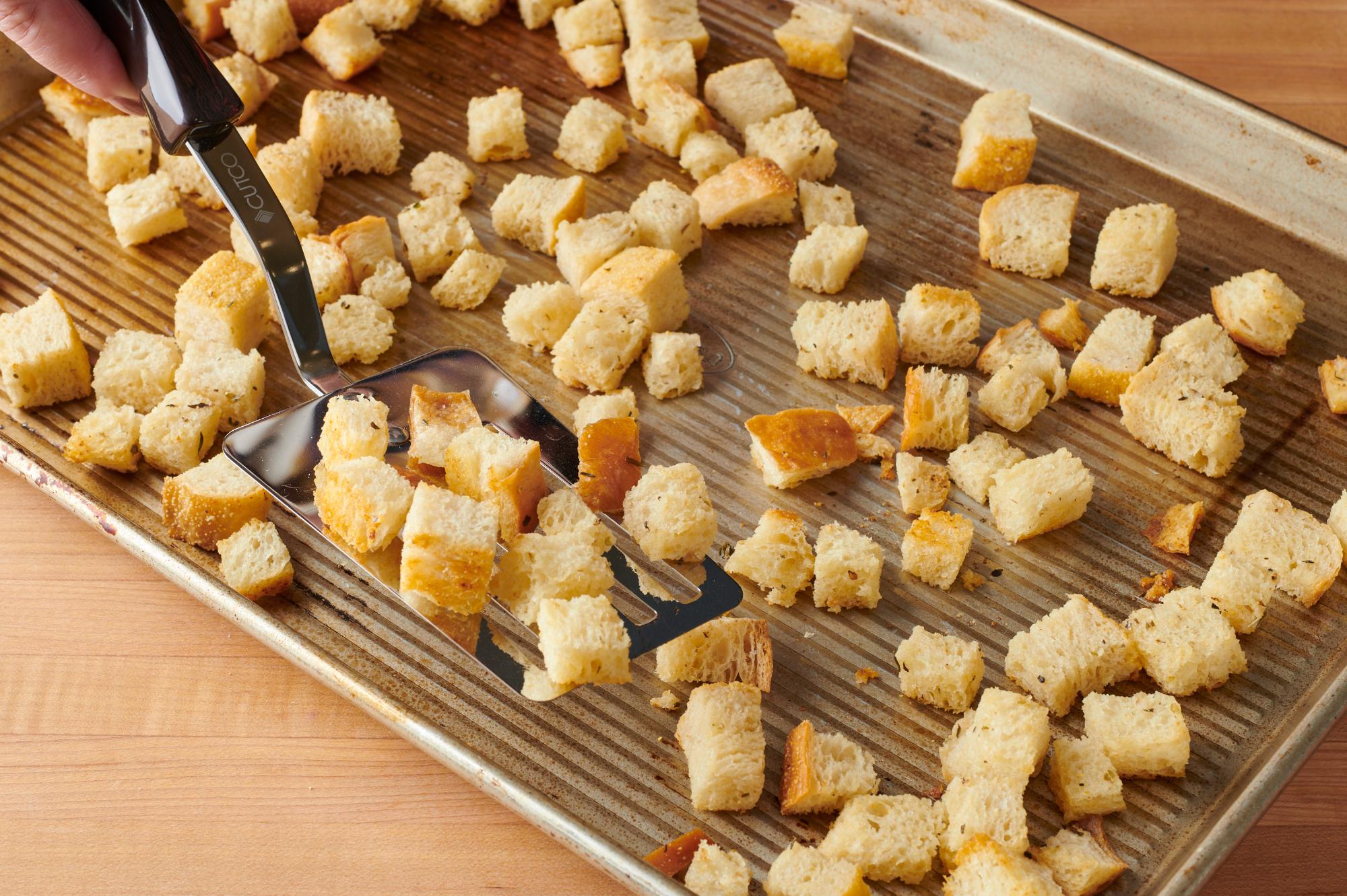 When the croutons reach a golden brown color, pull them out of the oven.
Let them cool before using on salads or in soups. You can also turn them into bread crumbs by rolling a rolling pin over them or tossing them into a food processor for a quick pulse.
If you're not eating your Homemade Croutons right away, store them in an airtight container in a dry, cool place. They should hold up for a couple of weeks. If you want to make a big batch or aren't eating them fast enough, consider freezing them and then pull them out as you need them.
They're so simple and so tasty!
Ingredients
4 cups sourdough or French bread, cubed (3/4″ cubes)
1/2 teaspoon garlic powder
1/2 teaspoon Italian seasoning
1/2 teaspoon fine sea salt
4 tablespoons unsalted butter, melted
Directions
Preheat oven to 375 F.
In a large bowl, combine bread, garlic powder, Italian seasoning and salt.
Drizzle butter over the seasoned bread and toss to combine.
Spread bread cubes on baking sheet, making sure not to overcrowd them. Bake for 10 to 15 minutes, turning half way through, until golden brown.
Recommended Tools