Gwin's Lodge Amazing Carrot Cake With Pineapple
930 days ago
Skip to recipe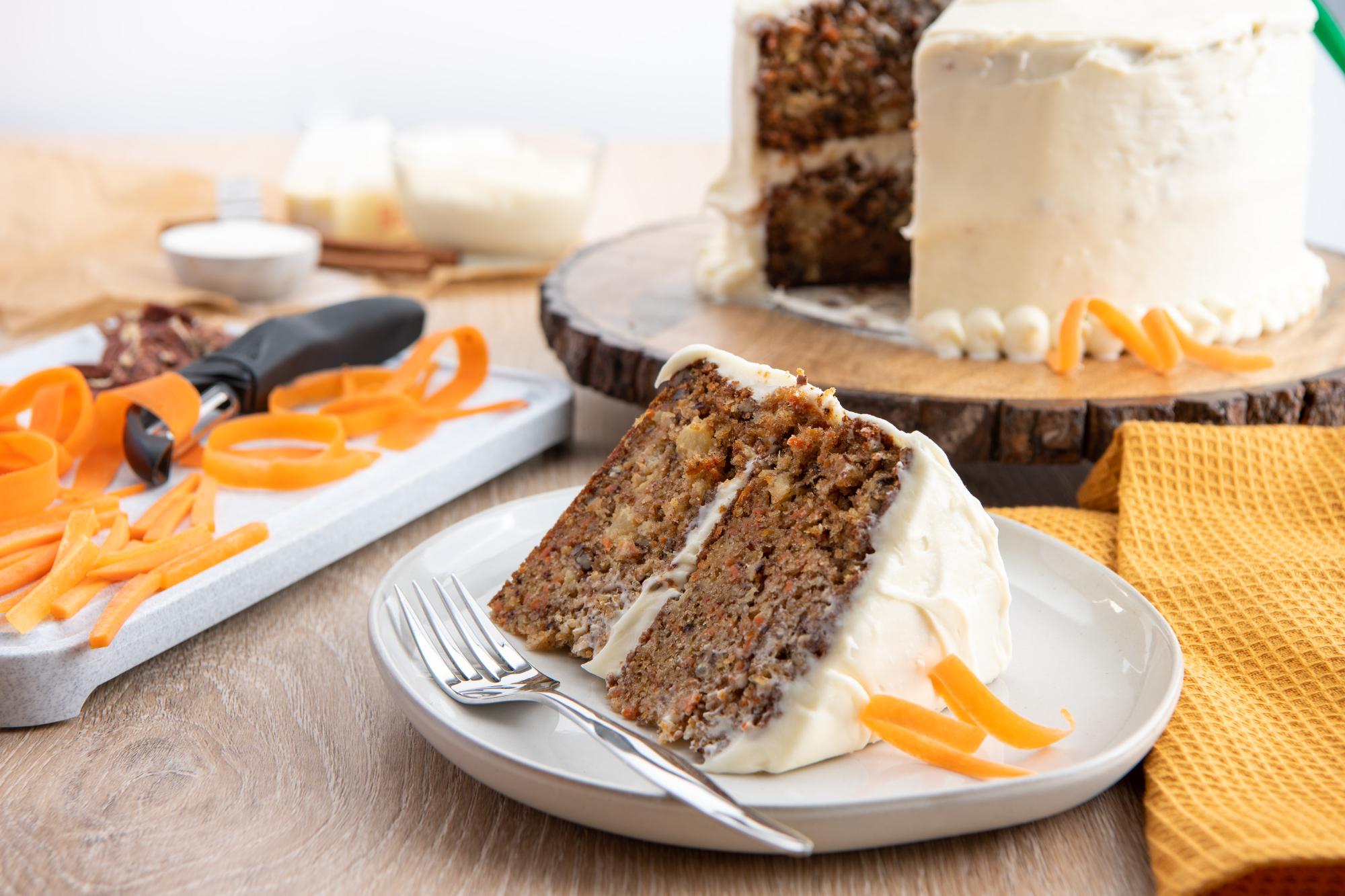 Have you ever visited a restaurant and had something that left you speechless and wanting the recipe? Let me introduce you to the Gwin's Lodge Amazing Carrot Cake with Pineapple recipe. Seriously, never did I think I would write a blog about the most fabulous carrot cake I have ever had in my life and no, I'm not being too dramatic here – just ask my colleagues who had the same reaction when we made this dessert in the Cutco kitchen.
Six years ago, my husband and I visited Alaska with two of our friends. We didn't do the cruise experience, instead we flew into Anchorage, rented a car and drove south to north and everywhere in between. It was a trip of a lifetime filled with great memories and experiences and yes, great food. I happen to love seafood so spending some time in Seward and Kenai allowed us to try king crab, halibut, salmon and many other fish varieties right from the boats that were bringing in their catch of the day. Another advantage of traveling this way was that we were able to venture off the main road and find some wonderful diners, one of which was Gwin's Lodge and Roadhouse in Cooper Landing. We actually ended up eating there twice because the food was so good and yes, we had the carrot cake both times.
What makes this carrot cake amazing is the flavor – the denseness and the fact that it's not too sweet. Even the icing doesn't push it to the too-sweet category. It's honestly a dessert that you can just keep eating because it's so good. But I'll refer back to my earlier observation of this being a dense cake, so be warned. The other reason I love this recipe is because it's a traditional carrot cake with no raisins, no coconut. Nothing over the top. The one addition is the pineapple and that is what makes this cake so moist and dense. OK, enough with the adjectives, let's get to the recipe.
To prepare the carrots, first peel them with a Vegetable Peeler.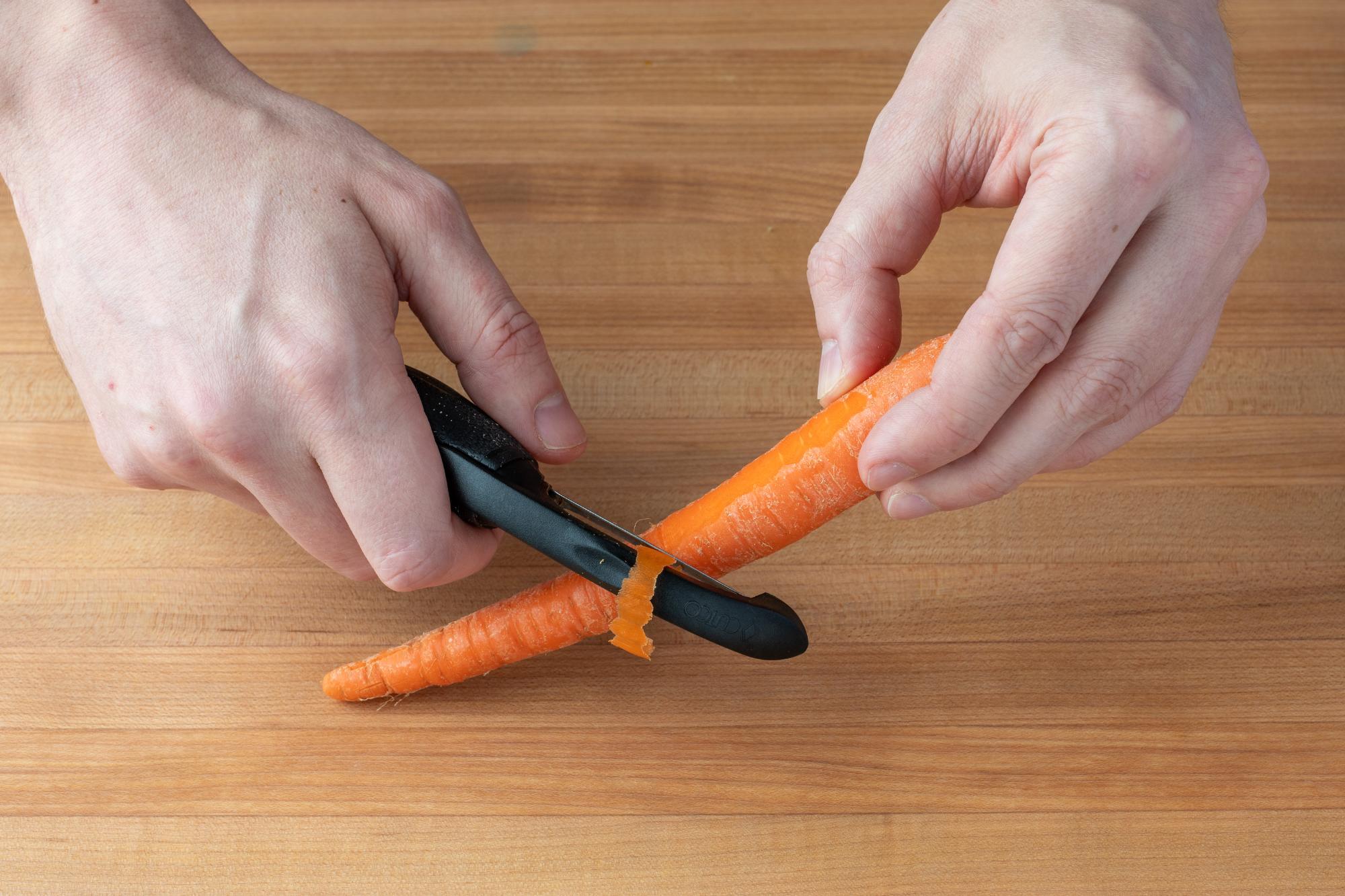 Then it's time for the more difficult task of shredding them. I can't stress enough that shredding the carrots is crucial to the success of this cake. You can mix some matchstick carrots that you have cut down a bit with shredded carrots but make sure at least half of your three cups of carrots are shredded. The shredded carrots are much smaller and bake better, adding additional moistness and a great overall texture to the cake.
To make this cake, blend together the vegetable oil and sugar until the mixture is thick and opaque. I found a stand mixer with the paddle attachment to be the best tool for this job. Then add your eggs one at a time, blending slowly. Add your dry ingredients, followed by the vanilla and mix until combined, taking care to not overmix. Add the carrots, the crushed pineapple (making sure to drain the juice – you just want the pineapple) and your nuts. The original recipe calls for walnuts, but you can also use pecans. In the directions, I do mention to mix the carrots, pineapple and nuts by hand. This is just to ensure you don't overmix. You can use the stand mixture, just make sure it's on the lowest setting.
Once your cake batter is ready, pour it into your prepared pans and bake until the center is dry to the touch (use a cake tester to ensure the batter is cooked all the way through). Take the cakes out of the oven and allow them to cool completely. While the cakes are cooling, you can make the icing, which is a simple mixture of butter and cream cheese (both at room temperature), vanilla, lemon juice, confectioner's sugar and half-and-half, if needed. You do want to make this icing in advance and give it time in the refrigerator to firm up before you attempt to frost the cake.
Once the cakes are cooled and your icing is properly set, place your first cake layer on your serving dish and frost the top. Place the second layer on top and crumb coat the top and the sides of the cake. Place the cake in the refrigerator for the icing to set for about 30 minutes.
Take the cake out of the refrigerator and, using the Professional Spatula, frost the entire cake with an even layer of the icing.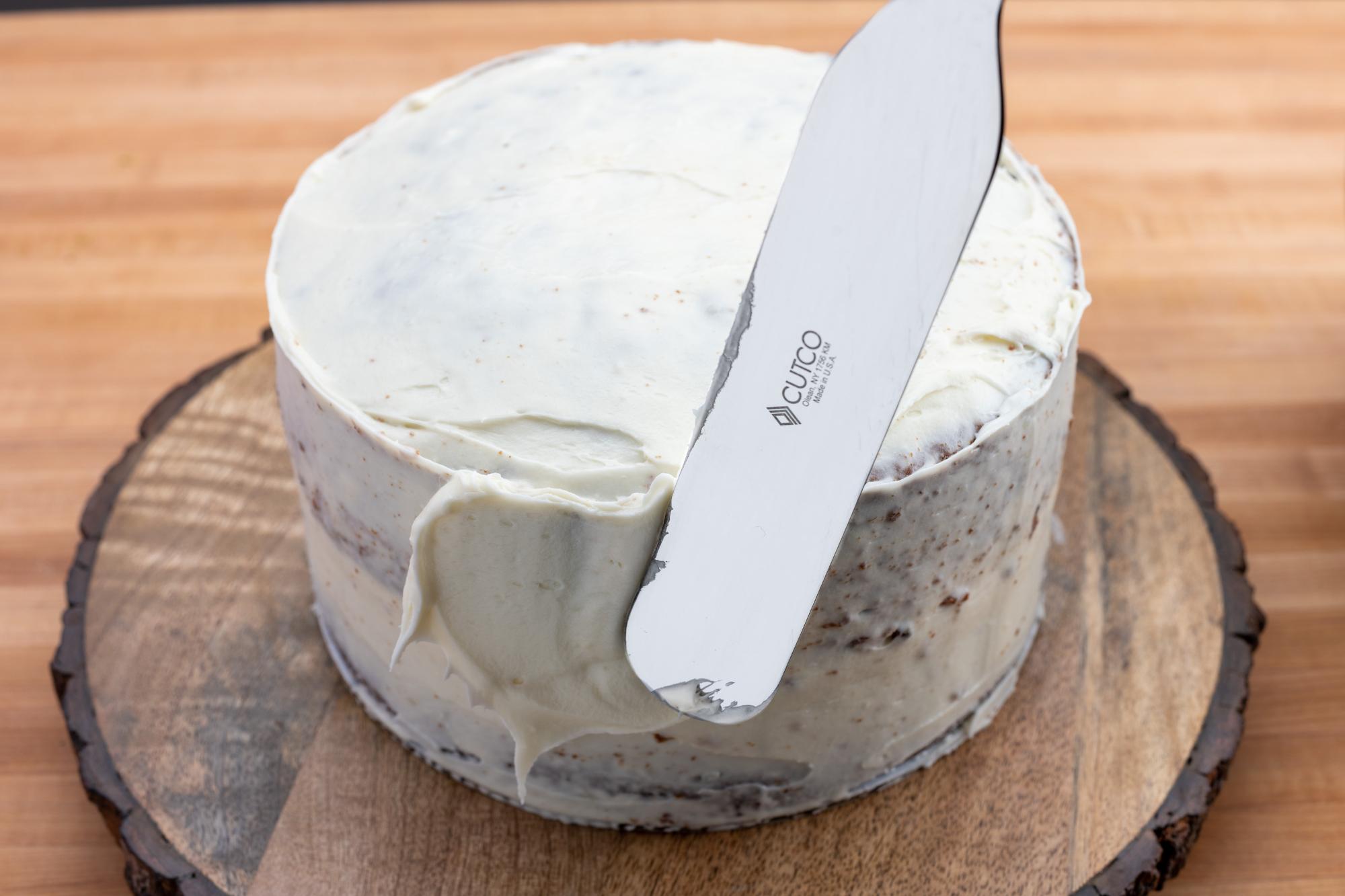 We kept the decorations to a minimum and simply used a round frosting tip to create a nice border along the bottom. We also peeled some carrots, formed them into curls and placed them in ice water to retain their shape and when we were ready, strategically used them as decorations on top.
Let the cake set in the refrigerator before serving and then, using a 7-3/4" Petite Slicer, cut a generous portion to serve. Trust me on the generous portion suggestion. Once your guests try this cake, they're only going to ask you to cut another slice so you might as well save the time.
Let's just say that this carrot cake did not last in the kitchen. Every last crumb was devoured. We had members of our team eat it for breakfast justifying that with all the carrots, it was actually healthy. I'm not going to go down that path, but I do highly recommend giving this carrot cake a try. Gwin's Lodge Amazing Carrot Cake with Pineapple has the word amazing in the actual recipe title and that pretty much sums up everything you need to know. Enjoy!
Credit to Gwin's Lodge for this recipe
Gwin's Lodge Amazing Carrot Cake with Pineapple
Print Recipe
Ingredients
For the cake
Cooking spray
1 cup vegetable oil
2 cups sugar
4 eggs
2 cups flour
2 teaspoons baking soda
2 teaspoons ground cinnamon
1 teaspoon salt
1 teaspoon vanilla
3 cups shredded carrots (approximately 5 large carrots)
8 ounces crushed pineapple in pineapple juice (drained)
1 cup walnuts or pecans (finely chopped)
For the icing
1 cup unsalted butter, room temperature
1 pound cream cheese, room temperature
1 teaspoon vanilla
1 teaspoon lemon juice
3 cups confectioner's sugar
1/8 - 1/4 cup half-and-half, to thin frosting if needed
Directions
Prepare the cake:
Heat oven to 350 F.
Prepare two 8-inch round baking pans by spraying them with cooking spray and lining the bottom of each with parchment paper.
In a stand mixer (or using a hand mixer), beat oil and sugar together until thick and opaque.
Add eggs one at a time and beat until thoroughly mixed.
Slowly add dry ingredients and then add vanilla.
By hand add carrots, pineapple and nuts, and gently mix together until thoroughly combined. Don't over mix.
Pour into prepared pans. Bake 50-55 minutes until dry to touch. Cool and then invert to plate to further cool before icing.
Prepare the icing:
Beat butter and cream cheese until smooth.
Add vanilla and lemon juice and beat until mixed.
Add confectioner's sugar small amounts at a time. Add half-and-half for proper consistency.
Refrigerate until firm enough to spread evenly (the icing will be very soft so you will want to firm it up slightly before frosting the cake).
Assemble the cake:
To construct the cakes, place one layer on your serving plate and coat the top with the icing.
Top with the second layer and crumb coat the top and sides of the cake. Place in the refrigerator for 30 minutes to set.
Take the cake out and finish frosting the sides and top and decorate as preferred.
Recommended Tools