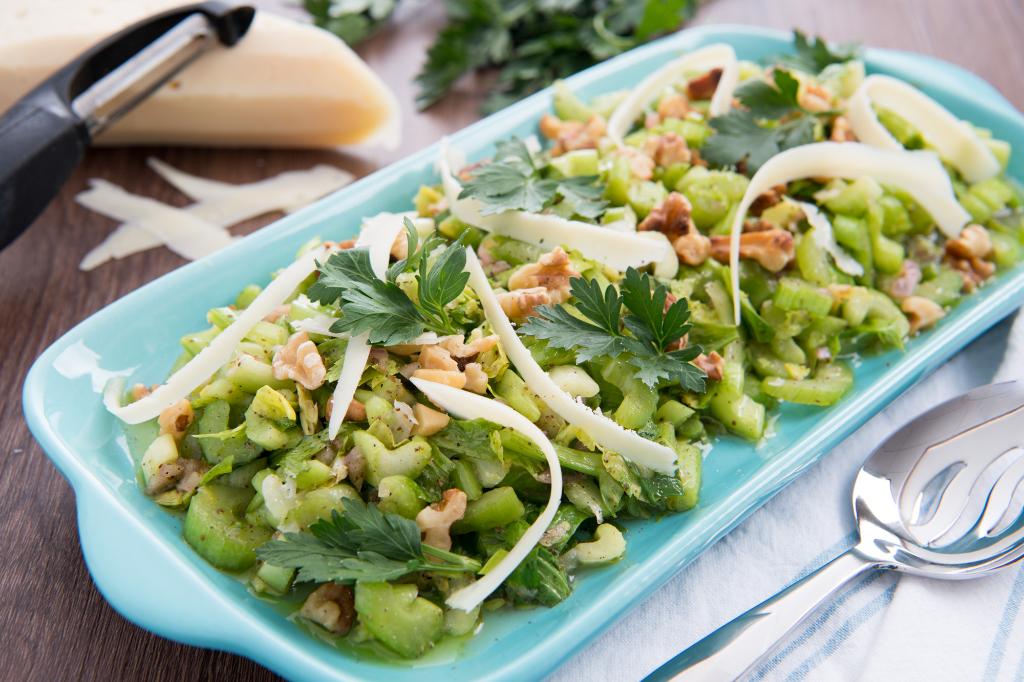 When I thought of the prospect of making a celery salad I thought, "Who wants to eat a dish of sliced celery?" It has practically no taste. Sure, it is great with its stalks stuffed with peanut butter and flavored cheese spreads, or dipped in blue cheese dressing and eaten with chicken wings. But served on its own in a salad with a lemony dressing? I wasn't sure if this was even worth trying.
This was one of those surprise dishes that, once you taste it, you say "who knew!"
It is crunchy and tangy, and the cheese and walnuts add a little something extra, taking it to the next level. This turned out to be a perfect summer salad. I would recommend serving it as a side with seafood or chicken.
Prep is simple using the 7-5/8" Petite Chef. Its long blade can easily slice through several stalks of celery at a time.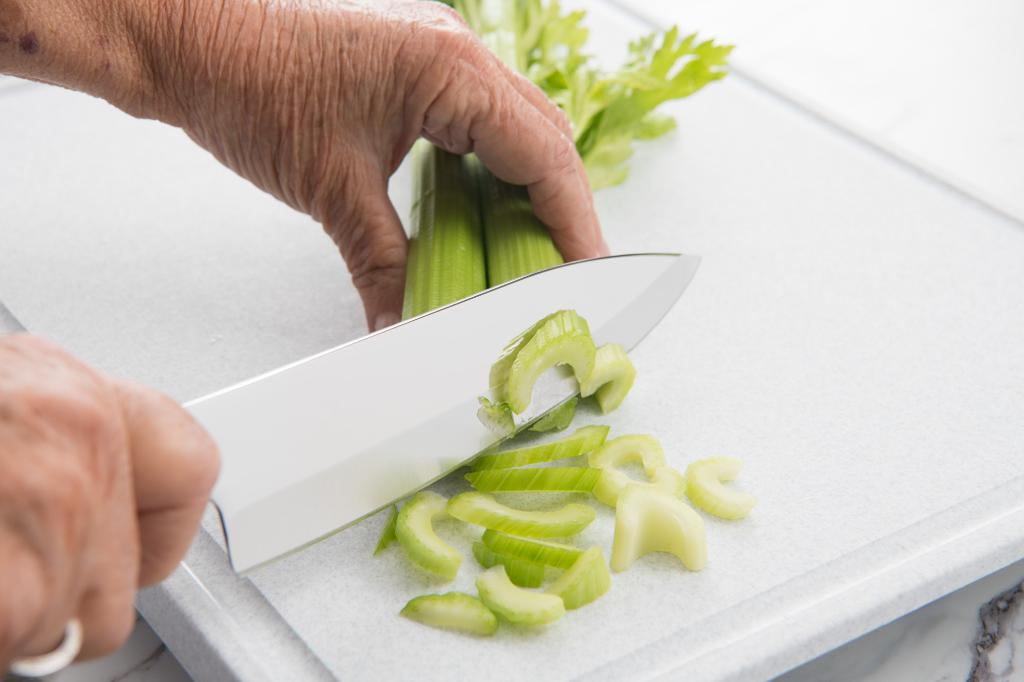 A few whisks with the Mix-Stir incorporates the dressing ingredients in seconds. And, of course, the make-ahead factor is always nice. Once made, just put it in the fridge until serving time.
I hope you try this recipe. I think you'll be pleasantly surprised. Don't skip any of the ingredients. It really takes all of them to produce this refreshing salad.
Ingredients
1/2 cup olive oil
2 teaspoons lemon zest
1/4 cup, plus 1 tablespoon freshly squeezed lemon juice (about 3 lemons)
2 tablespoons minced shallots
1 teaspoon celery seed
1/2 teaspoon celery salt
1/2 teaspoon anchovy paste
Kosher salt and freshly ground black pepper
5 cups thinly sliced celery, leaves included, sliced on an angle (about 12 stalks)
4-ounce chunk of Parmesan cheese
2/3 cups toasted walnuts, chopped
Flat leaf parsley leaves, torn
Directions
At least one hour before serving, whisk the olive oil, lemon zest, 1/4 cup lemon juice, shallots, celery seed, celery salt, anchovy paste, 2 teaspoons salt and 1 teaspoon pepper together.
Place the celery in a bowl and toss with remaining 1 tablespoon of lemon juice. (Do not skip this step, it does make a difference). Add dressing to moisten well. Cover and refrigerate for at least an hour to allow the celery to crisp and the flavors develop.
To serve, arrange the celery on a platter, shave the Parmesan onto the celery with a Vegetable Peeler, sprinkle with walnuts, torn parsley leaves, salt and pepper.
Serve immediately.
Recommended Tools