Campfire Roast Beef Stuffed Sandwich
Published 1458 days ago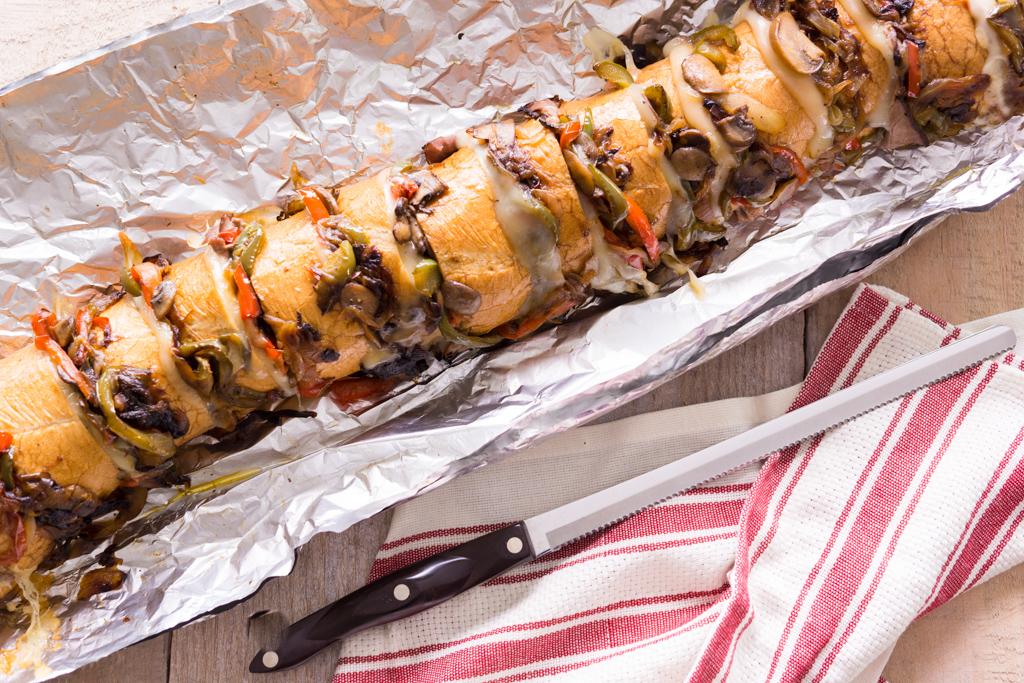 More and more families are choosing camping as a way to vacation. Camping shelters run the gamut from simple tents to truck-hauled trailers to giant recreational vehicles. No matter how you choose to camp, here's a recipe that will impress even the most seasoned camper.
This hearty Roast Beef Stuffed Sandwich is a nice alternative to traditional foil pack dinners and will feed several. Some of it can be prepare ahead of time and then assembled and heated through at mealtime. We used a loaf of French bread which seemed to be a little too narrow. I think a wider loaf of Italian bread would work better. Be sure to pack a 7-3/4" Slicer or bread knife to cut the bread. The sandwich can be prepared by using the knife to slice slits into the bread vertically and stuffed with ingredients or you can slice it in half horizontally and layer the ingredients inside like a traditional sandwich.
TIP: I talked to a friend whose family camps almost every weekend. She is a proponent of individual foil packs which she usually puts together ahead of time. She told me that the key to a good packet is to layer the food that needs a hotter temperature for cooking or longer cook time on the bottom and end with the food that requires less heat on the top so it doesn't overcook or burn.
Ingredients
Garlic Butter
1 stick of butter (8 ounces), softened
2 1/4 teaspoons garlic powder
1 1/2 teaspoons dried parsley
Onion, Peppers and Mushrooms Mixture
1 large onion, sliced thin
1 green pepper, cored and sliced thin
1 red pepper, cored and sliced thin
1 pound button mushrooms
3 tablespoons butter, divided
1 tablespoon canola oil
4 tablespoons olive oil, divided
Salt and pepper
Sandwich
1 large loaf of French or Italian bread
1 1/4 pounds of thinly sliced deli roast beef
1 pound thin sliced Provolone cheese or 1 pound thin sliced Pepper Jack cheese or 1/2 pound of each
Heavy duty aluminum foil
Directions
Mix the stick of butter, garlic powder and dried parsley together. Refrigerate in a small container with a tight fitting lid.
Season the onion with salt and pepper and cook over medium heat in 2 tablespoons of butter and 1 tablespoon of canola oil until golden brown.
Cook the peppers over medium heat in 2 tablespoons of olive oil until tender crisp.
Cook the mushrooms over medium heat in 2 tablespoons of olive oil and 1 tablespoon of butter until golden brown. Season with salt and pepper.
Mix the cooked onion, peppers and mushrooms together and store in a covered container in the refrigerator.
To assemble the sandwich: Allow the garlic butter mixture to soften for easier spreading.
Cut slits into the bread about 1 1/2 inches apart but not all the way through. Butter the inside of each slice with garlic butter
Put slices of roast beef between each cut. Add a large spoonful of the onion, pepper, mushroom mixture and a slice of cheese.
Spray a large piece of foil with non-stick cooking spray. Put the sandwich on the foil and wrap tightly.
Place the foil pack near the hot coals of the fire, but not in the fire. Heat for approximately 30 minutes or until the sandwich is heated through and the cheese has melted. The sandwich can also be heated on a gas grill set to low or in a 375°F oven for about 30 minutes.
Cut into slices and serve.
Recommended Tools