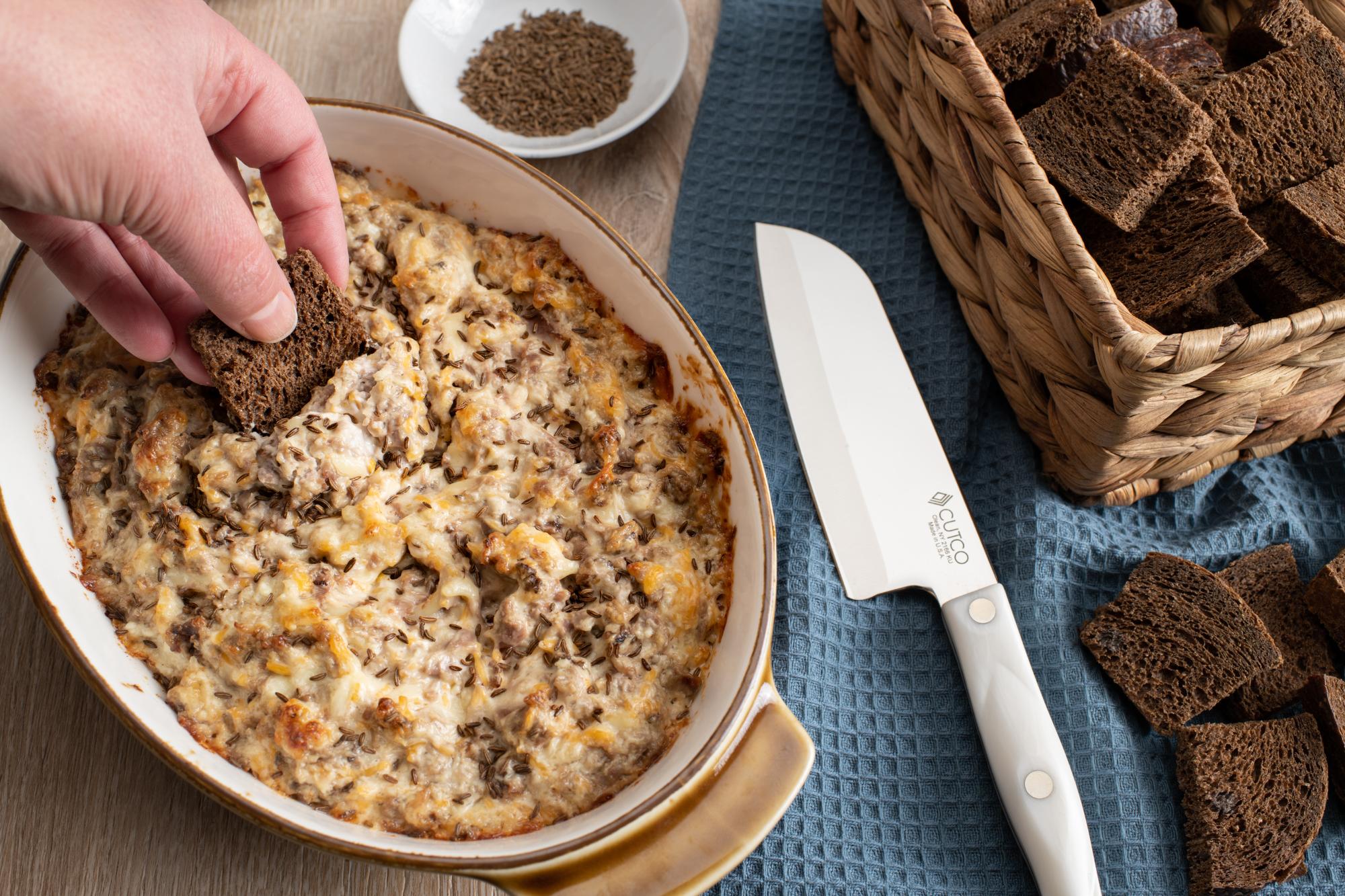 If you've ever lived or visited western New York, you've likely been introduced to beef on weck. If not, let me take a moment to describe this wonderful sandwich that is a point of pride in our area. The meat of the sandwich is roast beef, traditionally served close to rare, thinly cut and spread with fresh horseradish (the kind that clears your sinuses). The sandwich is then served on a kummelweck (weck) roll that is topped with kosher salt and caraway seeds, with a side of au jus for dipping. Simple, yet so delicious. What could possibly be better than that?
Easy! Beef on Weck Dip! We've taken the traditional sandwich from the region where Cutco is located and turned it into a dip, because, why not? It has all the goodness of the sandwich with a few extras thrown in to make it extra creamy. And, if you can't find a kummelweck roll, this is the next best thing.
Making Beef on Weck Dip
This dip gives you the option of using pretzel crisps or crackers for dipping, but we highly recommend cutting up some pumpernickel bread, toasting it and serving it with the dip. To prepare the bread, use a 9-3/4" Slicer to slice it. Cut the slices into large strips and then turn the strips to cut crosswise into squares. Place the squares onto a baking sheet and toast the bread for eight to 10 minutes at 350 F, flipping the bread halfway through the cooking process.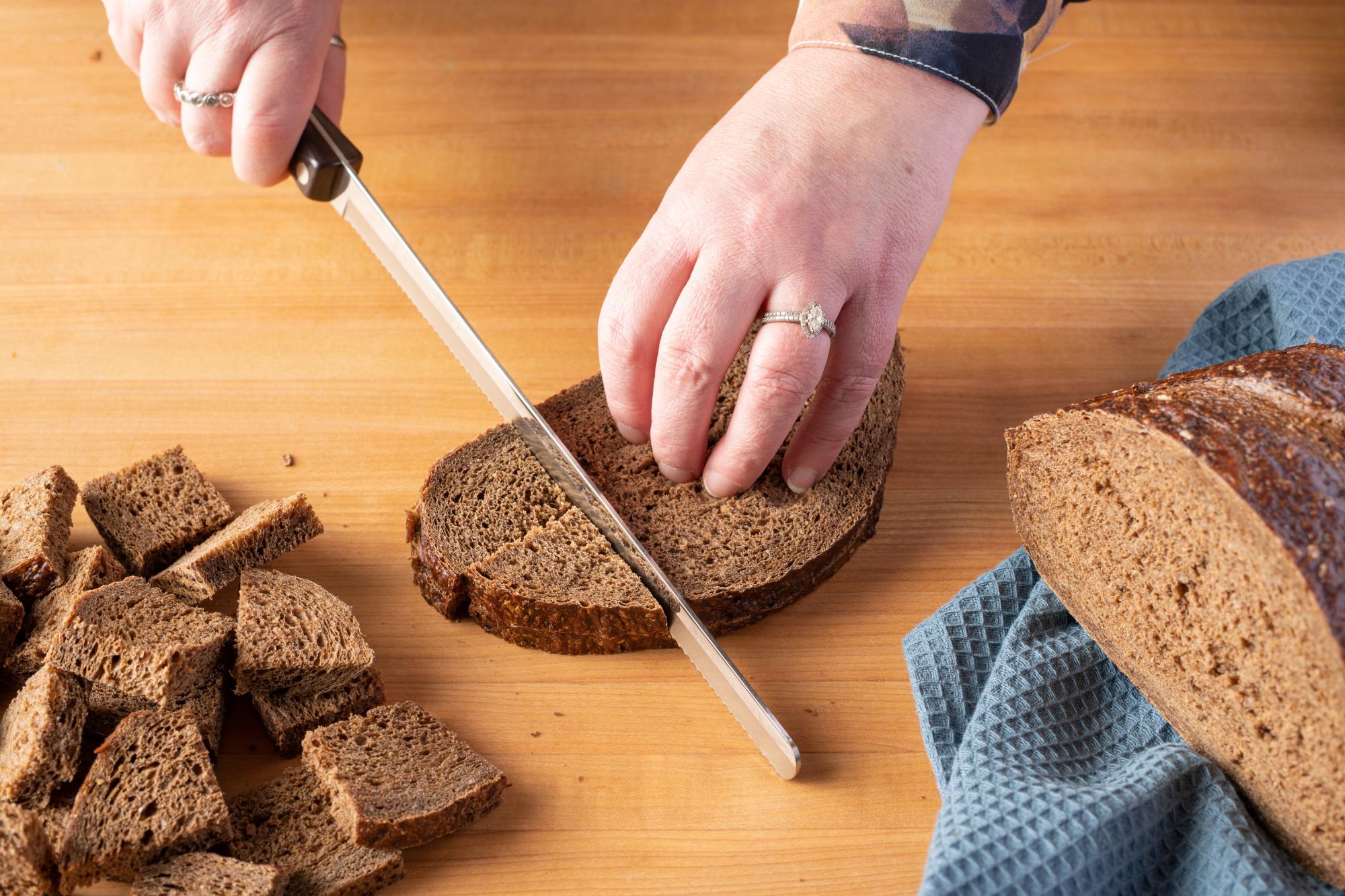 This dip is so easy. The hardest thing to do is to wait for it to cook!
For this recipe, we're recommending to use sliced roast beef that you can purchase from any grocery store's deli. Just have them thinly slice it. To prep it for this recipe, use a 5" Petite Santoku knife to chop the beef into bite-size pieces and set aside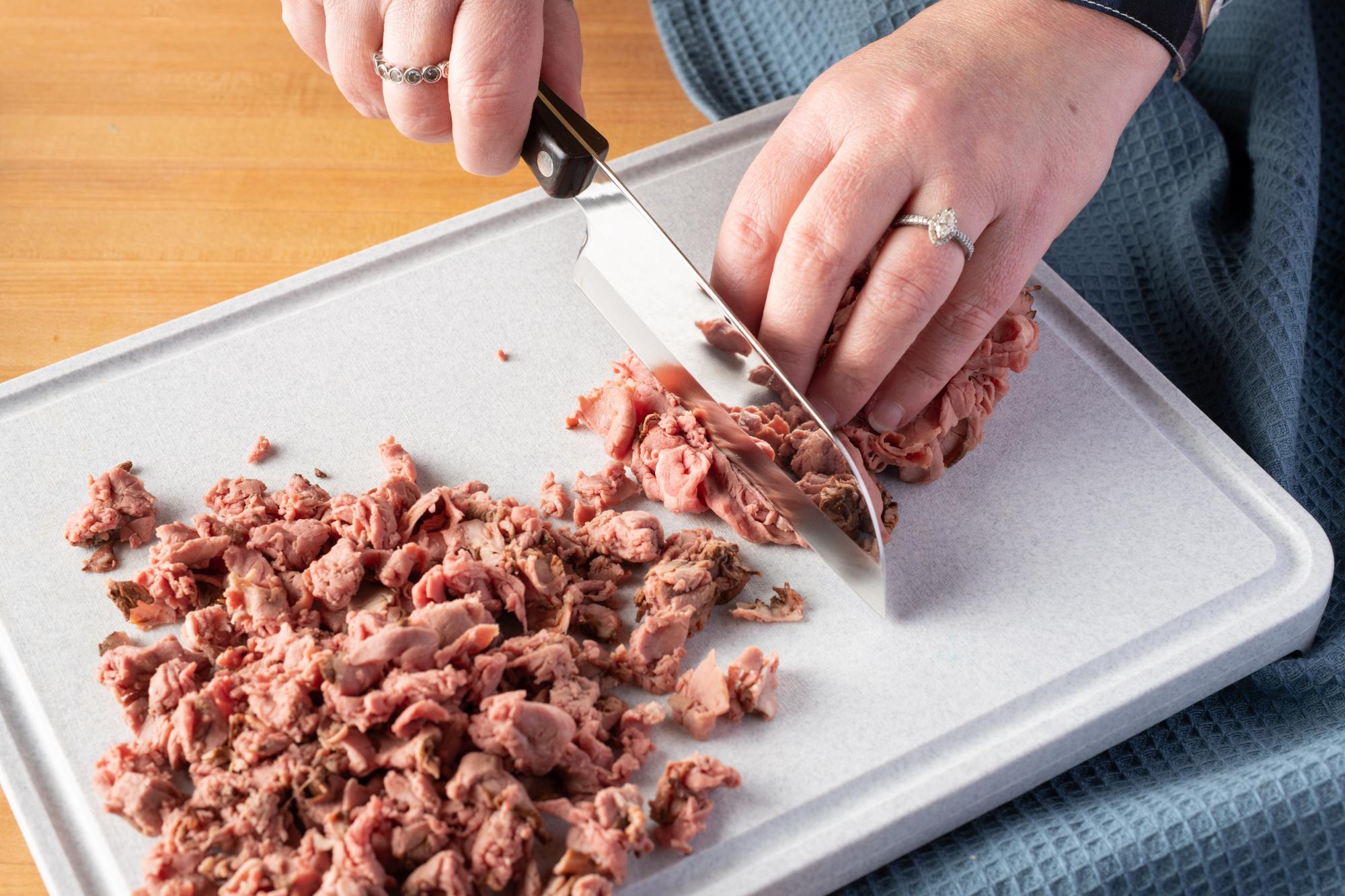 In a large bowl, mix the softened cream cheese and mayonnaise until well combined. You want traditional mayonnaise for this recipe, not olive oil mayo or other varieties that are available. Add the cheddar and Monterey Jack cheese, followed by the prepped roast beef, horseradish, Worcestershire sauce and salt. Top with the caraway seeds.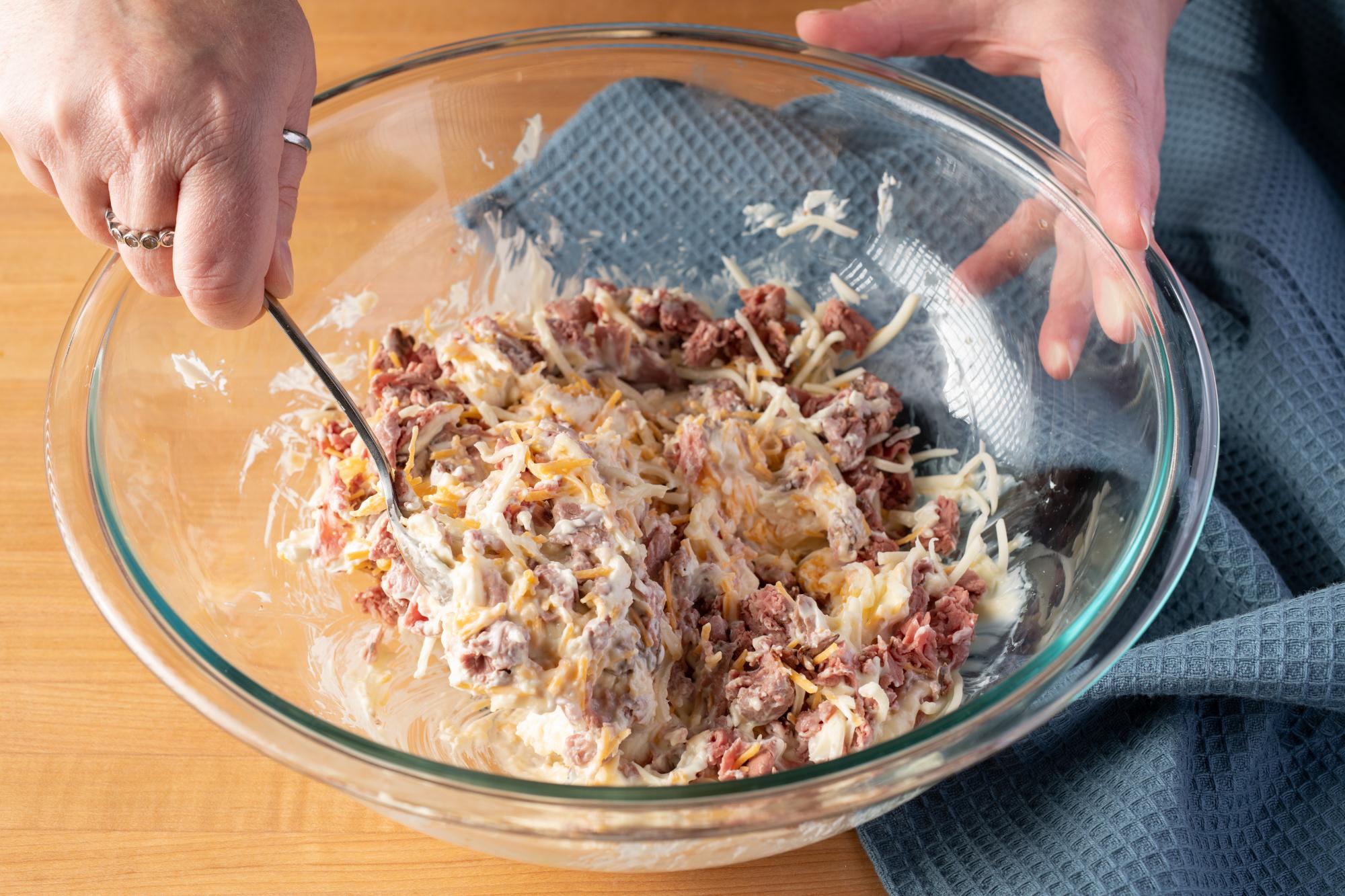 A quick note on the horseradish. Make sure you use fresh horseradish, not the kind found with other condiments that typically says prepared horseradish or creamy horseradish. You want the fresh horseradish you find in the refrigerated section. We've noted to use two to four tablespoons, depending on how much spice you want to bring to the dip. We advise starting with the two tablespoons, taste and add more to your preference.
Once everything is mixed, spoon the mixture into a 9-by-9-inch baking dish, sprinkle some extra caraway seeds if you like on top, and bake for 20-25 minutes in a 400 F oven. You want the dip to be golden and bubbly. When the dip is finished baking, take it out of the oven and serve. Try it with the toasted pumpernickel squares, which make getting extra dip onto the bread very easy.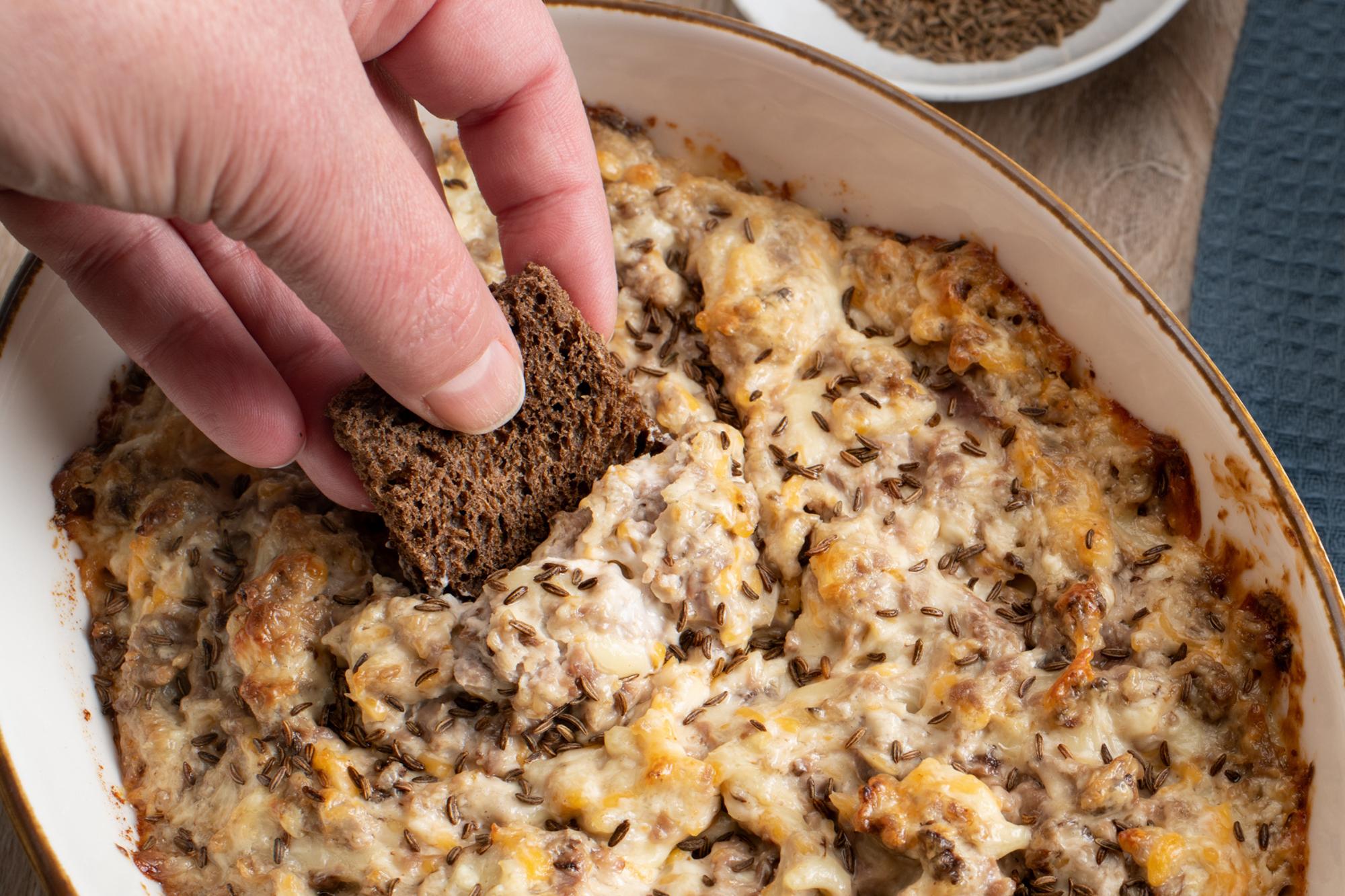 If you've had a beef on weck sandwich, this dip will remind you of that intense flavor. If not, Beef on Weck Dip is the perfect introduction to a sandwich that was born and perfected in western New York. Roast beef, horseradish, kosher salt, caraway seeds and a mixture of cheeses blend perfectly for a flavor explosion. You may just want to visit our neck of the woods to try the actual sandwich. Don't worry, we'll share!
Ingredients
2 (8-ounce) packages cream cheese, softened
1 cup mayonnaise
1 cup shredded cheddar cheese
1 cup shredded Monterey Jack cheese
2 cups (about 1 pound) deli-sliced roast beef, chopped
2-4 tablespoons horseradish (to taste)
2 tablespoons Worcestershire sauce
1 teaspoon kosher salt
Caraway seeds, optional
Pretzel crisps, toasted pumpernickel or crackers for serving.
Directions
Heat oven to 400 F.
In a large bowl, mix cream cheese and mayonnaise. Then add in the shredded cheese, roast beef, horseradish, Worcestershire sauce and salt and mix until combined. Sprinkle with caraway seeds if desired.
Place mixture in a 9-by-9-inch baking dish and bake between 20-25 minutes or until golden and bubbly.
Serve with pretzel crisps, toasted pumpernickel or crackers.
Recommended Tools