3 Ways to Slice Carrots
1543 days ago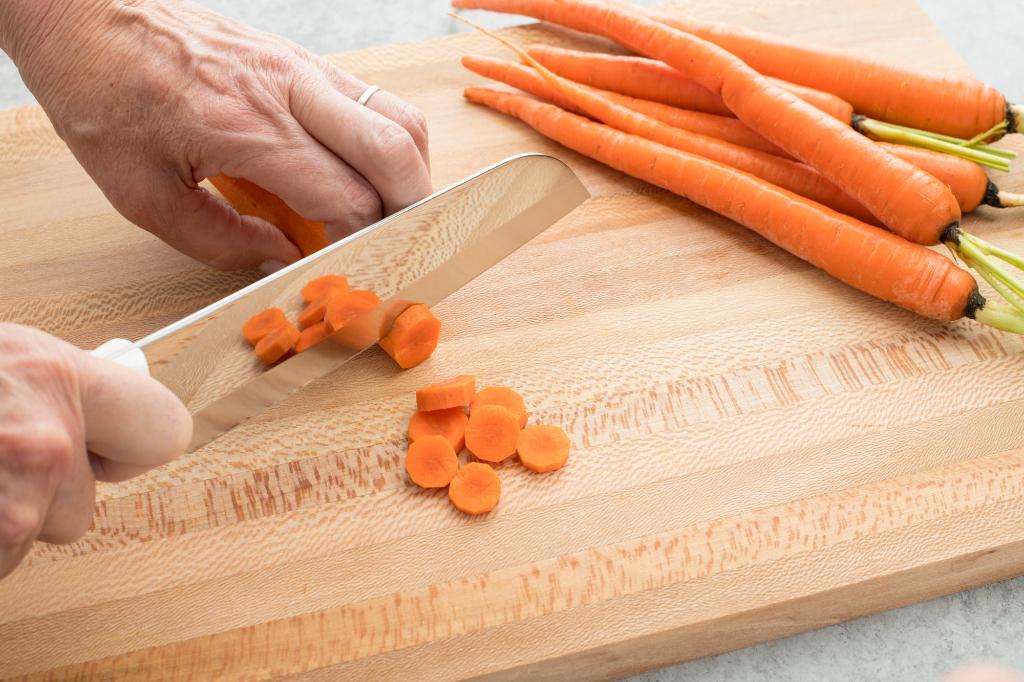 Cutting carrots sounds simple enough, but how you cut them can impact cooking time and flavor.
For example, the more surface area of the carrot exposed the more quickly they'll cook. Cutting carrots on a bias, for example, exposes more of the carrot. Along with quicker cook time, it also allows the carrot to take on more flavor.
For perfect carrots every time cut them to uniform thickness so they cook evenly.
Carrots are a wonderful vegetable to have on hand due to their availability and versatility. Eat them raw, steamed, roasted, on salads and in soups. The possibilities are endless. Fresh whole carrots will stay fresh in the fridge for about 4 to 5 weeks, so they're always at the ready.

3 Ways to Slice a Carrot
Note: Before you start, scrub carrots under cold water to remove dirt and then peel with a Vegetable Peeler.
Rondelles (Rounds):


Use a 7" Santoku to cut off root end. Slice carrots into rounds of desired thickness.

Bias Cut:


To create an oval, rather than slicing perpendicular, angle your knife and cut off the root end. Continue slicing at an angle for even bias cuts.

Oblique Cut:


Angling the knife 45 degrees, cut off the root end. Keep the knife at a 45-degree angle and each time you cut, roll the carrot a quarter turn toward you.