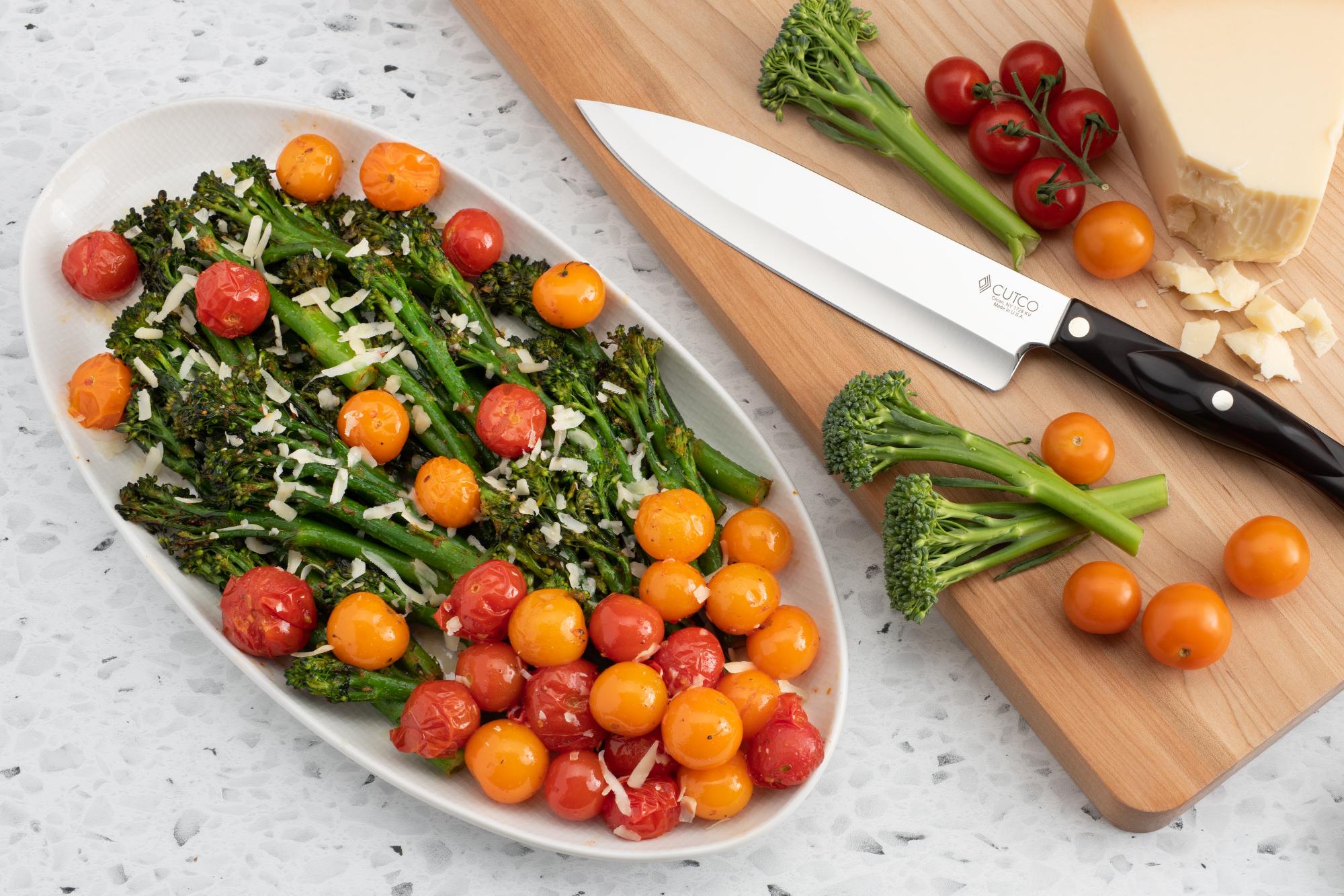 Broccolini's quick cook time and all around plate-appeal make it an ideal choice, whether you need a fast weeknight side or a last-minute easy addition to a holiday dinner. This Roasted Broccolini and Cherry Tomatoes recipe is an easy way to serve it.
Also called "baby broccoli," broccolini is similar to broccoli but with smaller florets and a milder, slightly sweet taste. It has long, thin stalks that, unlike mature broccoli stalks, are tender all the way through so the whole stem is delicious. The cherry tomatoes add beautiful color and flavor contrast to the broccolini, and caramelizing them through roasting brings out an amazing sweetness.
Preparing the Broccolini
Broccolini is incredibly easy to prepare. You need only to trim the ends for which I use the 7-5/8" Petite Chef knife. It takes no time at all.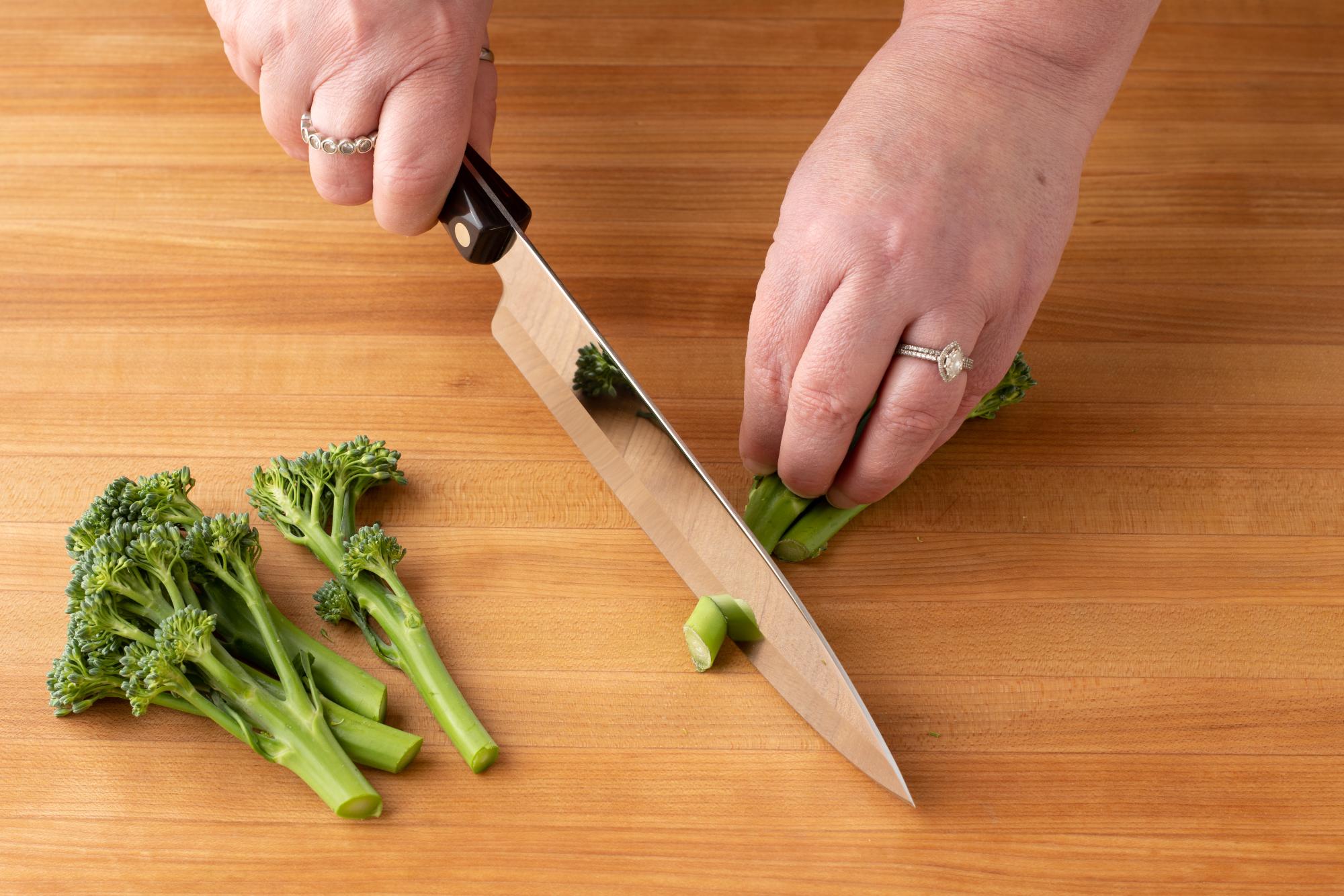 To speed up the process, I sometimes line up the stems and trim the whole bunch at once.
This recipe is delicious, but it's also colorful. Blanching the broccolini gives it a vibrant green color. It's done by placing the broccolini in a pot of boiling water for two minutes and then removing it and immediately immersing it into a bowl of ice water. A Slotted Spoon is a handy tool for scooping the broccolini from the pot to the bowl.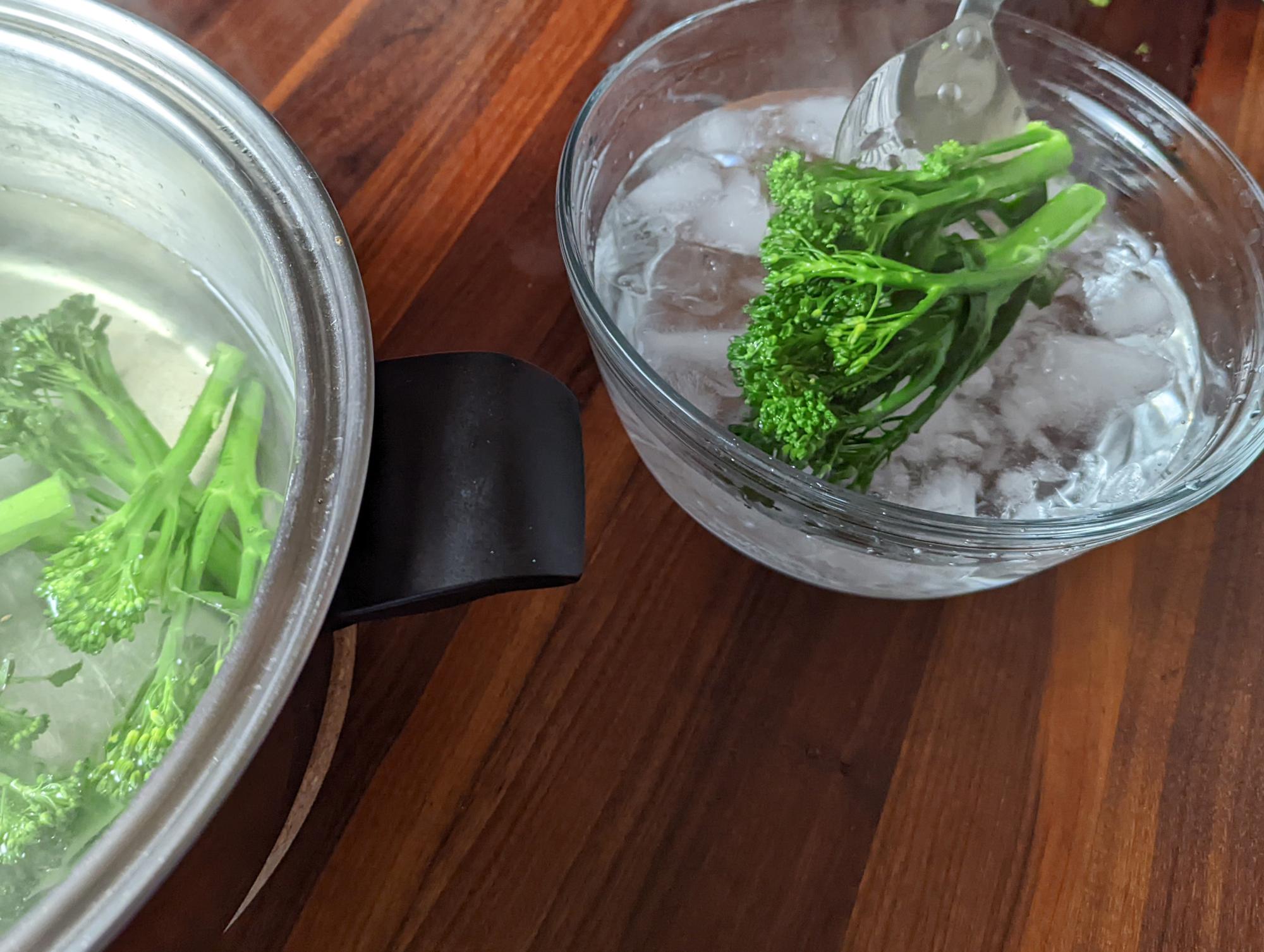 This dish couldn't be simpler. With just four ingredients and a short 12 to 15 minute cook time, it is a tasty and colorful side dish that just might be part of your regular veggie rotation.
Roasting broccolini is easy, delicious, and fast. The high heat is not just for speed of cooking, it also ensures it turns out crispy and caramelized. To jump-start the caramelization, let your sheet pan heat with the oven. When tossing the vegetables with olive oil, mix with your hands to coat the florets thoroughly to prevent burning.
Roasting vegetables is my go-to way to cook them! Discover the possibilities by checking out other roasted vegetable recipes from Cutco.
Roasted Root Vegetables With Garlic
Easy Roasted Beet Salad With Scallions
Roasted Sweet Potato and Kale Hash
Roasted Rutabaga With Maple Syrup
Ingredients
1 bunch broccolini
1 pint cherry or toy box tomatoes (look for those with mixed colors), rinsed
2 teaspoons extra-virgin olive oil
1 tablespoon P.S. Flavor!? Smokey Southern, Creole seasoning or kosher salt and black pepper to taste.
Directions
Place sheet pan oven and heat oven to 400º F.
Toss broccolini and tomatoes in olive oil and seasoning, and spread out onto sheet pan. Roast for 12-15 minutes.
Recommended Tools