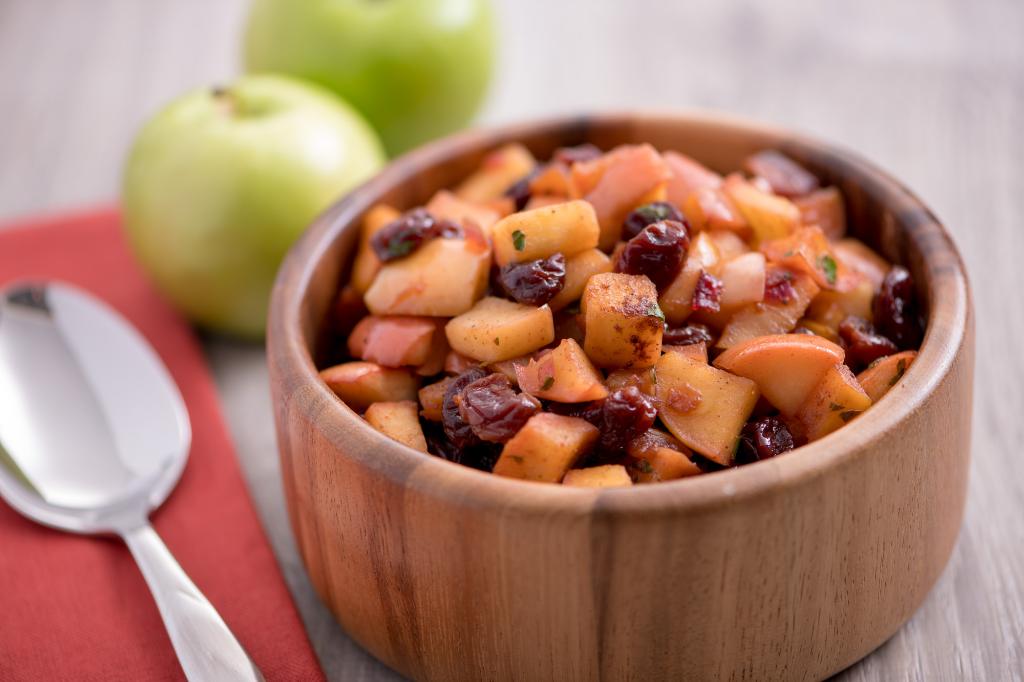 Do your guests a favor this year and skip the canned jellied high-sugar cranberry sauce. It's not just skip-worthy because it looks like a can on a plate, it's because there are much tastier options for this Thanksgiving side-dish favorite, like this delicious Apple and Tart Cherry Chutney.
Tart cherries are packed with nutrients and offer a sweet punch to the rest of the savory items on the table. The Mai Chai Spice brings an irresistible aroma and flavor to this turkey topper. If you prefer to stick with cranberries, just use them in place of the tart cherries.
For coring and dicing the apples, I recommend the 7-5/8" Petite Chef knife. It's also perfect for dicing the onion and chopping the parsley.
Ingredients
Nonstick spray
5 gala apples, cored and diced
1 teaspoon olive or canola oil
2 cups dried tart cherries
1/4 cup apple cider vinegar
1/2 cup apple juice
2 tablespoons red onion, diced
2 tablespoons honey
1/2 teaspoon P.S. Flavor! Creole Kitchen seasoning (alternatively use Kosher salt and black pepper)
1 teaspoon of P.S. Flavor! Mai Chai Spice (or alternatively use 1/2 teaspoon allspice and 1 teaspoon of cinnamon)
1 teaspoon pure vanilla extract
1 tablespoon parsley, chopped
Directions
Spray a large nonstick skillet with nonstick spray; heat over medium-high heat with oil. Add the diced apples and reduce heat to low-medium. Brown apples until caramelized and golden.
Add cherries, apple cider vinegar and apple juice. Bring back to a low simmer, stirring occasionally, for approximately 10 minutes, until apples soften and cherries bloom. Allow to cool slightly; stir in all remaining ingredients.
Recommended Tools