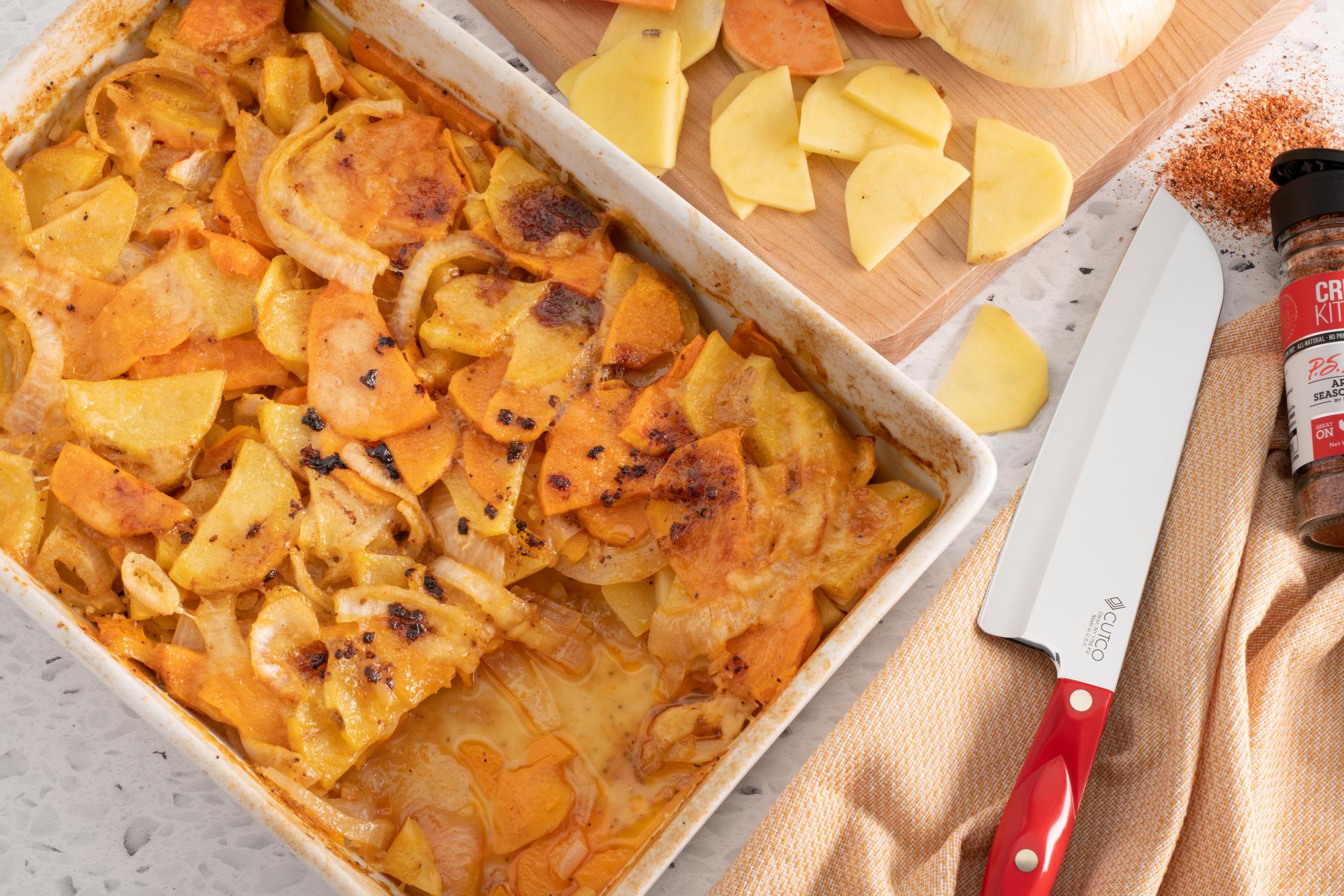 Literally called "potatoes from the baker," pommes boulangère originated in France centuries ago when people in rural areas did not own ovens of their own. On their way to church, women would take the Sunday roast in a dish, surrounded with sliced onions and potatoes, to the baker to be cooked in his oven while the family prayed. Afterward, they picked it up and took it home for lunch, perfectly done and ready for the Sunday feast.
This recipe for Yukon Gold and Sweet Potato Boulangère pays homage to its roots and I am certain it will quickly become a family favorite.
Making the Boulangère
Preparing this potato and onion casserole takes no time at all. Start by slicing the onions into half-moons about 1/8 inch thick. The 7-5/8" Petite Chef knife is perfect for this task.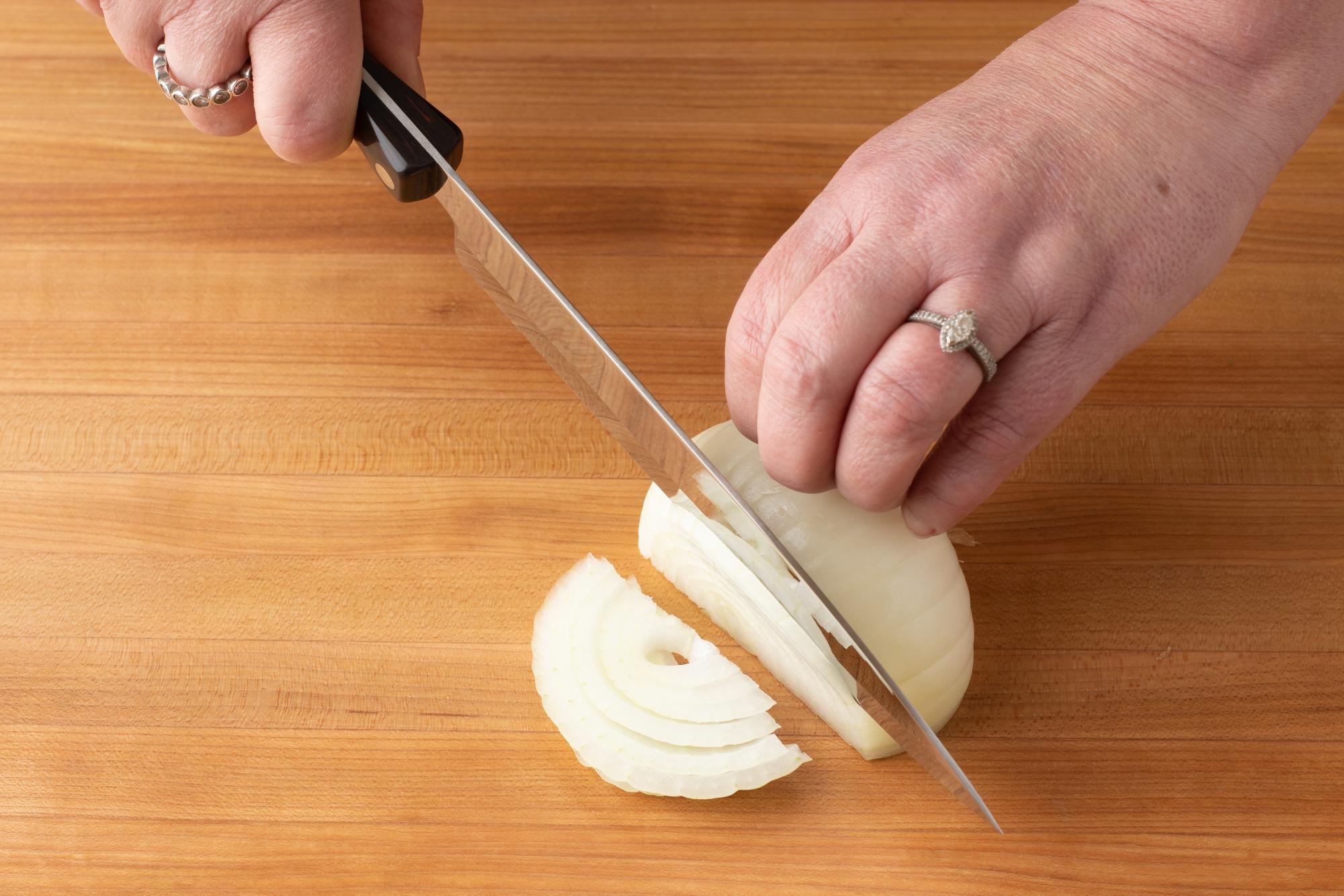 Similarly, peel the potatoes with a Vegetable Peeler and then them cut in half. Cut crosswise into 1/8 inch thick slices, using either the Petite Chef or the 7" Santoku.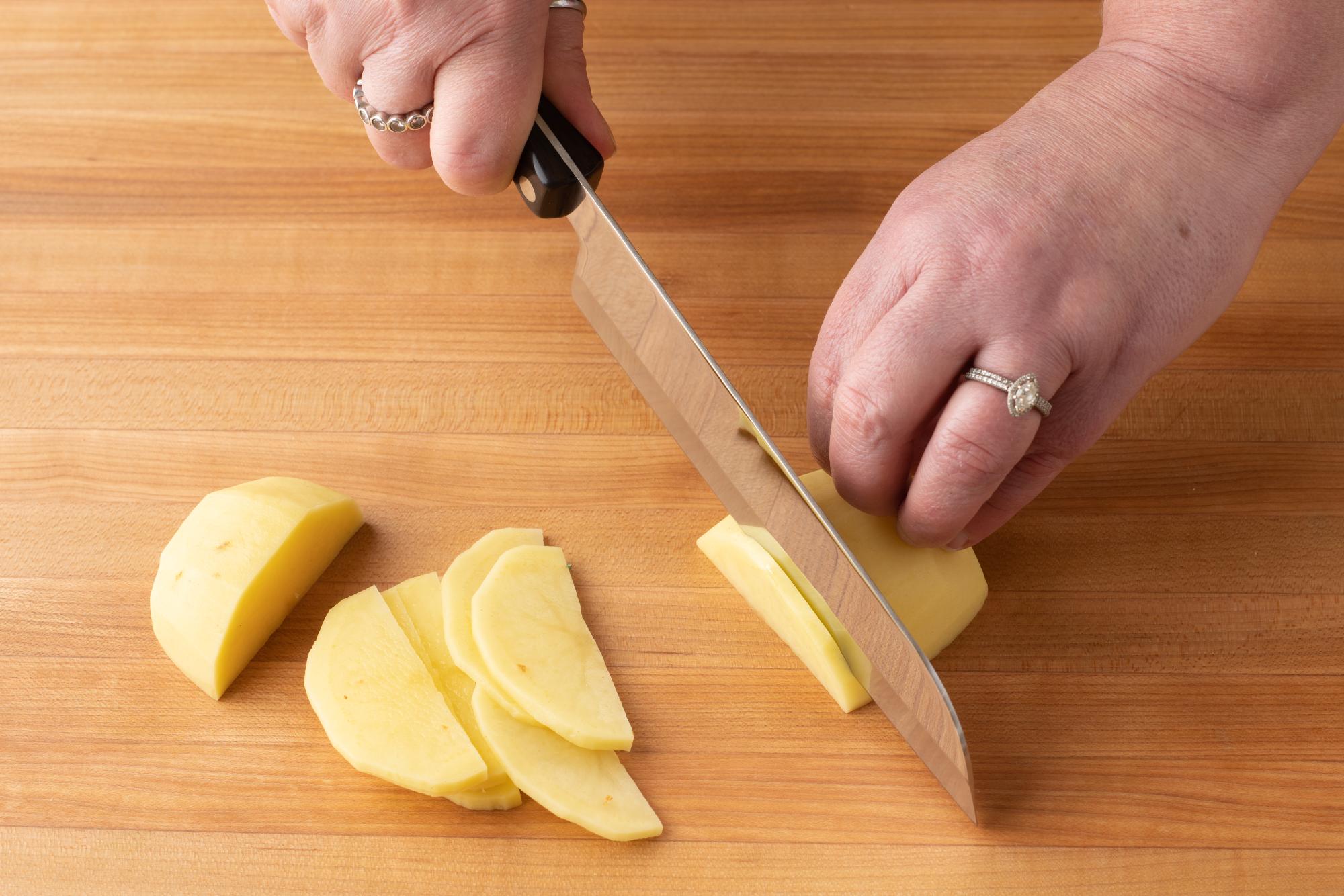 I like using a combination of potatoes. The sweet potatoes add color, sweetness and a seasonal celebration to the dish while the Yukon golds bring their creaminess.
Mix the onions and potatoes together with garlic, some of my P.S. Flavor!™ Creole Kitchen spice blend (or your favorite Creole seasoning) and cheese in a casserole dish.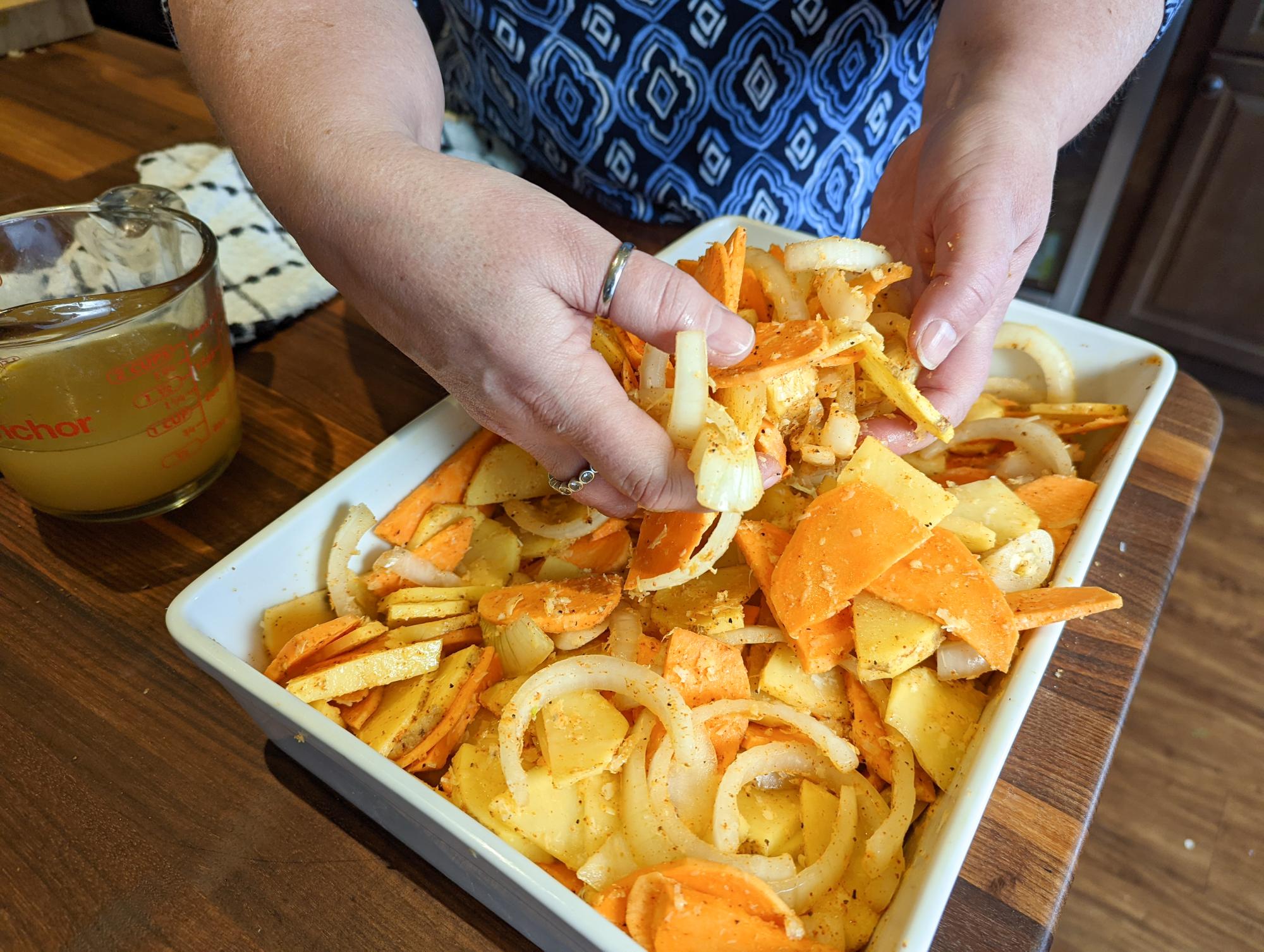 Before baking, press down on the mixture to help them absorb as much stock as possible.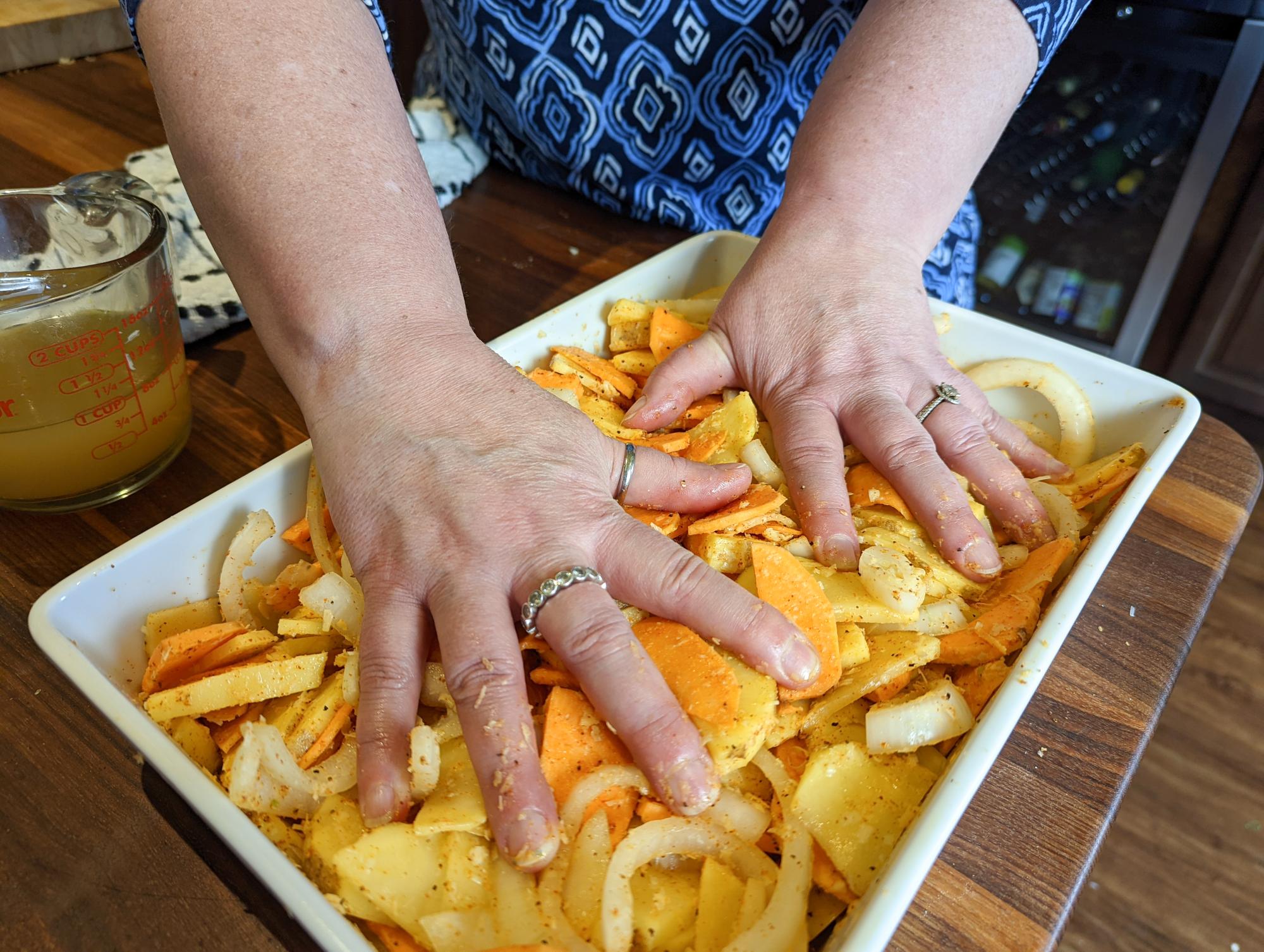 After pressing the onions and potatoes into the bottom of the dish, pour stock around the outside of the mixture.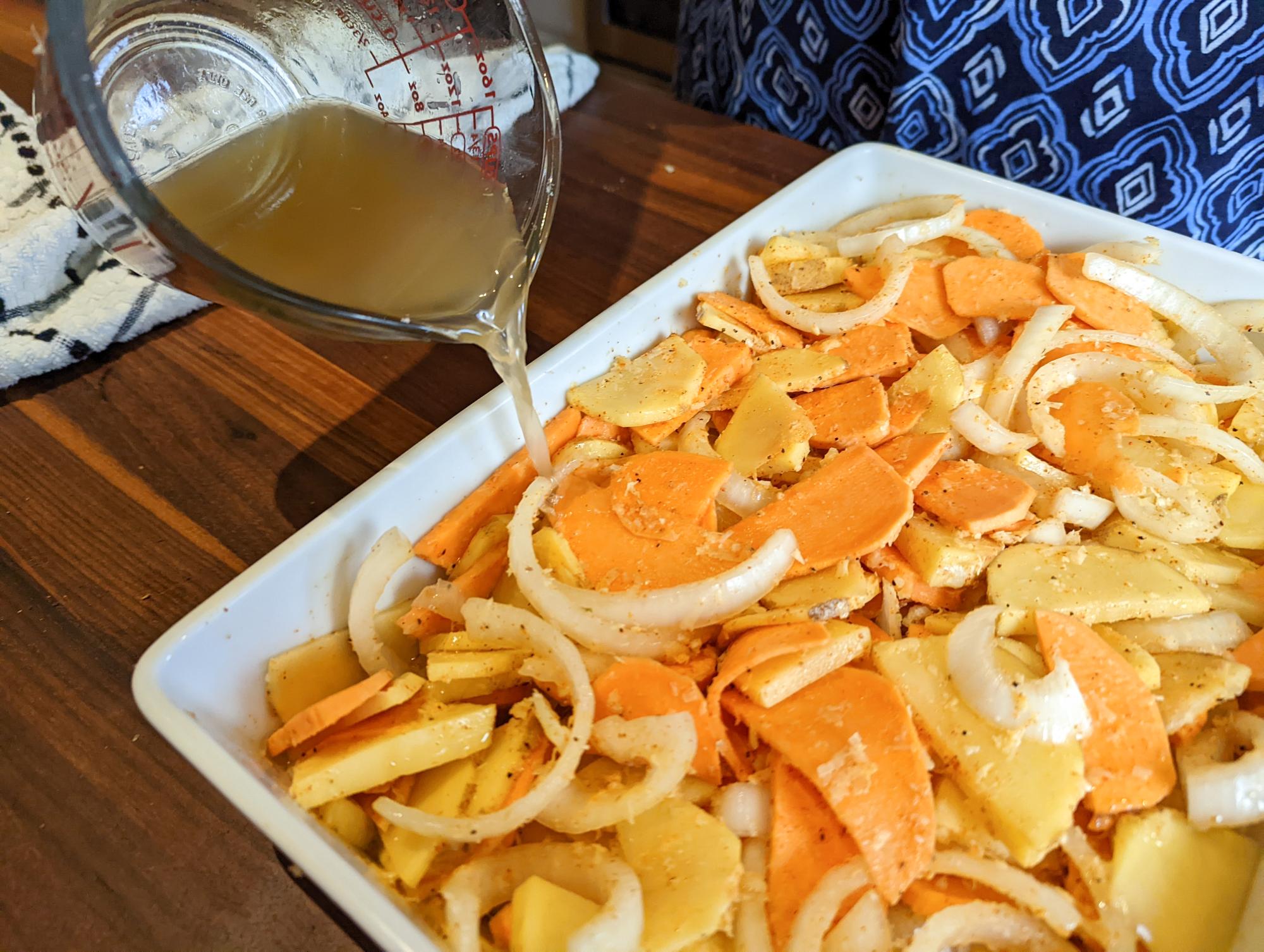 Repeat pressing and adding stock two more times to really incorporate all the flavors.
An Alternative Method
If preparing this delicious dish along with the Porcini Crusted Standing Rib Roast (find the recipe on Cutco's website), the final "roast" of the meat is done on a rack over the potatoes to allow the flavorful meat juices to drip into the dish. The boulangère has amazing flavor and texture even without that added bonus. And you can use any kind of stock – vegetable or beef stock work well too.
Every time I make these potatoes, I'm reminded that I want to have them on a weekly basis, not just in the fall or for holidays.
Ingredients
1 whole head of garlic (10-12 large cloves), chopped (3 tablespoons)
2 medium or one large sweet or Spanish onion, halved and sliced in 1/8th-inch thick half-moons (3 cups sliced)
1 tablespoon P.S. Flavor!™ Creole Kitchen, or your favorite Creole seasoning
2 medium sweet potatoes (about 1 pound), peeled, halved, and sliced in 1/8th inch thin half moons
2 pounds Yukon gold potatoes (about 8), partially peeled, halved and sliced into 1/8" thin halves
1 1/2 cups shredded Parmesan
1 1/2 cups shredded Gruyere or smoked Gouda
1 teaspoon kosher salt
3 cups lower sodium chicken stock or beef broth
Porcini Pepper Crusted Standing Rib Roast (optional, see recipe)
Directions
Heat to 400 F convection or 425 F traditional.
Mix together garlic and onion in a large casserole dish. Season with Creole seasoning, and massage together to begin to release some of the "juice" from the onions and garlic.
Add potatoes, half of each of the cheeses and salt. Mix well to incorporate onions, garlic, and seasoning. Reserve remaining cheese for topping.
Press down the potato mixture and add 1 cup of the stock around the edges of the casserole. Repeat 2 more times, pressing the potato mixture down to compact each time.
Cover with foil; place in oven for 30 minutes. Remove from oven, remove foil and top with remaining cheese.
If serving with Porcini Pepper Crusted Standing Rib Roast, place potatoes under the rack of the standing rib roast to allow the meat drippings to flavor the potatoes and roast for another ½ hour. Otherwise, just roast the boulangère for the additional 30 minutes, uncovered.
Remove potatoes from the oven and serve.
Recommended Tools