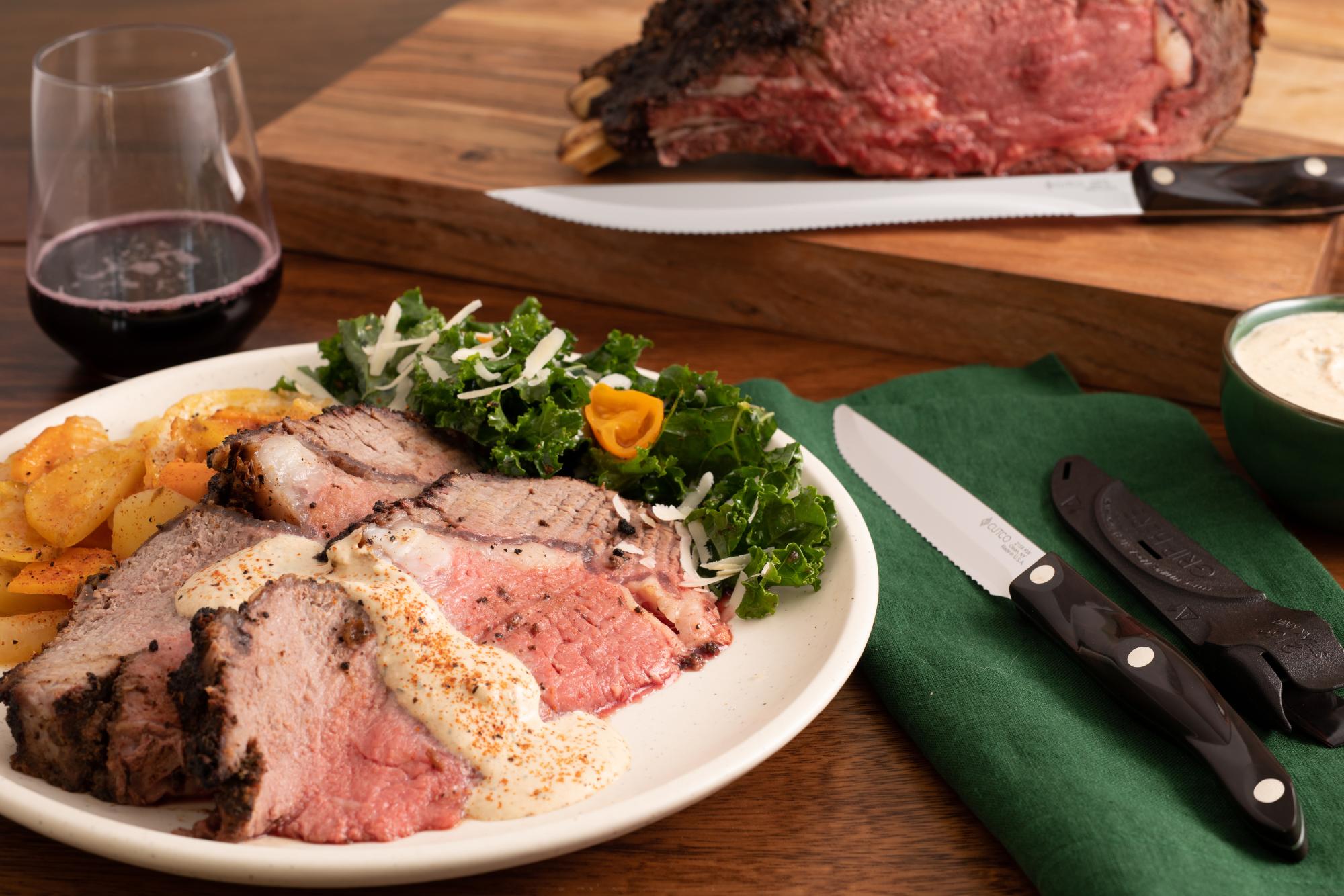 Standing rib roast is considered by many to be the best roast beef in the world. Also known as prime rib, it's a beef cut that's incredibly succulent with superior taste. It's a perfect centerpiece for a holiday menu and is a traditional holiday feast in the U.K.
This Porcini Pepper Crusted Standing Rib Roast recipe uses an adaptation of the classic English approach. It is a safe, simple roasting method that keeps the meat blushing pink all the way through by giving it a quick blast in a hot oven for 20 minutes and then roasting for 1 1/2 hours at a lower temperature.
Prepping the Standing Rib Roast
A whole seven-rib roast can weigh between 14 and 22 pounds, so butchers often divide the roast into two smaller roasts called the first cut (3 bone roast) and the second cut. When buying the 3 bone roasts, if possible, ask the butcher to remove the fat cap, but to leave bones attached to meat. Count on one pound per person (due to weight of bones and fat).
This cut of meat is formidable, so to encourage even cooking, I like to take it out of the fridge two or even three hours prior to cooking.
The peppery crust on this roast really amplifies the beefy flavor. It is just three ingredients: kosher salt, coarse ground pepper and my P.S. Flavor!™ Porcini Pepper spice blend (or you can use your favorite mushroom spice blend). Combine those spices and generously rub it all over the roast.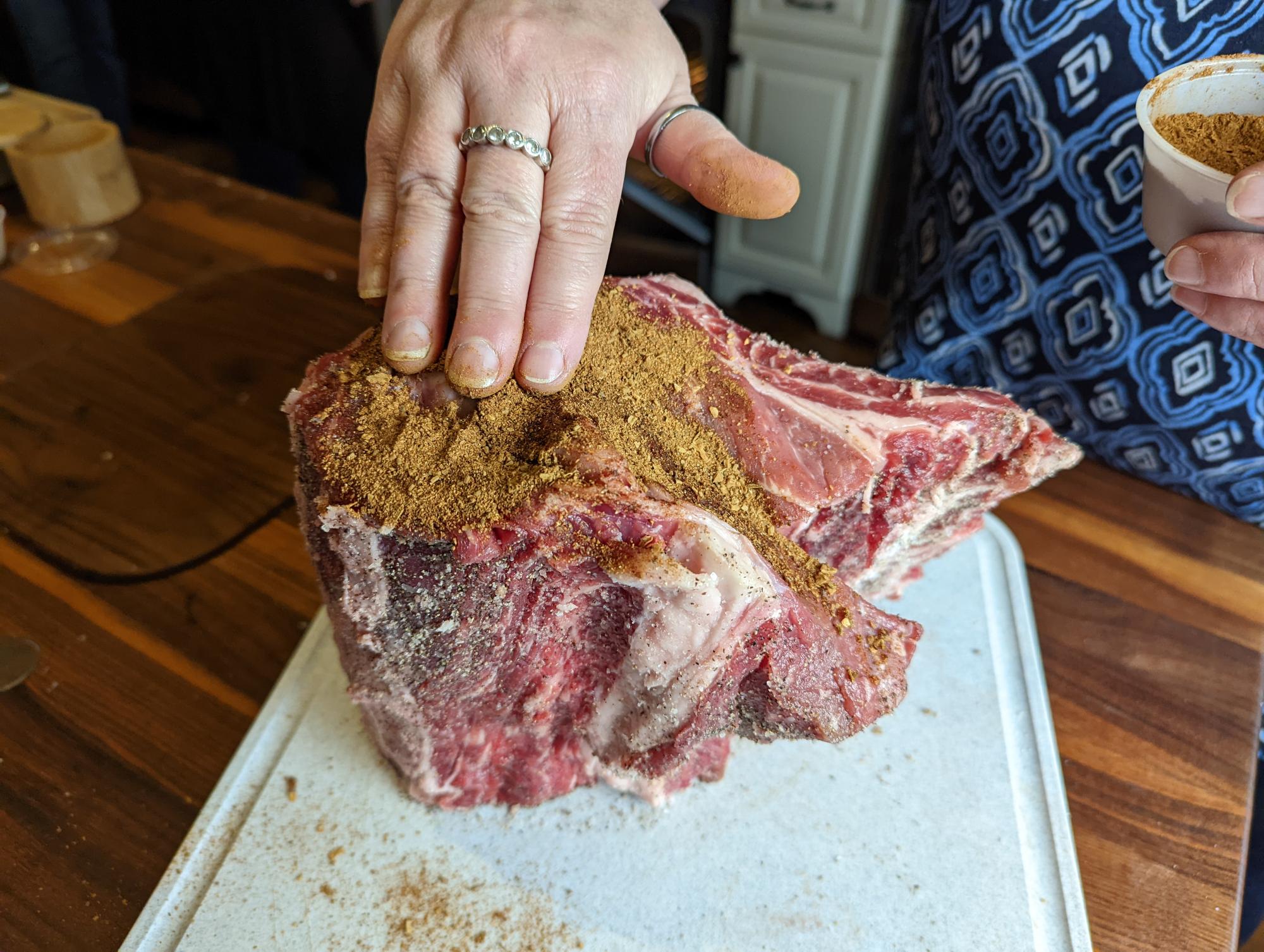 The rib roast is now ready for the oven.
This method yields a roast that's evenly cooked to the doneness of your choice (medium rare for me), with a deep delicious crust. The Porcini Pepper rub adds umami (a savoriness) to an already mouth-watering experience.
The beef is cooked to 120 degrees Fahrenheit for medium rare and finishes cooking as it rests outside of the oven before carving.. If you prefer medium, take the standing rib roast out of the oven when the internal temperature hits 130 degrees.
When ready to serve, Cutco's 9" Carver masterfully slices through the meat with little effort.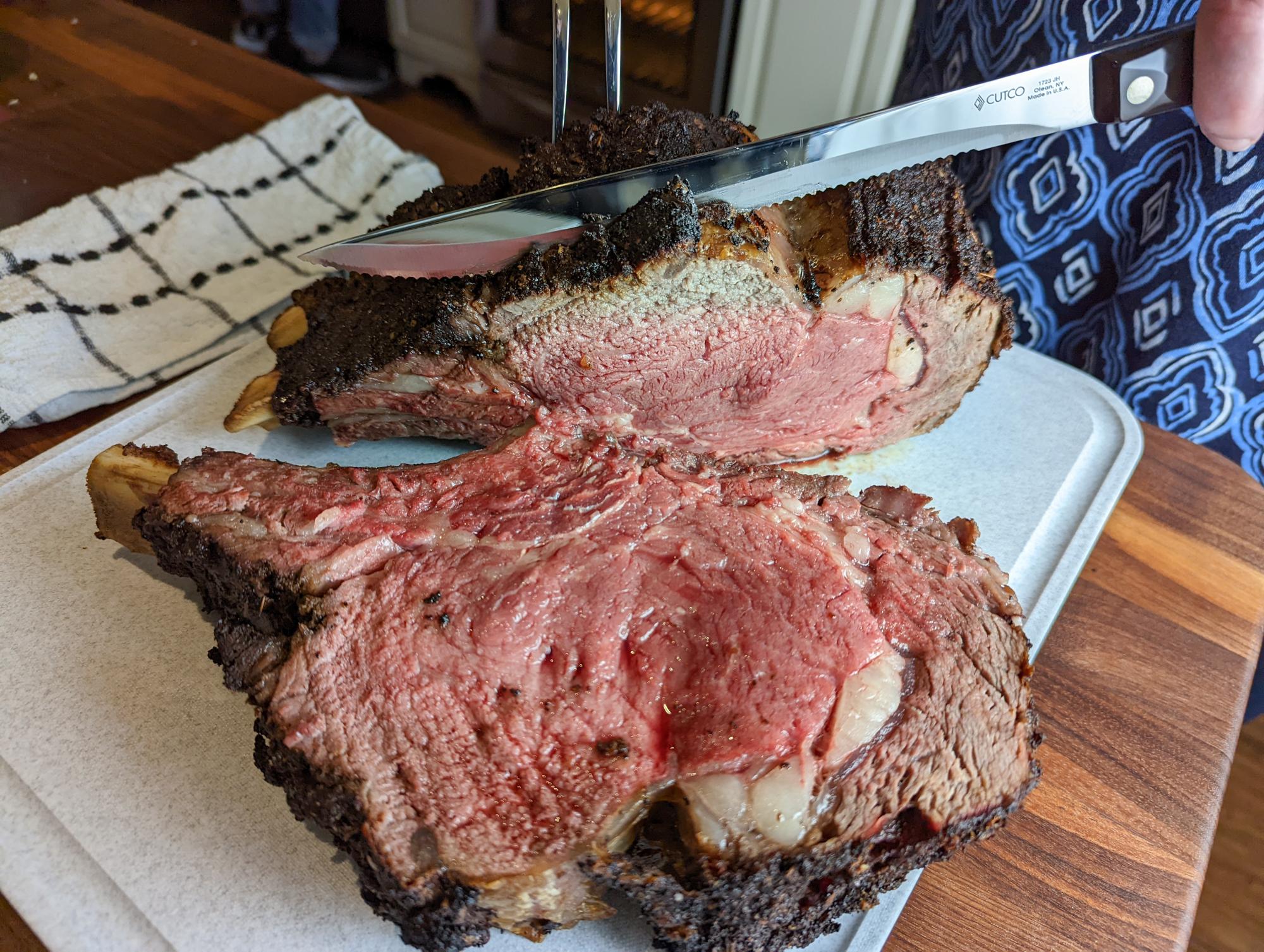 When serving this roast, have some Cutco Steak Knives on hand for guests to easily cut this perfectly cooked and seasoned meat.
This Porcini Pepper Crusted Standing Rib Roast is simply delectable. There is a fabulous texture contrast between the richness of the meat and the savory crust. And, the horseradish sauce complements the roast perfectly.
It's so very celebratory and special! If serving with Yukon Gold and Sweet Potato Boulangère , the final roast is done on a rack over the potatoes to allow the flavorful meat drippings to bring the humble potato up to a work of art. You can find that recipe on Cutco's website.
Ingredients
For the roast:
6-8 pounds, 3-bone center cut choice rib roast, well-trimmed of fat and tail cap, Angus if possible
2-3 tablespoons kosher salt
1/2 tablespoon coarse ground pepper

3 tablespoons P.S. Flavor!™ Porcini Pepper (or your favorite mushroom spice blend)

Yukon Gold and Sweet Potato Boulanger (optional, see

recipe

)
For the horseradish sauce:
1/2 teaspoon extra-virgin olive oil
2 garlic cloves, finely minced
2 cups plain nonfat Greek yogurt, such as Fage
3 tablespoons prepared horseradish, or to taste
1 tablespoon Dijon mustard
1 tablespoon P.S. Flavor!™ Porcini Pepper (or your favorite mushroom spice blend)
2 tablespoons minced flat leaf parsley
Directions
Roast the meat:
Heat oven to 425 F.
Line a sheet pan or roasting pan with foil; fit a rack in the pan to lift roast off surface.
Season the roast with kosher salt (1 tablespoons for the bones, 1-2 tablespoons for the meat, don't do much on the ends) and coarse ground pepper. When well covered with salt and pepper, rub the meat part and end part of roast with Porcini Pepper.
If serving with Yukon Gold and Sweet Potato Boulangère (see recipe), roast for 1 ½ hours; remove from oven, and transfer rack from sheet pan and set on top of potatoes. Roast for another ½ hour or until internal temperature reaches 120 F. If serving without the Yukon Gold and Sweet Potato Boulangère, roast for 2 hours until internal temperature reaches 120 F.
Let standing rib roast rest for 1/2 hour. If serving with potatoes, cover potatoes with foil to keep warm.
Make the horseradish sauce:
Heat small sauté pan over medium high, add olive oil and minced garlic, and warm garlic in olive oil for 15-20 seconds; stir in Creole seasoning and remove from pan immediately to cool in a medium sized bowl.
Whisk in all remaining ingredients. Adjust seasoning to taste.
Serve roast with horseradish sauce.
Recommended Tools