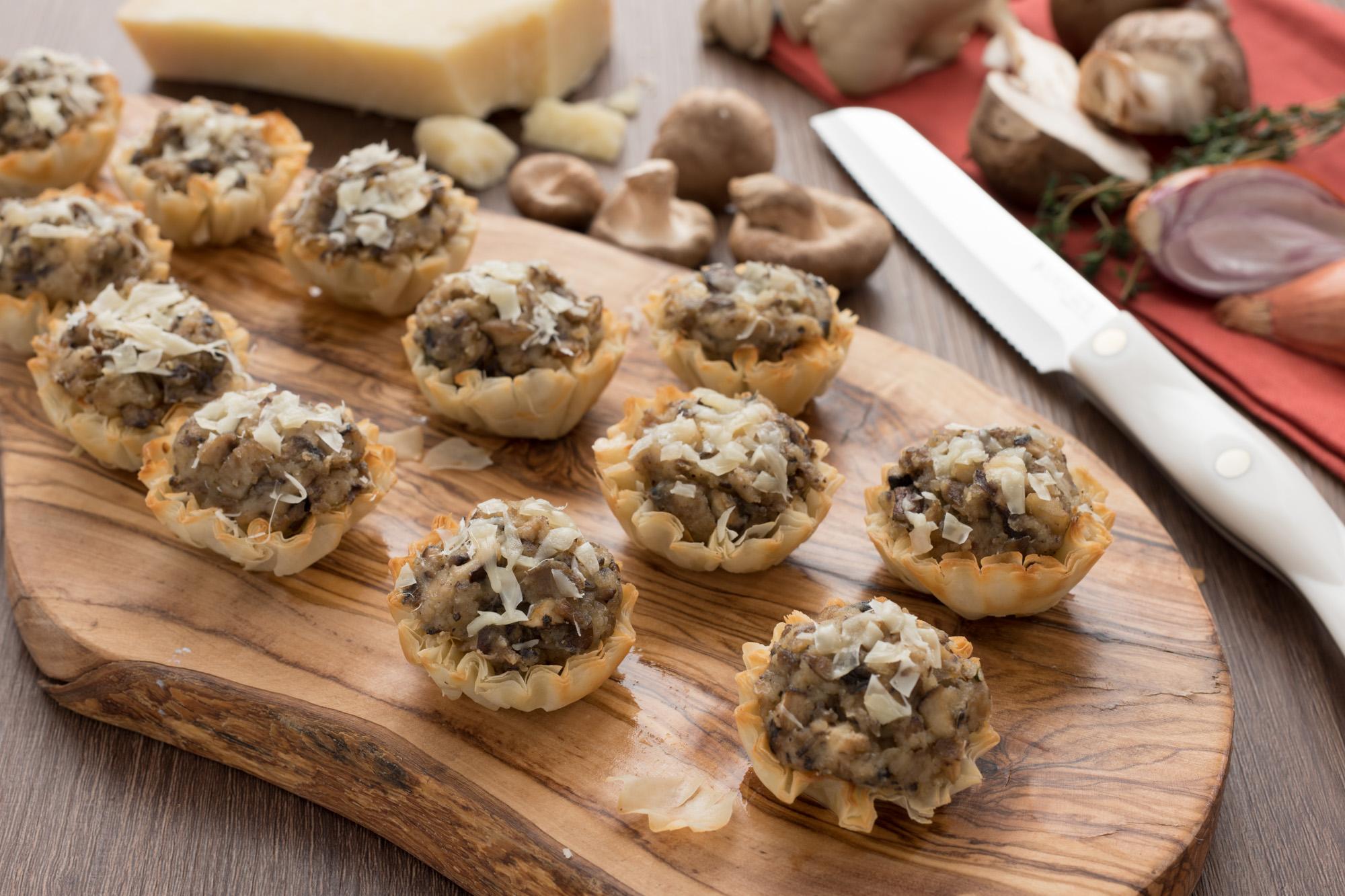 Every autumn I make triple batches of this recipe and stash the little mushroom tartlets in the freezer for when company comes. They are the perfect make-ahead appetizer.
It is fun to try the different kinds of fresh wild mushrooms available these days. But even if you can only find cremini or baby bella mushrooms, this recipe will still taste great.
Thyme and mushrooms go together like peas and carrots. Try to use fresh thyme leaves if you can, the flavor is much more subtle. Instead of picking all the little leaves off the stems, I place 3 or 4 whole sprigs of fresh thyme in the pan when the mushrooms are cooking and then just remove the stems.
Mini phyllo or pastry tart shells are found in the grocery freezer section. Fill the mini tart shells with the mushroom filling and sprinkle with cheese.
The knife I used to finely chop the mushrooms was Cutco's Santoku-Style Trimmer. Its sharp Double-D® edge easily slices through the spongey texture.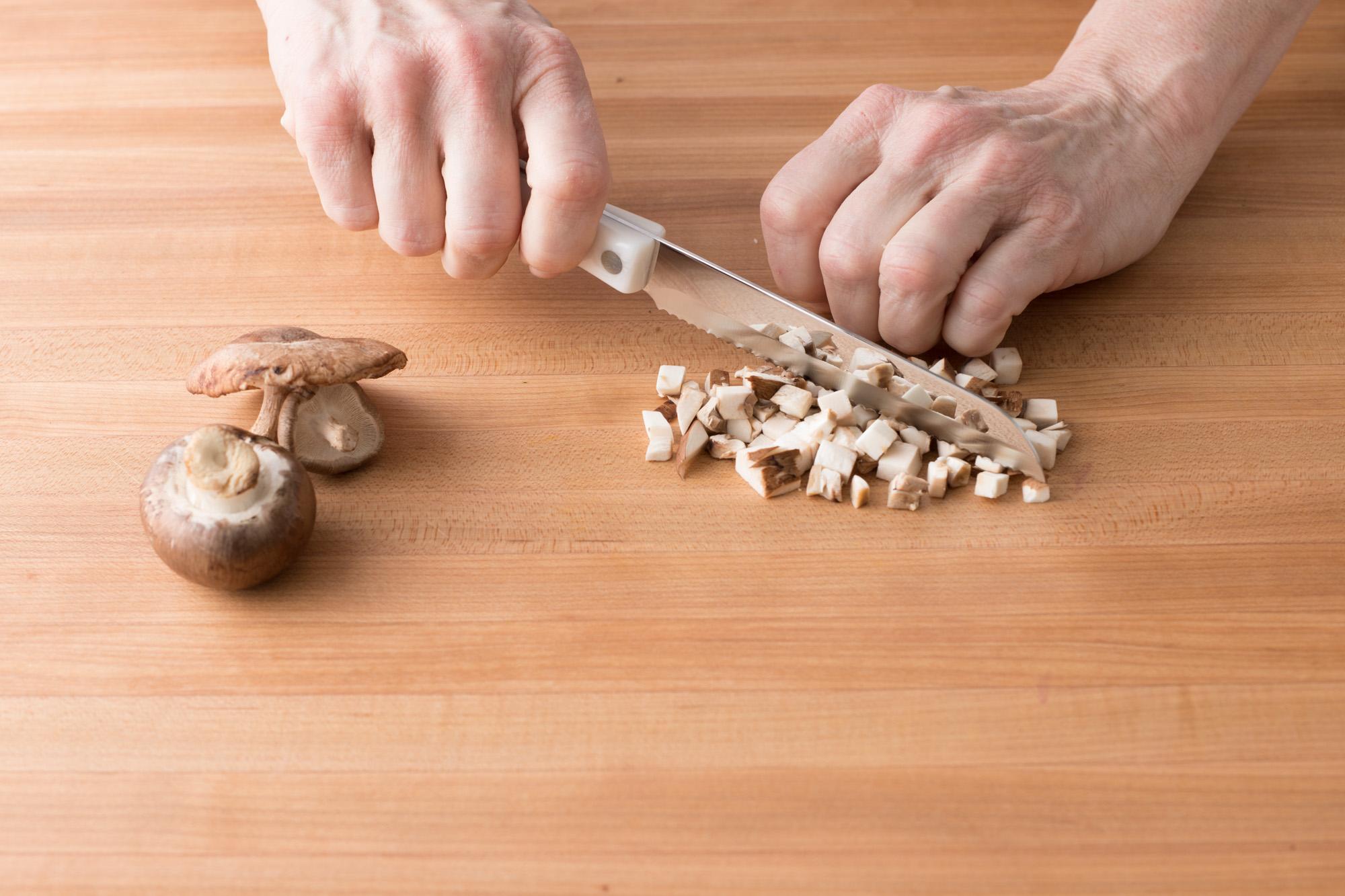 Ingredients
2 tablespoons unsalted butter
1/4 cup finely chopped shallot
3/4 pound mixed wild mushrooms (such as cremini, shitake, oyster), finely chopped
1 teaspoon fresh thyme leaves or 1/4 tsp dried thyme, rubbed fine
1 tablespoon dry sherry (not cooking sherry)
2 tablespoon flour
1/2 teaspoon salt
1/4 teaspoon freshly ground black pepper
1/4 cup heavy whipping cream
24 mini tart shells or phyllo shells
1/4 cup coarsely grated Parmigiano Reggiano cheese
Directions
To make filling, melt butter in a large, heavy sauté pan over medium high heat. Add shallot, mushrooms and thyme, and sauté, stirring frequently, until mushrooms are softened and beginning to brown and pan is dry. Add sherry and stir to scrape up any brown bits on bottom of pan. Cook for 30 seconds and then reduce heat to medium. Sprinkle with flour, salt, and pepper, stirring constantly until flour is cooked, about 1 minute. Pour in cream and simmer on low until mixture thickens. Taste for seasoning and add salt and pepper if needed. Remove from heat and let cool.
To assemble appetizers: Spoon approximately 1 tablespoon of filling into shells. Sprinkle cheese on top. Place shells on ungreased baking sheet. Bake in a preheated 350 degree F oven for 10-15 minutes or until filling is warm and cheese melts. Remove from oven and cool slightly before serving.
(Appetizers can be frozen before baking. Place filled tart shells on baking sheet in freezer for 2 hours or until tartlets are frozen. Place frozen tartlets in an airtight container or plastic bag and return to freezer for up to a month. To bake, place frozen tart shells (no need to thaw) on baking sheet and bake in pre-heated 350 degree F oven for 12-15 minutes.)
Recommended Tools