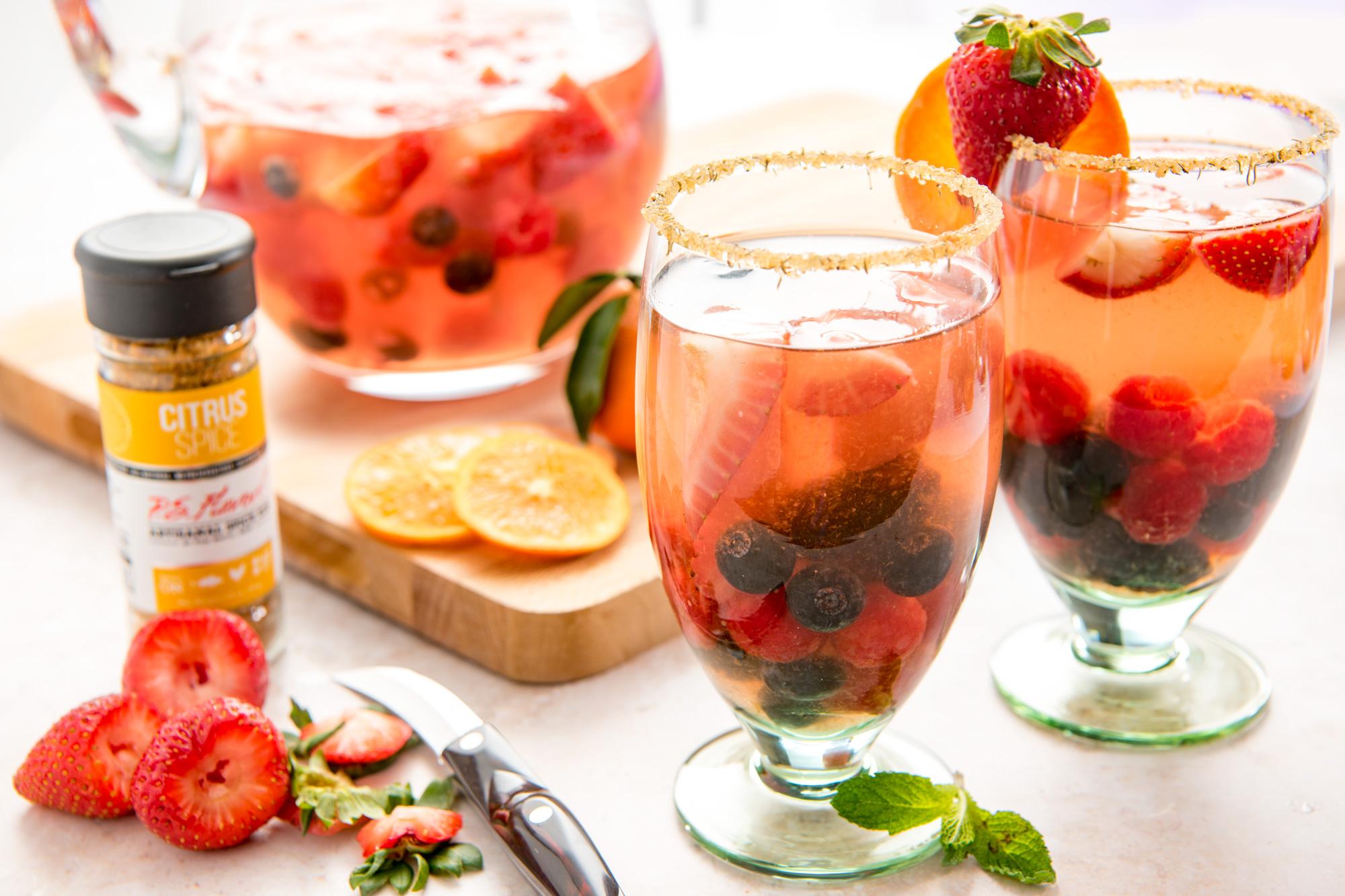 Trendy rosé, considered "summer water," is a delightful treat to sip on a warm summer day. This recipe for Rosé Sangria turns everyone's favorite summer wine into a light and fruity cocktail. Ever since our Holiday Sangria last fall, everyone just keeps asking me to make more sangria with a similar seasonal twist of deliciousness. So here you go!
Since it's officially summer, and fruity, refreshing drinks are in full swing, here is a quick and simple sangria made with fresh-from-the-garden berries, rosé wine and Chambord. Kicked up with some strawberry vodka.
You only need one knife to cut the clementine (or oranges) and strawberries. Cutco's 4" Gourmet Paring Knife with its longer and wider blade is ideal for both. To learn how to dice oranges, you can also take a look at their handy infographic, How to Cut an Orange.
This sangria is easy enough to make on a random weeknight at home, but festive enough to serve at a party. You can use any fruit – peaches, nectarines, cherries, blackberries, or blueberries – just keep in mind that it will change the lovely pink color of the sangria. Whatever the fruit, it becomes super fun and deliciously boozy while it's swimming in the sangria.
And, drum roll please, if you want to make frosé (frozen rosé), just put everything in the blender, adding just enough ice to turn the mixture into a slush. I also love to freeze additional rosé into ice cubes (with a raspberry), to be the ice for the sangria.
Ingredients
One 750ml bottle of rose wine
3/4 cup strawberry vodka
1/4 cup clementine (or orange) juice
1/3 cup Chambord
6 strawberries, sliced 1/4-inch thick, plus more for garnish
6 raspberries, plus more for garnish
1 clementine, thinly sliced crosswise (or one orange, diced), plus more for garnish
Optional: P.S. Flavor!™ Citrus Spice for rimming glasses
Directions
Combine wine, strawberry vodka, clementine juice and Chambord in a large glass pitcher. Stir in the strawberries, raspberries and clementines. Cover and refrigerate for at least 2 hours before, preferably overnight.
When ready to serve, rim glasses with Citrus Spice if desired, fill wine goblets or highball glasses halfway with ice. Pour the sangria over ice, spooning some of the macerated fruit into each glass. Serve ice cold and garnish with additional fruit.
Recommended Tools