Summer Corn, Couscous and Cherry Tomato Salad
288 days ago
Skip to recipe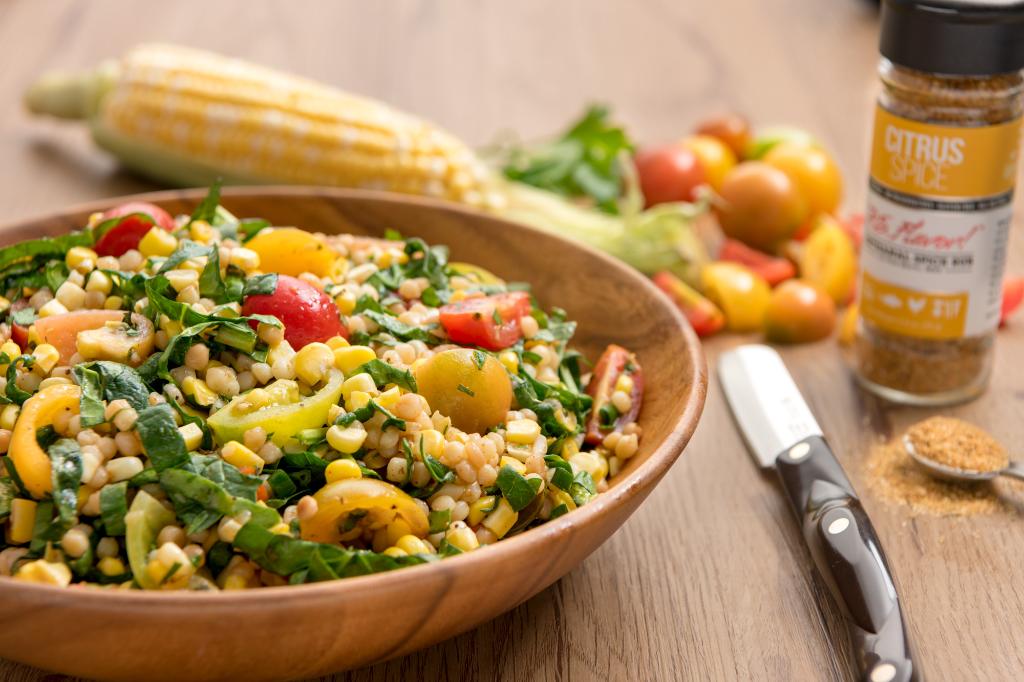 If you already love classic couscous, but haven't yet tried Israeli or pearl couscous, I predict you are in for a delicious new discovery. On the other hand, if you've never been a fan of couscous, I beg you to give this variety a try. It's a completely new experience and one that changed my opinion of the grain.
Couscous is the base of this amazing Corn, Couscous and Cherry Tomato Salad recipe. The Israeli or pearl variety is similar to regular couscous in that it's a small, whole grain-like ingredient made from semolina or wheat flour. To prepare it, you'll need about 1 1/4 cups of water or broth for every cup of dry grain. Simmer the grains, on the stovetop, covered, for about 10 minutes. Unlike rice, that absorbs the cooking liquid, this grain cooks more like paste. The grains fluff up just slightly, and have more of an al dente mouth feel when done cooking.
The flavor magic of the couscous happens earlier by toasting the dried pearls for a minute or two, bringing out a complex and craveable layer of flavor. It is simply delicious with the fresh corn and summer tomatoes in this chilled, picnic-ready salad.
Draining the couscous cooking water over the corn after it's been removed from the cob is a helpful cooking hack used to blanch it and take off the raw edge, making it ready to add to the salad. Oh, and the sherry vinaigrette? Couldn't be better.
Follow Cutco's handy tutorial for how to remove the corn kernels from the cob using a 7-5/8" Petite Chef.
Cutting the spinach into a chiffonade makes the spinach look like a vibrantly colored herb in the salad and won't wilt the same way spinach or basil leaves would do if held for hours.
If making a day or two ahead, I do wait and add the herbs and spinach right before serving. I also make this salad with fresh blueberries or blackberries in place of the cherry tomatoes, which is also delicious with the corn and toasted couscous. This just might be my salad of the decade!
Ingredients
1 cup pearl (Israeli) couscous
4 ears sweet corn, husks and silks removed
2 quarts water
2 tablespoons salt
1 pound cherry tomatoes, halved
2 cups fresh spinach, chiffonade
1/4 cup minced fresh herbs (cilantro, chives, parsley and/or mint)
1/3 cup extra virgin olive oil
1/4 cup sherry or apple cider vinegar
Directions
In a medium-sized skillet, toast the couscous on low-to-medium heat until lightly browned.
One at a time, using a sharp chef knife, lay an ear of corn on cutting board and cut straight down between the kernels and cob to remove the kernels, rotating the ear after each cut. Transfer the kernels to a large colander and set in sink.
In a medium pan, combine water and salt and bring to a boil over high heat. Add the toasted couscous, adjust the heat to a simmer, and cook for 8 to 10 minutes until tender.
Remove the pot from the heat and pour the couscous over the corn, allowing the hot water to drain through the kernels. Drain well and let cool to room temperature.
To assemble the salad, combine the couscous, corn, tomatoes, baby spinach, herbs, olive oil, vinegar and seasonings. Taste and adjust seasonings, if needed.
Recommended Tools