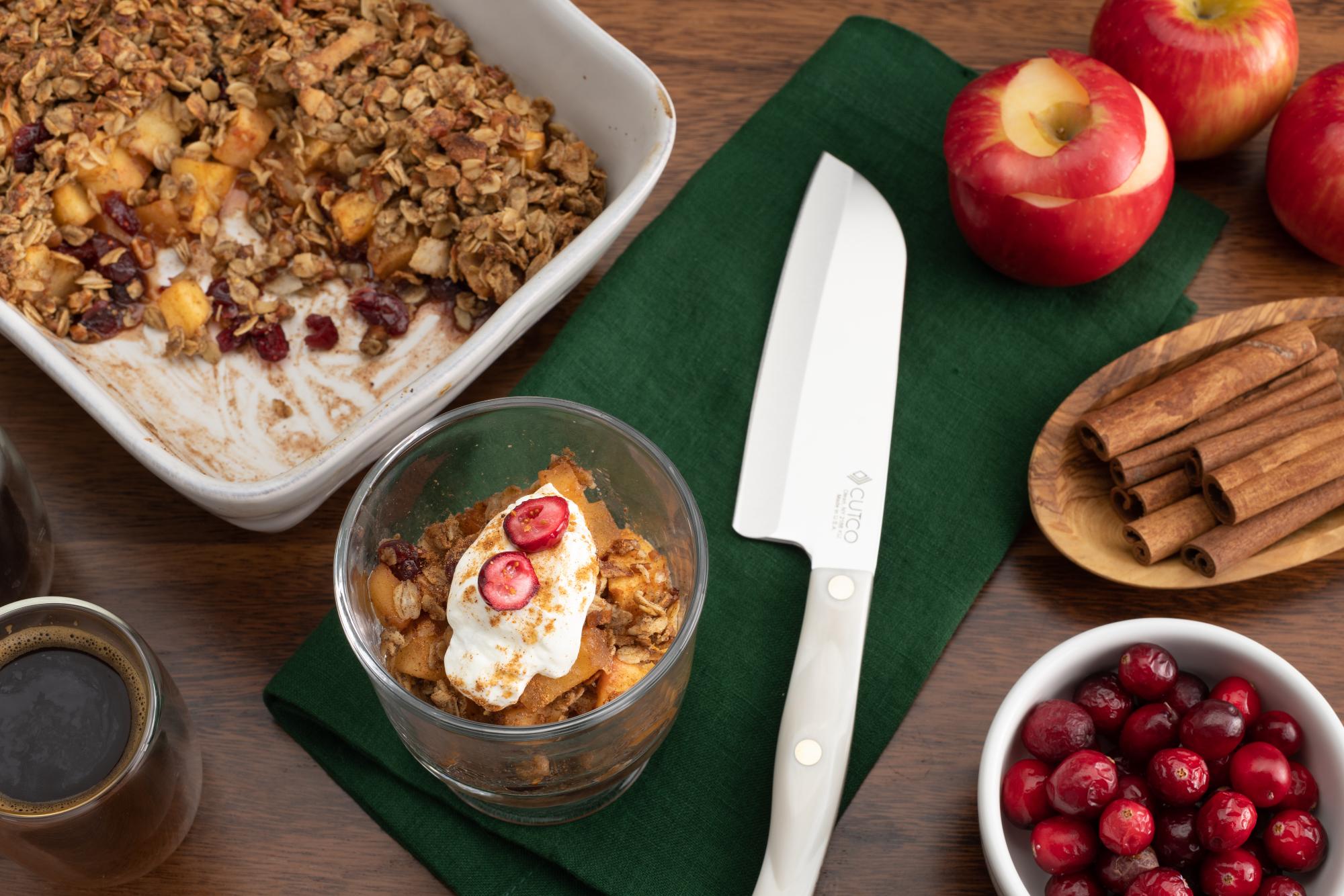 I just love crisps. The sweet fruit and crumbly topping make a perfect pairing. This wholesome Spiced Apple Cranberry Granola Crisp is basically a breakfast dessert. It is also a delicious and nourishing one, served warm or cold and with Greek yogurt or ricotta cheese.
How to Prepare the Crisp
I used Honeycrisp apples for this recipe, but any crisp, tart variety (or a combination) would work. I love the 5" Petite Santoku knife for dicing the apples. The size matches the size of the apples nicely.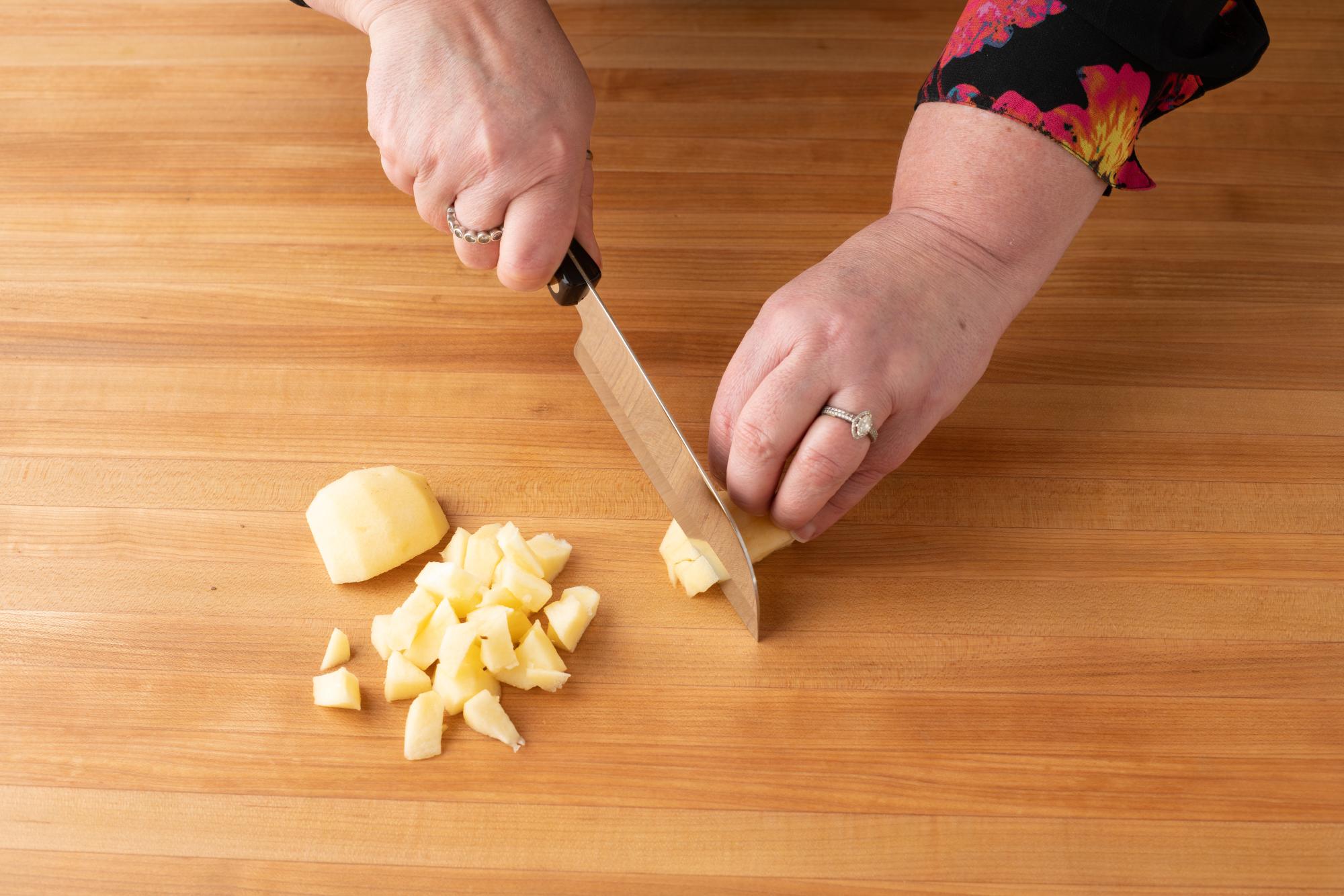 For chopping the pecans, I switched to the 7-5/8" Petite Chef knife. It's longer blade and slightly rounded belly allows me to rock the knife over the pile of pecans for easy chopping.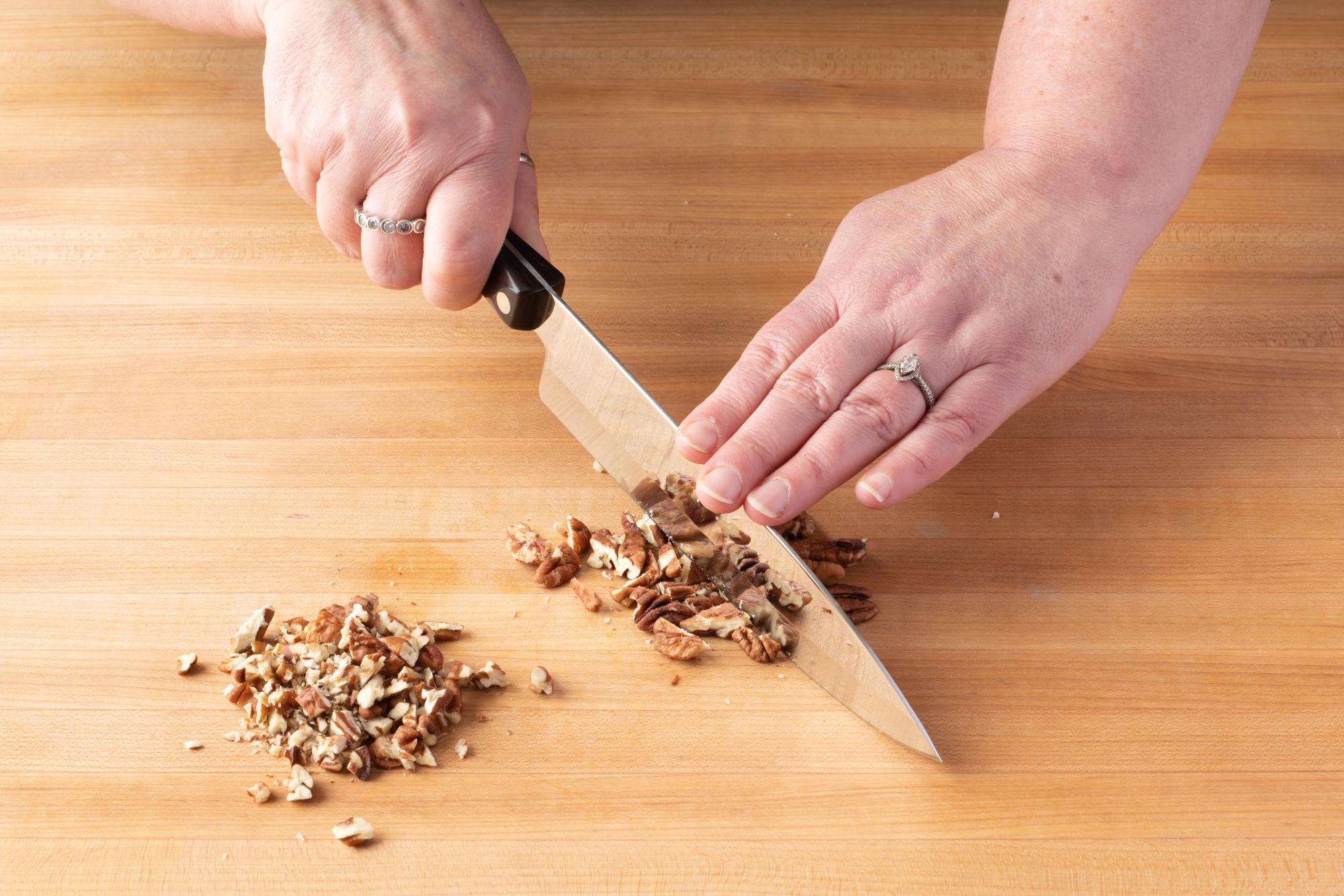 If you need help on how to prepare the nuts, check out Cutco's easy How to Chop Pecans tutorial.
The beautiful thing about this Spiced Apple Cranberry Granola Crisp is that you can easily customize it to your personal tastes and whatever fruit is in season. Swap out the apples for pears, peaches, berries, mango or cherries. You can make a crisp with whatever fruit you have on hand.
The granola crumble topping features the pecans, oats, maple syrup, my P.S. Flavor!™ Mai Chai spice blend and coconut, which complements the fruit nicely.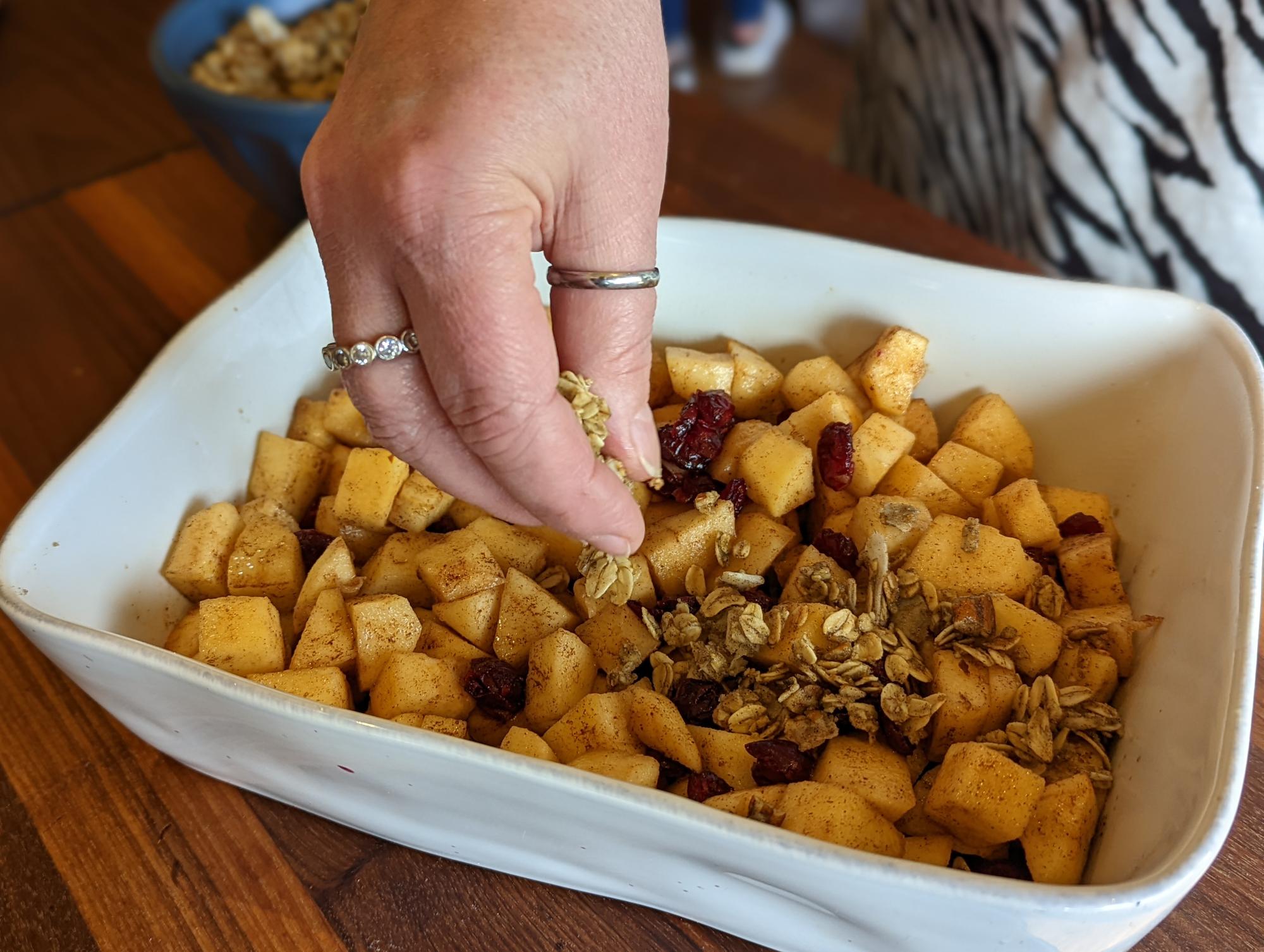 When I make the granola topping, I like to make extra and freeze it for a quick crisp in weeks to come.
The baked crisp will be ready to serve after 30 minutes in a 350 degree oven. It also freezes beautifully. Just wrap tightly after it cools from the oven and pop in freezer.
What's so great about this recipe is that it is the perfect breakfast or dessert for any season and any occasion. I love serving it because my family and guests love the aromatics and the eating experience. The chai spices are simply unforgettable.
Ingredients
2 pounds Gala or Honeycrisp apples, or a mix of apples, peeled, cored, and cut into medium dice
2 tablespoons lemon juice
3 tablespoons sugar in the raw
1 1/2 tablespoons cornstarch
1 1/2 tablespoons P.S. Flavor!™ Mai Chai, or cinnamon and a pinch of salt, divided
1/2 cup dried cranberries
1/4 to 1/2 cup apple juice or cider, if needed
1/4 cup extra-virgin olive oil
2 tablespoons pure maple syrup
1/3 cup whole wheat flour
1 cup old fashioned oats
1/2 teaspoon kosher salt
1/3 cup chopped pecans
1/3 cup shredded unsweetened coconut
Directions
Place a rack in the lower third of your oven; heat oven to 375 F.
In a large bowl, mix diced apple with lemon juice, sugar, cornstarch, 1/2 tablespoon Mai Chai, and dried cranberries until combined. Add apple juice or cider, if apples are not juicy. Transfer to a 9" diameter pie dish or 1-quart baking dish.
Stir oil and maple syrup in a medium bowl to combine. Add flour, oats, salt, pecans, coconut and remaining Mai Chai, and work until mixture comes together in loose clumps. Scatter over apple mixture.
Place crisp on a foil-lined rimmed baking sheet and bake until topping is golden brown and filling is bubbling, 35-45 minutes. If the granola seems to be browning too quickly, cover the baking dish carefully with foil for all but the last few minutes of baking time, then remove the foil to allow it to re-crisp.
Let cool at least 30 minutes before serving (with yogurt, whipped cream, ice cream or ricotta crème). Or, cool completely to room temperature and then cover and refrigerate until ready to serve (delicious as breakfast topped with Greek yogurt, too).
Recommended Tools