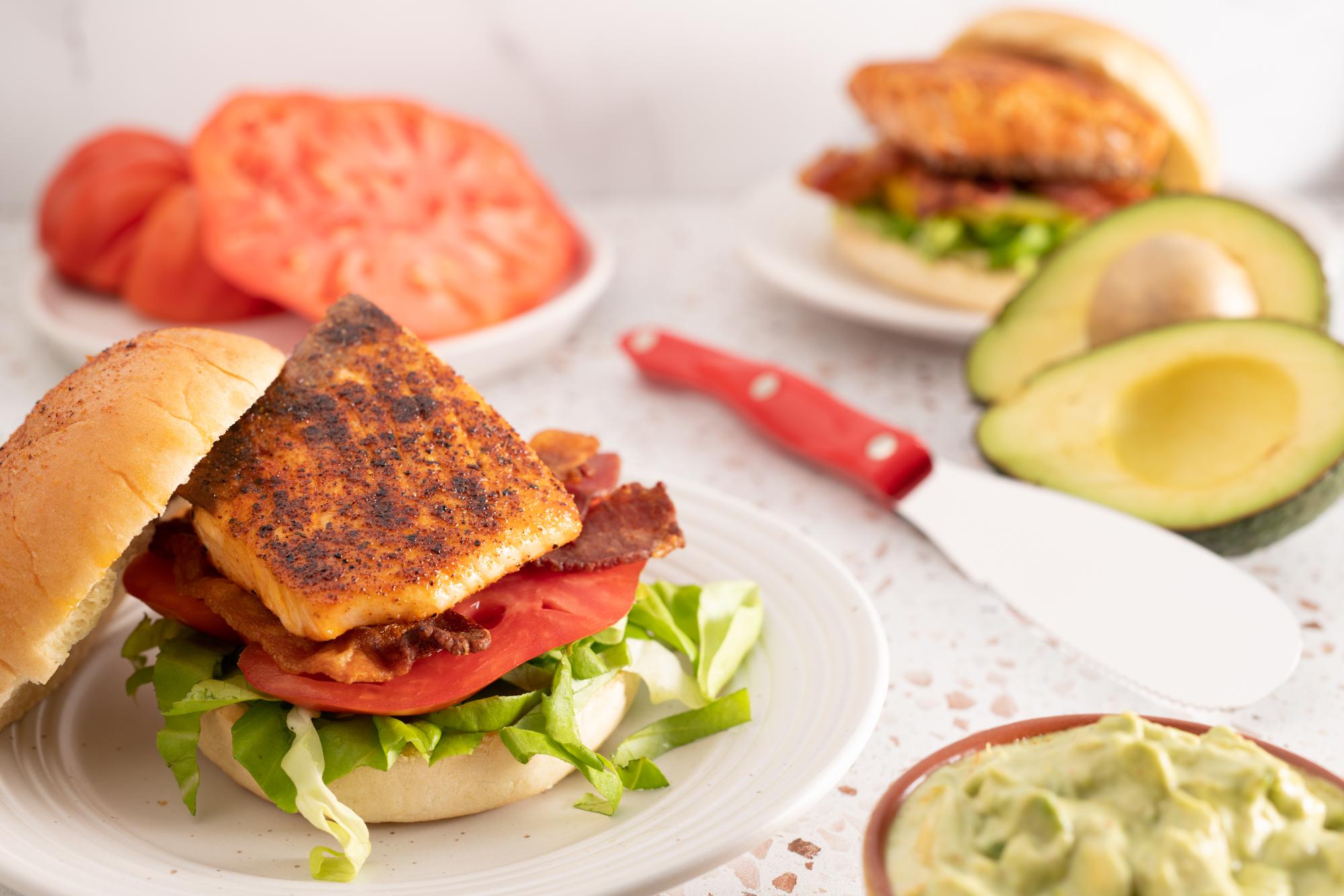 Adding salmon to a bacon, lettuce and tomato sandwich is not a new idea, and for a good reason – it's delicious! Served with a Loaded Baked Potato Salad, this Seared Salmon BLT has all the makings of a hearty and healthy-ish super summer picnic feast. Add fresh chilled watermelon wedges and you'll know summer has arrived.
What Knives to Use
For this recipe, you'll want to cut strips of bacon in half crosswise so they fit nicely on the sandwich. The Cutco Trimmer is great for that.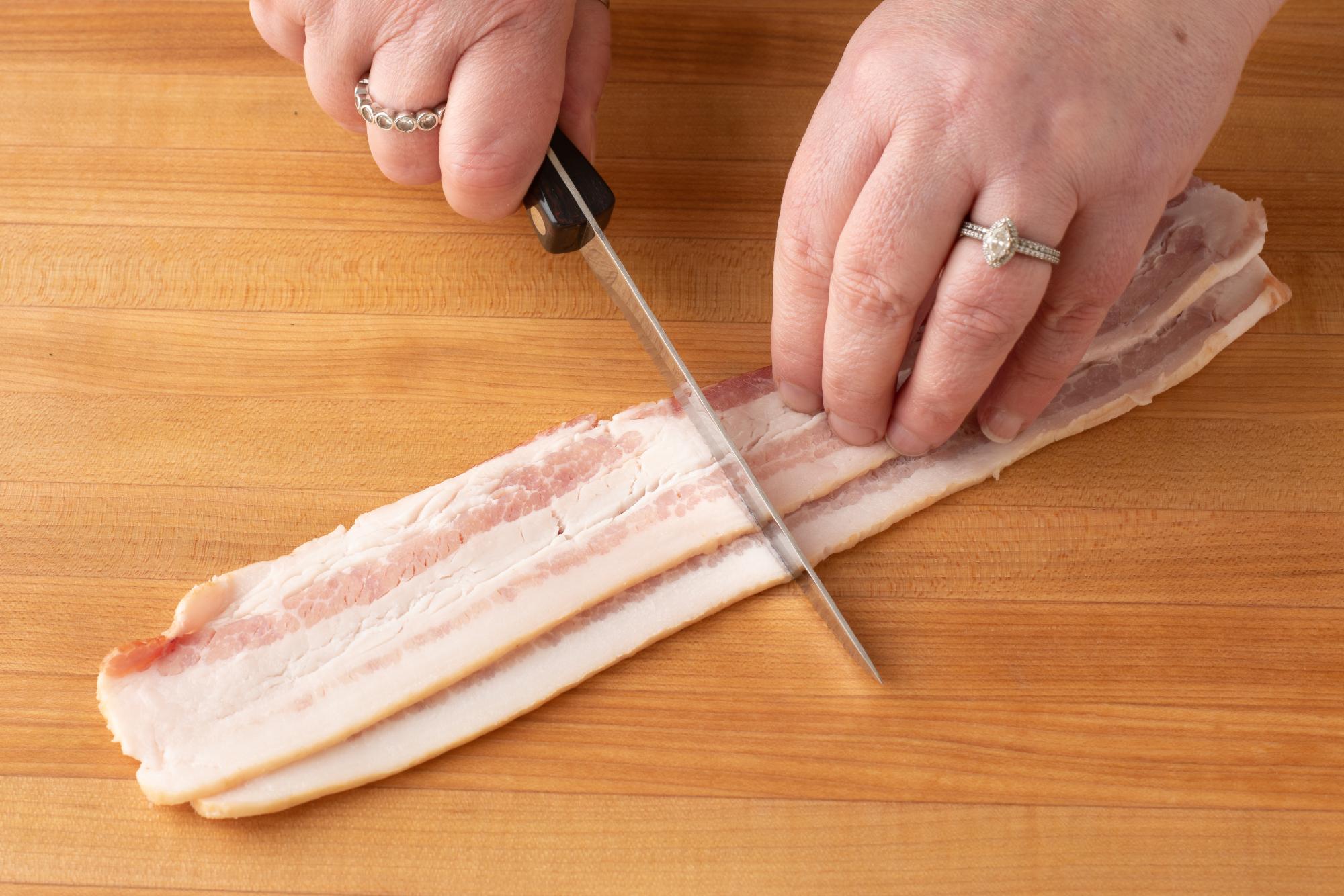 The Trimmer is also a knife that many people call a tomato knife, and for a good reason. The sharp Double-D® edge easily pierces through the skin and then glides through the flesh for perfect slices.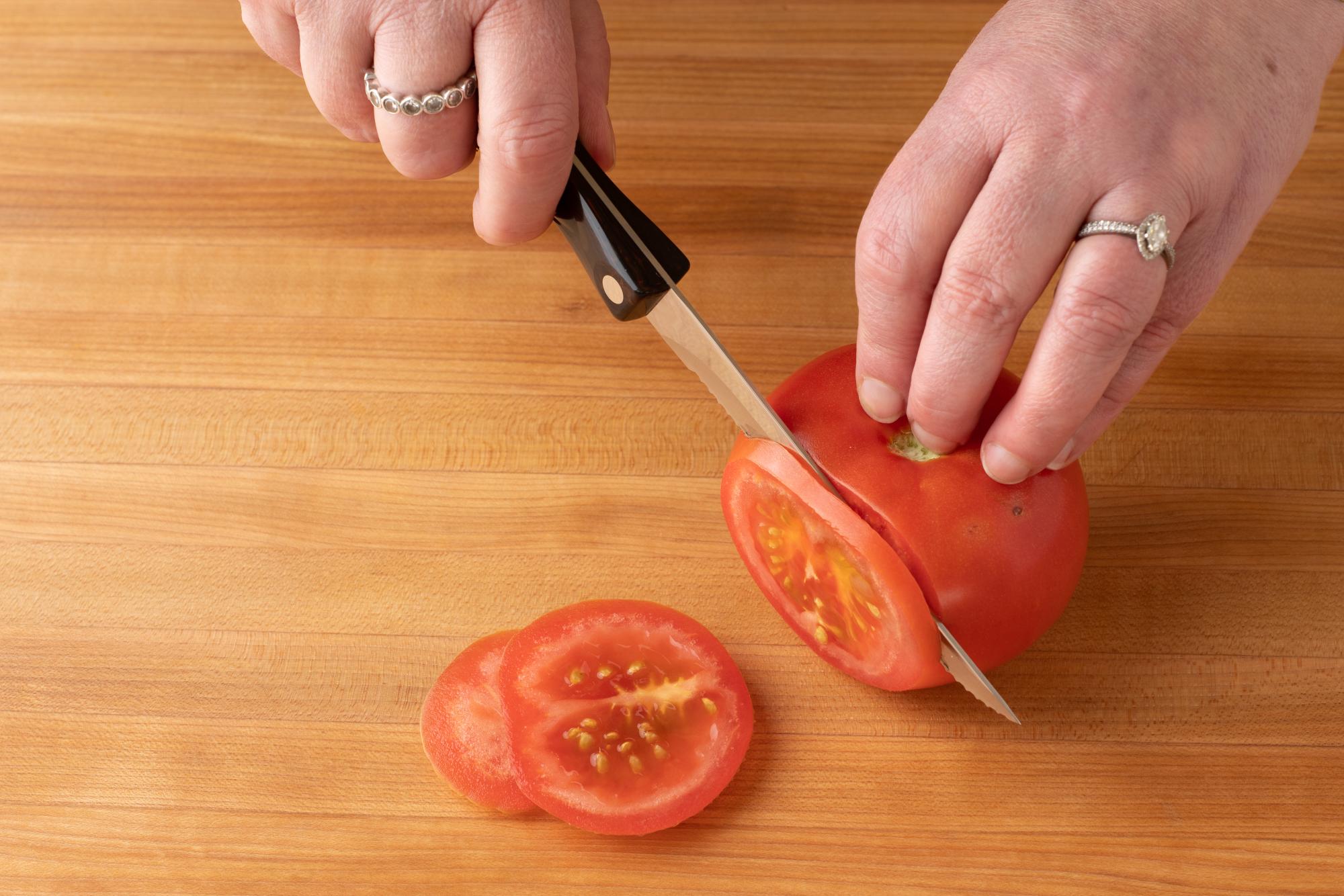 This Seared Salmon BLT includes a mouthwatering avocado spread made from avocado, lemon juice and zest, P.S. Flavor™ Creole Kitchen spice blend and mayonnaise. A Dinner Fork is all you'll need to mash the avocado for making the spread.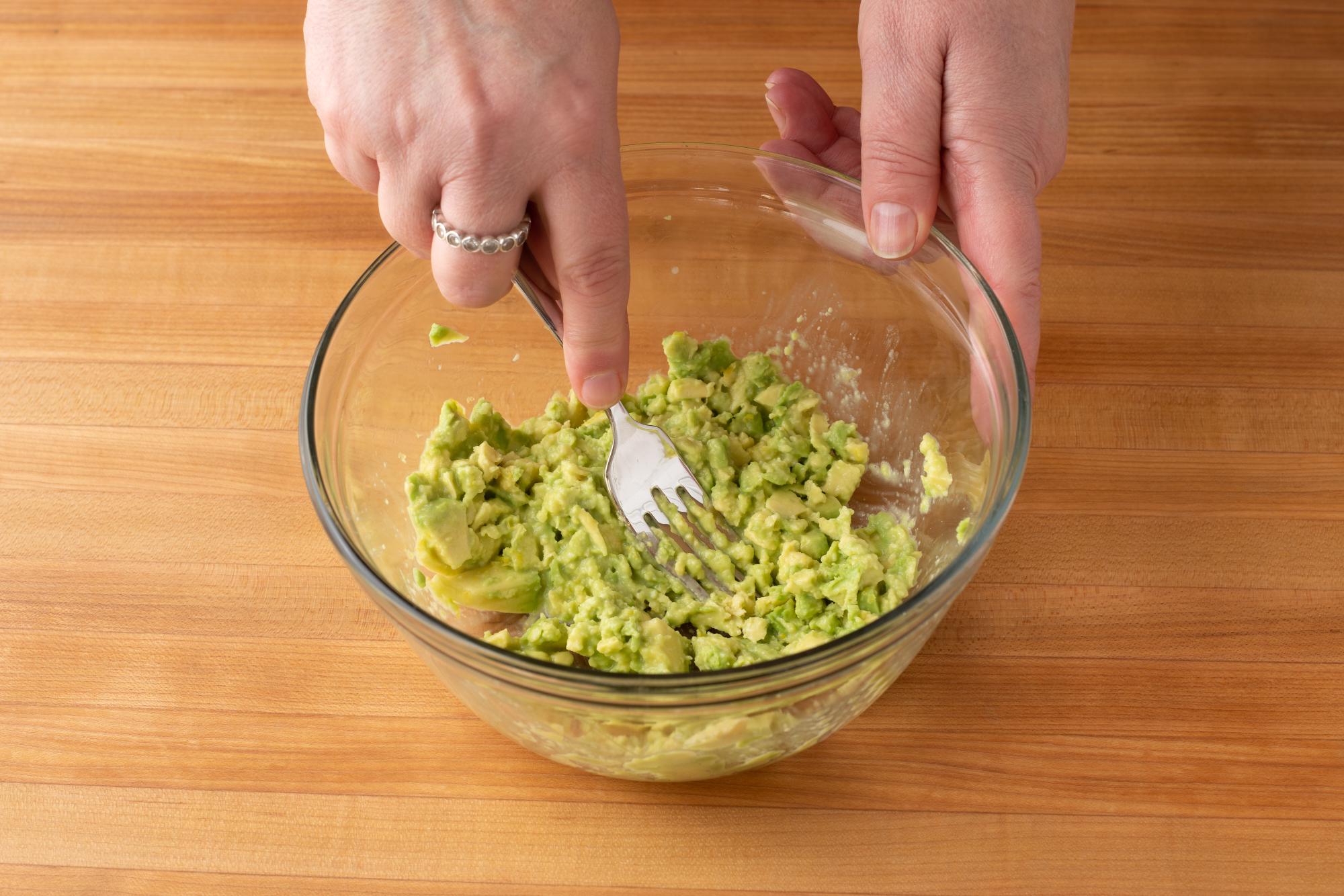 Once all combined, it's as easy as spreading that avocado mixture onto the sandwich with a Spatula Spreader and assemble.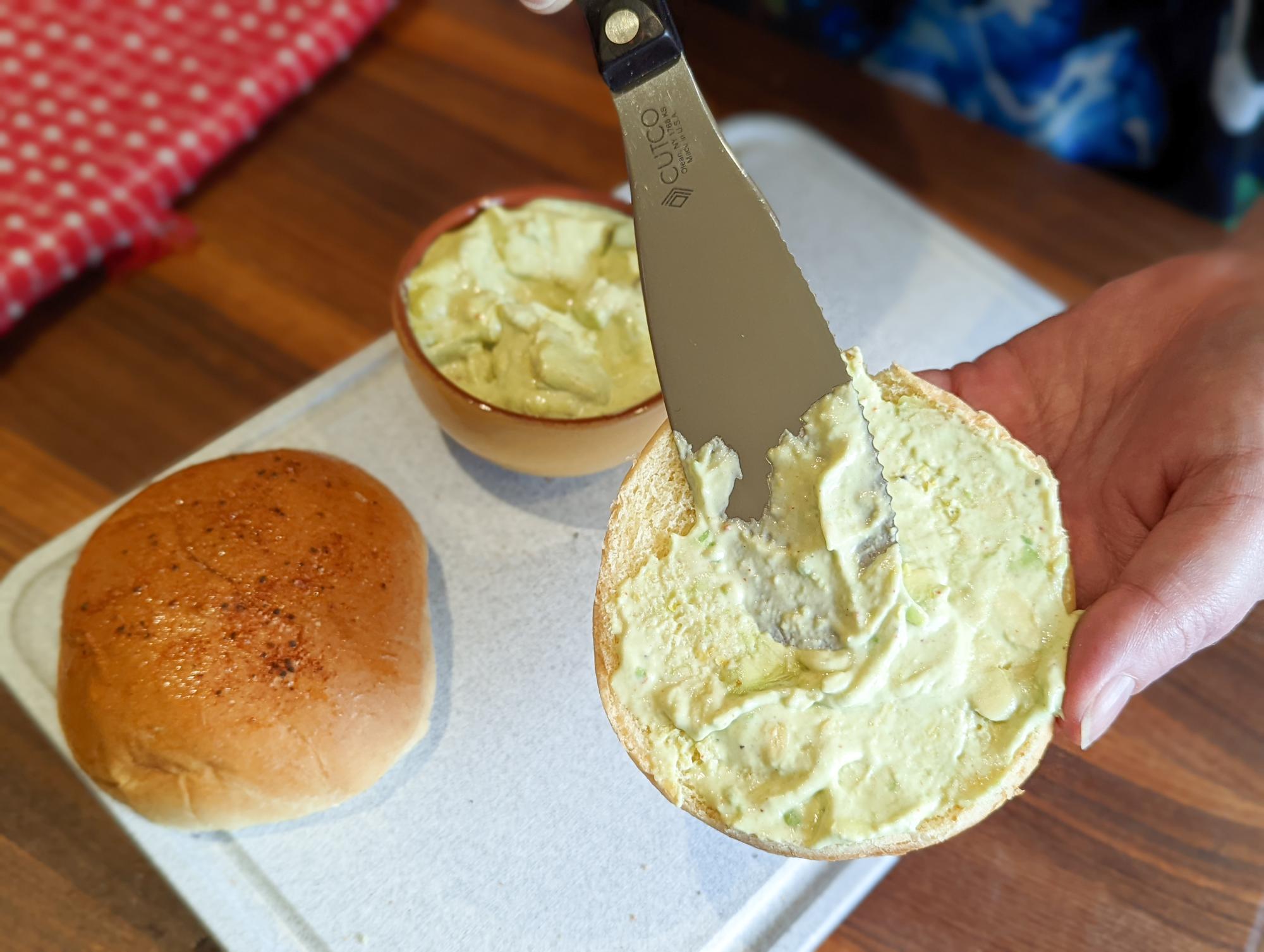 Using thin salmon fillets, rather than center-cut, makes the sandwich easier to hold and eat.
After the bacon's been crisped, remove it from the pan to a paper towel lined plate. Place the salmon, dusted with Creole Kitchen spice blend, into the same pan where it will pick up the meaty and smoky flavors in the rendered bacon fat.
Just as cutting the bacon slices in half makes it easier eating, the avocado mayonnaise brings it all together.
With the warmer weather upon us, sandwiches always make a good choice. If you enjoy this Salmon BLT, give one of these sandwiches a try:
Green Goddess Sandwich With Cucumber, Avocado, Sprouts and Chickpea Spread
Ingredients
4 6-ounce thin-cut skinless salmon fillets (not center-cut)
4 slices thick applewood-smoked bacon (uncooked)
2 teaspoons P.S. Flavor Creole Kitchen seasoning (or your favorite Creole seasoning)
8 slices whole-grain or country-style sourdough bread or 4 rustic kaiser rolls
Extra-virgin olive oil
1-2 large tomatoes, preferably heirloom or beefsteak, sliced
Kosher salt, to taste
1 avocado, peeled, pitted and diced
1/2 lemon, juice and zest
1/3 cup of your favorite mayonnaise
Leaves from 1/4 head Boston/butter lettuce or 1 packed cup baby arugula leaves
Loaded Baked Potato Salad, if desired
Chilled fresh watermelon wedges
Directions
Heat oven to 375 F.
Line a large plate with paper towels. Pat dry salmon fillets.
Cut each bacon slice in half, crosswise. Place in a large skillet; cook over medium heat for about 5 minutes, turning the slices over once, just until crisped. Transfer them to a plate to drain, leaving the rendered bacon fat in the pan, and the pan still over medium heat.
Season the salmon fillets evenly with a teaspoon of the Creole seasoning. Gently lay the fillets in the hot-oil skillet. Cook for about 5 minutes total, or until barely translucent in the center, turning them over halfway through the cooking process. Remove from pan and keep warm until building sandwiches.
While salmon is cooking, brush the bread slices or halved rolls lightly with oil; toast on a sheet pan or directly on the middle oven rack, just until golden browned. Cut 4 evenly thick slices from the tomato and season them lightly with salt, letting them drain on paper towels.
In a bowl, mash together the avocado and lemon juice and zest. Stir in the mayonnaise and add Creole seasoning or kosher salt to taste.
Spread one side of all the toasted bread slices with the avocado mayonnaise. Next, build the sandwiches on four of the spread sides, using ingredients in the following order: the lettuce or arugula, the tomato slice, salmon and a crisscross of 2 bacon pieces. Top with remaining toasted bread slices or rolls, spread sides down.
Cut each sandwich in half, and serve right away with Loaded Baked Potato Salad and Chilled Watermelon wedges.
Recommended Tools