Pumpkin or Winter Squash Two Ways (Pureed and Roasted)
244 days ago
Skip to recipe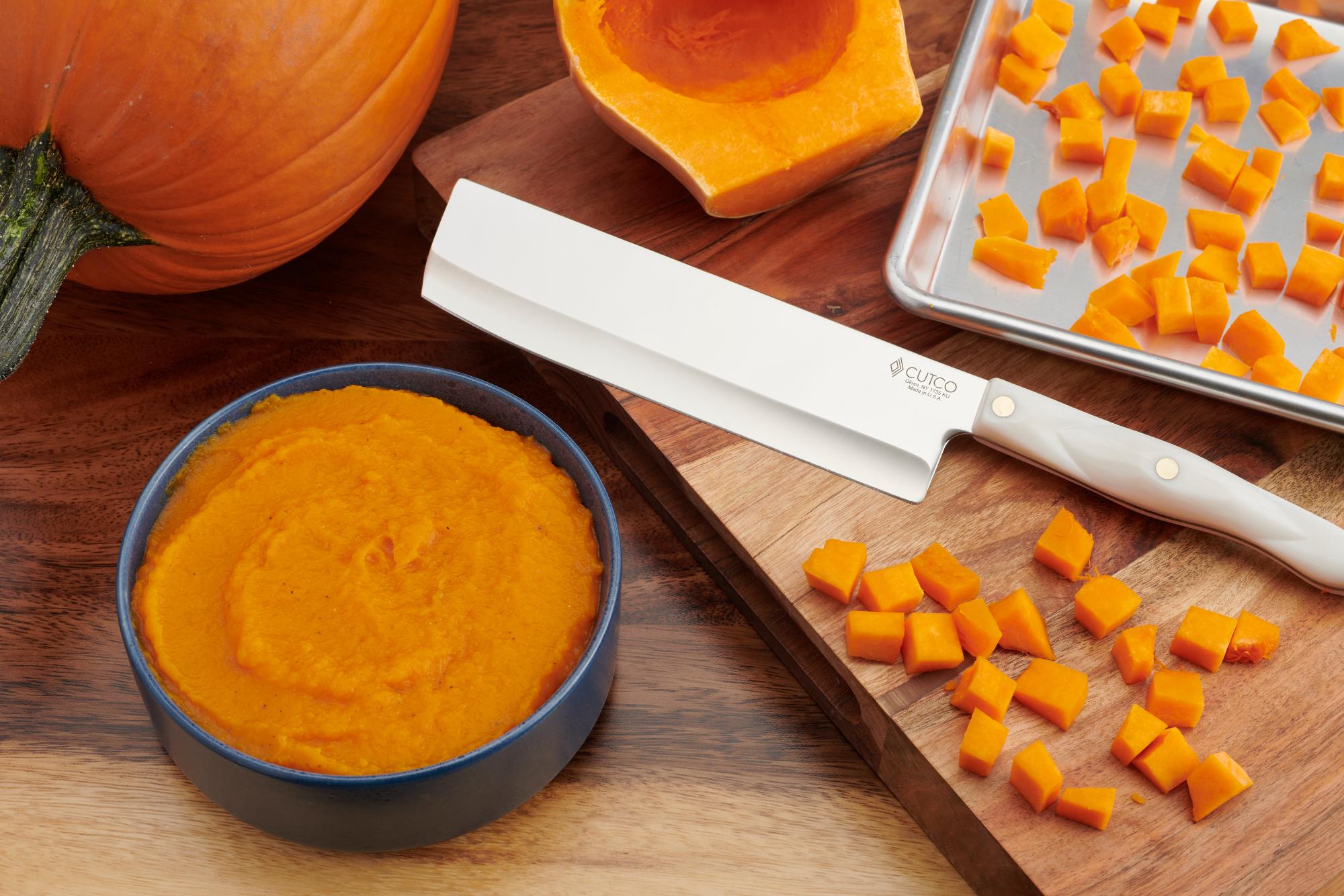 In my mind, homemade is just better. That's why I'm sharing with you how to make pumpkin or squash in two ways – pureed and diced – for adding to your cooking. It really isn't hard to do and the best part is, you control what goes into it.
While we think of pumpkin as being an entity of its own, it really is a winter squash and can be used in many recipes calling for squash.
For making both a winter squash puree and roasted squash, begin by cutting it into the size dice that works best for what you're doing. For making squash into a puree you can cut it into larger chunks. But for roasting, I like to cut the squash into a smaller dice, and Cutco's Vegetable Knife is the perfect tool for doing it.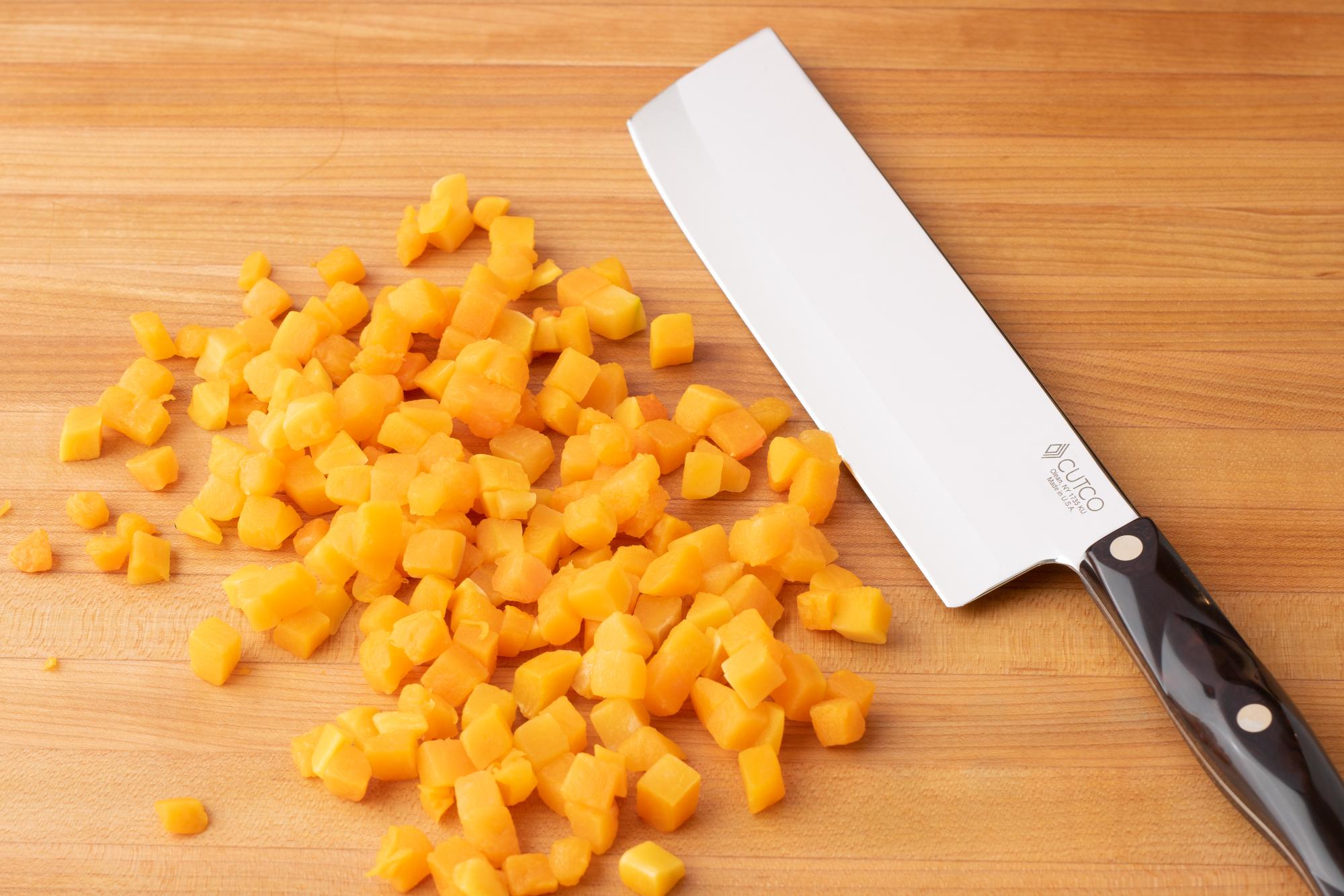 Keep the seasoning simple when preparing pumpkin or winter squash for both a puree and roasting. My P.S. Flavor!™ Creole Kitchen that adds just a touch of heat. Otherwise, salt and pepper does just fine for adding a bit of flavor.
For roasting, I always recommend placing the sheet pan in the oven while it comes up to temperature. Once it's ready, toss the squash on the pan and hear that sizzle as the caramelization beings.
Squash puree can be used for adding nutty, sweet flavor to dips, cakes, risotto, polenta and oatmeal. Roasted squash can be eaten on its own or added to salads, frittatas, soup or pasta. Honestly, I am a proponent of experimenting with whatever sounds good to you.
You may also find that the flavor profile of different types of squash can vary from a little savory to a bit sweet.
Check out these handy tutorials on how to cut different types of winter squash:
How to Dice a Butternut Squash
Pumpkin or Squash Two Ways (Pureed and Roasted)
Print Recipe
Ingredients
1 (2-1/2 pound) small pumpkin, butternut, buttercup or other winter squash
1 1/2 teaspoons P.S. Flavor!? Creole Kitchen, other creole seasoning or kosher salt and black pepper, to taste, divided
2 cloves garlic, smashed
6 fresh thyme sprigs
Low sodium chicken stock or water (about 2 cups) to cover
1 teaspoon extra-virgin olive oil
Directions
Cut the pumpkin or squash through the stem-end and scoop out the seeds and fibers. If you like, save the seeds and roast them for another use.
Using a knife or a vegetable peeler, peel the pumpkin or squash halves. Cut in half and then into a small dice and set aside.
To make the puree, cut the remaining half into large chunks and transfer to a small pot. Add 1 teaspoon Creole Kitchen, garlic, thyme sprigs and chicken stock (or water) to cover. Bring to boil over high heat, and then reduce heat to a simmer. Cook for 12-15 minutes until fork tender. Blend until smooth with an immersion blender or carefully in a stand blender or food processor.
To cook the diced pumpkin, toss with 1 teaspoon olive oil and ½ teaspoon Creole Kitchen. Spread out onto a hot sheet pan in a 375 F degree oven and roast until pumpkin is golden brown.
Recommended Tools