Plum, Peach and Jicama Salad With Plum Vinaigrette
823 days ago
Skip to recipe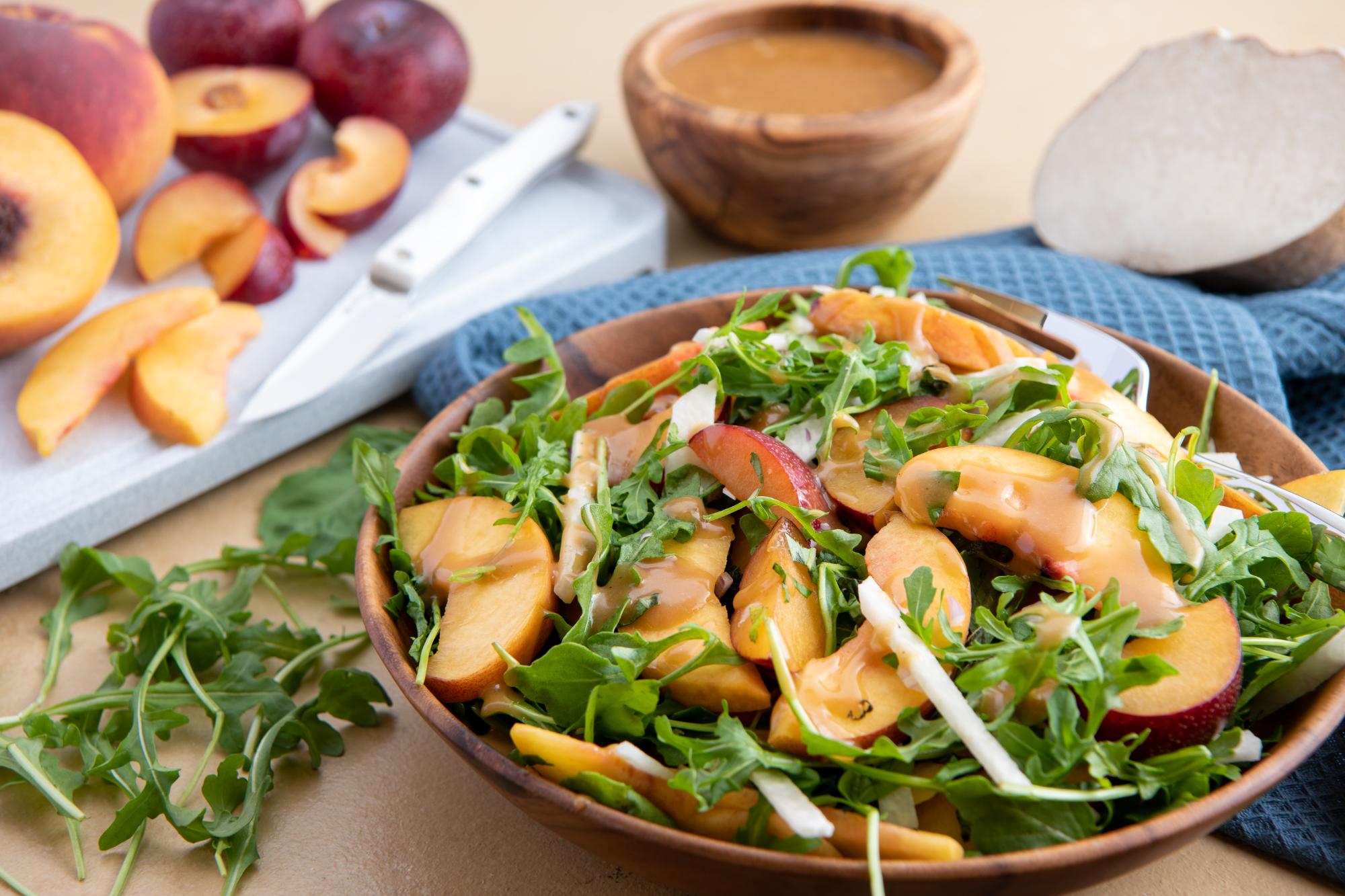 Most times when I think of a fruit salad, my mind goes toward the sweet side of things but something I've been doing more of lately is adding fruits to my green salads – and not just dried fruits. This Plum, Peach and Jicama Salad with Plum Vinaigrette recipe combines the flavors of my favorite stone fruits with jicama, a root vegetable that tastes like an apple but not as sweet. Add some greens and fresh herbs and you have a wonderful new salad to add to your lunch rotation. You can also throw in some chicken for added protein.
The hardest part of this recipe is making the plum vinaigrette, but trust me it's worth the effort. And by hard, it's more of a patience thing to allow the plums to cook down so the skin removes easily from the fruit. What you want to look for is the plums cooking down so that the skins actually separate on their own from the fruit. Then you can use a fork to pluck them from the cooked-down plums. After that you just mix the rest of the ingredients together.
For the rest of the recipe, it's a matter of prep work and then putting it all together. Stone fruits, like the plum and peach, can sometimes present a challenge when cutting them. For the plum, which is typically small, I use the Cutting Board to leverage the fruit and then cut around the pit with the 3" Gourmet Paring Knife.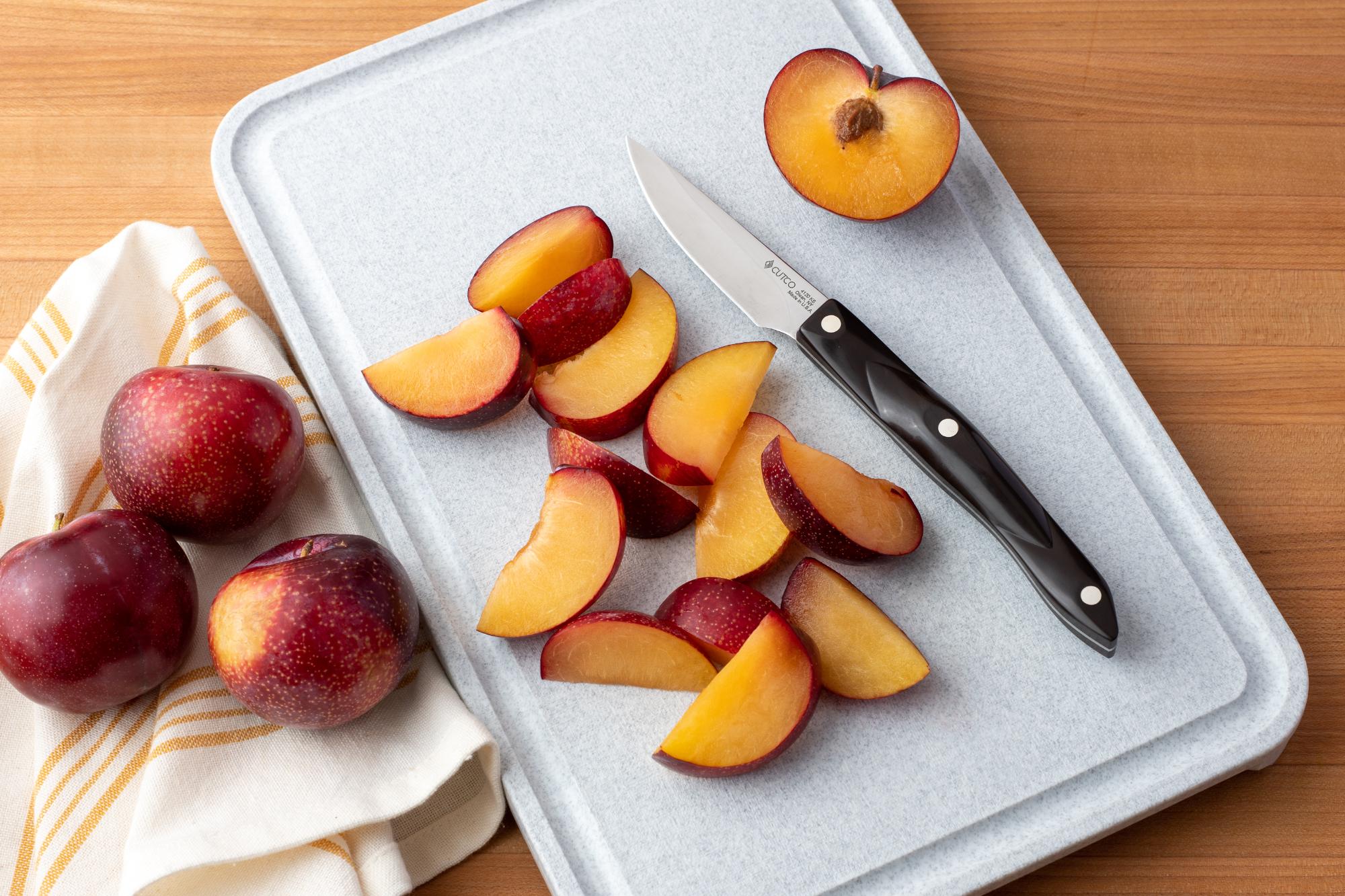 To remove the pit, I squeeze the fruit until the pit loosens itself and I'm able to lift it out. Check out our infographic, How to Cut a Plum, for more in-depth instruction.
Jicama is a root vegetable, so it requires a hefty knife to cut through the skin. Using the Hardy Slicer, I was able to quickly peel off the skin, cut the jicama into slices and then again into matchsticks. Take a look at our step-by-step tutorial, How to Cut Jicama, to assist you with this task.
Another technique I used in prepping this salad was to chiffonade the basil, which is a cutting technique that allows you to create shreds or strips of leafy greens. Stack the leaves, roll them into a tight roll like a cigar and then, using a 7-5/8" Petite Chef knife, cut the rolled leaves crosswise into thin ribbons.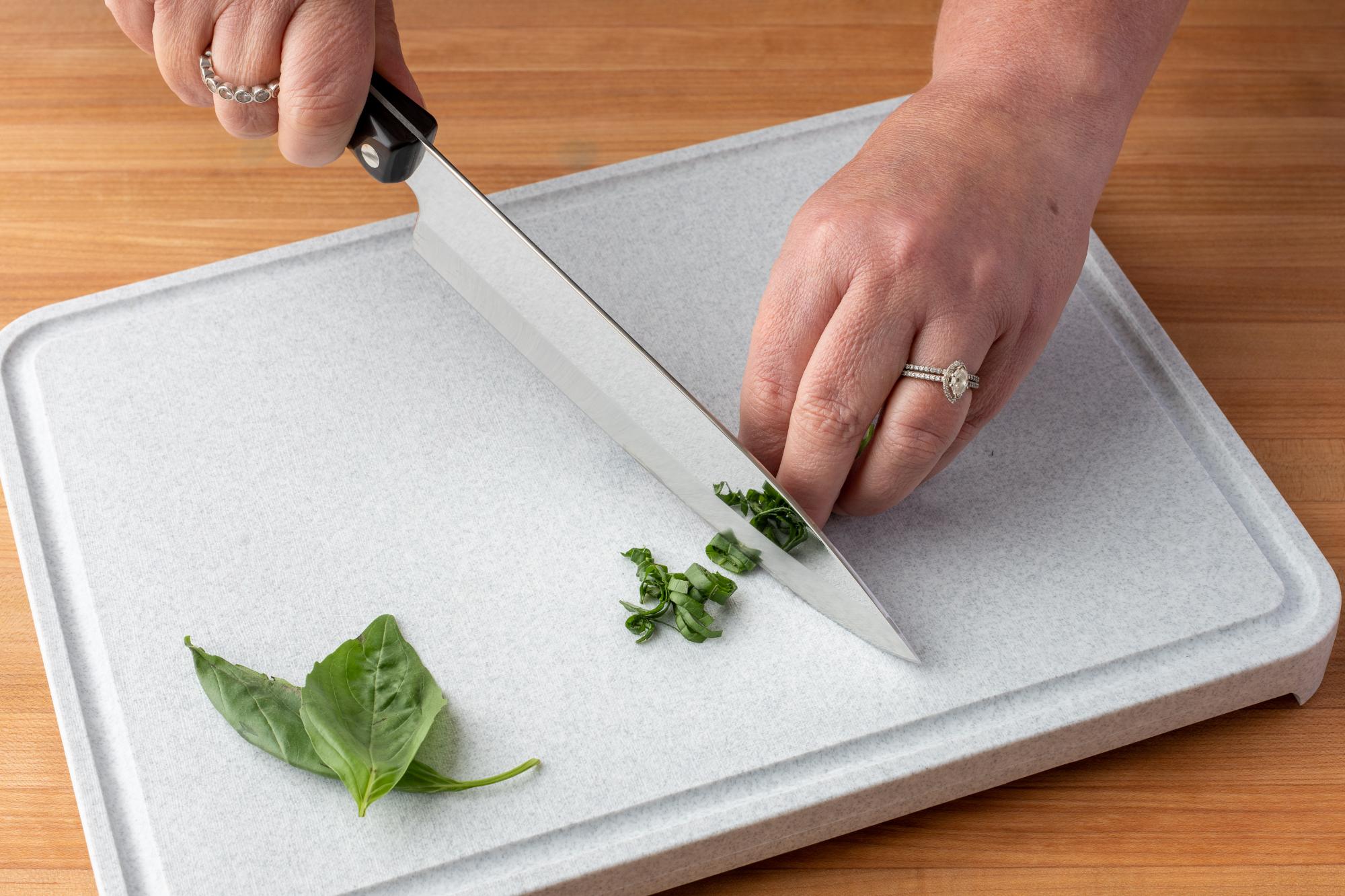 Our How to Chiffonade video is a great learning tool for you to master this technique.
To pull this salad together, I tossed the plums, peaches and jicama together and tossed the greens separately. I then gently tossed the two together, added the seasoning and topped with the plum vinaigrette. This Plum, Peach and Jicama Salad with Plum Vinaigrette was definitely a departure from the ordinary. I love stone fruits, so this was a fruit salad I truly appreciated. The fresh herbs added additional flavor and the plum vinaigrette is something I would make again to use in other salads or over chicken or pork. It wasn't too sweet, which is why I liked it so much, and I could really see adding some protein to make this a complete meal. I hope you give it a try.
Plum, Peach and Jicama Salad with Plum Vinaigrette
Print Recipe
Ingredients
For the vinaigrette:
2 small plums, cut in quarters and pitted with skin still attached
1/4 cup sherry vinegar
1 tablespoon maple syrup
1/2 cup olive oil
Kosher salt, pinch
Freshly ground black pepper, pinch
For the salad:
3 plums, pitted and cut into 1/2-inch wedges
2 peaches, pitted and cut into 1/2-inch wedges
1 cup jicama, cut into thin matchsticks
1 cup arugula
1 small shallot, finely chopped
2 tablespoons fresh basil, cut into strips (chiffonade)
1 teaspoon mint, chopped
Freshly ground black pepper, to taste
Kosher salt, to taste
Directions
Prepare the vinaigrette:
In a small saucepan add the plums, vinegar, maple syrup, olive oil, salt and pepper and bring the mixture to a boil. Reduce to a simmer and when the plum is cooked down, remove from heat and remove the skins.
Whisk the dressing together and chill.
Whisk again before serving and refrigerate any leftover dressing.
Prepare the salad:
Toss plums, peaches and jicama together and set aside.
Add the arugula, shallot, basil and mint to a large serving bowl and toss to combine.
Add the fruit and jicama to the arugula mixture and gently toss to combine the ingredients.
Season with salt and pepper.
Drizzle with plum vinaigrette and serve.
Recommended Tools