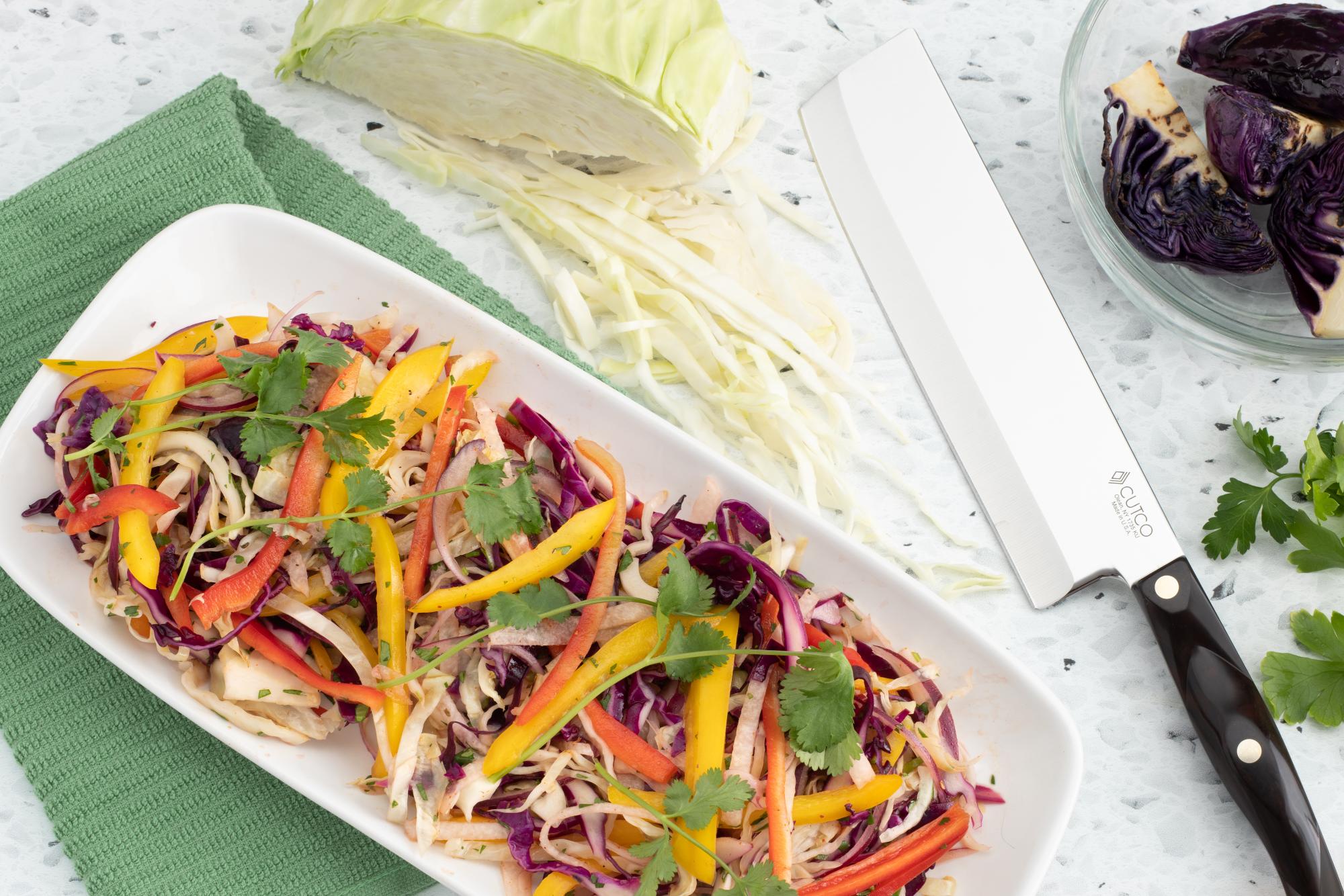 Coleslaw is an easy side dish that's great on its own or as a condiment for sandwiches. But, if you're looking to shake things up a bit, this Grilled Cabbage and Pepper Slaw takes the ordinary to extraordinary with its caramelized flavor and slight bite of jalapeño.
Grilling the cabbage gently softens it for a smoky, but still crisp version of my favorite go-to summer side. The zippy, spicy-sweet-salty vinaigrette flavorfully balances the charred bits. I enjoy it much more than a creamy coleslaw dressing.
Prepping the Slaw Ingredients
A Vegetable Knife is invaluable for preparing the cabbage for this recipe. The long, wide, sharp blade slices through this hardy vegetable without wavering. Trim off the bottom, cut the head into quarters and cut out the core before grilling.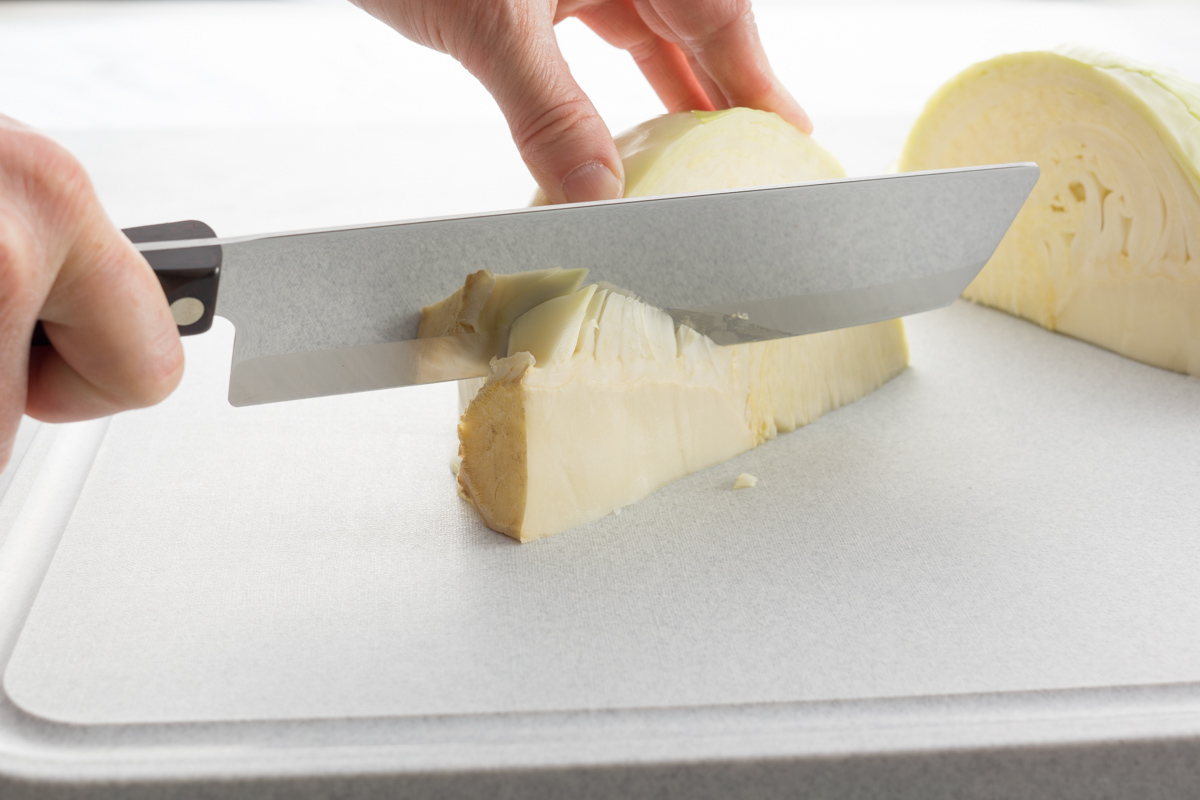 Once grilled, use the 7-3/4" Petite Slicer to cut thin strips.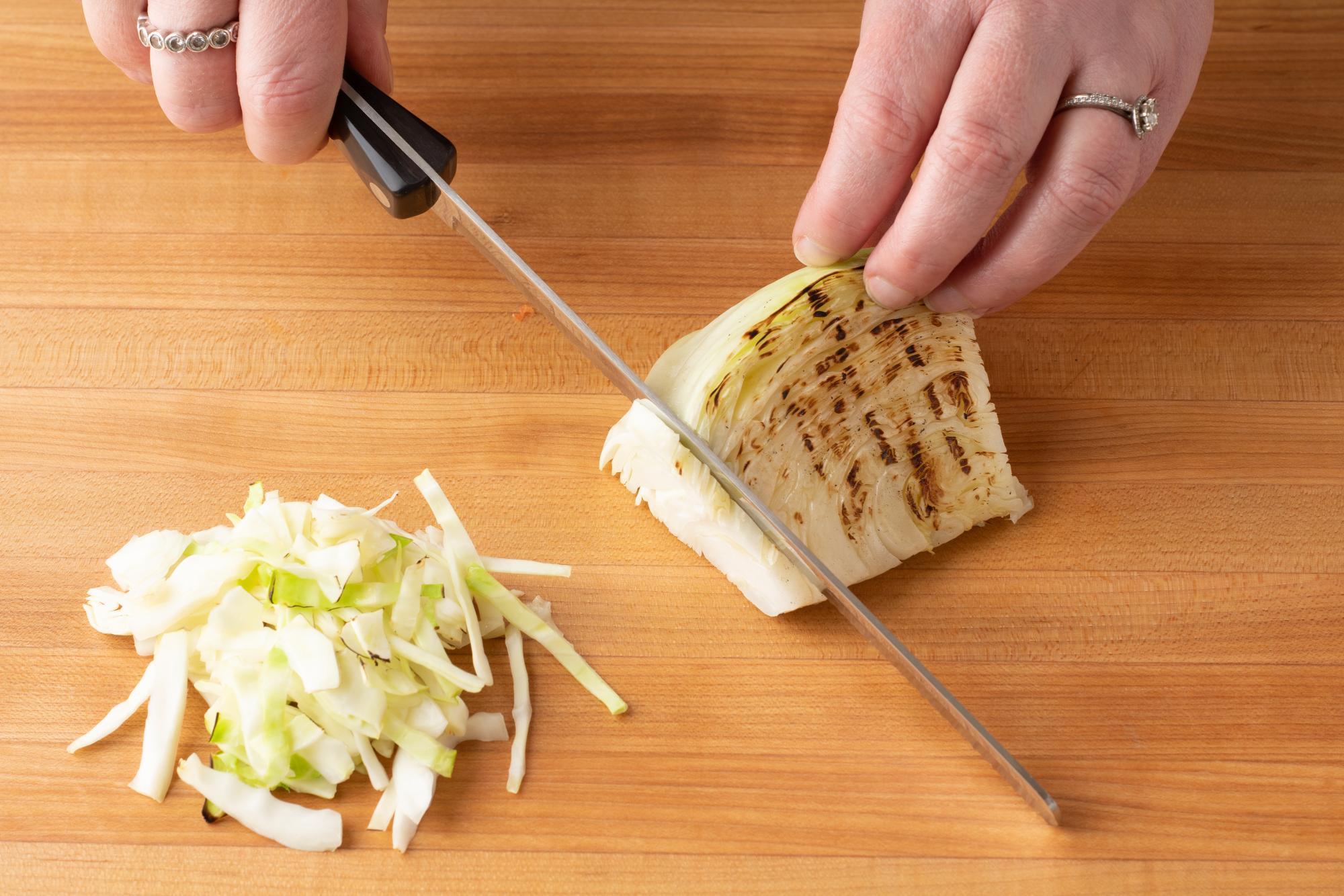 For thinly slicing the red and yellow peppers, I like the 5" Petite Santoku knife. The blade length matches the size of the peppers and the sharp, straight edge cleanly cuts through the vegetable.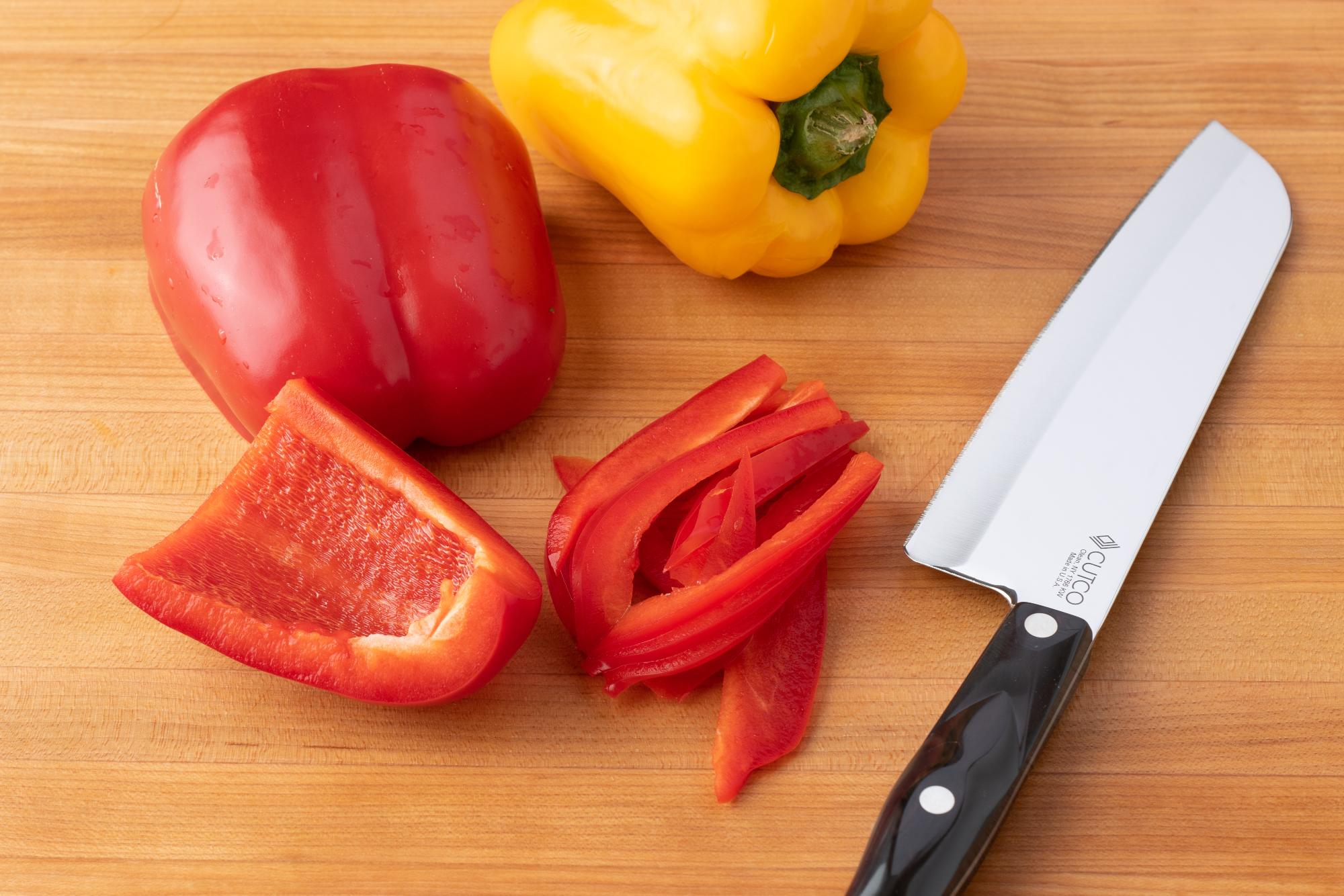 I mentioned in the recipe that you could add jicama to the slaw if you choose. It adds a nice, slightly sweet flavor. Because of its tough makeup, use the Hardy Slicer to cut the jicama into thin strips.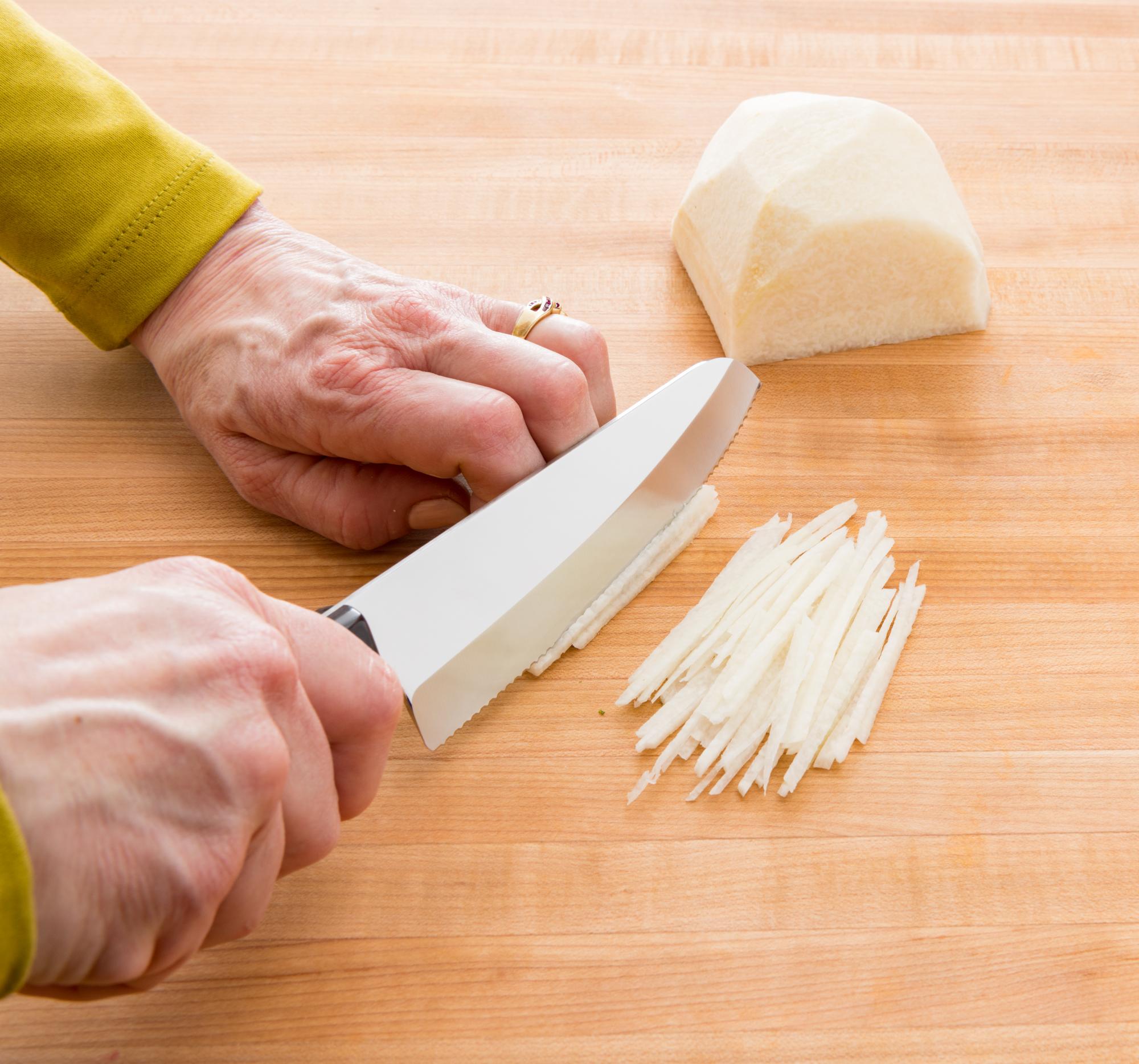 For mincing the jalapeño, refer to Cutco's handy How to Mince Jalapeños tutorial.
While there's a bit of knife work required to make this salad, Cutco makes it easy and it's actually fun seeing it all come together.
To elevate Grilled Cabbage and Pepper Slaw even further, I include my P.S. Flavor!™ Creole Kitchen and P.S. Flavor!™ Citrus Spice blends to add layers of flavor.
Refrigerating the slaw after making it, brings it all together, but it's also delicious freshly tossed.
Anytime I'm grilling meats, I'll add some veggies like cabbage or peppers to cook and either serve them alongside whatever I'm preparing, or reserve them to use for delicious dishes in the days ahead. Grilled veggies add a flavor pop to soups or stir-fries.
Ingredients
1 small head cabbage, cored and grilled, if desired
1 red pepper, thinly sliced
1 yellow pepper, thinly sliced
1 small red onion, thinly sliced
1 jalapeño pepper, seeded and cored, finely minced
1/2 jicama, peeled and thinly sliced (optional)
1/2 cup rice vinegar
Juice of one lime
1 tablespoon honey
1 tablespoon extra-virgin olive oil
1 teaspoon P.S. Flavor!™ Creole Kitchen, or kosher salt and black pepper to taste
1 teaspoon P.S. Flavor!™ Citrus Spice, or 1 teaspoon lime zest
Salt to taste
1/4 cup chopped fresh cilantro
Directions
If you decide to grill the cabbage, quarter it, lightly brush with olive oil and grill until slightly charred. Remove from grill and cool; thinly slice into shreds. If not grilling, simply shred the cabbage.
Place the shredded cabbage, red and yellow bell peppers, red onion, jalapeño and jicama (if using) in a stainless mixing bowl.
Make the vinaigrette: Combine the remaining ingredients in a small mixing bowl and mix with a Mix-Stir until evenly blended. Pour the vinaigrette over the vegetables and toss until evenly blended.
Adjust seasoning with additional kosher salt, if desired.
Chill for at least 4 hours before serving.
Recommended Tools