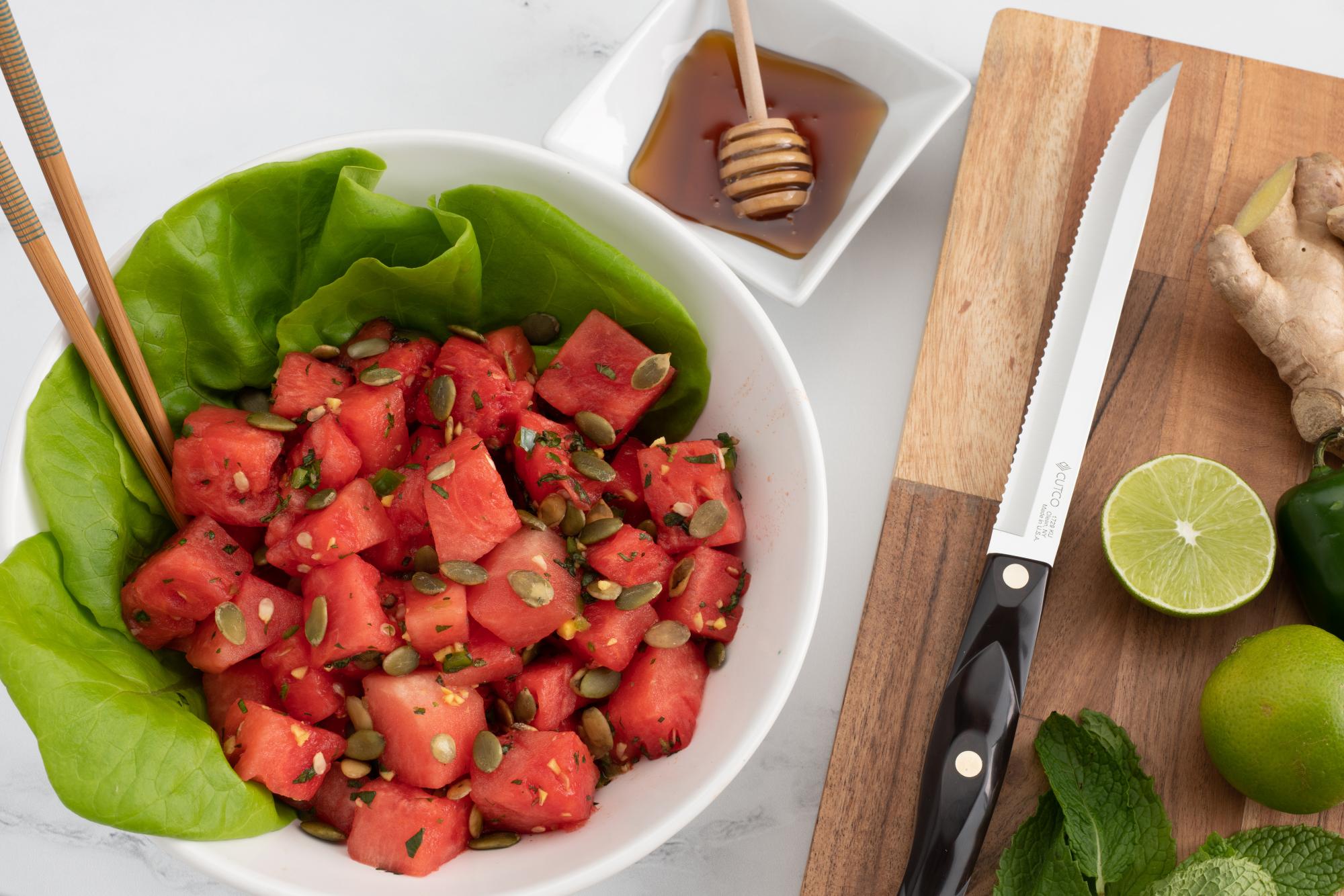 Do you love tuna poke bowls, but are not sure about making it at home without a source for good quality tuna? Or maybe you are not a fish eater, yet love the flavors of poke? You are in for a refreshing and delicious treat with this Fire and Ice Watermelon Poke Salad.
Preparing the Ingredients
A firm, ripe watermelon is best when making this recipe so that the cubes don't dissolve in the marinade. I love using the 7-5/8" Petite Chef knife for dicing the watermelon.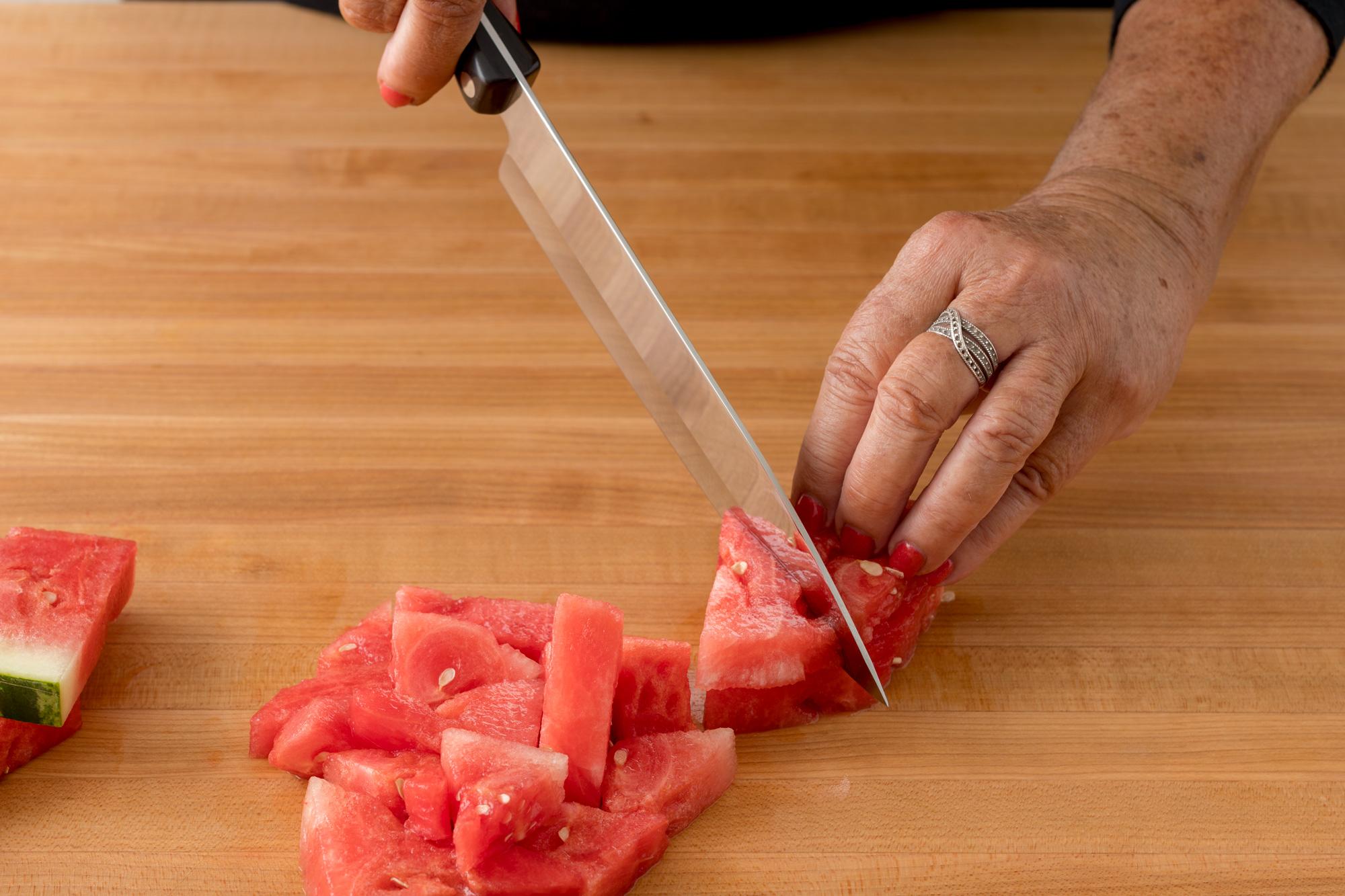 After cubing the melon, pop it in the refrigerator to chill until you're ready to mix the poke salad together. This is where the salad gets its "ice" from.
The marinade brings the classic symphony of poke flavors to this dish, combining lime juice, honey, ginger and fresh herbs. To prep the ginger, a 5" Petite Santoku is just the right size.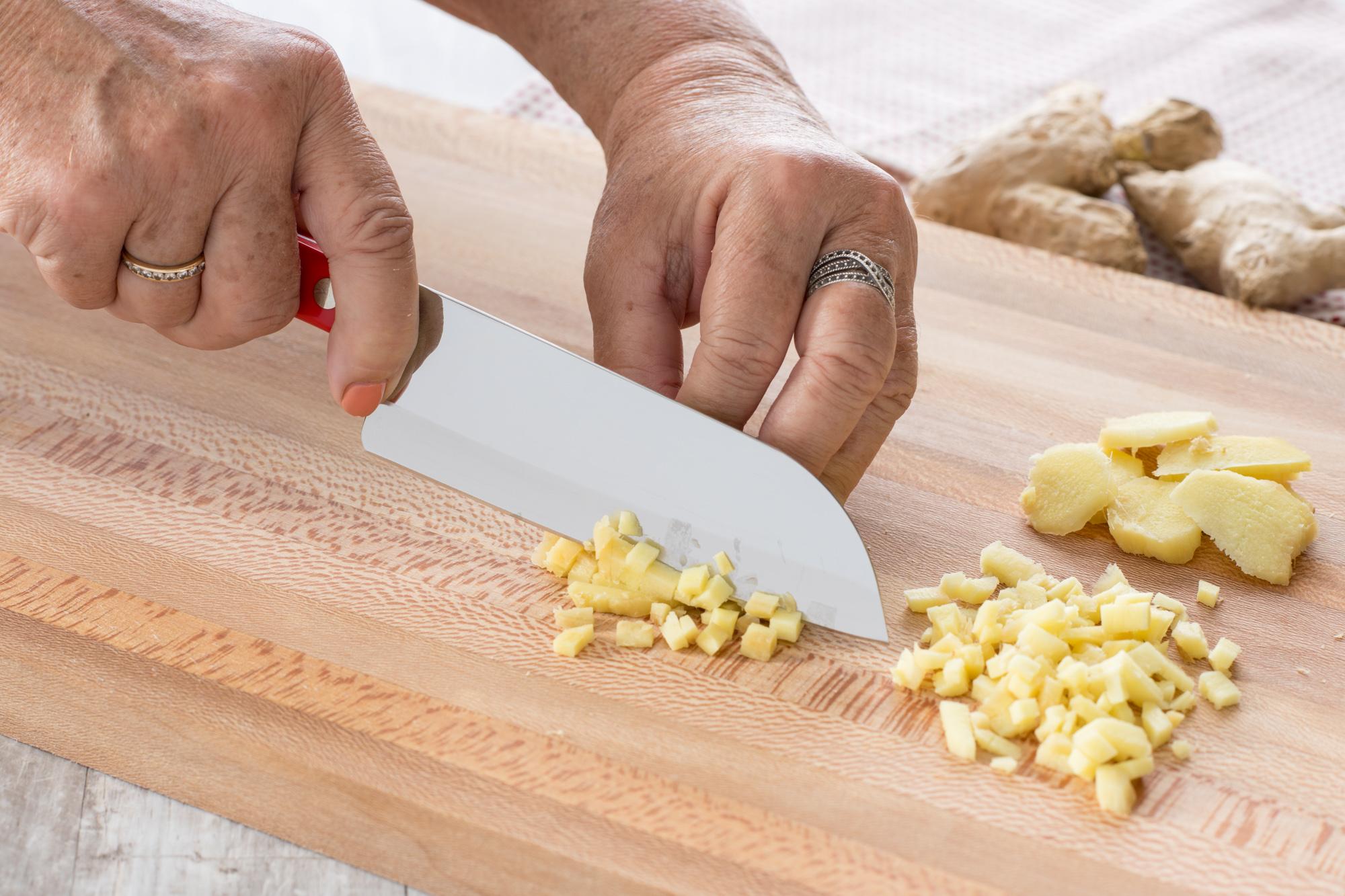 For the fresh cilantro and mint, make sure to use a sharp knife that will cut cleanly through the delicate leaves without crushing them. The 7-5/8" Petite Chef is a good choice.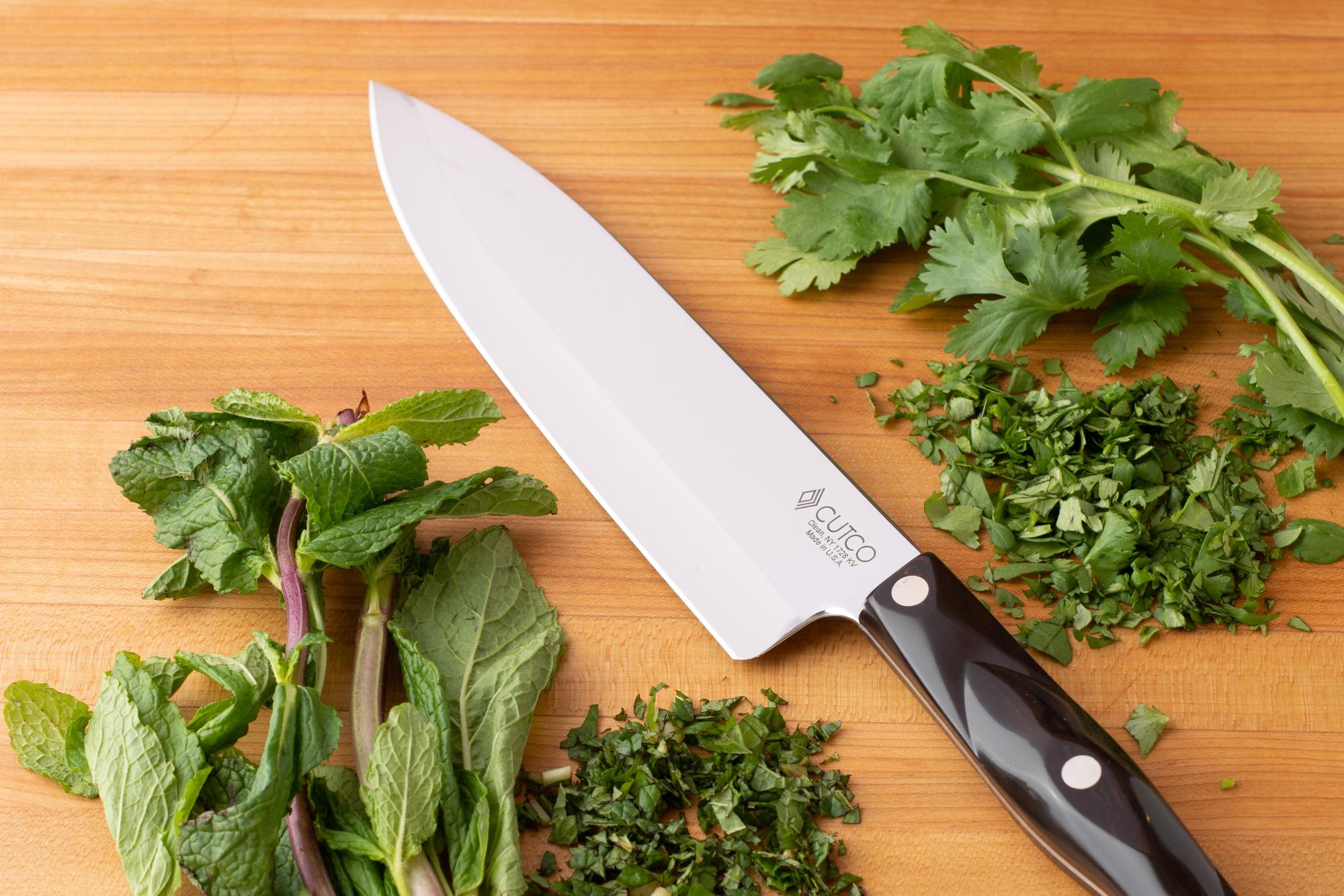 The dish gets its "fire" from the Sriracha and jalapeño. The recipe includes the amount of those ingredients to use, but you can adjust them to your taste.
To mince the jalapeño, look no further than the 4" Gourmet Paring Knife.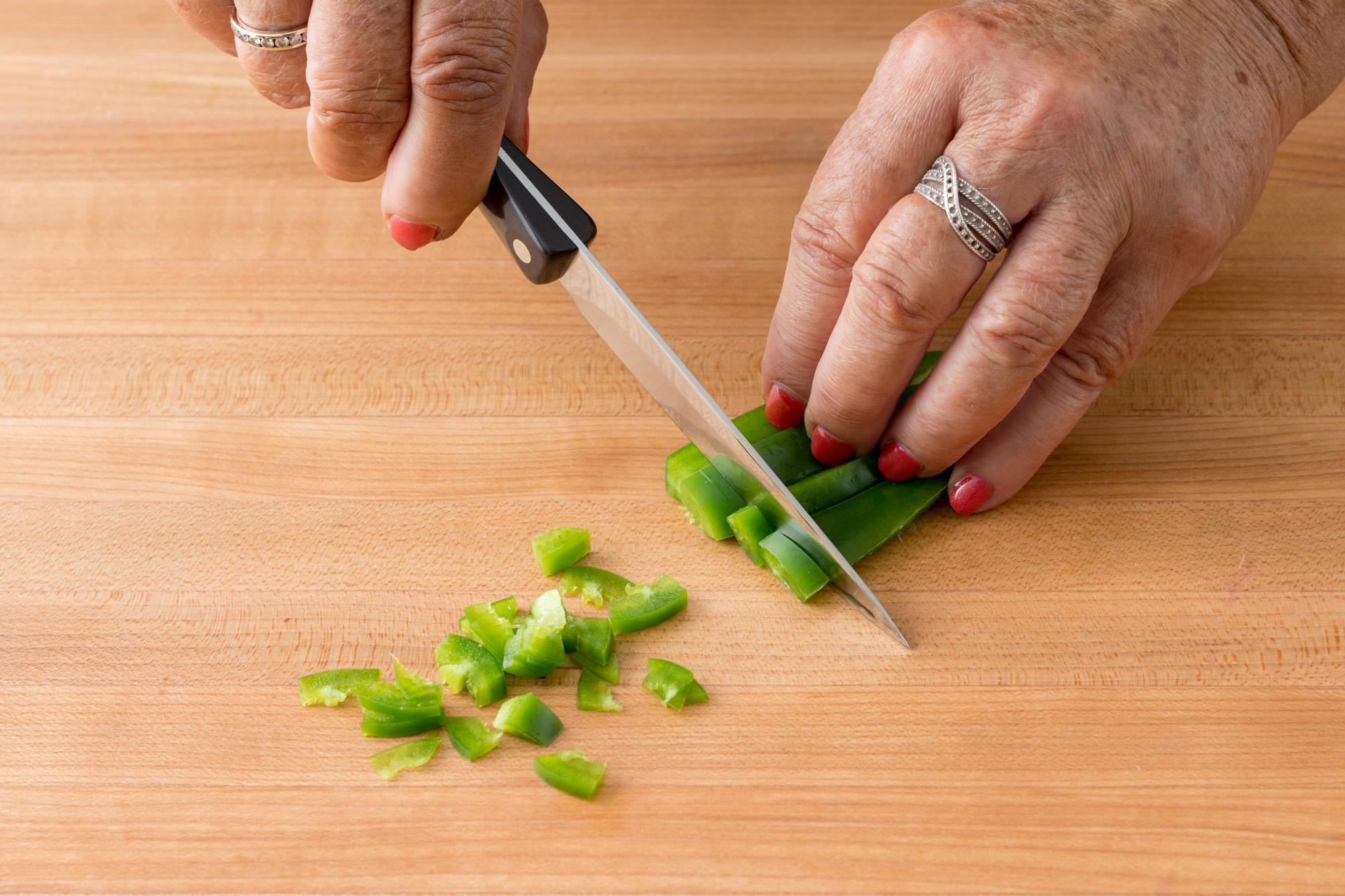 If you need some guidance on how to mince a jalapeño, take a look at Cutco's easy step-by-step tutorial.
Fire and Ice Watermelon Poke Salad delivers the perfect balance of spicy and cool, with layers of flavor that beg for another bite.
If you're still craving a traditional poke bowl, Cutco has a wonderful recipe for Salmon Poke Bowls in its Learning Center. Check it out.
Ingredients
6 cups watermelon, diced into ¾ inch cubes, chilled
3 tablespoons fresh lime juice
3 tablespoons honey
1 tablespoon fresh ginger, finely minced
1 1/2 teaspoons Sriracha
1 1/2 teaspoons seeded and minced jalapeño peppers
1 tablespoon chopped cilantro
1 tablespoon chopped mint leaves
Toasted pistachios or pumpkin seeds, optional garnish
Lettuce leaves and flatbread crisps, optional
Directions
In a small bowl, mix together the lime juice, honey, ginger, Sriracha and jalapeños. Cover and set aside until ready to serve.
To serve, drain off any juice from chilled watermelon. Gently toss with the lime juice mixture and fresh herbs. At serving, garnish with nuts, if using, and serve with lettuce leaves and flatbread crisps, as desired.
Recommended Tools