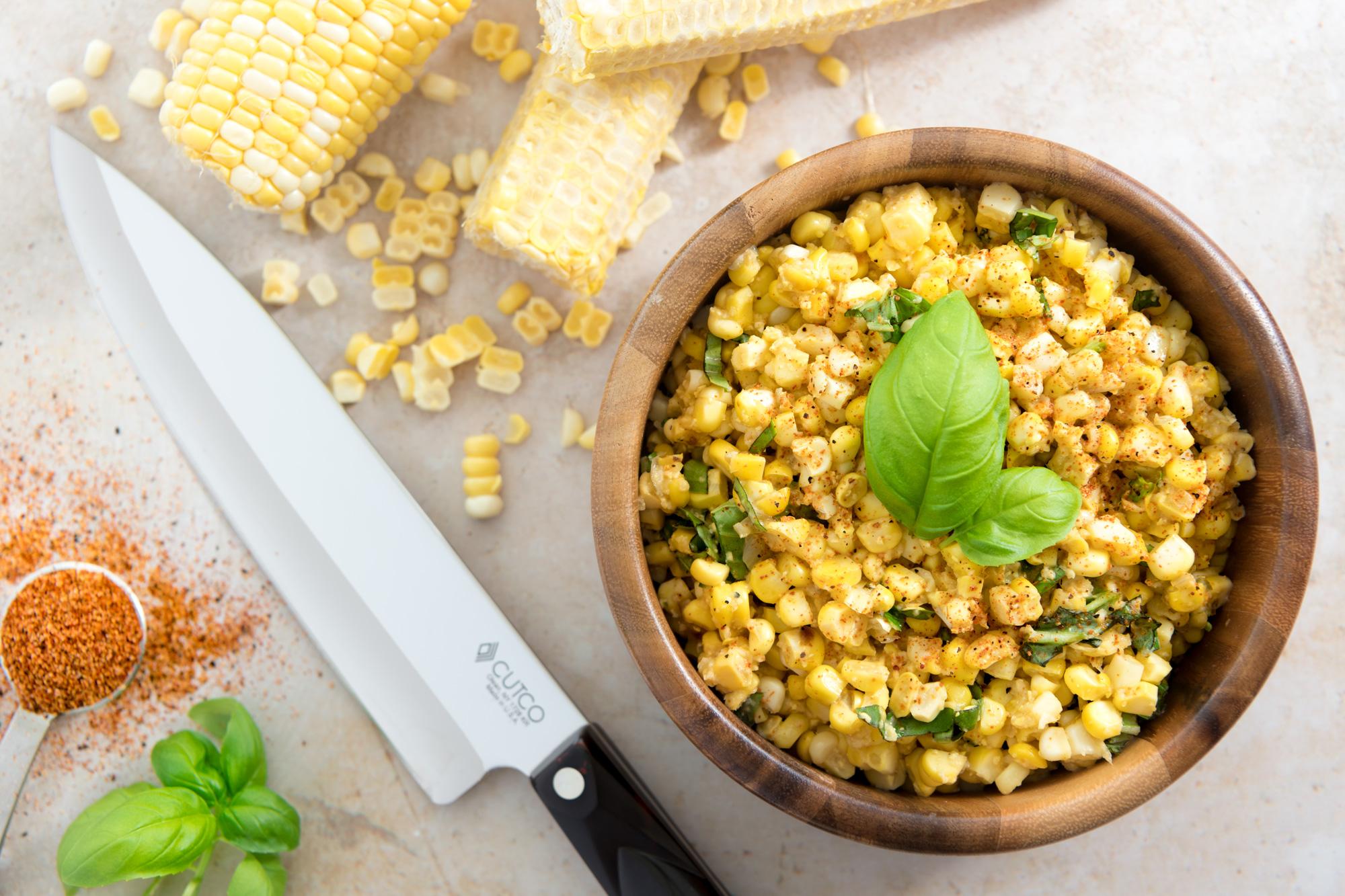 This tasty creation is an all-year family favorite and particularly so when corn is at its season's best. My daughter Nicole will vote this Creamed Corn and Basil recipe as her favorite (and most requested) side dish at any family celebration.
I grew up in the South and I too had a favorite corn dish of my own mom's – a southern fried corn swimming in butter and bacon grease. I created this dish as a fresh and light take on my childhood fave – and love it even more! Cut the corn from the cob with a 7-5/8" Petite Chef and then scrape the back side of the knife along the cob to release the milky starch, which, in turn, thickens and creams the corn.
For tips on how to remove fresh corn from the cob, take a look at Cutco's handy How to Remove Corn from the Cob infographic.
A touch of P.S. Flavor!™ Creole Kitchen seasoning and basil adds a depth of flavor – straight from the garden.
Ingredients
8 large ears corn, husked
2 to 4 tablespoons 1% milk
1 large shallot, finely chopped (1/4 cup)
1 teaspoon olive oil
2 to 3 tablespoons thinly sliced fresh basil
Directions
One at a time, using a sharp chef knife, lay an ear of corn on cutting board and cut straight down between the kernels and cob to remove the kernels, rotating the ear after each cut. Repeat with remaining ears of corn, and set aside.
Scrape the back of the knife several times against each cob to extract remaining corn pulp, scraping into a large glass measuring cup. (You should have at least 3/4 cup of corn pulp. If not, add milk to make 3/4 cup.) Transfer pulp to a blender and purée with 2 tablespoons milk until smooth.
Cook shallot in olive oil in a 12-inch heavy skillet over moderate heat, stirring occasionally, until softened, 3 to 4 minutes. Stir in corn, then add corn pulp and Creole Kitchen. Simmer, uncovered, stirring occasionally, until kernels are just tender, 3 to 4 minutes. Stir in basil to taste.
Recommended Tools