Butternut Squash Risotto With Sage and Pancetta
449 days ago
Skip to recipe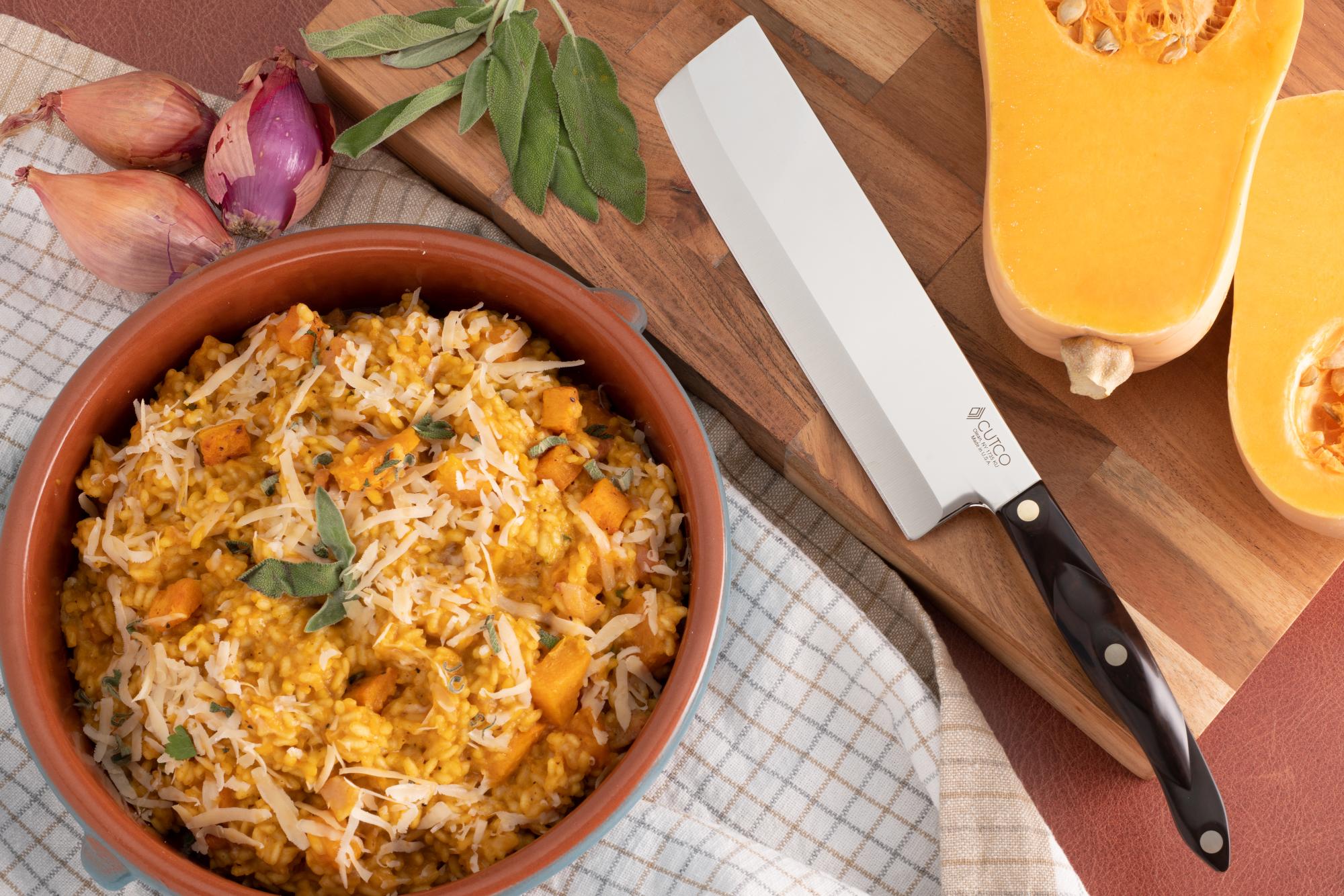 Risotto is my favorite dish – both to make and to serve. It's perfect as the main dish or as a side with steak, chicken, pork or lamb. And it's perfectly seasonal. It is a delicious blank canvas for the vegetable of the moment, whether it be spring's asparagus, summer's corn or the fall standout, butternut squash.
Because it's fall (and we can) we are taking it up a notch for this Butternut Squash Risotto With Sage and Pancetta, by roasting and caramelizing the squash and then then taking it over the top by adding the rich deep flavor of pancetta and sage.
Chopping the Ingredients
Cutco's Vegetable Knife is invaluable when preparing hearty squashes, including cutting butternut squash into cubes for this dish.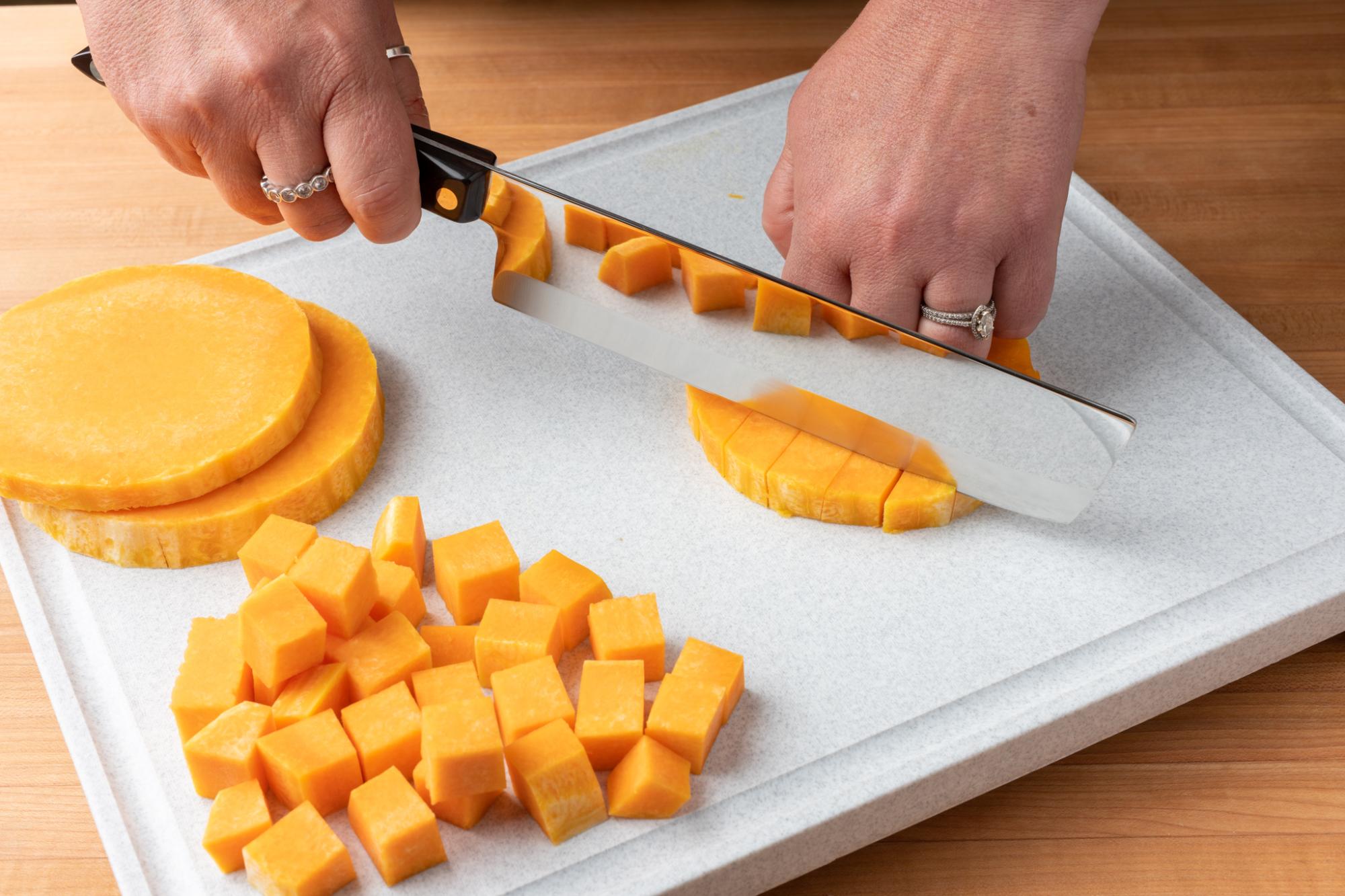 If you need some help deciphering how to cut butternut squash safely and easily, take a look at Cutco's handy tutorial.
Pancetta lends a pork flavor without the smokiness found in some cured meats, so it doesn't overpower the risotto. You can easily dice it with the Traditional Cheese Knife. Its sharp Micro Double-D™ edge and perforated blade allow the knife to slice through without having the meat stick to it.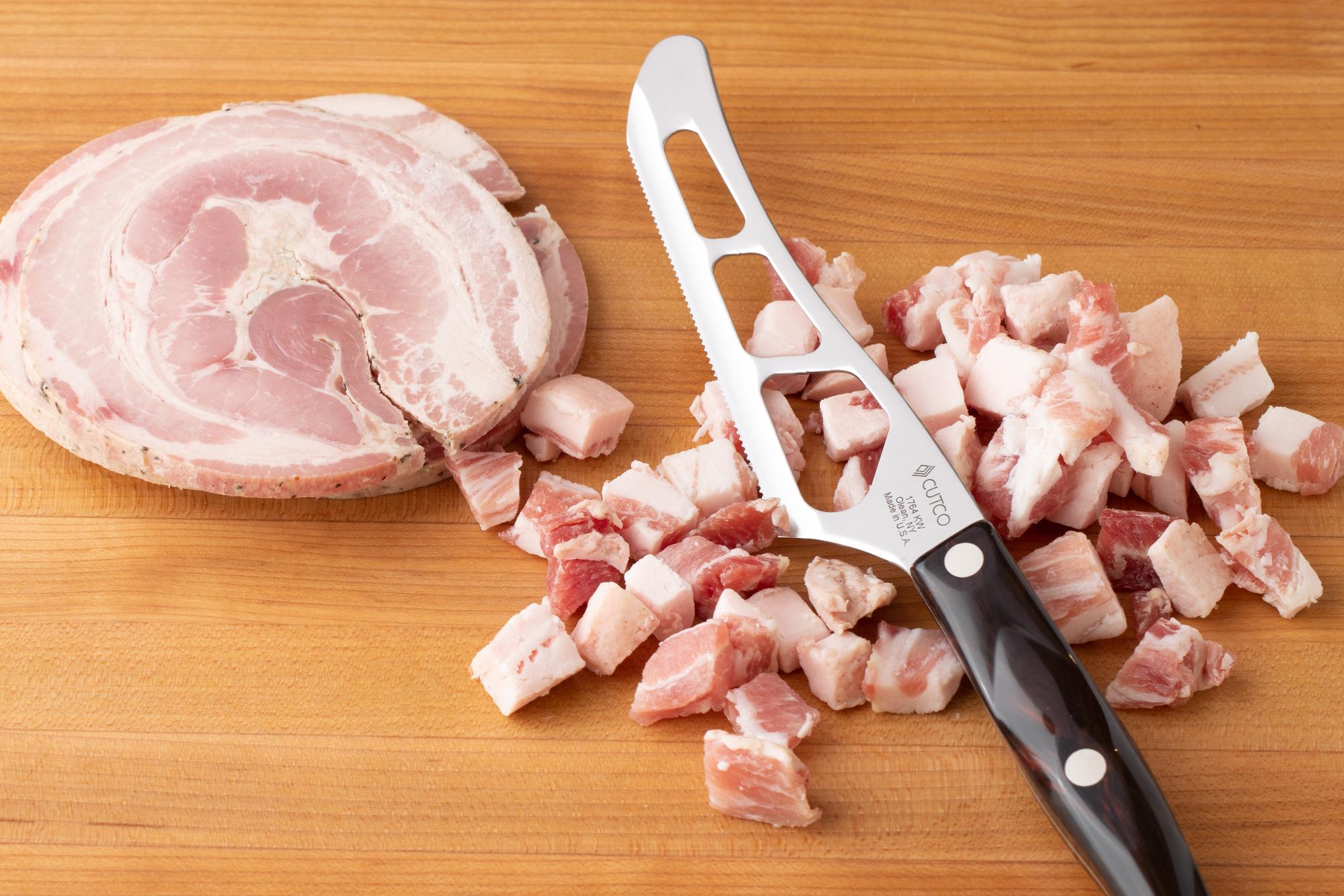 Fresh sage adds a unique and distinct flavor to the dish, along with some earthy, slightly peppery taste. Thinly slice it using a 7-5/8" Petite Chef knife.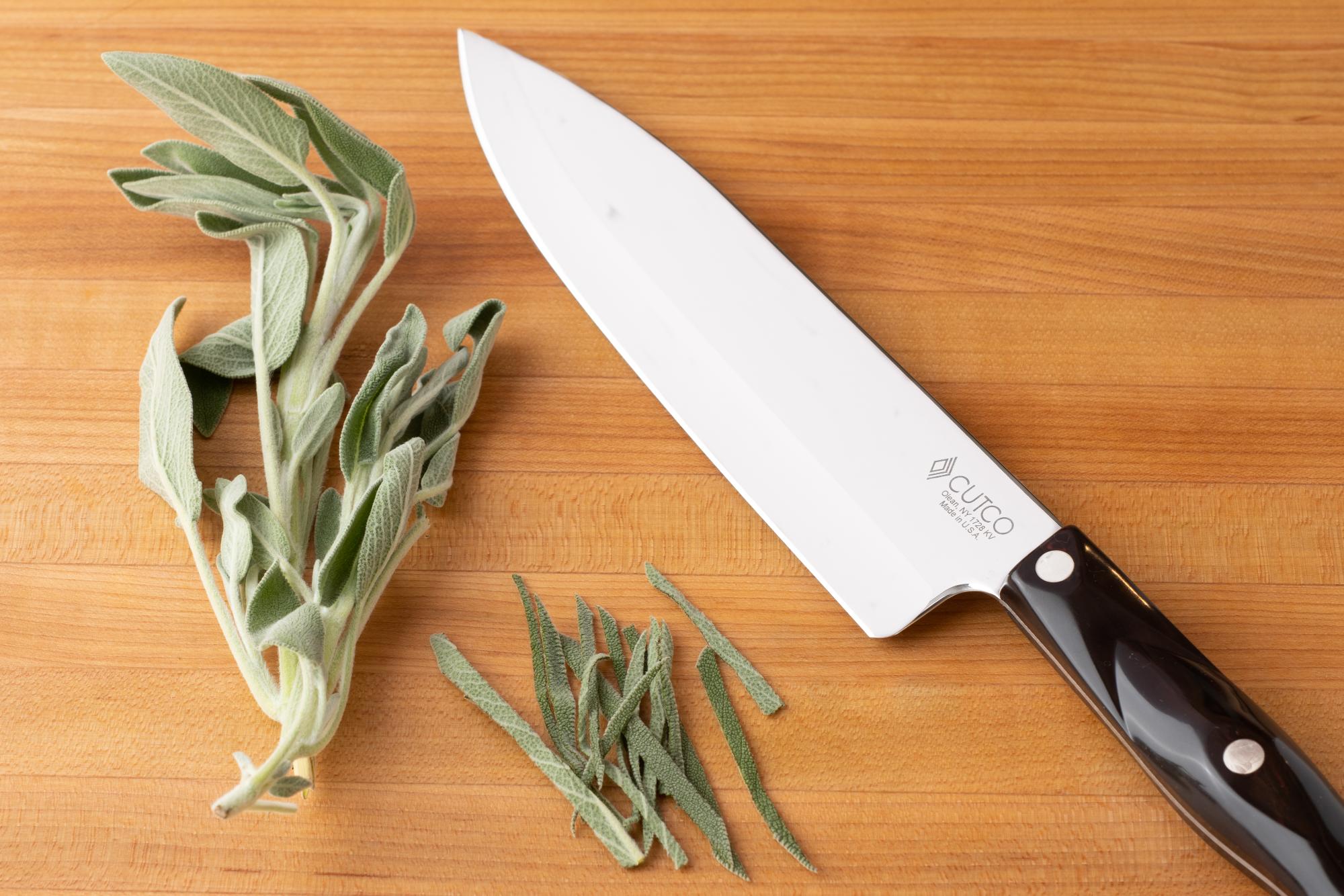 Making the Risotto
I love making this dish when I'm expecting a crowd in the kitchen, because I can offer "stir the risotto" as the answer to "how can I help?" Yet, because it does take time and attention, I often times get ahead and use the restaurant method. I prepare the risotto earlier, so all that's needed is to finish it right before the meal. Cook the risotto until just about done, while there is still 1/2 to 3/4 cup of stock to add. Remove from heat, and pour out onto a sheet pan to cool and refrigerate. Then, at serving time, return it to the pot, heat and finish with the remaining stock, cheese and sage.
Because of the sweet nuttiness and color of the butternut squash, I often substitute brown short-grain rice instead of white. This yields a super creamy risotto full of whole grain goodness. The lightly nutty brown rice makes this risotto recipe remarkably flavorful, in the best of ways. It takes a little longer (and more stirring) to cook through, but is worth it.
A short cut? Add all but one cup of the broth at once, plus one cup of water, cover tightly and oven roast at 350 F for about an hour, or until rice is tender. Remove from oven and finish the dish on the stovetop adding the final broth, butternut squash puree, etc.
This butternut risotto recipe is comforting, velvety and absolutely delicious. It's versatility, simplicity and elegance makes it the ultimate crowd pleaser
Butternut Squash Risotto With Sage and Pancetta
Print Recipe
Ingredients
1 butternut squash (2 pounds)
2 tablespoons extra-virgin olive oil, divided
1 tablespoon P.S. Flavor!™ Mai Chai, or 1/2 teaspoon cinnamon
1/2 tablespoon P.S. Flavor!™ Creole Kitchen, or kosher salt and ground black pepper to taste, divided
6 cups low sodium chicken stock
1 teaspoon saffron threads
2 ounces pancetta, diced
1/2 cup minced shallots (2 large)
2 cloves garlic, chopped fine
1 1/2 cups Arborio rice (10 ounces)
1/2 cup dry white wine
7-8 leaves fresh sage, slivered, plus additional for garnish
1 cup freshly grated Parmesan cheese, plus additional for garnish
Directions
Place sheet pan in 400 F oven to heat.
Peel the butternut squash, remove the seeds, and cut it into 3/4-inch cubes. You should have about 6 cups.
Toss squash with 1 tablespoon olive oil, Mai Chai or cinnamon, and ½ teaspoon creole seasoning and then place on heated sheet pan. Roast for 25 to 30 minutes, tossing once, until very tender. Remove from oven and puree half of squash in blender or food processor. Set aside with remaining butternut squash pieces.
Meanwhile, heat the chicken stock and saffron threads in a small covered saucepan. Leave it on low heat to simmer.
Heat a heavy-bottomed pot or Dutch oven over medium low heat, add the remaining olive oil and then the pancetta and shallots and sauté for 8-10 minutes, until the shallots are translucent but not browned. Add the garlic and sauté for 1-2 minutes. Add the rice and stir to coat the grains; quickly mix in the remaining Creole seasoning.
Add the wine and cook for 2 minutes. Add 2 full ladles of the saffron stock. Stir, and simmer until the stock is absorbed, 5 to 10 minutes. Continue to add the stock, one ladle at a time, stirring every few minutes. Each time, cook until the mixture seems a little dry, then add more stock. Continue until the rice is cooked through, but still al dente, about 18-20 minutes from the second addition of stock. Add the pureed squash in with the last addition of stock.
Off the heat, add the roasted squash cubes, sage leaves and Parmesan cheese. Mix well and serve.
Recommended Tools