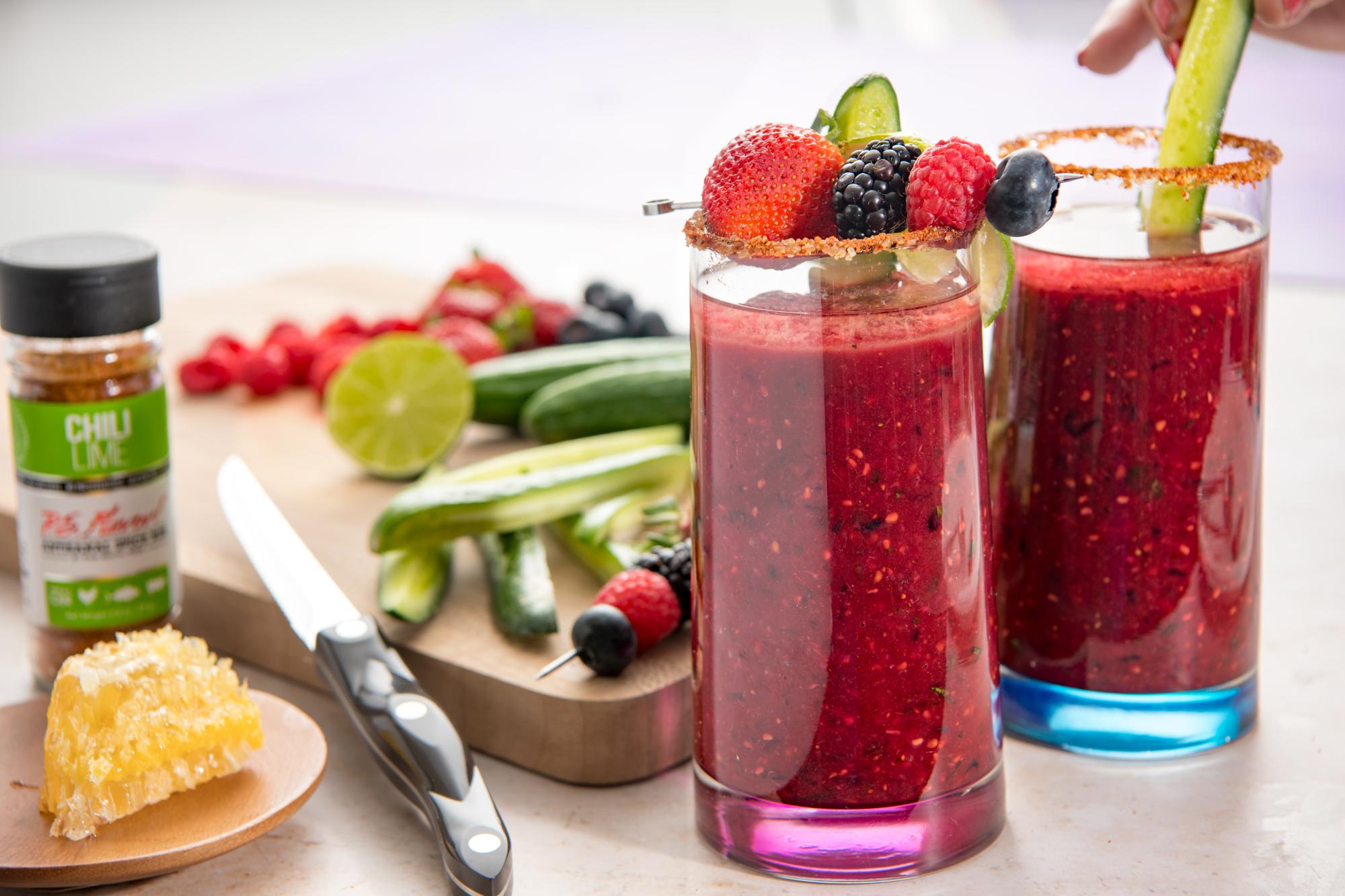 Most unique twists on a Bloody Mary recipe have something to do with the alcohol involved, the seasonings or the garnishes. A truly creative take on the drink, however, is when you switch out the standard tomato juice for delicious berries.
Remember, anything that's good with tomatoes may be even better with berries, from salad to gazpacho to salsas – to cocktails! I step up a mojito or a mule with muddled berries – adding surprising depth and flavor to the drink, and the berry sweetness allows me to skip the simple syrup.
The cocktail also gets added cool, refreshing flavor from cucumber and fresh parsley, and a small kick from horseradish and hot sauce.
Cutco's Trimmer is my cocktail knife of choice. It aids with coarsely chopping the cucumber and is great for slicing the limes for adding to the drink and for garnishing.
This Bloody Berry is the perfect answer for those that would love to enjoy the cocktail – but just don't love tomato juice, and certainly not in a cocktail.
Minus the vodka, it becomes a delightful refreshing mocktail. Fresh herbs and lime come into play, too, for a freshness statement, and the horseradish and P.S. Flavor!™ Chili Lime for a "wake-up-the-taste-buds" punch! Of course, you can customize the drinks to your liking with a range of the amount you use.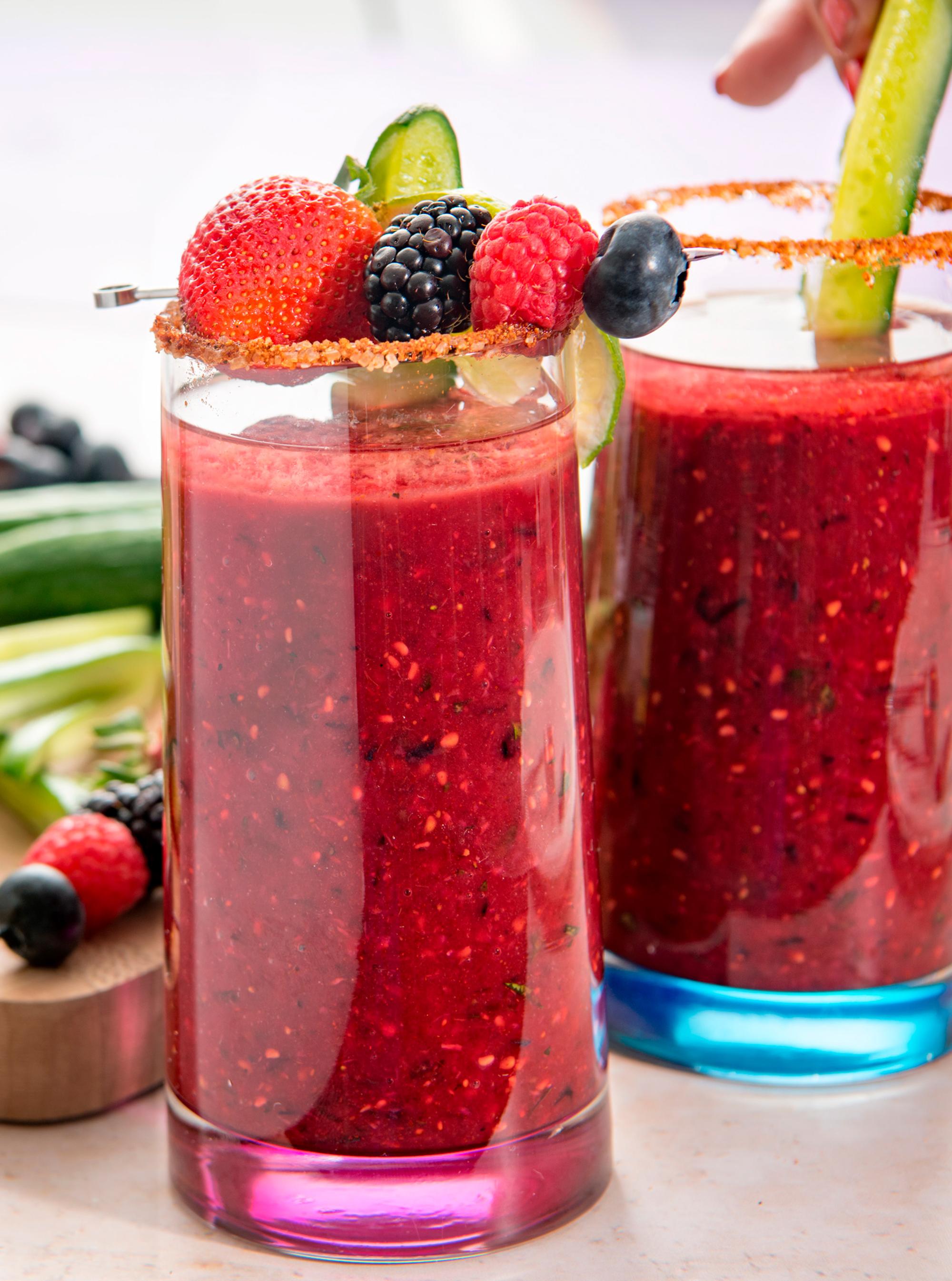 The final flourish is rimming the glasses with another taste of Chili Lime, adding a slight and delicious tingle to each sip – bringing you back for one more!. Cheers!
Ingredients
Cocktail
2 pounds ripe mixed berries
1/2 large cucumber, seeded and coarsely chopped
1/2 cup very coarsely chopped flat-leaf parsley sprigs (from 1 large bunch)
1 tablespoon bottled prepared horseradish
1 teaspoon Cholula, or your favorite hot sauce
1/2 fresh lime, squeezed
Lime wedges for rims of glasses
Ice
16 ounces (2 cups) ice-cold vodka
Garnish
Cucumber spear
berries on skewer
lime slices
flat leaf parsley
Directions
Make berry juice: Purée berries, cucumber, parsley and Chili Lime in blender until smooth. Transfer to a bowl and chill at least 1 hour. Push through a food mill or medium-mesh sieve into a bowl, discarding solids. Add horseradish, hot sauce and lime juice. Adjust to taste with additional Chili Lime or Kosher salt.
Assemble drinks: Place Chili Lime on a small plate. Moisten outside of rim of each glass with lime wedge, then dip rim in blend. Fill each glass with ice and 1-ounce (2 tablespoons) vodka, then top with about 2/3 cup berry juice.
Recommended Tools