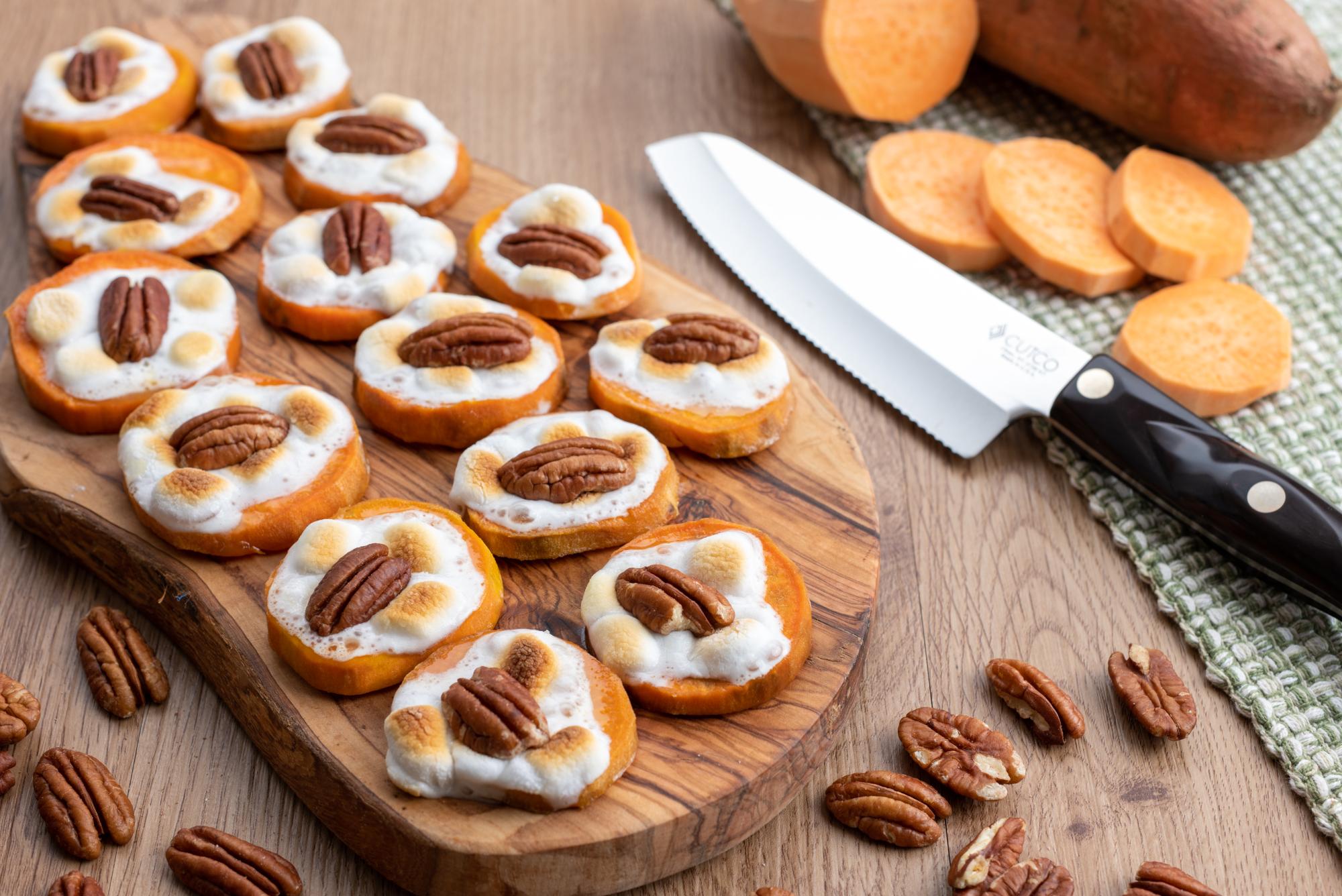 There are certain Thanksgiving dishes that I absolutely love, but can only have a small portion because the dish is just too rich with everything else on the table. Such is the case with the ever-popular sweet potato and marshmallow casserole. Sweet potatoes are wonderful on their own but add some butter, brown sugar, marshmallows and nuts, and you now have what could almost be considered a dessert.
So why not turn this rich side dish into an easy appetizer? These sweet potato bites with marshmallows have all of the flavor you find in the original dish, just in a bite-size version. For this appetizer, I chose to use mini marshmallows so I could choose how many to place on each sweet potato slice because they are never the same size or shape.
To start, peel the sweet potatoes with the Vegetable Peeler and remove any bad spots. I used the Hardy Slicer to cut them into disks as the hefty knife with its sharp Double-D® edge glided easily through this hardy vegetable. Try to cut your disks the same thickness to ensure even cooking.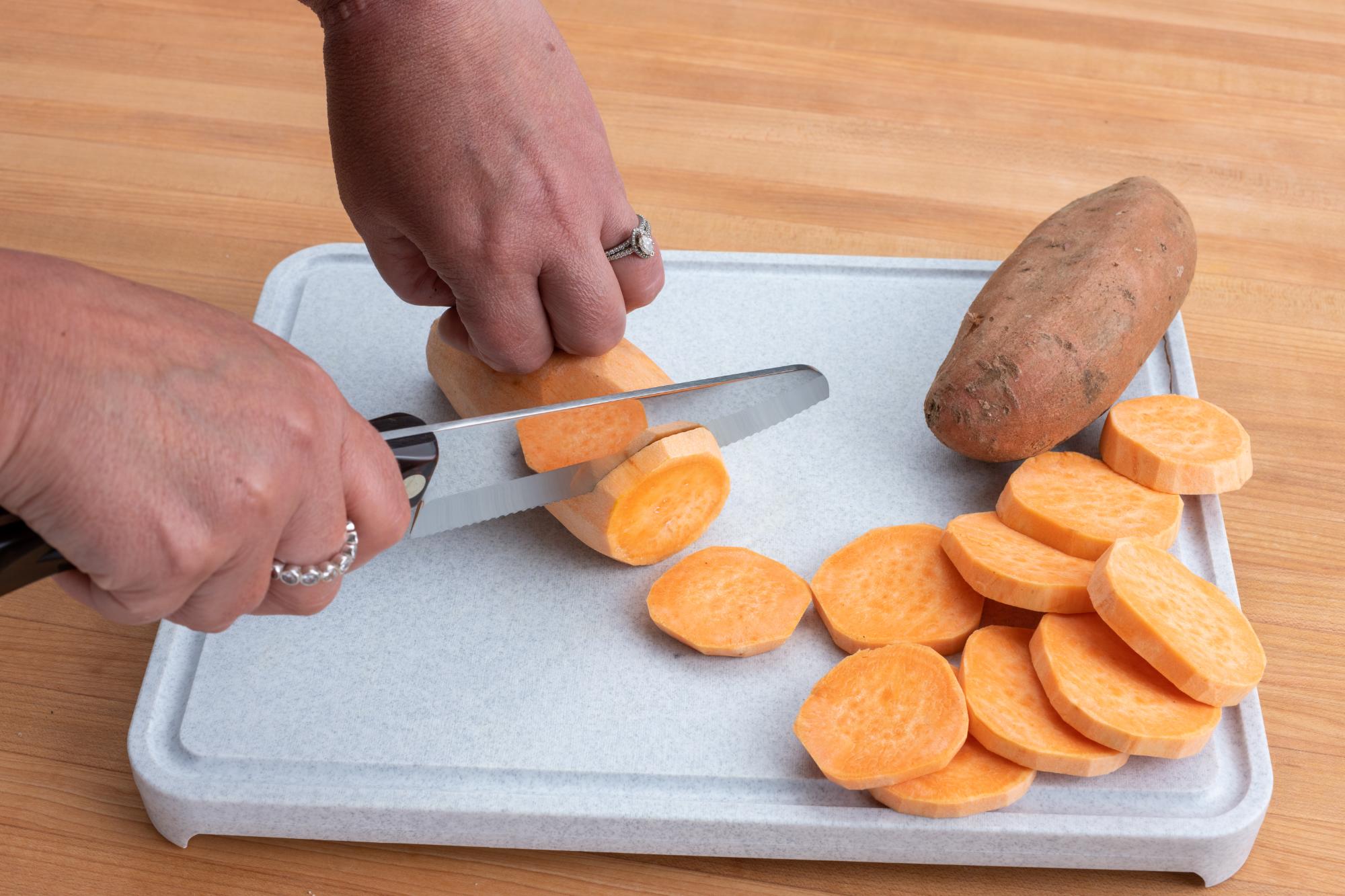 Mixing the ingredients is messy business. I recommend using your hands for this task to guarantee you coat all of the slices evenly, really turning over the sweet potatoes multiple times and coating thoroughly.
Once the potatoes are cooked until tender, remove them from the oven and place the marshmallows onto each slice. Since they are mini marshmallows use as many as you like based on how sweet you want these bites.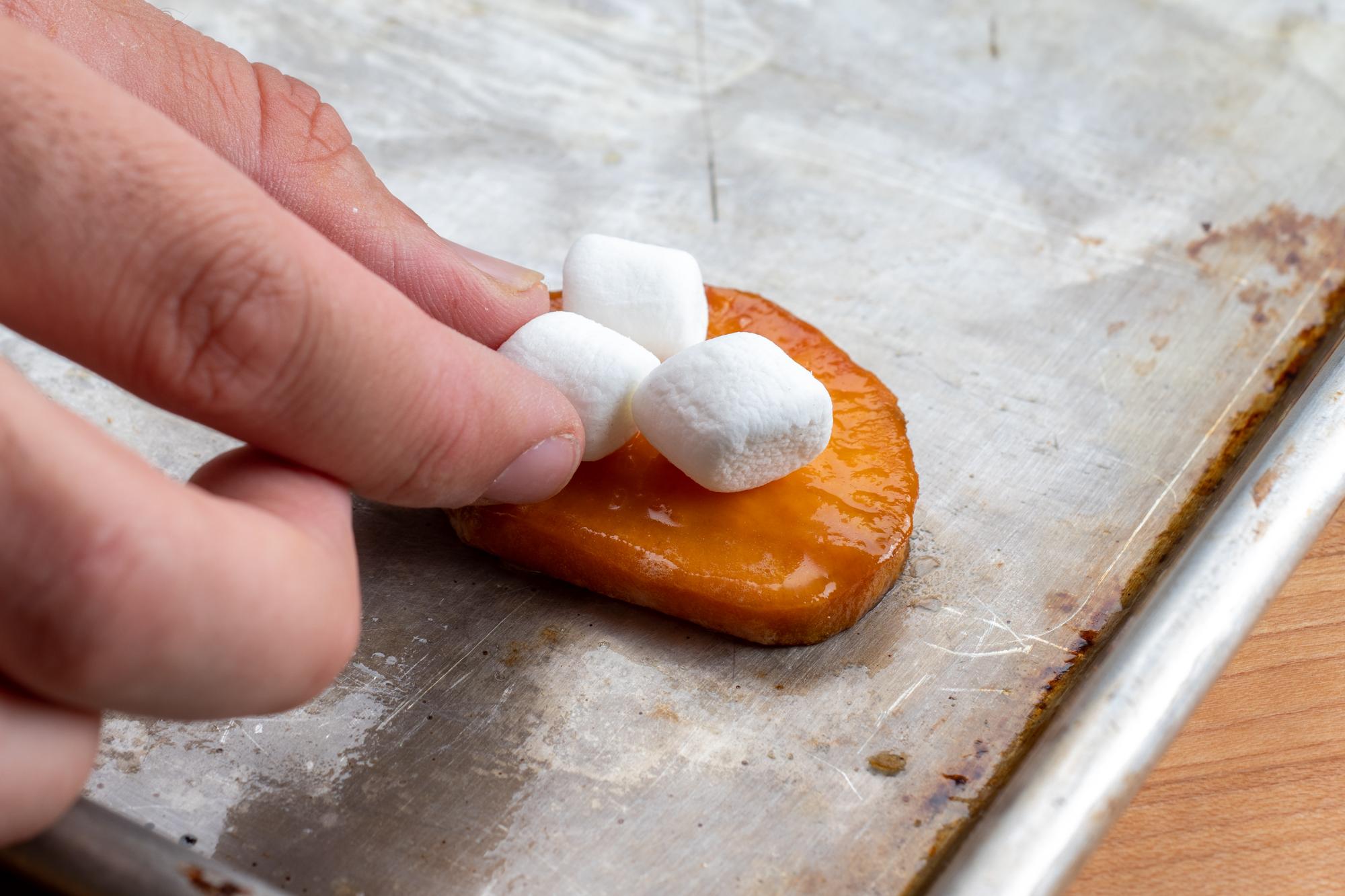 When you place the sweet potatoes back in the oven, make sure to watch them carefully. You want the marshmallows to be a golden brown and it doesn't take much for them to burn under the broiler. All that's left is to place your pecan half on top of each slice, and serve.
For me, these sweet potato bites were the perfect balance of flavor in a bite-size appetizer. Having one or two satisfied our cravings for that traditional rich side dish and we had no leftovers.
Ingredients
4 medium sweet potatoes, peeled and sliced into 1/4" thick disks
2 tablespoons butter, melted
1 teaspoon honey
1/4 cup light brown sugar
1 teaspoon kosher salt
1 bag mini marshmallows
1/2 cup pecan halves
Directions
Heat oven to 400 F.
In a bowl, toss the sweet potato disks with the melted butter, honey and brown sugar until coated.
Dump the sweet potatoes onto a baking sheet, arranging into a single layer and sprinkle lightly with salt.
Bake approximately 20 minutes until tender, flipping the disks halfway through the baking process.
Take the baking sheet out of the oven and turn the oven to broil.
On each sweet potato disk, place enough mini marshmallows to cover the sweet potato and broil until the marshmallows are puffy and golden. Watch carefully so the marshmallows do not burn.
Top each sweet potato with a pecan half and serve immediately.
Recommended Tools