Stuffed Peppers With Rotisserie Chicken and Orzo
974 days ago
Skip to recipe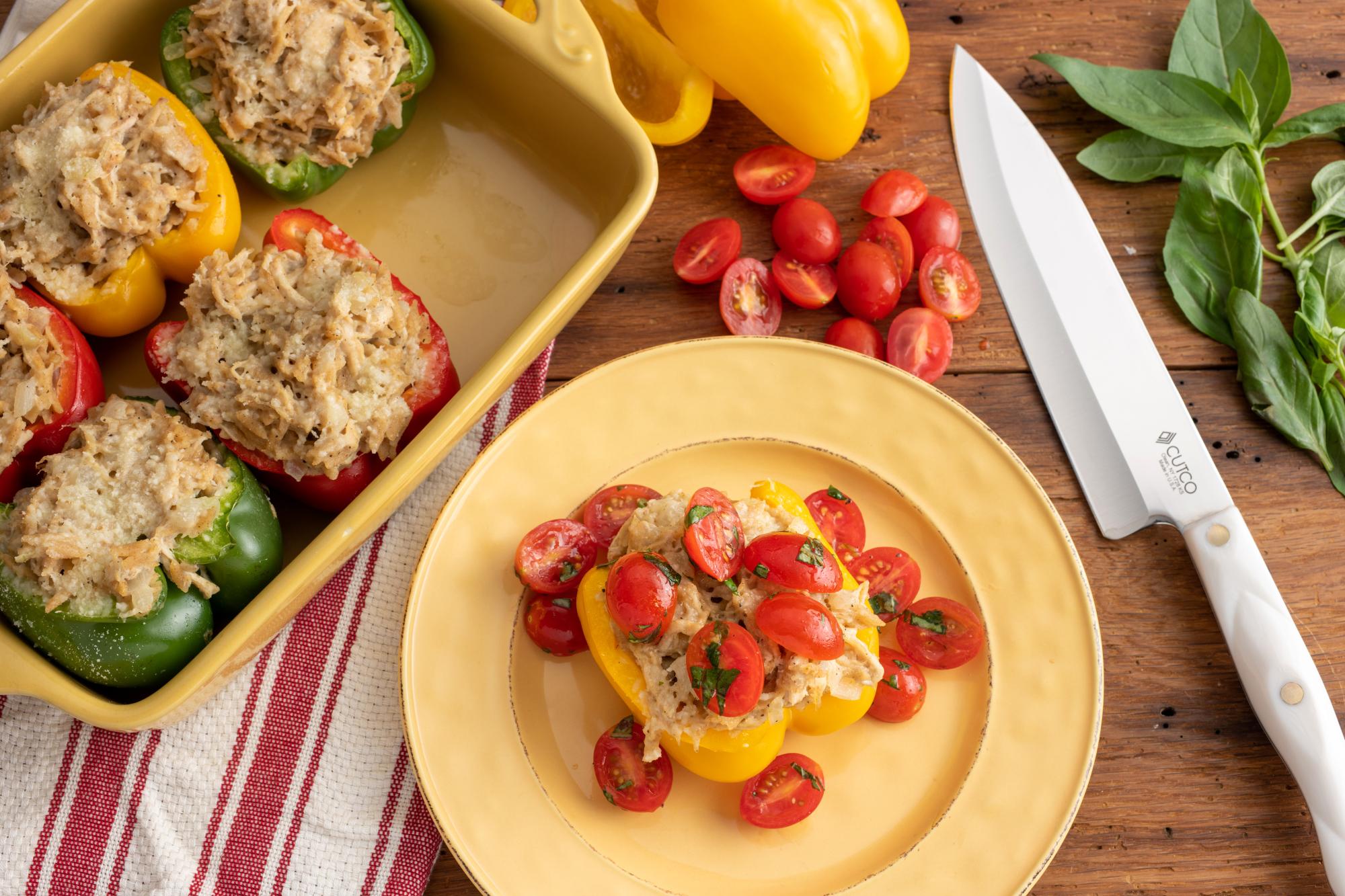 Stuffed peppers are traditionally made with ground meat, rice and a tomato-based sauce, and there is absolutely nothing wrong with this approach. That said, I've made it a habit to purchase a rotisserie chicken every other week or so and I thought, why couldn't I use this pre-cooked chicken for a different approach to stuffed peppers and have an easy dinner? And while I'm changing things, how about using orzo instead of rice and rather than a tomato-based sauce, use chicken broth and add a cold tomato salad over the top of the peppers?
The end result of this experiment were stuffed peppers with rotisserie chicken and orzo that take about 30 minutes from start to finish and on the table, and they were oh-so-delicious. So delicious in fact, that once we had completed this blog shoot, we all took them home for dinner!
I started by reaching for the 7-5/8" Petite Chef knife to halve the peppers, mince the garlic and dice the onion. I chose to go with green, red and yellow peppers simply because I liked the color variations but you can really use whatever color bell peppers you prefer.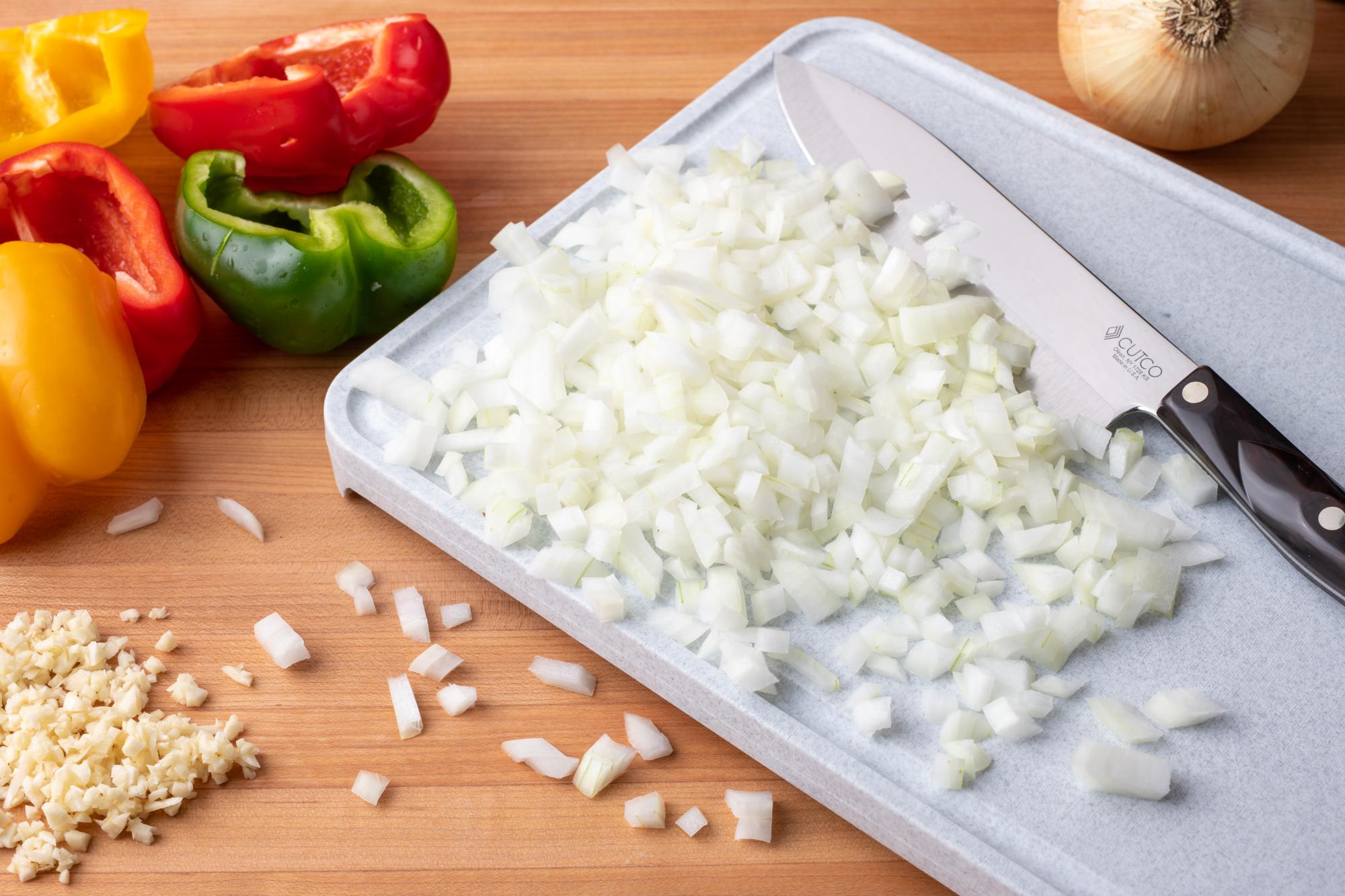 From there, you drizzle the pepper halves with some olive oil and prebake them. This allows you to make the stuffing while the peppers are cooking so they'll be ready for the final bake.
To easily shred the rotisserie chicken (and you'll really want to shred the chicken rather than cube it), make sure the chicken is warm as it comes apart much easier. If you have a cold chicken, just warm it up slightly in the microwave. Then using two forks, start pulling apart the chicken until it is all shredded.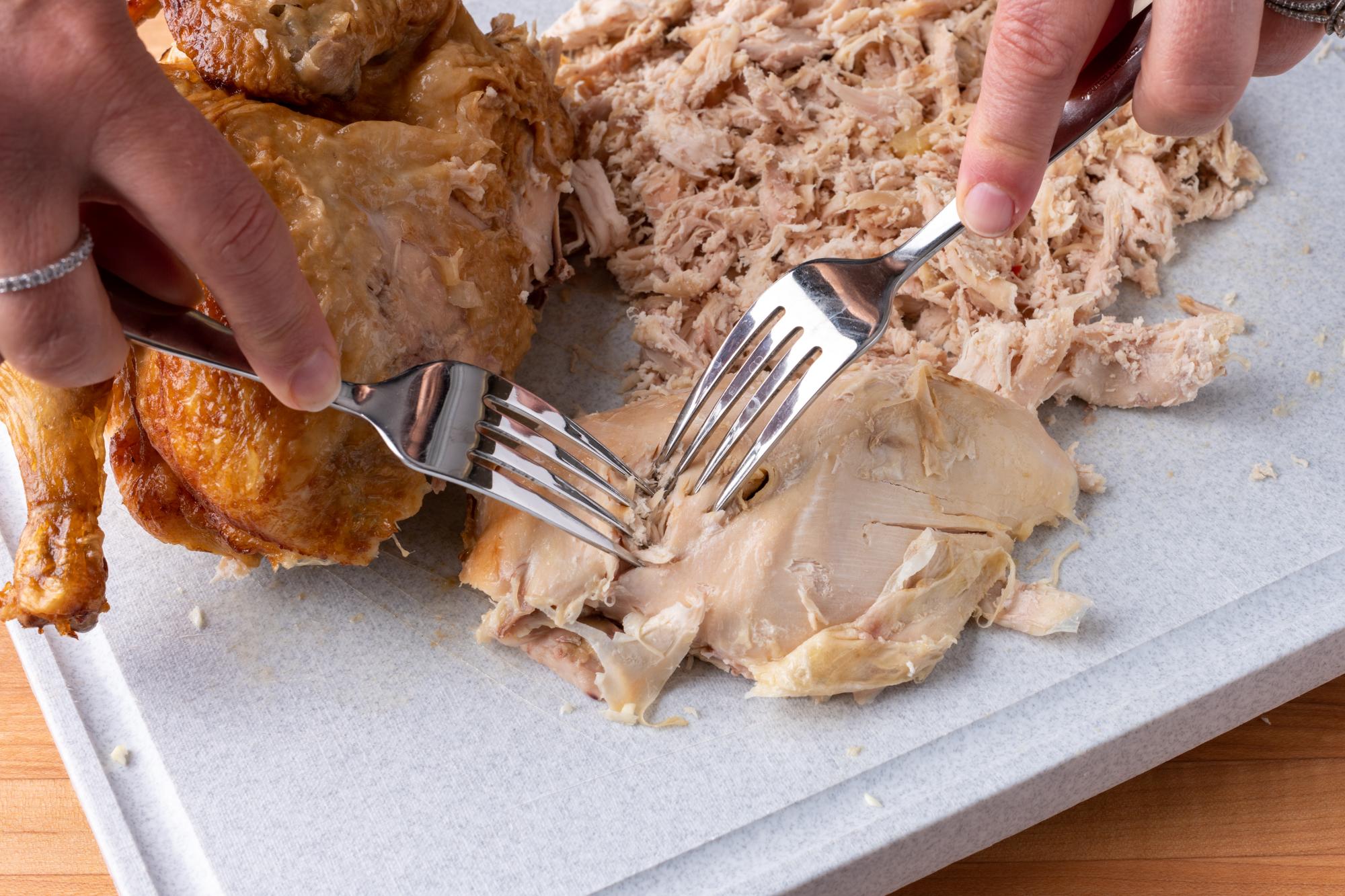 To make the stuffing, sauté the onion and garlic, adding the shredded chicken and spices until everything is the same temperature. Then add the orzo and chicken broth and cook until the orzo is tender. This saucy mixture is then mounded into each pepper half, topped with Pecorino Romano cheese and placed back into the oven for the final cooking process.
While the stuffed peppers were cooking, I used the Santoku-Style Cheese Knife to halve the grape tomatoes and tossed them in a bowl with some olive oil, freshly chopped basil, salt and pepper.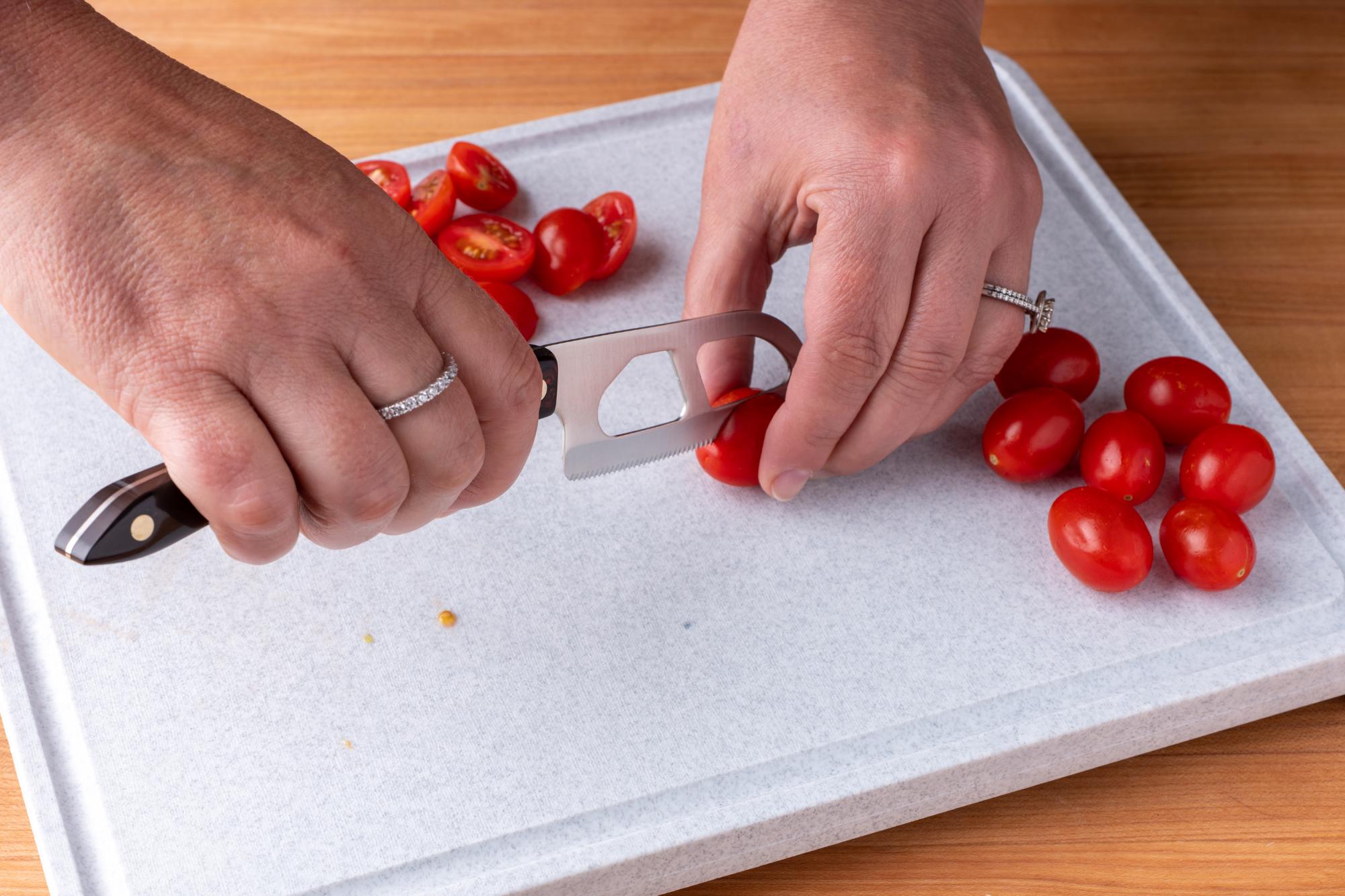 Then it was simply taking the peppers out of the oven, putting one on a plate and dressing the tops with the fresh tomato salad.
Shredding the chicken gives this stuffed pepper a creaminess when mixed with chicken broth and orzo, while the cumin spice adds a pop to the overall flavor. These stuffed peppers with rotisserie chicken and orzo were an easy dinner packed full of flavor that offered something just a bit different. I'll definitely be making these again!
Stuffed Peppers with Rotisserie Chicken and Orzo
Print Recipe
Ingredients
Recipe:
3 bell peppers, (one each of red, green and yellow) halved, seeded and stem removed
3 tablespoons olive oil, divided
1/2 yellow onion, diced
4 cloves garlic, minced
1 1/2 cups shredded rotisserie chicken
1 teaspoon ground black pepper
1 teaspoon ground cumin
1 cup orzo
1 (16-ounce) can chicken broth
3 tablespoons grated Pecorino Romano cheese
Topping:
12 grape tomatoes, halved
1 teaspoon olive oil
2 teaspoons fresh chopped basil
Salt and pepper to taste
Directions
Heat oven to 375 F.
Place the pepper halves on a baking sheet and using one tablespoon of olive oil, drizzle it on the inside of the pepper halves.
Bake peppers for approximately 10 minutes, until tender.
Heat 2 tablespoons of olive oil in a pan over medium heat, adding the onion and garlic. Cook until tender – approximately 3 minutes.
Add the shredded chicken, black pepper and cumin and cook until the chicken is warm.
Add the orzo and chicken broth to the pan, simmering until the orzo is cooked and the broth is absorbed – approximately 12 minutes.
Spoon the chicken and orzo mixture into your bell pepper halves and sprinkle with your grated cheese.
Bake in the oven at 375 F for approximately 5-7 minutes until the cheese is melted.
Mix together the grape tomatoes, olive oil, basil and salt and pepper.
Spoon the tomato mixture evenly over the top of your peppers and serve.
Recommended Tools