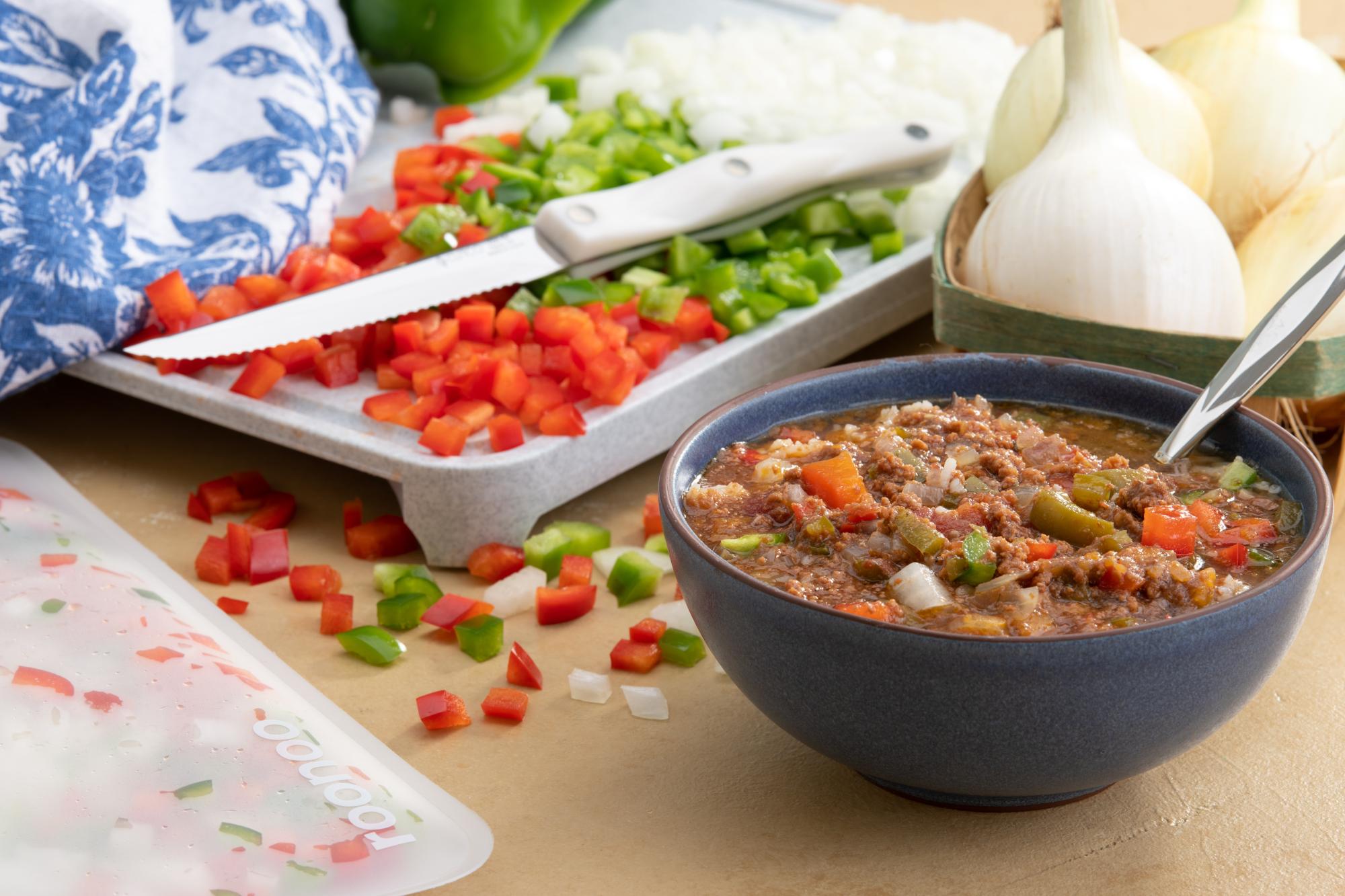 Freezer meals are something new to me. I know many people who will do a ton of prep work on the weekend, putting together full dinners that can be frozen and then taken out for a weeknight meal. I like to cook fresh but the idea of having a couple of meals ready to go sounds appealing, especially when I've prepped the ingredients and know exactly what's in the dish.
Stuffed Pepper Soup Freezer Meal is our take on one of my favorite dinners – stuffed peppers. I love experimenting with different grains, meats and spices to come up with my own variations. We did a Stuffed Pepper with Rotisserie Chicken and Orzo recipe not too long ago and that was delicious. For this freezer meal, we decided to rework the classic dish into a soup so you could put all the ingredients into one freezer bag for quick and easy prep.
Preparing the Freezer Meal Ingredients
Using a 7-5/8" Petite Chef knife, dice the onion. Then take your peppers (you can use a variety of colored peppers for this recipe) and, using a Trimmer or 7" Santoku knife, cut the top and bottom off the peppers, remove the seeds, cut into strips and dice the strips. Watch our instructional video, How to Cut a Bell Pepper, for easy steps on how to do it.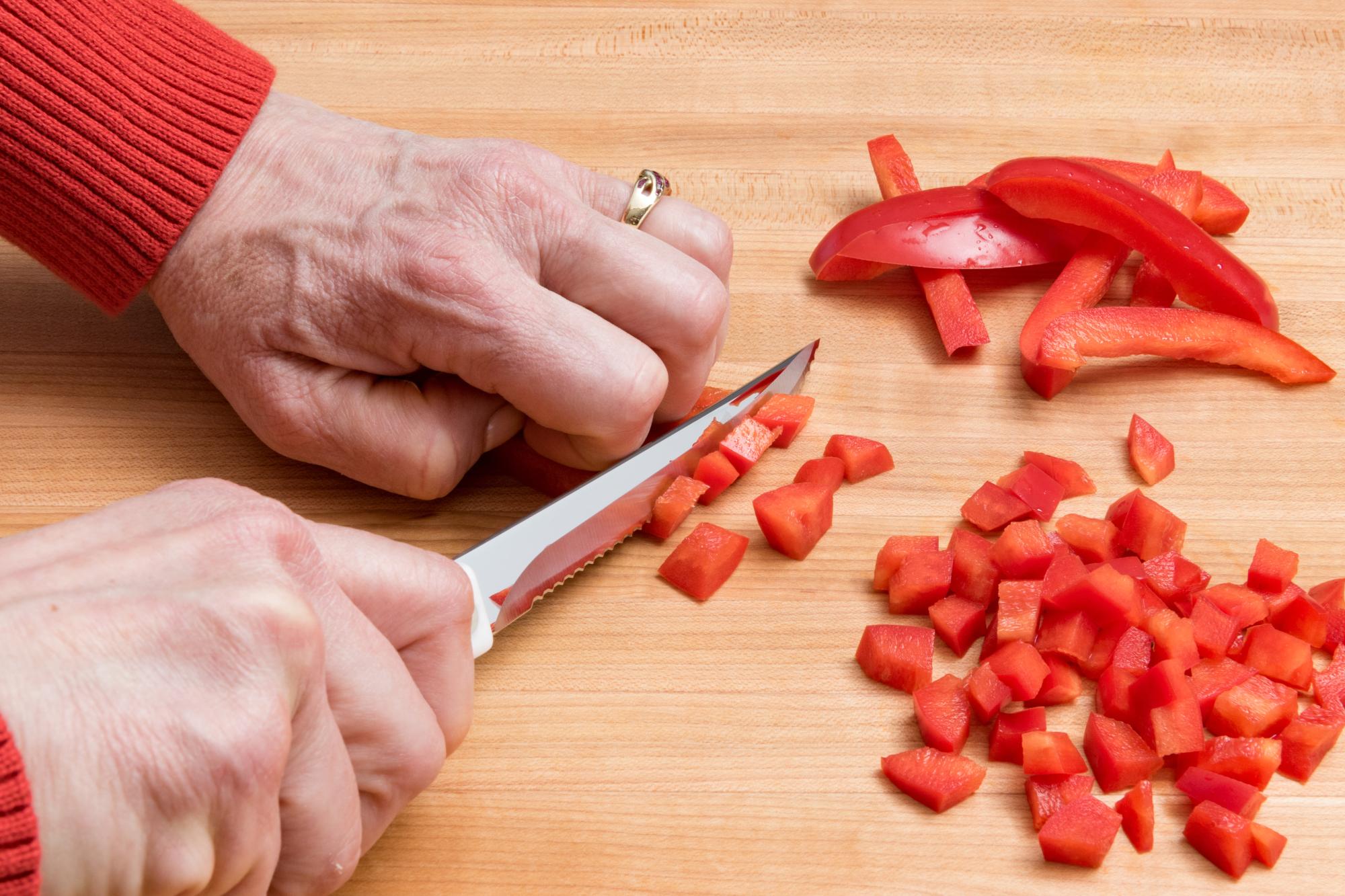 To mince the garlic, you can also use the Petite Chef. After removing the papery skin from the cloves, slice them and then use a rocking motion to mince them.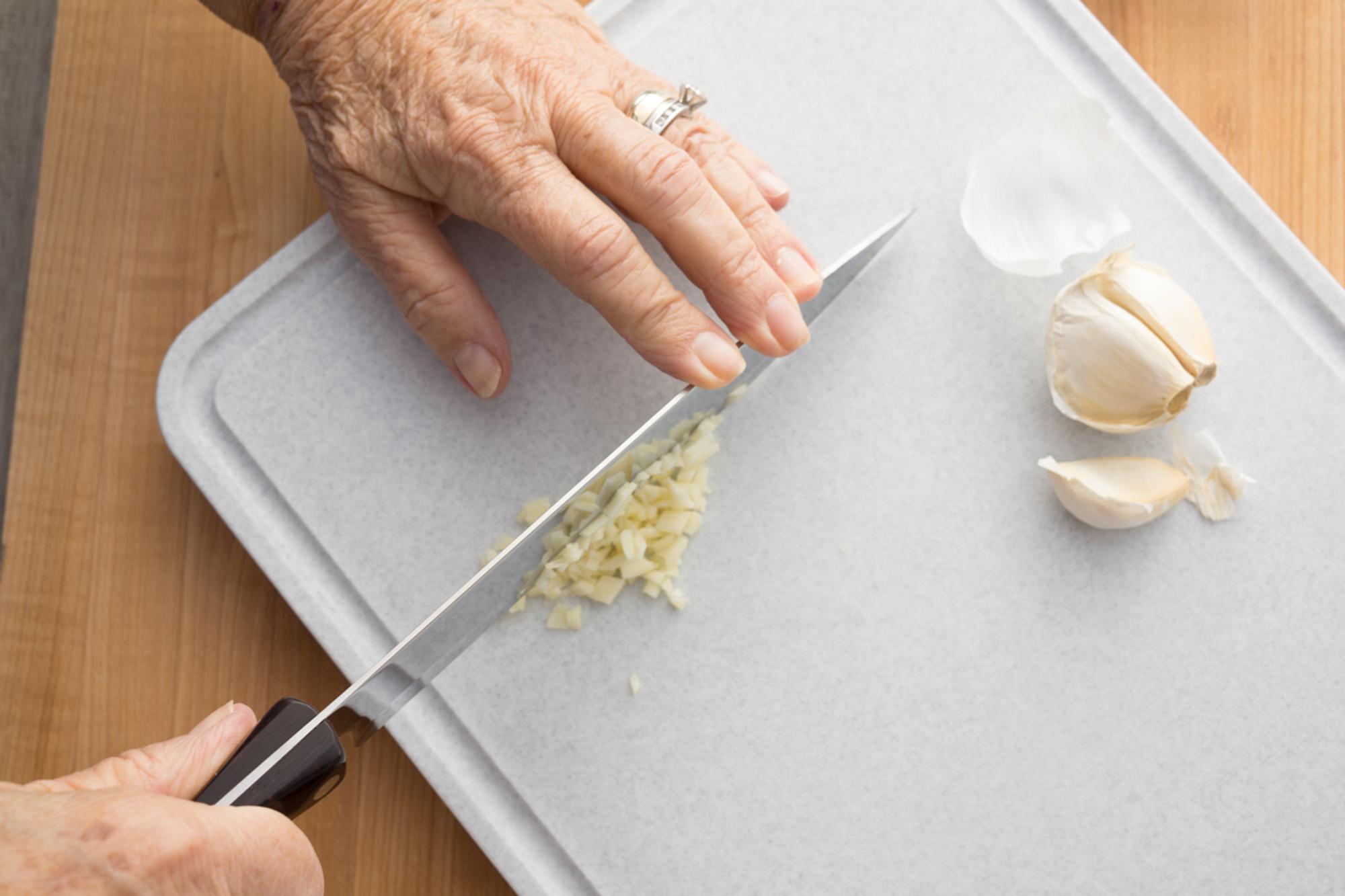 Once your prep work is complete, grab a gallon-size freezer bag and place all the ingredients into the bag, except the broth. The order of ingredients in the bag doesn't matter as they will be mixed together. Additionally, we used a reusable silicone freezer bag, which worked nicely and can be used for future freezer meals.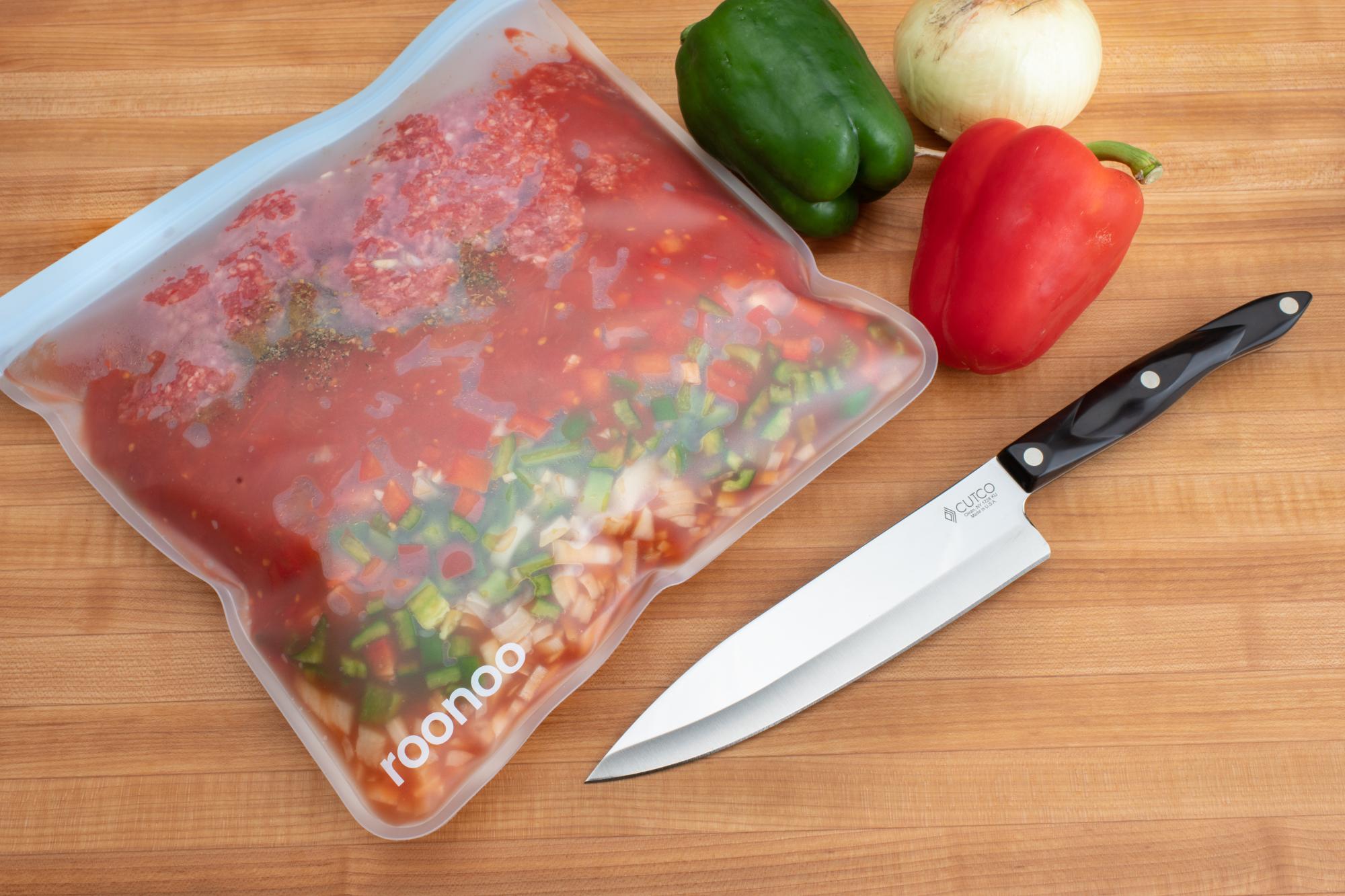 Cooking Process
When you're ready to make the meal, remove the bag from the freezer and thaw in the refrigerator overnight. Pour the contents into a slow cooker, add the broth, and cook for six to eight hours on low. Alternatively, you can use a multicooker and put it on the soup setting. This will cook it much faster. Once fully cooked, you can serve as a soup or instead, pour the soup over rice or quinoa.
Stuffed Pepper Soup Freezer Meal is a quick and easy dinner for any night. You could prepare a few freezer bags of this meal at the same time, so you have it ready to go once every few weeks. The soup replicated the flavors of baked stuffed peppers and I really like adding some rice to serve it. Enjoy!
Ingredients
1 onion, diced
2 red peppers, seeded and diced
2 green peppers, seeded and diced
2 garlic cloves, minced
15-ounce can diced tomatoes
8-ounce can tomato sauce
2 tablespoons low-salt soy sauce
2 teaspoons dried oregano
2 teaspoons ground cumin
1/4 teaspoon pepper
1/2 teaspoon salt
1 pound lean ground beef
2 cups beef broth
Directions
Combine all of the ingredients except the broth into a large freezer bag. Lay the bag flat and ensure as much air as possible is removed and seal.
Freeze.
When ready to cook, thaw in the refrigerator overnight.
Pour ingredients into a slow cooker, add broth and cook on low for 6-8 hours.
Serve as a soup or over rice or quinoa.
Recommended Tools