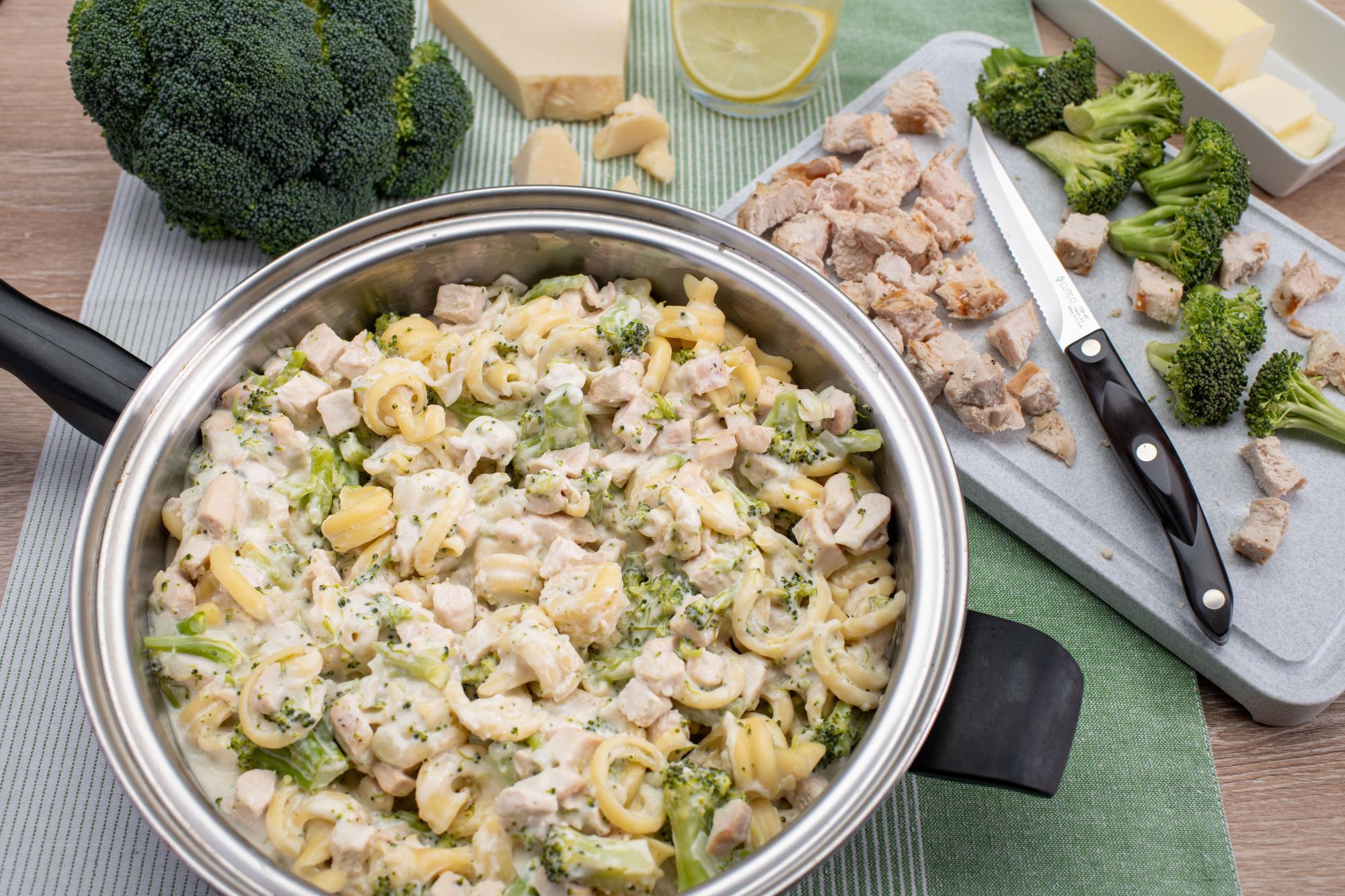 A restaurant classic gets a makeover with this One Pot Chicken and Broccoli Alfredo. Not only is the clean-up a breeze, but it is also a lighter version of the traditional dish that is usually loaded with butter and cheese.
I made this recipe with a couple of things in mind. First, I wanted an easy chicken Alfredo recipe, made in one pan - like a sheet pan dinner. One-pot meals are a go-to in my busy house. I love being able to throw everything in one pan, making clean-up easier. I also wanted to make traditional chicken Alfredo but with far fewer calories.
The prep work for the recipe is not hard at all. After boiling or roasting the chicken breasts, cube them using a Cutco Trimmer. This knife is my favorite for slicing through cooked chicken.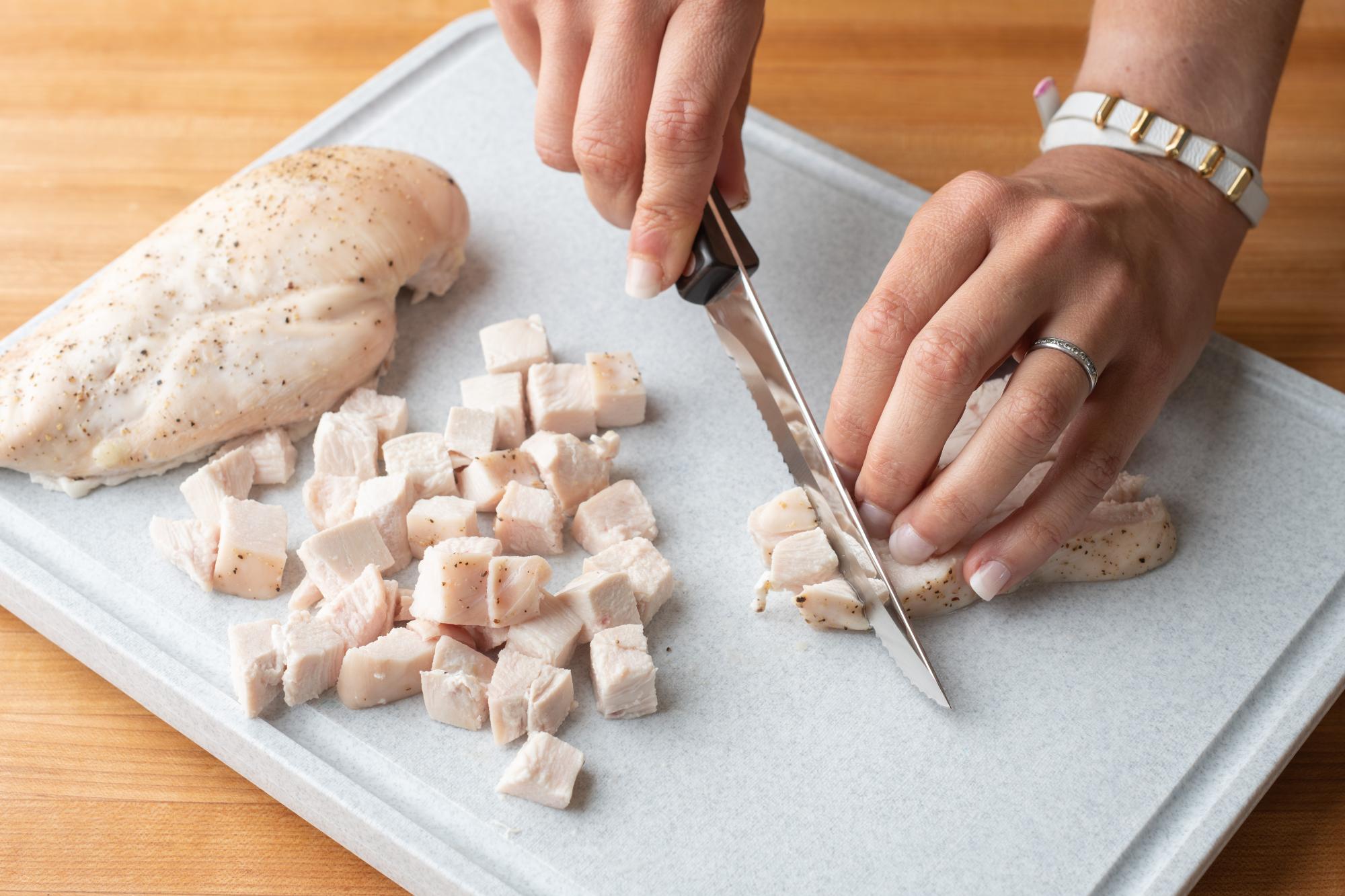 Use the Hardy Slicer to cut the broccoli florets from the bunch. The sharp Double-D® edge slices easily through the hardy stems.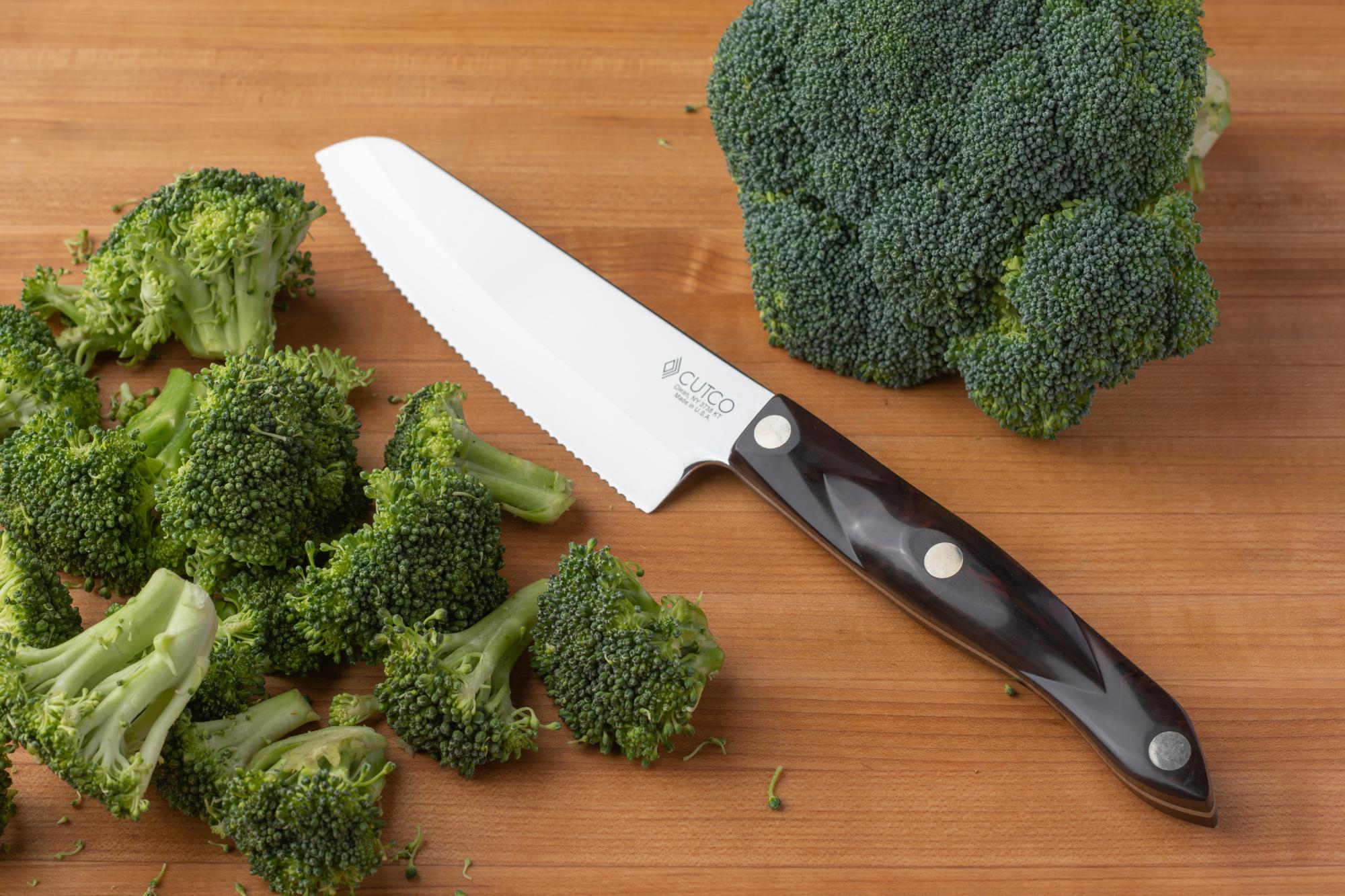 For tips on how to cut broccoli, take a look at Cutco's handy step-by-step tutorial, which also explains how to use the Super Shears to snip florets from the broccoli stem.
This One Pot Chicken and Broccoli Alfredo is a great meal-prep recipe or freezer meal to have on hand. It is an easy dish to pull together and has all the flavor of the restaurant version.
Because you are making it yourself, you can alter the recipe to your needs. Consider using 1 percent milk in place of the 2 percent, or choose fat-free cream cheese and reduced-fat Parmesan cheese if you are looking to cut the fat even more.
Along with all the benefits described above, this recipe will satisfy that chicken Alfredo craving without leaving you feeling sluggish and overly full.
Nutrition per serving: 371calories, 14.8g fat, 23.2g carbohydrates, 346mg sodium, 35.9g of protein, 1.7g fiber
Ingredients
1/2 tablespoon extra-virgin olive oil
1 medium onion, chopped
1 tablespoon minced garlic
2 pounds cooked boneless, skinless chicken breast, cubed
10 ounces mini penne pasta
2 cups water
1 chicken bouillon cube
20 ounces fresh broccoli florets
4 tablespoons butter
1 cup 2% milk
6 ounces reduced-fat cream cheese
1/2 cup shredded Parmesan cheese
Pinch of nutmeg
Salt and pepper to taste
Directions
Place a large pot on medium heat and add olive oil. Add onion, garlic and cubed chicken and cook over medium heat.
Once chicken is cooked through, add the pasta, water and bouillon cube. Stir well.
Immediately place the broccoli over the top and place your lid on. Cook on medium heat, 10-12 minutes or until pasta and broccoli are soft.
Remove from heat and stir in the butter, milk, cheeses, a small pinch of nutmeg, and some salt and pepper.
Recommended Tools