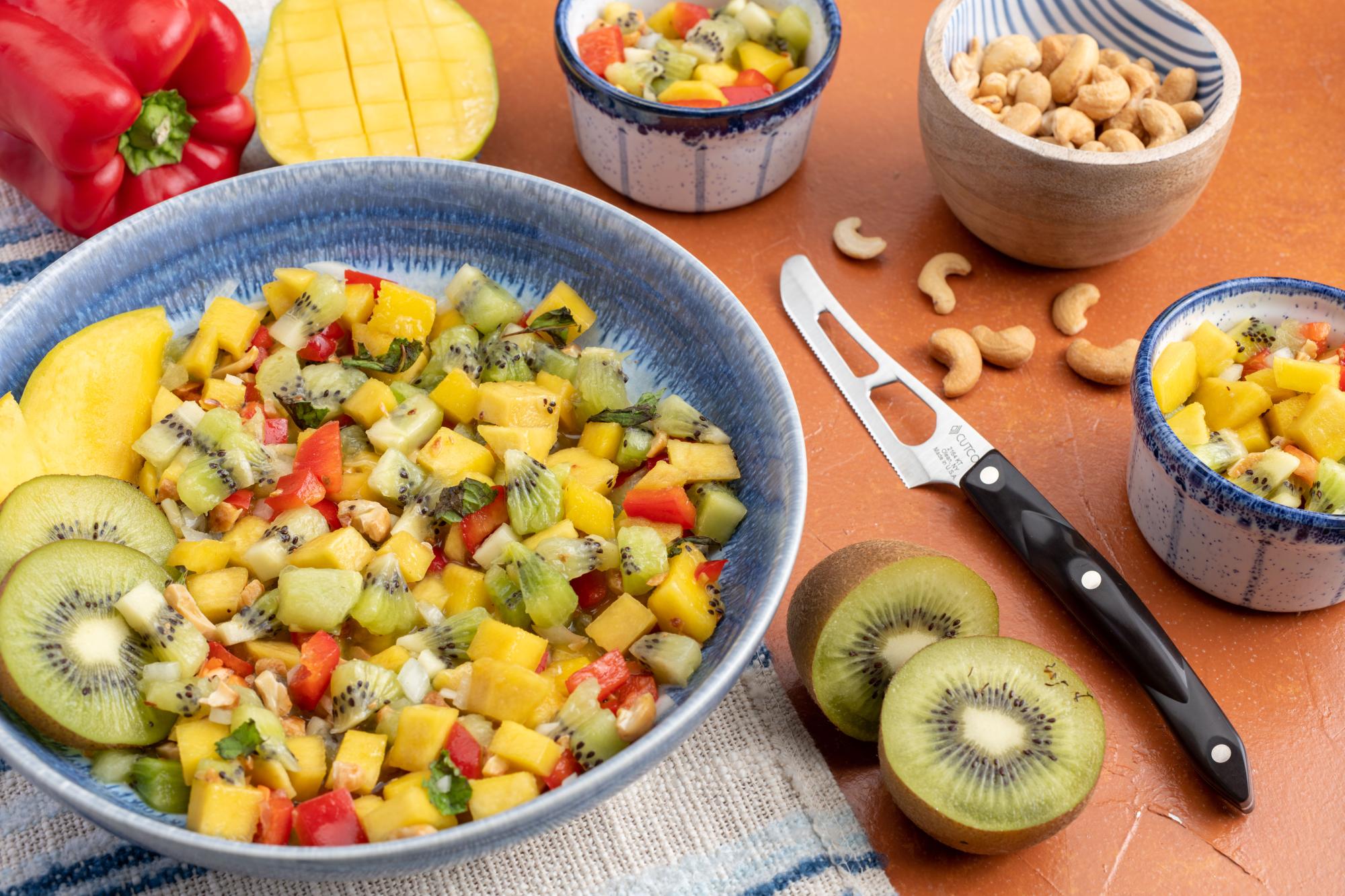 Fruit salads are typically filled with an array of melons and berries. So, I created this Mango Kiwi Fruit Salad to highlight fruits not commonly used, while also stepping it up a notch with a yummy dressing to pull it all together.
Fresh fruit is recommended for the best flavor, though in a pinch, you could use frozen mango and thaw it. This fruit salad is a perfect side dish for warm evenings when you don't feel like cooking. It is also a great dish to bring to your next party. Also, use it to top off grilled fish or chicken, or mix in with your favorite yogurt or cottage cheese.
Preparing the Ingredients
To cut the mango, use a Cutco Trimmer to cut off each end of the fruit so it stands up flat on a cutting board. Trim off the skin and then slice down off-center along the oblong pit to remove the flesh. Repeat on all sides of the pit, then lay the mango pieces down to slice and then dice.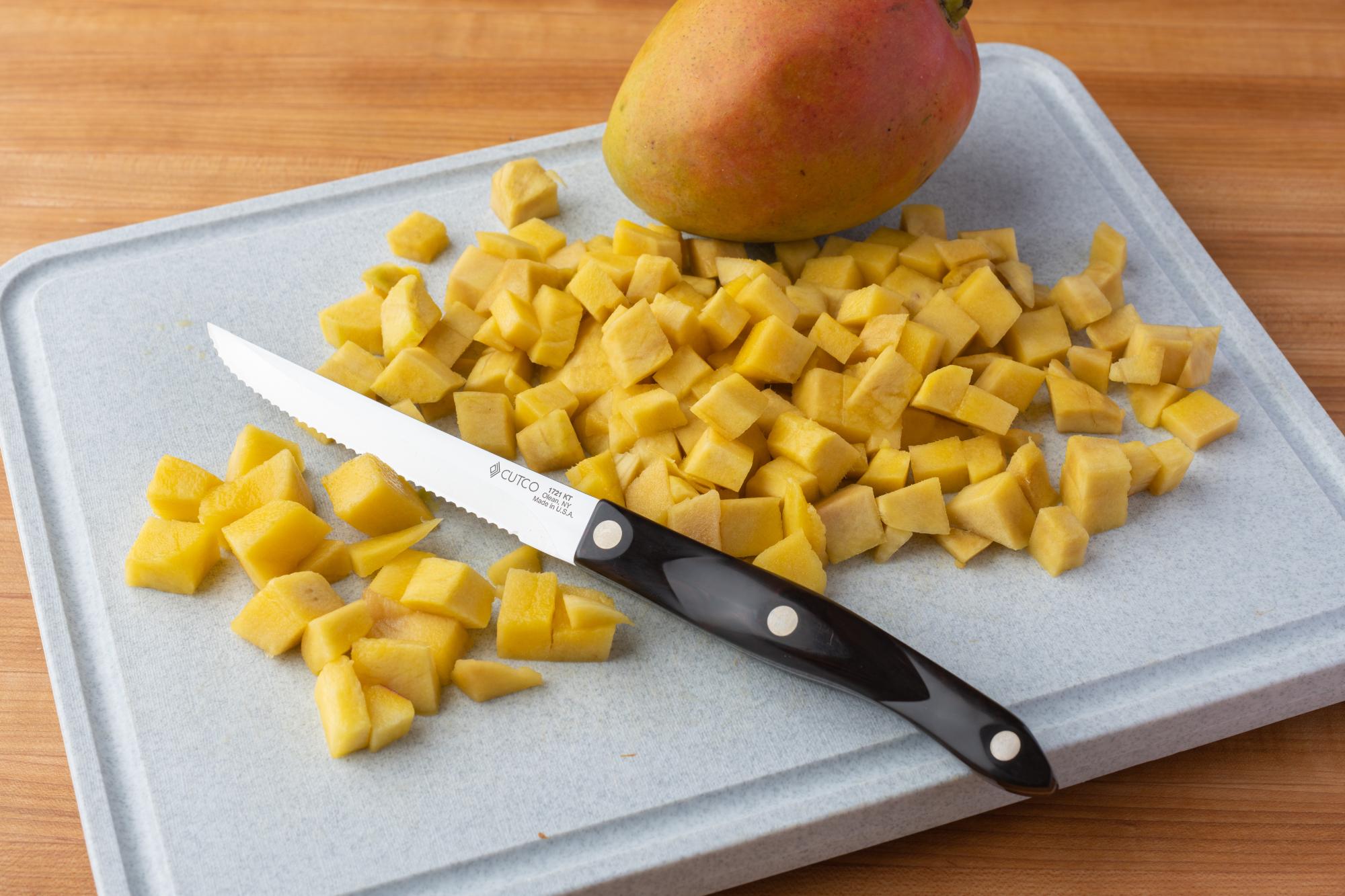 For step-by-step instructions on how to cut a mango, take a look at Cutco's video, which explains how to do it. They also have great information on how to cut a kiwi, using a Mini Cheese Knife.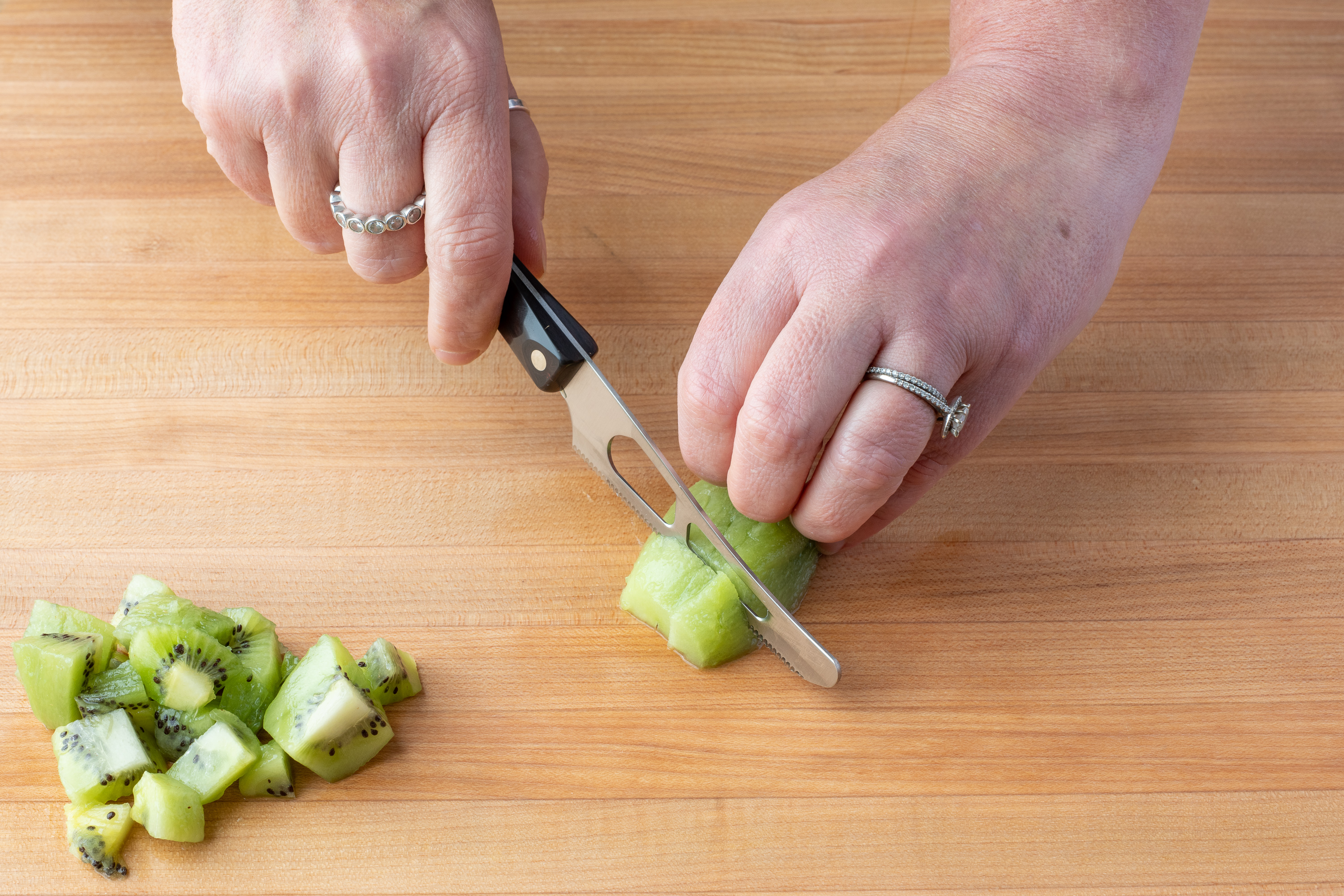 While red bell pepper and mint are not in the title of this Mango Kiwi Fruit Salad recipe, they certainly play a big role in the flavor.
When cutting fresh mint, use a sharp knife that won't crush or bruise the delicate leaves, like the 7-5/8" Petite Chef knife.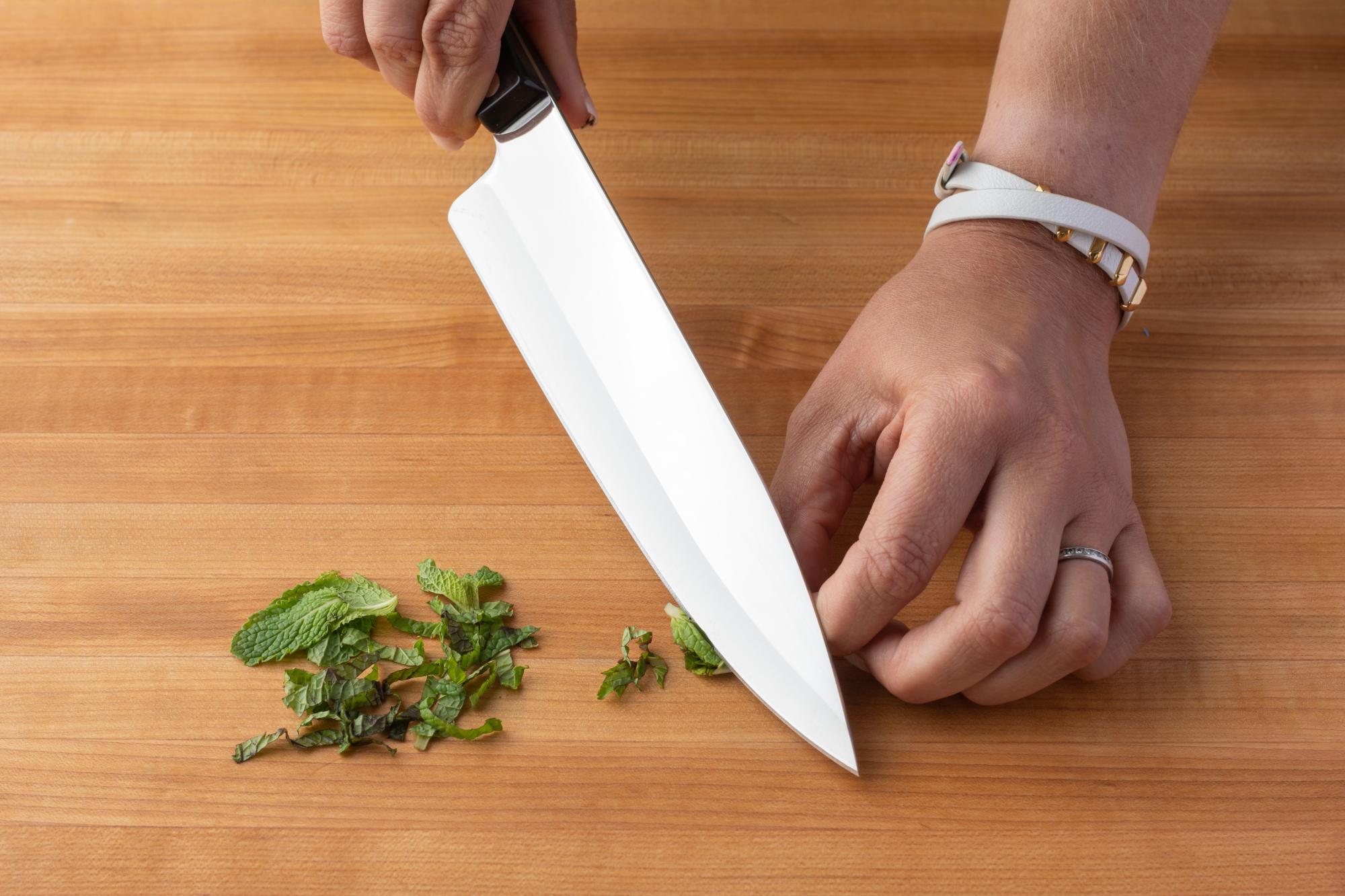 The 7-5/8" Petite Chef knife can also be used to easily dice the red bell pepper.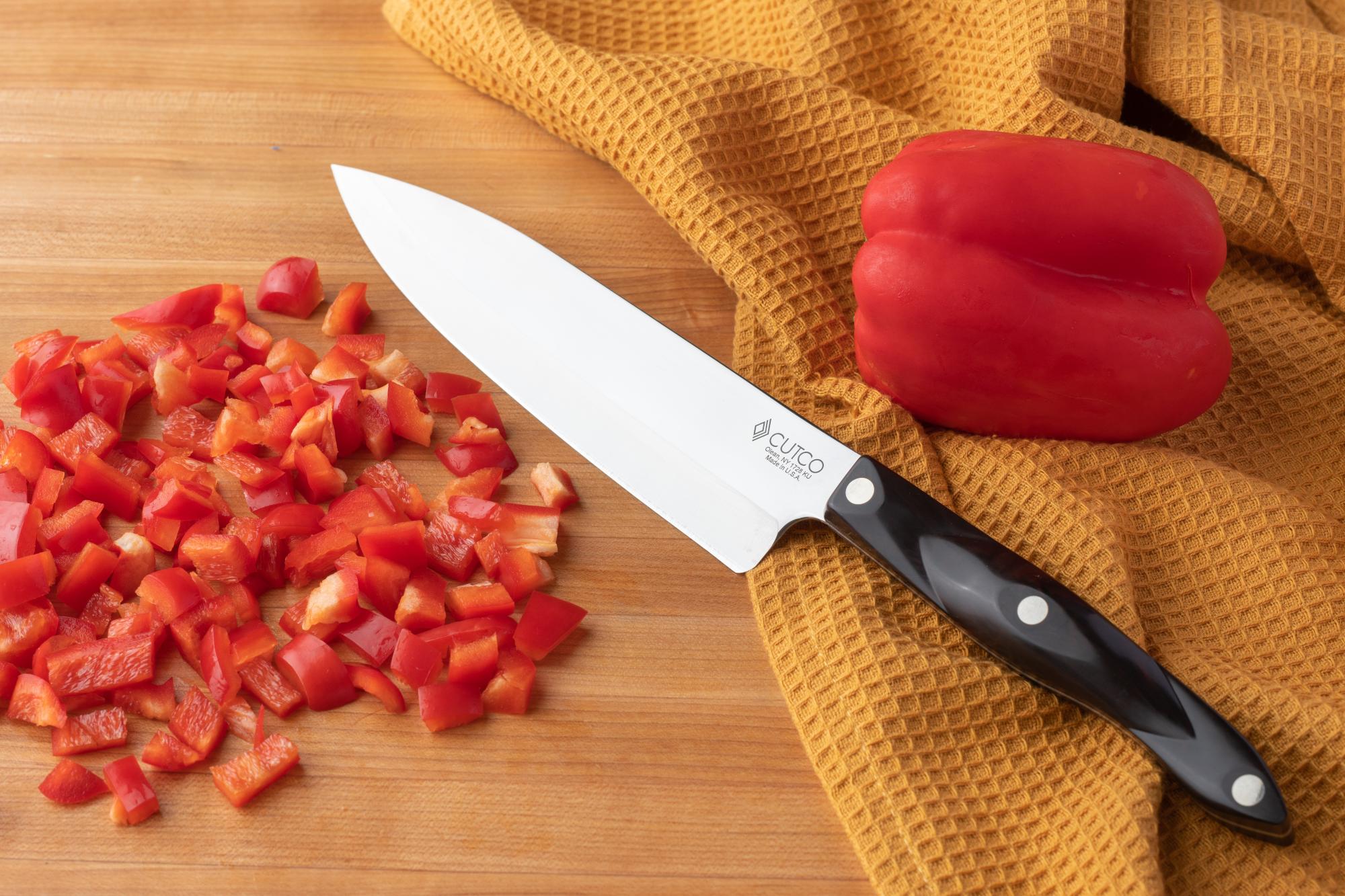 Tart kiwi, paired with sweet mango and spicy red onion, all dressed with a tongue-tingling vinaigrette, make this fresh and sweet fruit salad the perfect side dish.
I love the versatility of the recipe. I like to eat it plain or pair it up with a protein as part of a meal.
Nutrition per serving: 166calories, 6.3g fat, 28.5g carbohydrates, 154mg sodium, 2.5g of protein, 4.2g fiber
Ingredients
2 tablespoons lime juice
1 tablespoon olive oil
1 tablespoon sweet onion, minced
2 teaspoons rice vinegar
1 teaspoon honey
1/4 teaspoon salt
4 kiwis, peeled and diced
2 cups chopped mango
1/2 cup diced red bell pepper
2 tablespoons thinly sliced fresh mint
2 tablespoons chopped cashews, toasted
Directions
Whisk lime juice, oil, onion, vinegar, honey and salt in a medium bowl.
Add kiwis, mango, bell pepper and mint, and toss to coat.
Serve sprinkled with cashews.
Recommended Tools