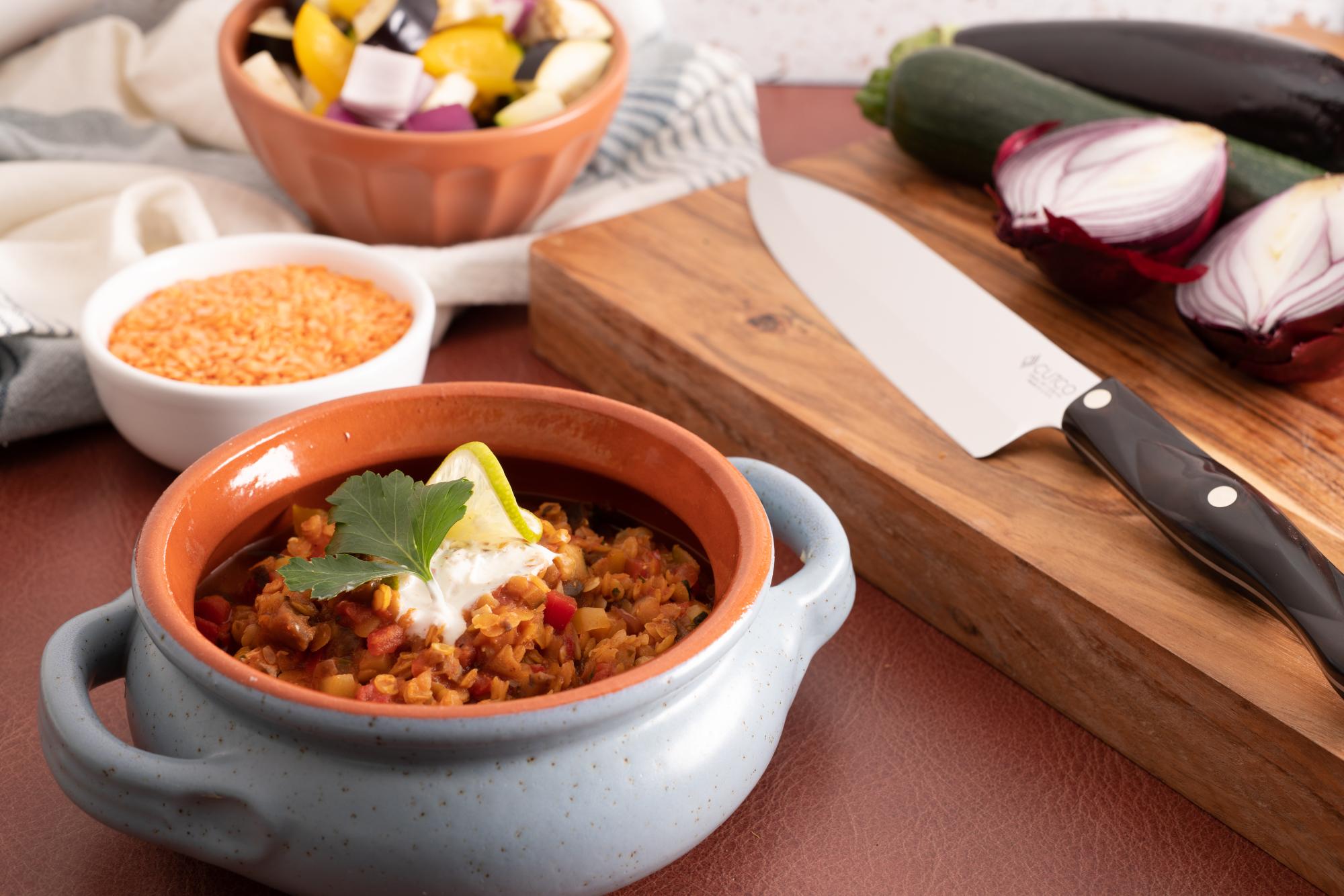 Lentil Soup can come in many varieties. My favorite kind is this Lentil Autumn Vegetable Soup, which is bursting with zesty southwest flavors, protein-rich lentils and lots of fresh vegetables. It is perfectly filling and satisfying and it's super easy to make. Plus, it's comforting on cold fall days.
Preparing the Soup Ingredients
One knife will help prepare all the vegetables for this dish. Use the 7-5/8" Petite Chef knife to dice the mushrooms, peppers, zucchini, eggplant and onion.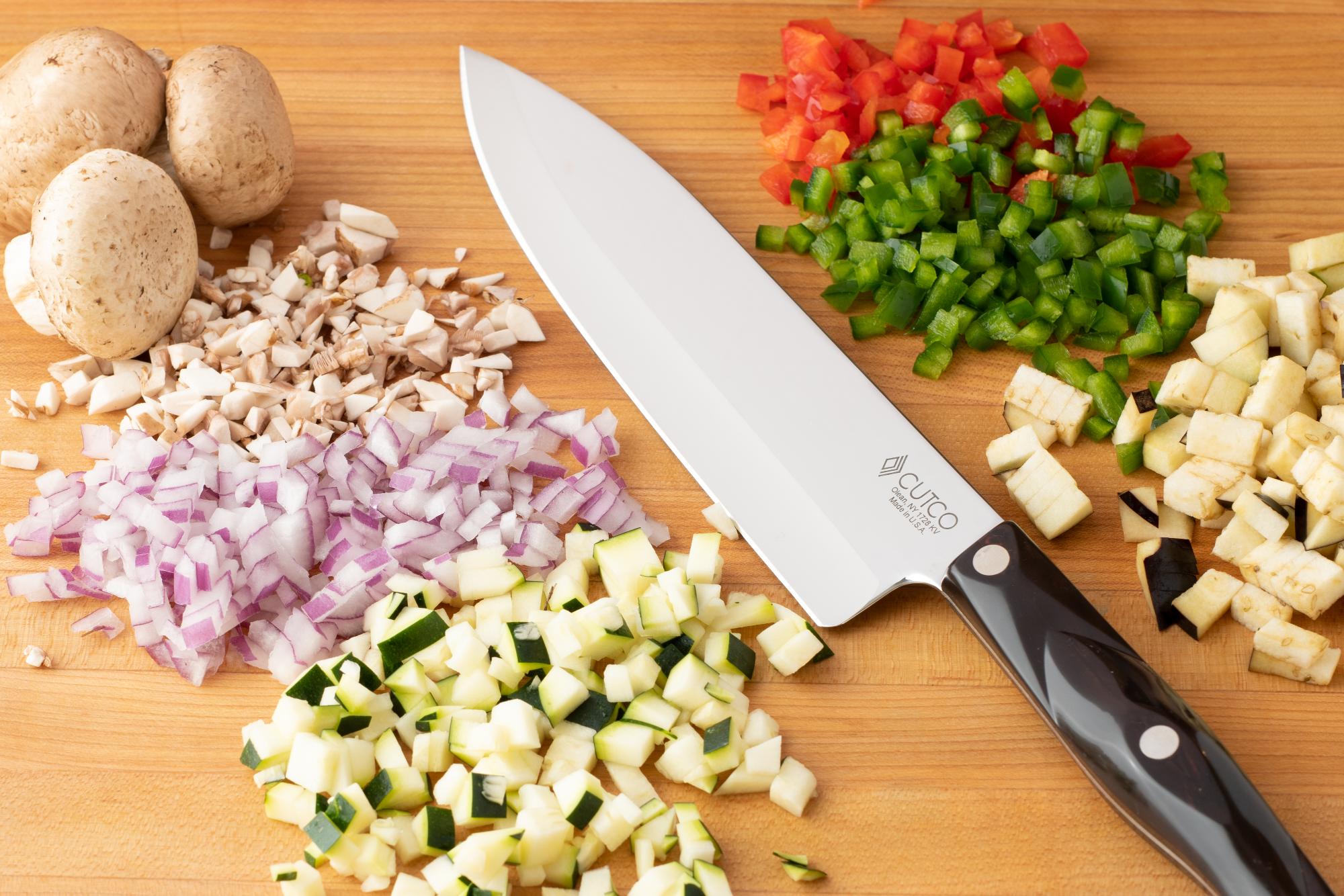 Try to keep the vegetables of uniform size so they cook evenly. They are sautéed in a 10 Qt. Stock Pot making up the base of the soup before all the other ingredients are added.
For chopping the cilantro, the Petite Chef is still a good choice. Use the sharp blade to shave off the leaves, draw them into a pile and rock the knife over them to the desired size.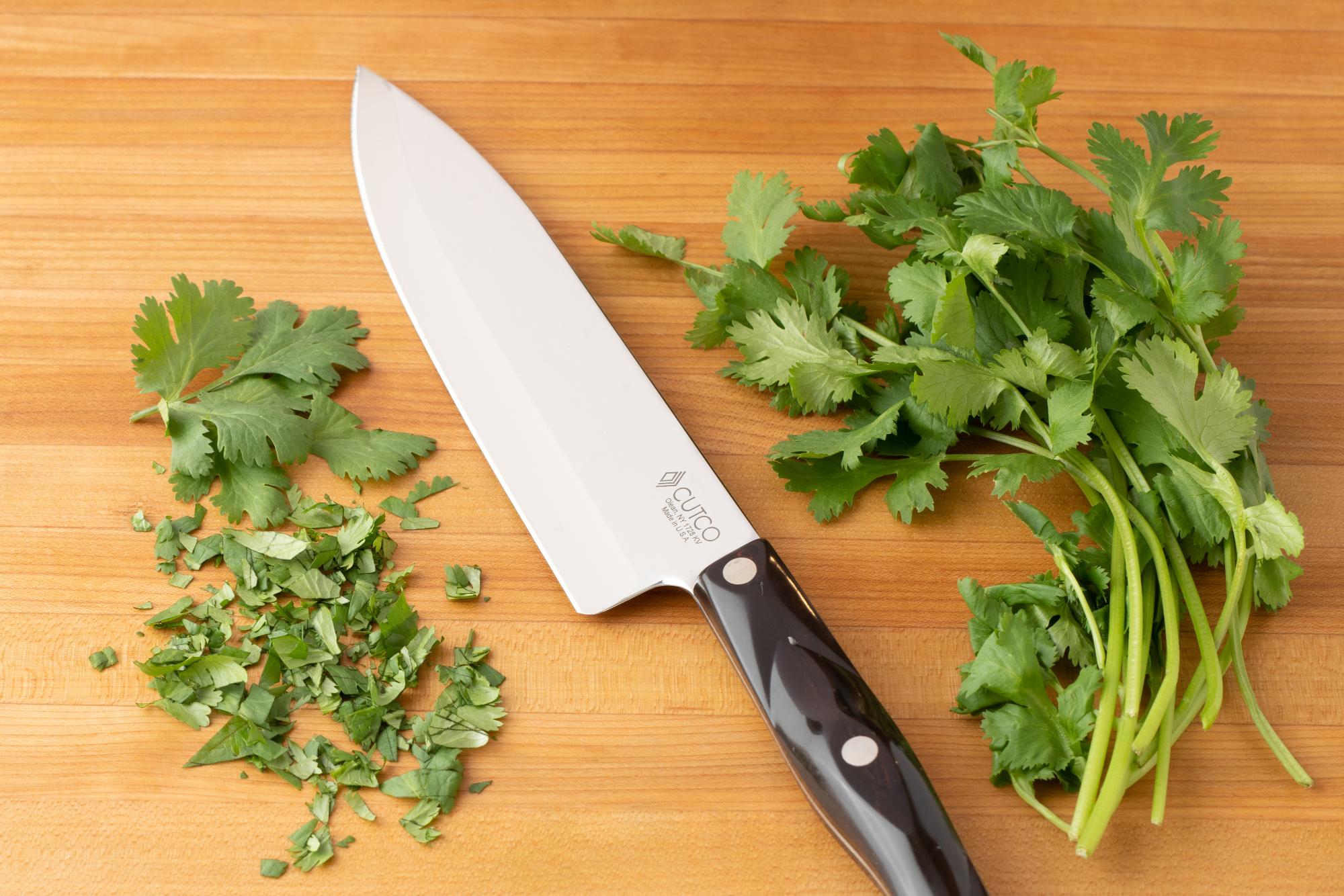 If cilantro isn't your thing, you can use parsley instead.
Although any lentil will do, I prefer using green or brown lentils since they better keep their shape in cooking. Take note that red lentils cook in about half the time.
Soup Variations
One thing I really like about this Lentil Autumn Vegetable Soup is its versatility. You can use any kind of stock – vegetable, chicken or beef – and whatever vegetables you might have on hand – carrots and celery, for example, instead of eggplant and zucchini.
Although this recipe uses a taco seasoning and chipotle puree, switching it up with Italian seasoning and tomato paste instead gives it a minestrone feel.
I've also included a quick Rustic Ranch Crema recipe if you would like to drizzle some on top of the soup. It gives it a nice final touch of flavor.
The recipe makes quite a lot, so I often freeze a part for easy dinners to come. Just thaw in the refrigerator or the microwave and then heat and taste to adjust seasoning before serving. You may want to add a bit more lime juice to add new brightness to the soup.
Have a good ladle and plenty soup spoons ready for when the soup is dished out.
It really is comfort in a bowl!
Ingredients
8 ounces cremini mushrooms
1 red or yellow pepper, seeded
1 jalapeño pepper, stemmed and seeded
1 small zucchini
1/2 medium eggplant
1/2 large red onion
1 tablespoon olive oil
2 cloves garlic, minced
1 tablespoon red wine vinegar
2 tablespoons of Chipotle Puree* or 2 chipotles, seeded and chopped
2 cans (28 ounces each) diced tomatoes
12 ounces red or brown lentils, rinsed and drained
2 cups vegetable or chicken stock
1/4 cup fresh chopped cilantro
Juice of one lime
Rustic Ranch Crema**, for garnish
Fresh cilantro sprigs, jalapeño slices, and grated cheddar cheese, for garnish
Rustic bread bowls for serving or cornbread slices
Directions
Finely chop mushrooms, peppers, zucchini, eggplant and onion.
Add olive oil to a large pot and heat over medium high heat. Add chopped vegetables and sauté until softened and beginning to brown, about 5 minutes.
Add Texy Taco and garlic and sauté for an additional 30 seconds, and then deglaze the pot with the red wine vinegar. Add chipotle puree and tomatoes and sauté for another minute.
Add lentils and stock, and simmer for 35-40 minutes. Stir in fresh chopped cilantro and lime juice before serving.
When ready to serve, spoon into bread bowls or a soup bowl and top with fresh cilantro sprigs and additional jalapeño, shredded cheese, and a dollop of Rustic Ranch Crema, if desired.
*Chipotle Puree: Puree 1 can of chipotles in adobo sauce till smooth. Store in glass jar in the refrigerator.
** Rustic Ranch Crema: Whisk together 1 tablespoon P.S. Flavor!™ Rustic Ranch (or your favorite ranch spice mix) with 1/2 cup light sour cream.
Recommended Tools