How to Cut a Parsnip
568 days ago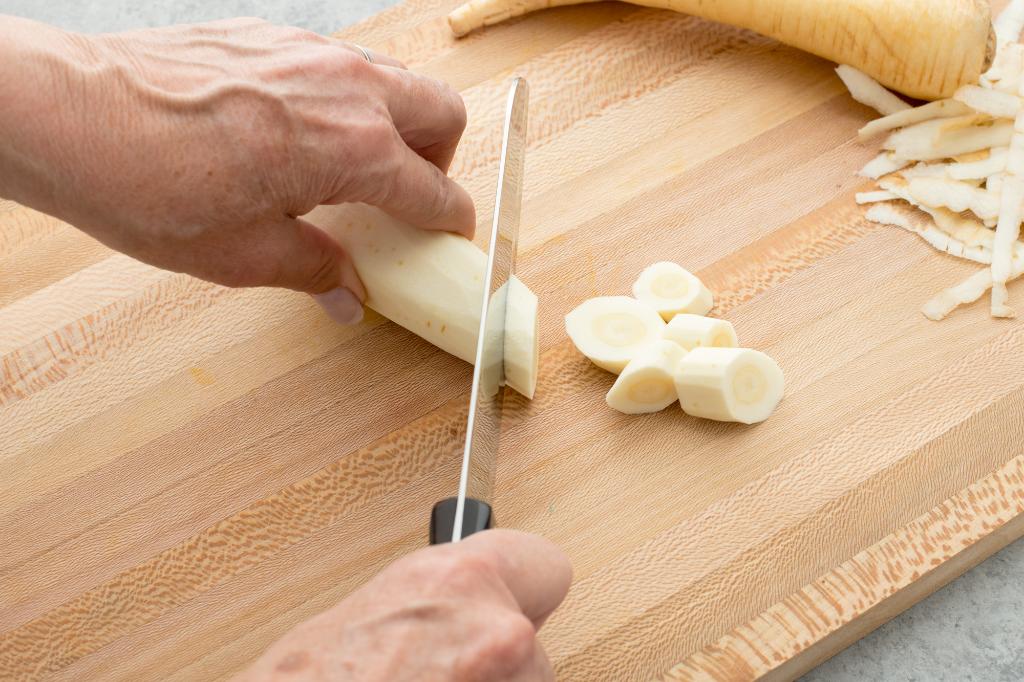 Consider parsnips an unsung hero of the farmers stand. The beige-colored root vegetable has been around a long time, but it wasn't until recently that it has gotten its fair treatment at the dinner table. To give it its due justice, learn how to cut a parsnip for adding this root vegetable into your food rotation.
Similar in appearance to carrots, parsnips have their own distinct sweet, nutty flavor. Try them mashed, in place of mashed potatoes, cut into batons for baked parsnip fries or dice them and toss into soups and stews. It is worth noting though that they contain more sugar than starch, so be careful not to overcook them.
When cooking with them, note that they pair well with things like maple syrup, nutmeg, ginger, parsley and thyme.
How you cut a parsnip does somewhat impact their flavor. The most flavorful part of the vegetable lies just below the skin, so when peeling them, be careful to only remove the top layer of skin. Also, some larger parsnips may have a woody core, which you might want to cut out and discard.
Cutting a parsnip is similar to cutting a carrot. Use a Vegetable Peeler to peel away the skin and then use a sharp prep knife like a 7" Santoku knife to trim and slice. As when cutting anything, always try to find the most stable side of the parsnip to rest on the cutting board before cutting.

How to Cut a Parsnip:
Before you begin, scrub parsnips under cold water to remove dirt.
Use a Vegetable Peeler to thinly peel away the skin of the parsnip.
Use a 7" Santoku to trim off the root end.
Lay the parsnip on the cutting board and slice to desired thickness.
Now that you know how to cut a parsnip, try one of these easy recipes using them.
Creamy Parsnips With Fresh Chives