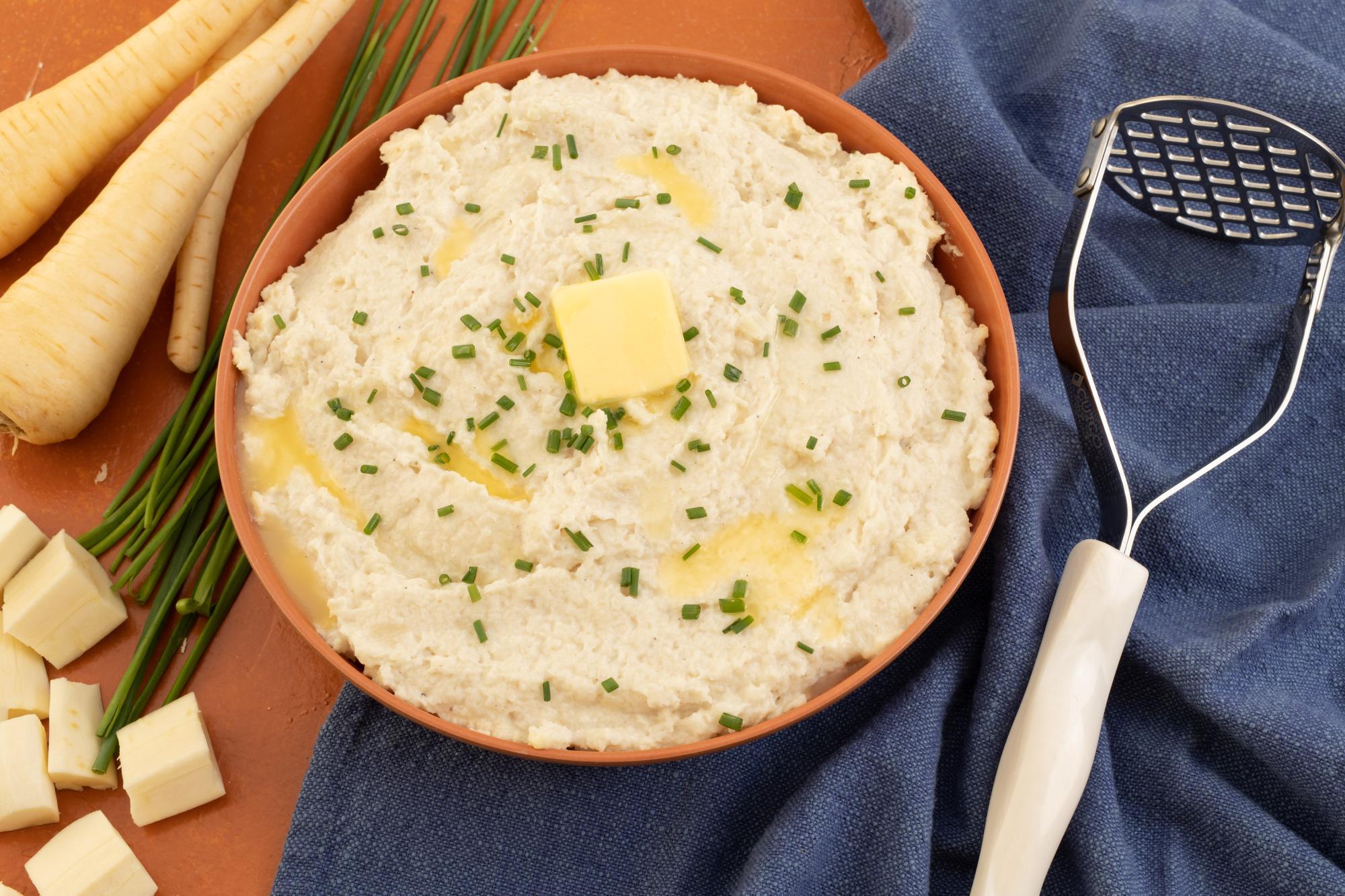 This may be odd sounding, but I don't like mashed potatoes. I like roasted potatoes with some olive oil, salt and pepper or potatoes au gratin and of course, French fries, but the mashed version is just not my thing. If I use enough sour cream and butter, perhaps, but to me mashed potatoes just have a "blah" taste to them. So, I always look for an alternative that has a bit more flavor, and now parsnips are my new go-to mashed potato substitute.
Creamy Parsnips With Fresh Chives is similar to the consistency of mashed potatoes but the flavor is intensified. Parsnips have the starchiness of potatoes but also have a sweet taste similar to carrots, balanced with a slight bitterness found in turnips. The herbs you use to cook them in helps bring out the best flavors.
Typically harvested in the spring, you want to find parsnips that are in their prime. They should be firm, well-shaped and smooth, otherwise they can lean toward a very bitter and woody taste. They are typically cooked but parsnips can also be eaten raw.
Preparing the Creamy Parsnips
To bring out the sweet and earthy flavor of the parsnip, I used some nutmeg as well as sour cream, butter and chives. This recipe is super easy to prepare and can be a welcome surprise as your next side dish.
To prepare the parsnips, trim both the top and root ends, making sure to rinse the excess dirt off the vegetable, and peel the outer skin. Using a 7" Santoku knife, cut the parsnips into one-inch pieces so they will cook evenly.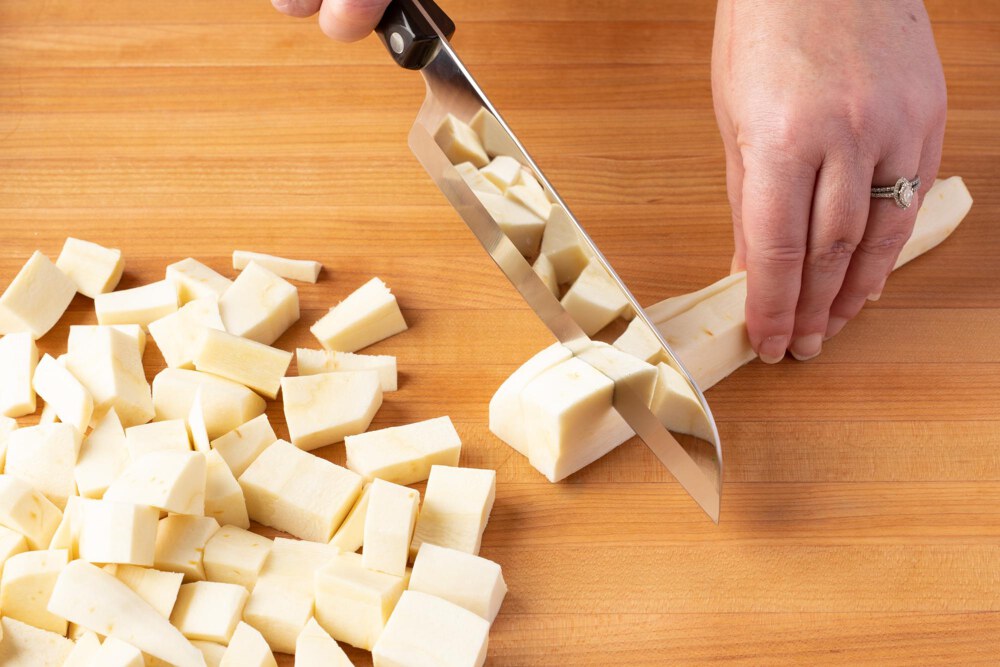 To see how to cut a parsnip, take a look at our easy step-by-step tutorial.
Place the diced parsnips into a saucepan, cover with water, add a bit of salt and bring to a boil. Reduce the heat and simmer until they are soft and able to be mashed.
While the parsnips are cooking, measure out your other ingredients to include snipping your chives with the Super Shears until you have a quarter cup.
Once the parsnips are fully cooked, drain them (reserving some of the liquid) and add the sour cream, butter, salt and nutmeg. Using a Potato Masher, mash until the mixture is smooth. If needed, you can add some additional sour cream to make the parsnips creamier.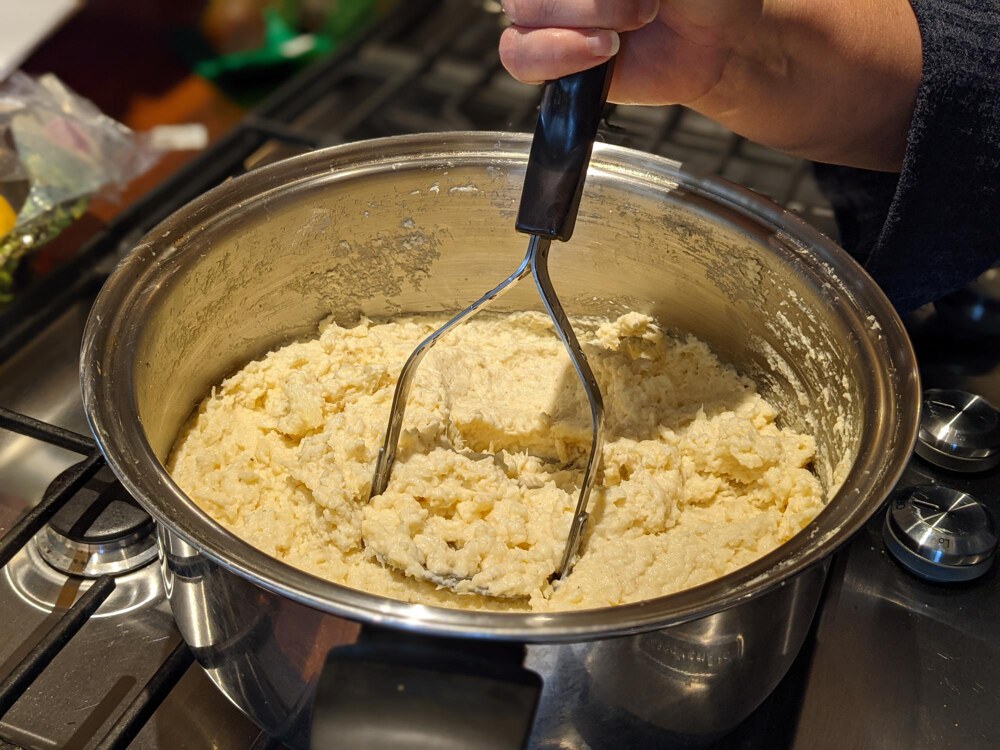 Taste the mashed parsnips at this point. You may find you want to add a dash more of nutmeg. I typically do but it's a taste preference. Mix in your prepared chives and add any additional seasoning at this point. Transfer to a serving bowl and serve warm.
Creamy Parsnips With Fresh Chives is a refreshing change from your typical side dish of mashed potatoes. The nutmeg adds just the right amount of spice to this root vegetable and of the butter and sour cream blend together to make the parsnips nice and creamy. This is an easy side dish that goes with any protein. Try them. You may find they are your new favorite.
Ingredients
2.5 pounds parsnips, peeled and cut into 1-inch pieces
2 teaspoons kosher salt, divided
2/3 cup sour cream
4 tablespoons butter
1/2 teaspoon nutmeg
1/4 cup fresh chives, sliced
Directions
Place the parsnips into a saucepan, cover with water, add 1 teaspoon salt and bring to a boil. Reduce heat and cook until the parsnips are soft, approximately 20 minutes.
Reserve 2/3 cup of the cooking water and drain the rest of the water.
In the same saucepan, add the parsnips, reserved cooking water, sour cream, butter, remaining 1 teaspoon of salt and nutmeg. Beat or mash until smooth. Add additional sour cream if needed.
Stir in fresh chives, season with more salt if needed and serve.
Recommended Tools