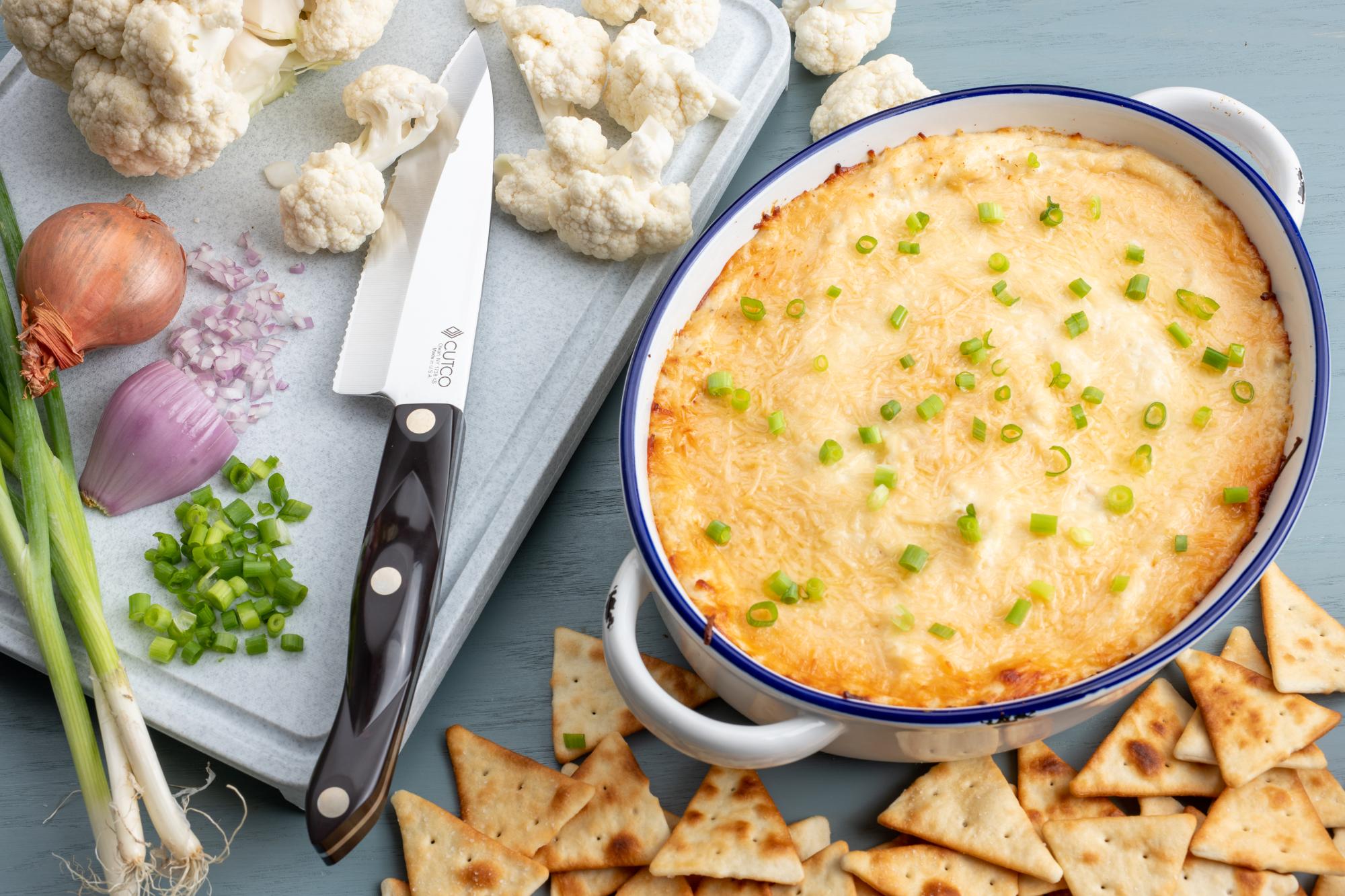 Cauliflower is that one vegetable that is easy to add to your diet, simply because it is so easily transformed. Of course, you can eat it raw or roasted, but where it really shines is as a substitute for rice, pizza crust or even in the Cauliflower Cheddar Drop Biscuits recipe we did in the fall. But, this cauliflower dip recipe is a game-changer.
We've tried this vegetable so many ways in the Cutco Kitchen, but never as the base for a dip. Raw cauliflower has a fairly mild taste with a hint of nuttiness so roasting it helps amplify those flavors, blending well with the creamy cheese mixture we put together. We recommend using a full head of cauliflower since that will guarantee freshness. This Easy Cheesy Cauliflower Dip is an appetizer that really surprised us with the flavor, and how quickly it disappeared in our kitchen.
To start this recipe, use the Gourmet Prep Knife to remove the florets and cut the florets into smaller pieces.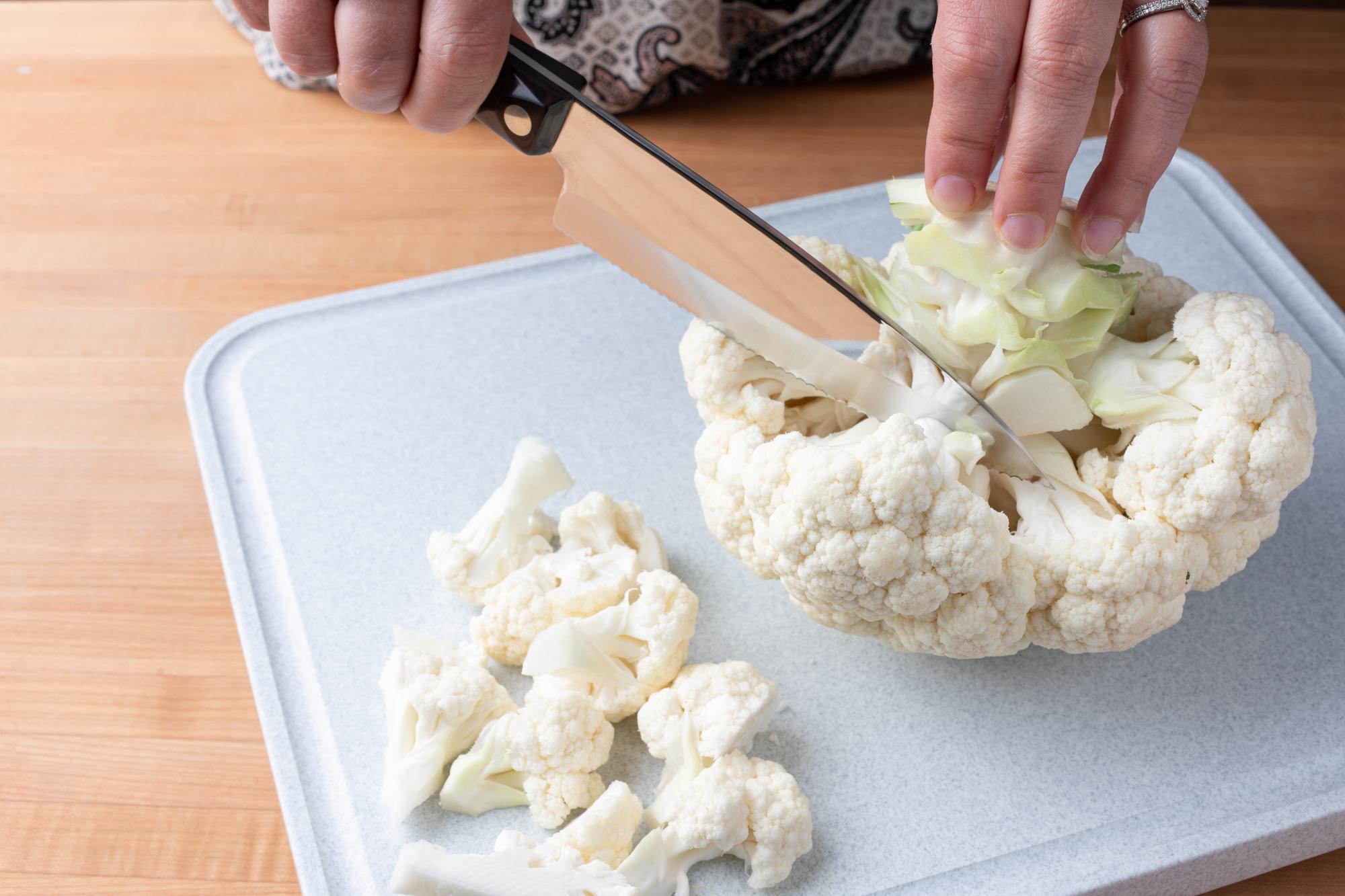 You can also check out our easy tutorial on how to cut cauliflower using the 7-5/8" Petite Chef knife.
Once the cauliflower is prepped, spread it into a single layer onto an already hot baking sheet and roasted it until it was golden brown. Make sure to turn it over halfway through the roasting process.
Using the 5" Petite Santoku, dice the shallots by making slices down the length of the shallot from stem to root, making sure not to cut all the way to the root. Then rotate the shallot and cut crosswise to dice.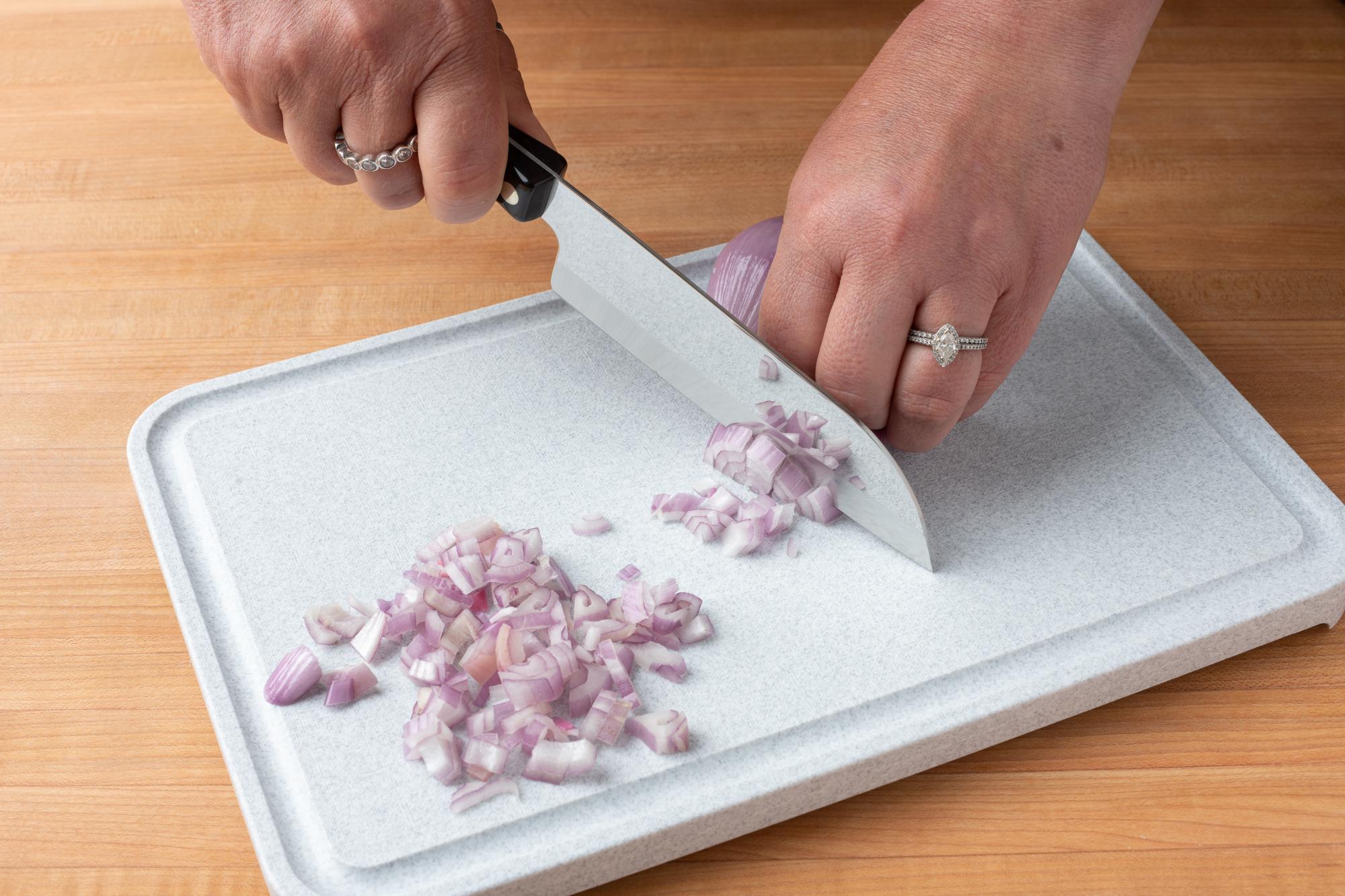 When you have all of your dip ingredients cut and measured, place them in a food processor and blend until the mixture is smooth and creamy. You may still have some small bites of cauliflower, but that is absolutely fine.
Pour your cauliflower and cheese mixture into your baking dish, top with the additional cheese and bake until it is golden brown and the cheese is melted. We chose to add some scallions to the top of the dip once it was cooked for some added color. Serve with pita chips or your favorite crackers.
When I say you won't know you're eating cauliflower, I'm not exaggerating. This cheesy cauliflower dip was incredible and we kept trying it to be sure, until it was gone. If you want a bit more garlic flavor, add an additional clove. Make this easy appetizer and I can assure you, your friends will have no idea you're serving them cauliflower. Enjoy.
Ingredients
1 head cauliflower, cut into florets
2 tablespoons olive oil
1/2 teaspoon kosher salt
1/8 teaspoon black pepper
4 ounces Neufchatel cheese
1/2 cup mayonnaise
1/2 cup full fat Greek yogurt
1/2 cup sour cream
1 1/2 cups shredded Pecorino Romano cheese, divided
1 clove garlic, minced
1/2 cup shallots, diced
1/2 teaspoon kosher salt
1/4 teaspoon black pepper
Scallions, chopped for garnish
Crackers or pita chips
Directions
Place a baking sheet in the oven and heat the oven to 425 F.
In a bowl, toss the cauliflower with the olive oil and salt and pepper. Take the baking sheet out of the oven and dump the cauliflower onto the baking sheet, arranging into a single layer. Roast for 30 minutes until golden brown, flipping the cauliflower halfway through the baking process.
Reduce the oven temperature to 350 F.
Place the roasted cauliflower into a food processor or high-speed blender. Add the Neufchatel cheese, mayonnaise, Greek yogurt, sour cream, 1 cup of the Pecorino Roman cheese, garlic, shallots, salt and pepper. Process or blend the mixture until it is smooth and creamy.
Pour the cauliflower mixture into an 8-cup baking dish and top with the remaining cheese.
Bake for approximately 20 minutes until the top is golden brown and the cheese is melted.
Remove from the oven, top with the scallions and serve.
Recommended Tools