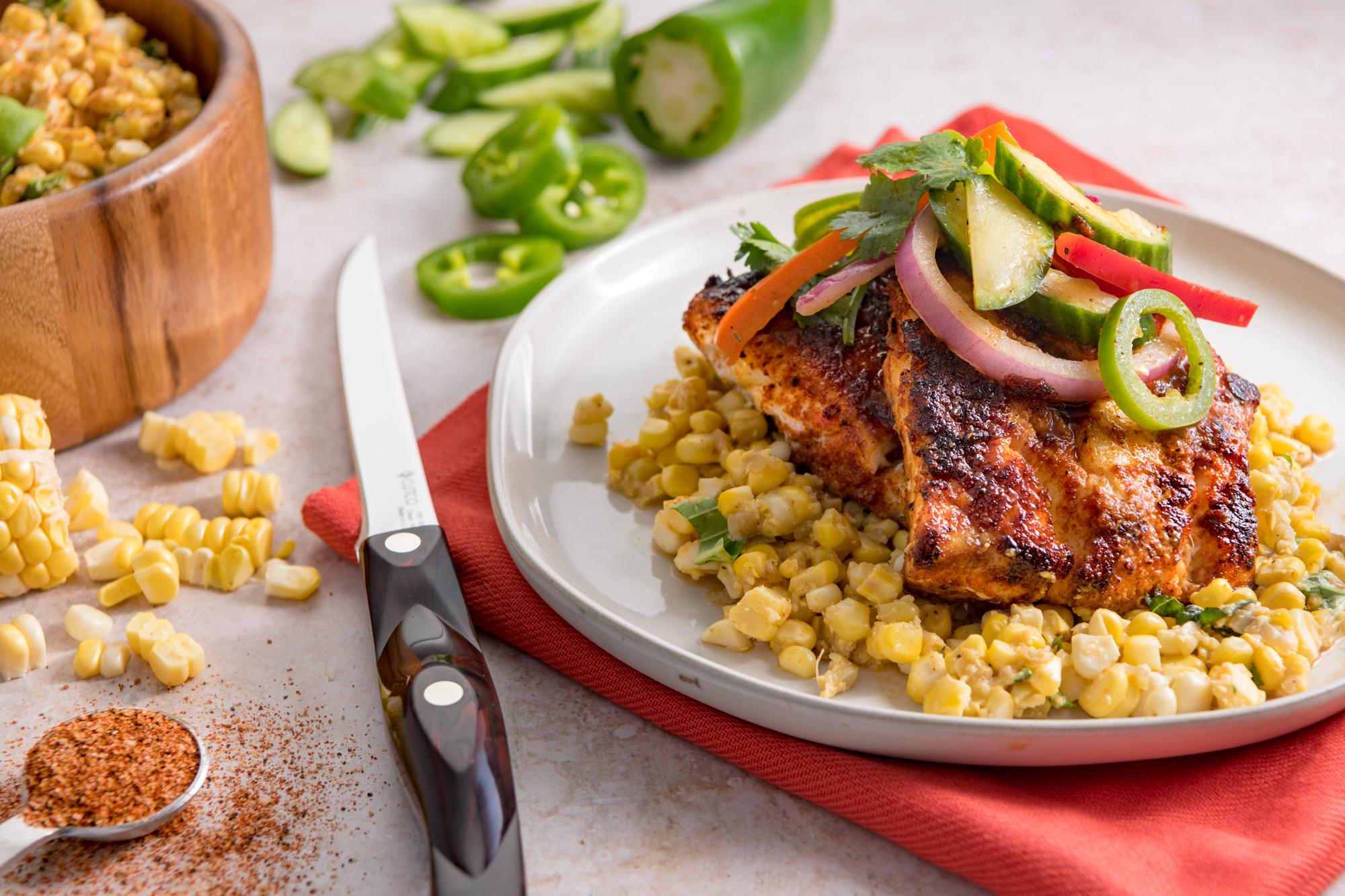 There is something quite magical about this Chili Lime Cod. The flavor, texture, and even color variations bring about a most craveable star of the plate that delights all of the senses. Highlighting cod as the protein du jour, not only gives us the flavors we're looking for, it brings those much sought after omega-3s, as well.
Fish contains top-gun omega-3 fats that reduce the risk of plaque buildup in your arteries, decrease blood triglyceride (fat) levels, help lower blood pressure and lessen the odds of sudden death. Fish is also a wise protein choice because of its high levels of memory boosting tyrosine (fish IS brain food!) and its relatively low saturated fat and cholesterol content. Brain health, whole body wellness and delicious flavors start here.
Pan-roasting fish is one of the easiest and quickest ways to get dinner on the plate. It's hands down the most effective, mouthwatering way to cook a piece of protein, especially fish.
For this Chili Lime Cod recipe, I used a whole cod fillet and used Cutco's Boning Knife to cut it into four even portions. The knife's sharp, flexible blade is designed for smooth slicing.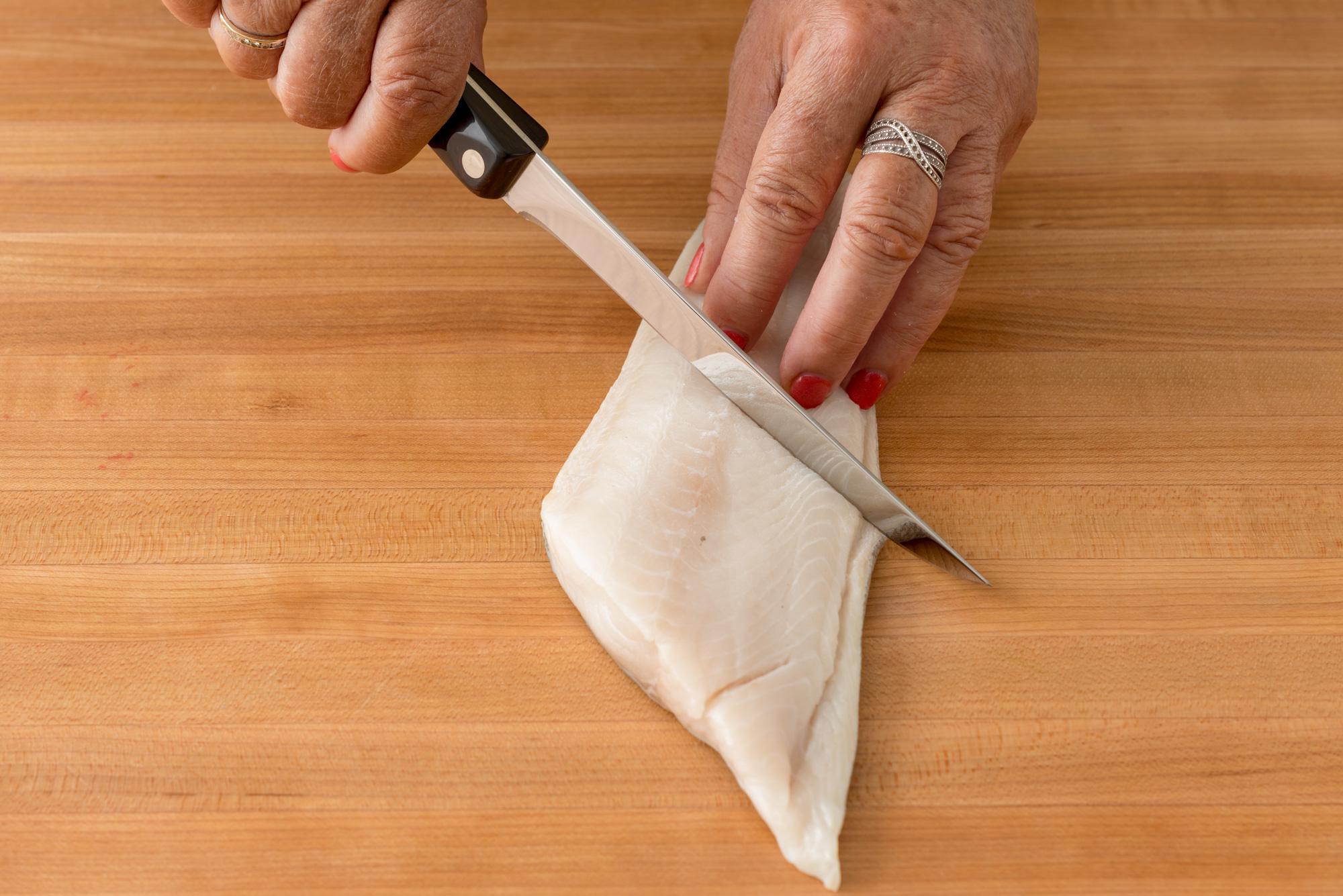 To season it, I used my P.S. Flavor!™ Chili Lime Spice Rub. This rub is delicious on fish, but also on pork, chicken and scallops. If you want a real treat, try it on popcorn! The blend of ancho chili, natural lime, organic toasted cumin, organic cinnamon, organic cayenne pepper, turbinado sugar and a touch of sea salt delivers the perfect balance of savory and sweet.
How to Pan Roast Fish
The art of the pan roast is to coax maximum flavor and texture from whatever you're cooking. It starts with a flavorful rub, like P.S. Flavor!™ Chili Lime, and then searing/browning on the stove-top in a smoking hot pan to create a flavorful, crusty outside layer. Flip after just a couple of minutes, as you see the pan side of the fish beginning to brown and pull away from the heat. Move the pan to the oven where the fish cooks through evenly, without overcooking.
Garnish each plate with a lemon and lime slice and sprinkle with chopped chives.
Ingredients
1 tablespoon olive oil
1 1/4 pounds cod (or halibut), cut into 4 fillets
4 teaspoons P.S. Flavor!™ Chili Lime Spice Rub or kosher salt and black pepper
2 cups Creamed Corn with Basil (get the recipe )
1/3 cup Cucumber Jalapeño Slaw (get the recipe )
4 fresh cilantro sprigs
1 lemon, thinly sliced
1 lime, thinly sliced
2 tablespoons chopped chives
Directions
Heat oil in nonstick sauté pan to high heat. Season fish evenly with Chili Lime, totally covering, and place in hot sauté pan. Cook for 2-3 minutes until it has a seared color. Flip the fish over and finish cooking until done or until at 145 degrees F.
Place the Creamed Corn with Basil in the center of plate and place the fish on top. Mound a bit of the Cucumber Jalapeño Slaw atop the fish and lay a cilantro sprig atop the slaw.
Garnish each plate with a lemon and lime slice and sprinkle with chopped chives.
Recommended Tools