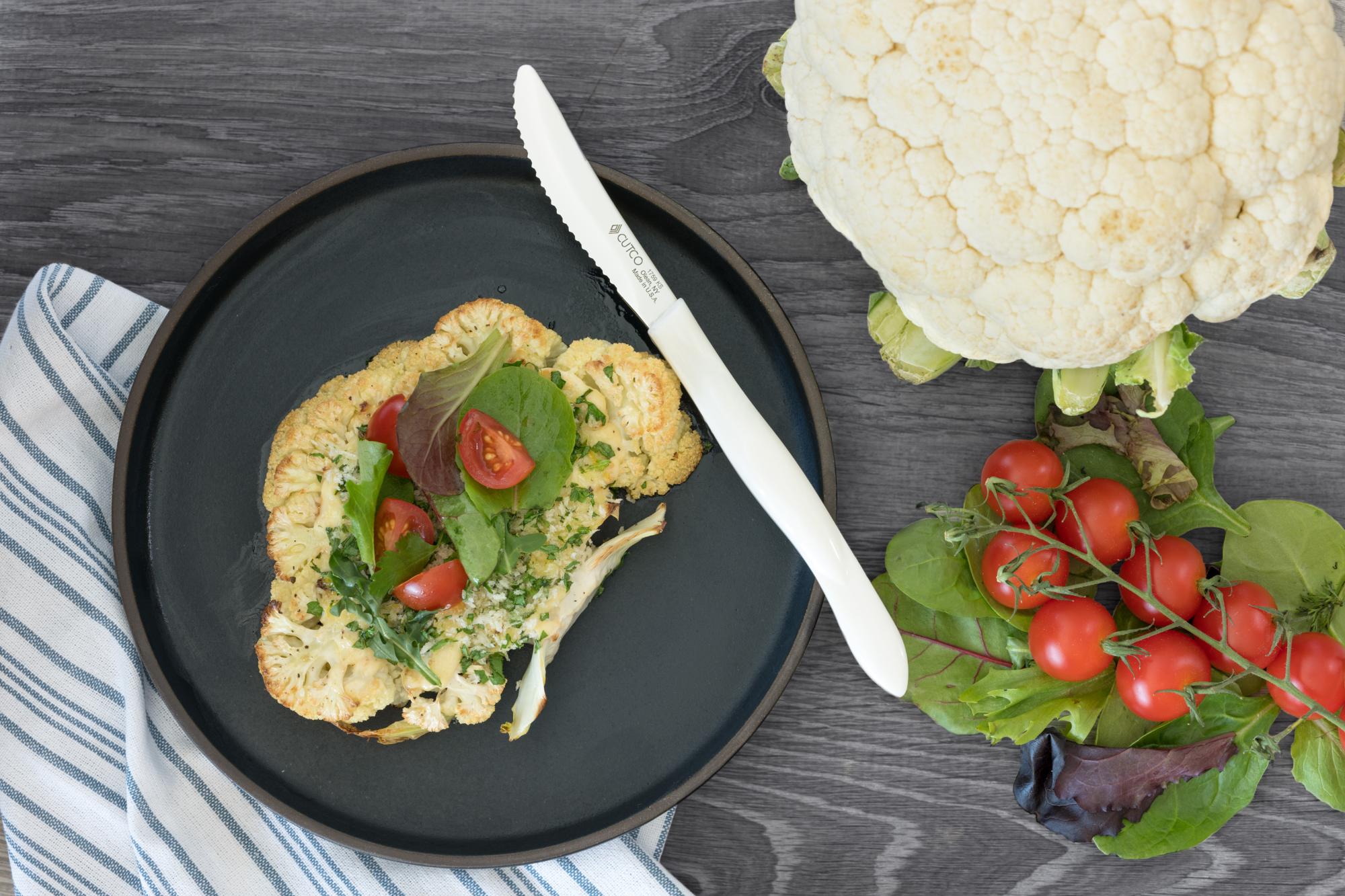 My vegetarian take on Chicken Milanese has all the key components: crispy coating, tangy vinaigrette, and flavorful salad greens on a thick slab of cauliflower.
To get slices of cauliflower to remain intact to resemble steaks, the recipe calls for one head of cauliflower for two people. You will cut two slices from the center of the head of cauliflower, so there will be plenty of leftover cauliflower. (I usually roast the extra florets on a separate pan at the same time and save them for another meal.)
To give the cauliflower "steaks" lots of flavor, first they are roasted at high temperature. Then they are coated in a mixture of mayonnaise and mustard and sprinkled with seasoned panko breadcrumbs and returned to the oven to crisp up.
A simple salad of cherry tomatoes and greens dressed with a red wine vinaigrette tops the cauliflower for an impressive meatless entrée that would impress even a carnivore.
The best tools for prepping this dish are a Butcher Knife for slicing the cauliflower steaks and a 4" Paring Knife for halving the cherry tomatoes.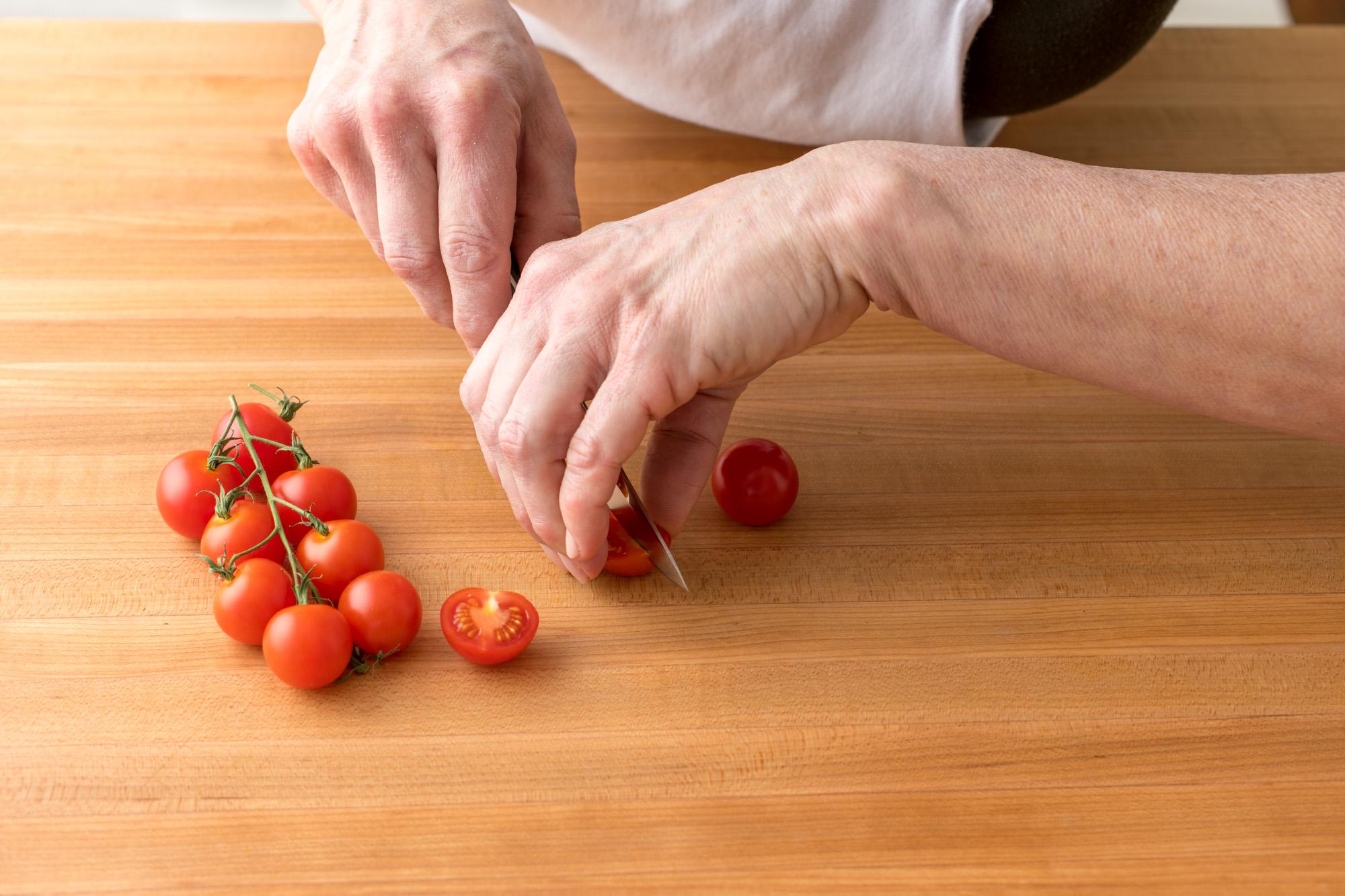 For step-by-step instructions on cutting the cauliflower steaks, take a look at Cutco's handy How to Cut Cauliflower Steaks infographic.
Ingredients
1 large head of cauliflower
Olive oil
Salt and pepper
3 tablespoons mayonnaise
1 teaspoon Dijon mustard
1/2 cup panko breadcrumbs
1/3 cup chopped parsley, plus more for serving
3/4 teaspoon finely grated lemon zest
For the vinaigrette & salad:
2 teaspoon red wine vinegar
1/2 teaspoon Dijon mustard
1 small clove garlic, minced
Kosher salt and freshly ground black pepper
2 tablespoons olive oil
2 cups loosely packed baby greens, mesclun or herb salad mix
1 cup (approx.) cherry tomatoes, halved
Directions
Heat oven to 425 degrees F. Remove leaves and trim stem end of cauliflower, leaving core intact. Place cauliflower core-side down on a work surface. Using a large knife, slice in the center from top to bottom to yield 2 (1-inch) "steaks"; reserve remaining cauliflower for another use.
Place cauliflower on a rimmed baking sheet. Brush both sides with olive oil and season with salt and pepper. Roast on middle rack until cauliflower is tender when pierced with a fork and brown at edges, about 30 minutes.
Meanwhile, mix together mayonnaise and mustard in a small bowl. In a separate bowl, mix together panko, parsley and lemon zest.
Prepare the salad dressing: Whisk together the vinegar, mustard, garlic, and salt and pepper to taste. Whisk in oil. Set aside.
Remove baking sheet from oven. Spread mayonnaise mixture over cauliflower. Sprinkle 1/4 cup panko mixture evenly over each cauliflower "steak." Return sheet to oven and continue to roast until panko topping starts to brown, 5–7 minutes more.
Meanwhile, in a medium bowl, toss together greens and tomatoes; add just enough salad dressing to coat.
Place cauliflower on plate. Top with salad. Serve immediately.
Recommended Tools