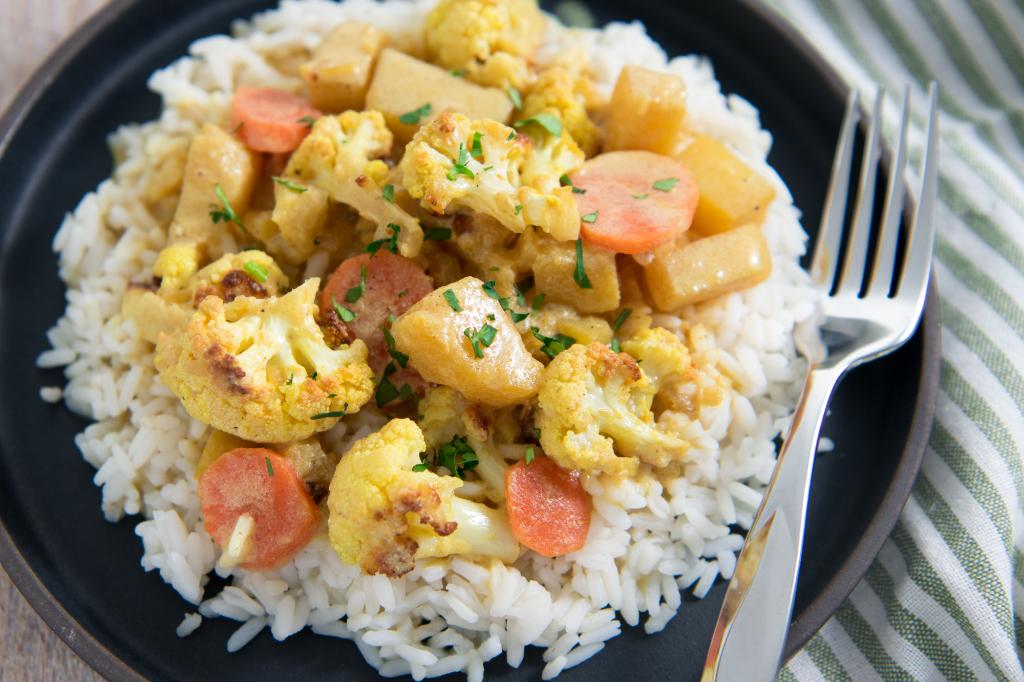 Cauliflower's versatility is endless. Growing up, my mother would just boil it in milk and butter and serve it as a side dish, but today it's used in many different ways. This recipe for Roasted Cauliflower Curry form Alfred State College culinary arts instructor, chef Keith Glover, might be my favorite way to eat it.
The recipe begins with tossing cauliflower florets with olive oil, seasoning with salt and pepper, and then roasting. Roasted cauliflower has a nice nutty and somewhat buttery flavor that is the perfect base for this Indian-inspired dish.
This Roasted Cauliflower Curry is loaded with veggies and includes the traditional flavors of curry powder, coconut milk and yogurt. It is great on its own or served over rice. It is also a nice side dish for chicken, shrimp or tofu.
An interesting note about curry. It's actually a blend of savory and sweet spices and the flavor can vary depending on what type of curry you're using. This recipe calls for curry powder, but curry also comes in a paste and roux cubes.
To prepare the cauliflower, a 7-5/8" Petite Chef comes in handy. It's long, sharp blade is the right size for cutting through a medium-sized head of cauliflower and the knife's pointed tip can squeeze in between the tightly packed florets. If you have a larger head of cauliflower the 9-1/4" French Chef knife might be a better choice.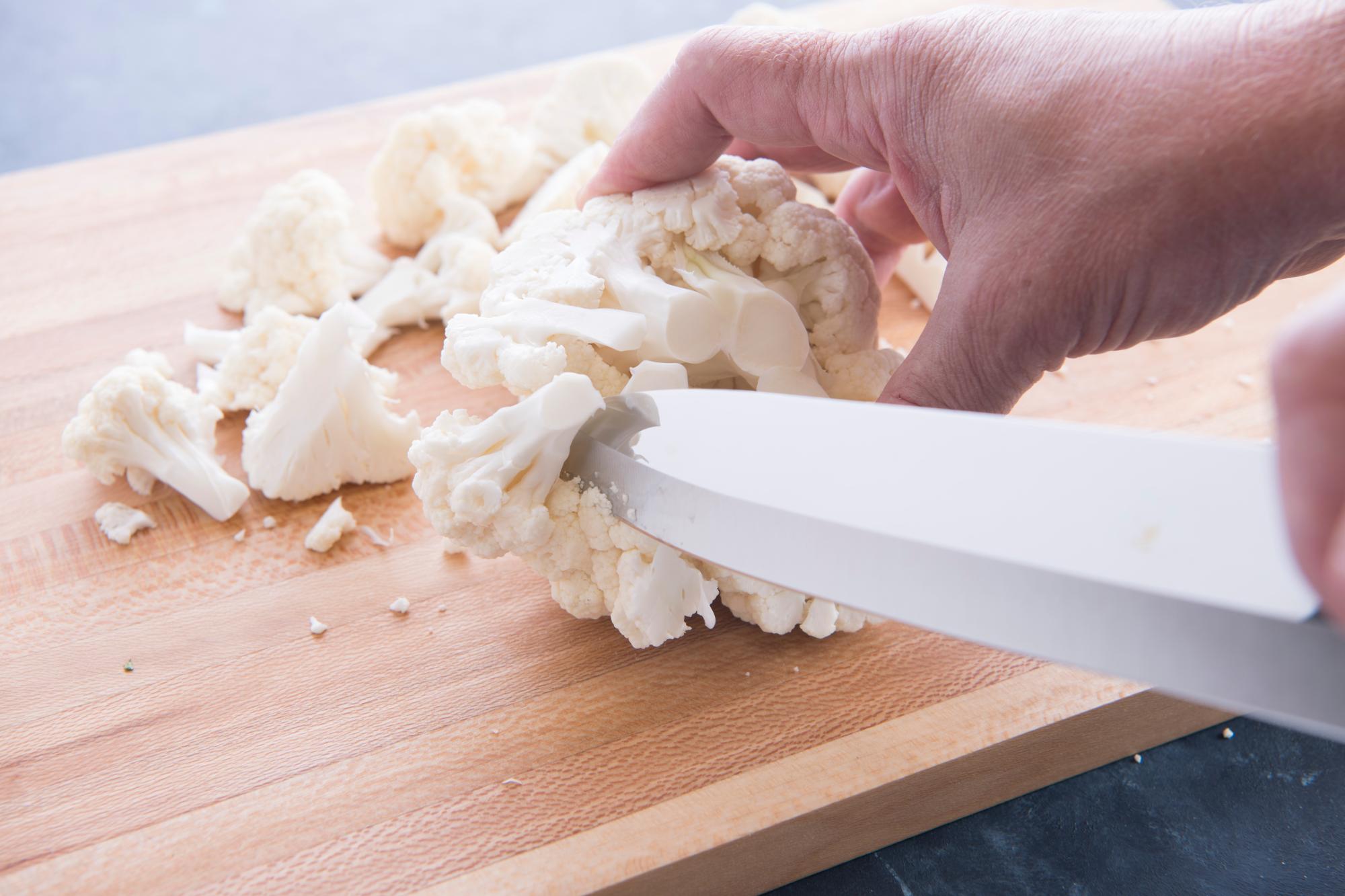 Learn how to cut cauliflower, by checking out Chef Glover's step-by-step tutorial. For dicing the potatoes, he also has a short video that walks you through the process step by step.
If you're in a hurry, you can snip the florets off with kitchen shears. Cutco's Super Shears make the job easy with their sharp, rugged blades.
This recipe takes roasted cauliflower to a whole other level with its bold Indian flavor.
Ingredients
1 large head of cauliflower
3 tablespoons olive oil, divided
Salt and pepper
1 large onion, diced
3 carrots, peeled and sliced into coins
1 tablespoon minced garlic
1/2 quart chicken or vegetable stock
2 small potatoes, peeled and cubed
3 tablespoons curry powder
1 can coconut milk
1 cup Greek whole fat yogurt
1/2 lemon, juiced
Fresh cilantro to taste
Directions
Heat oven to 425 degrees F.
Cut cauliflower into florets, place on a sheet pan and coat with 2 tablespoons olive oil. Season with salt and pepper. Roast for 25 minutes, stirring half way through.
Cauliflower should be browned when finished.
In a medium saucepan, sauté onions and carrots in remaining olive oil until onions are translucent. Add garlic and sauté an additional 2 minutes. Add stock, potatoes and curry powder. Simmer until potatoes and carrots are tender. Add coconut milk, yogurt and roasted cauliflower. Finish with lemon juice and cilantro. Serve over rice.
Recommended Tools