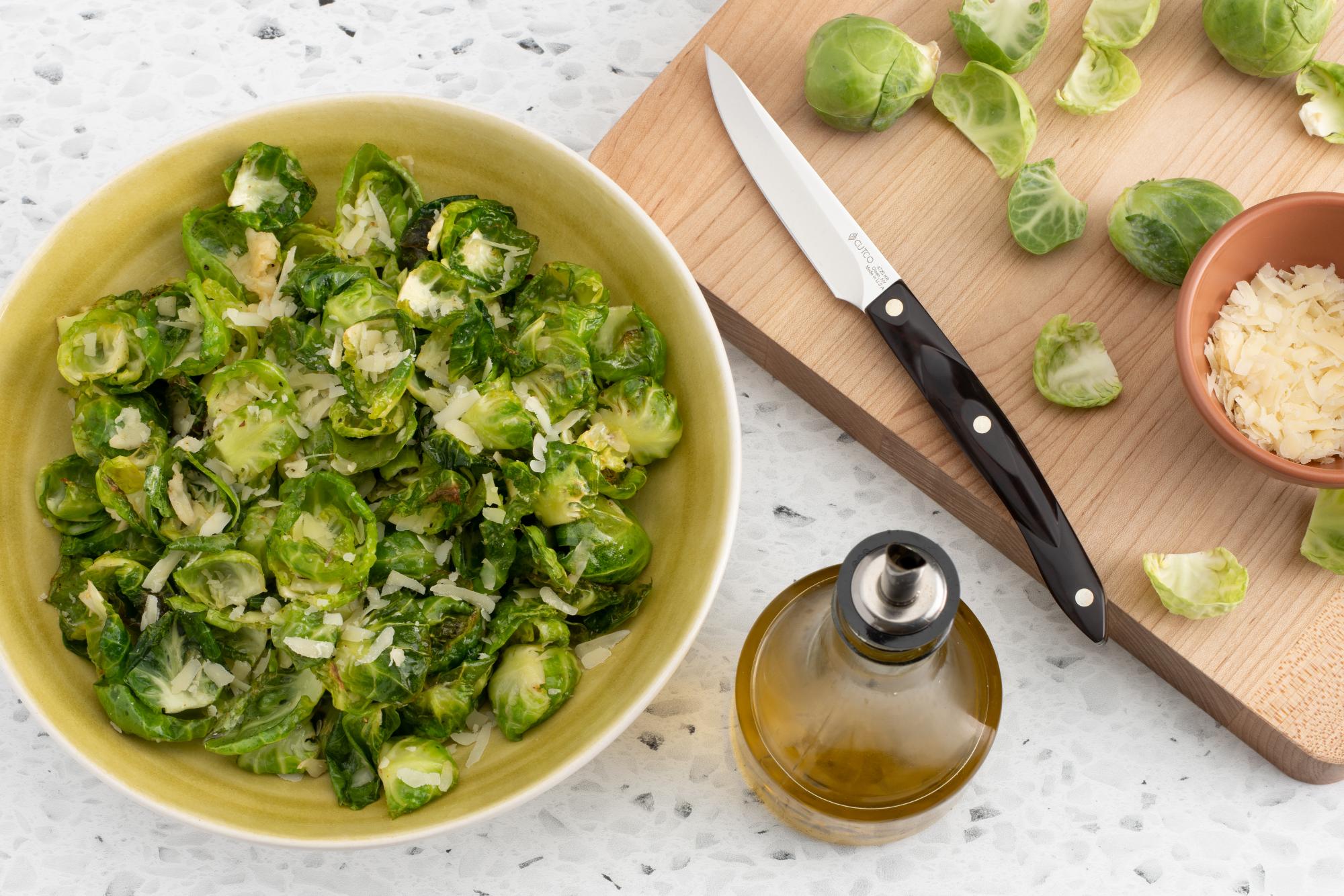 I first started roasting the leaves of Brussels sprouts to use those that fell off while I was trimming the whole sprout for roasting. It seemed such a waste to discard them and I loved using the crisped little leaves in salads or as a garnish. I loved them so much that soon I was actually trimming the whole sprout to get the leaves. And hence, this Caramalized Brussels Sprouts Leaves recipe was born.
Whole Brussels sprouts can be difficult to cook through to the center without the leaves becoming overcooked, so this is a fun and delicious way solve to that problem
Removing Brussels Sprouts Leaves
Removing the Brussels sprouts leaves isn't difficult. First, trim off the end of the sprouts using a 4" Gourmet Paring Knife.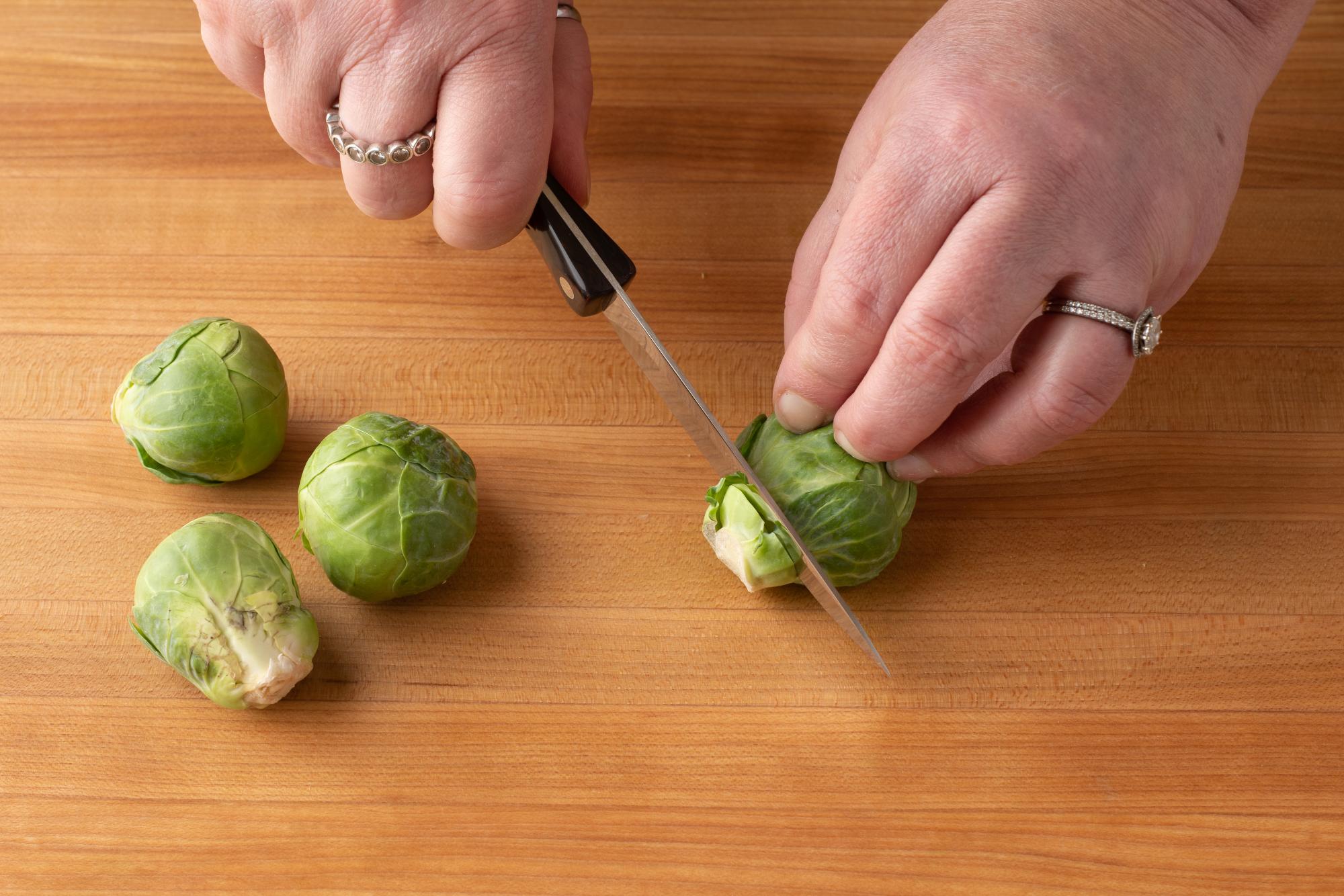 Then, just start peeling the leaves off with your hands.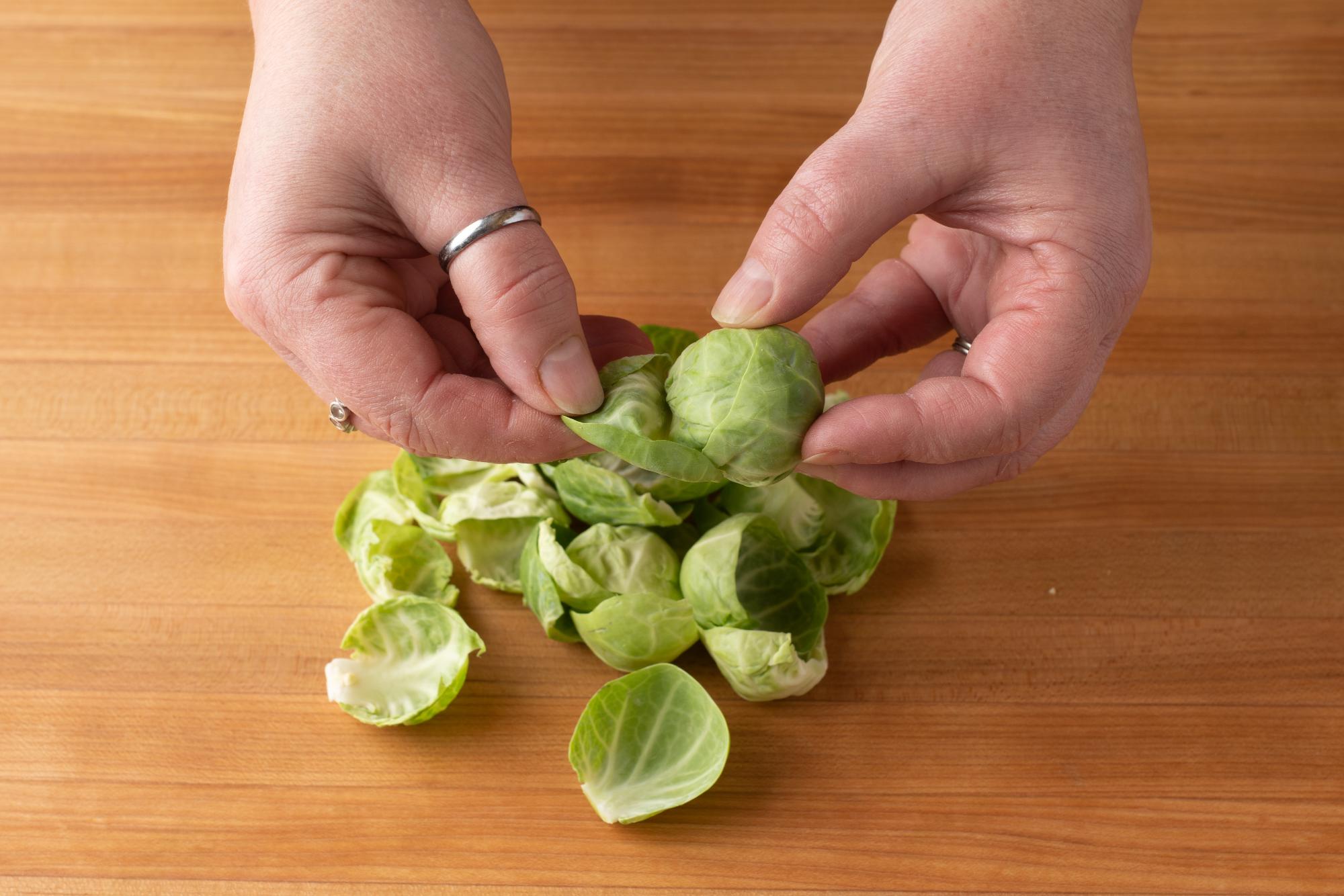 You may need to trim more off the end of the sprout as you peel off leaves to help them fall away. While it may take some time, it's really fun and easy to do.
I call what's left of the sprout after removing as many leaves as I can, "Brussels hearts." I roast them separately or add them to sheet pan meals.
Preparing the Brussels Sprouts
Once the leaves are removed, the recipe moves quickly. Just toss them with some olive oil and my P.S. Flavor!™ Creole Kitchen (or any Creole seasoning or kosher salt) and roast at 400 F for a few minutes.
Keep a watchful eye on these beauties while in the oven. The perfect moment to remove them is when they turn bright green with little crispy browned edges.
Tossing the caramelized leaves with grated Parmesan and drizzling with a sweet tart glaze like balsamic or pomegranate molasses make for a lovely, elegant and memorable side dish. The earthiness of the Brussels sprouts are offset and balanced by the saltiness of the cheese and the sweetness of the balsamic or pomegranate glaze.
Ingredients
1 pound large Brussels sprouts
1 tablespoon olive oil

1 teaspoon P.S. Flavor!™ Creole Kitchen, or any creole seasoning or kosher salt and black pepper to taste

1/4 cup grated Parmesan or pecorino cheese
1 tablespoon balsamic vinegar or pomegranate molasses, if desired
Directions
Place a rimmed baking sheet into an oven to heat to 400 F.
Toss the Brussels sprout leaves with oil, seasoning and roast until leaves are just crisp and starting to caramelize around edges, 3-4 minutes.
Sprinkle with Parmesan or pecorino, and drizzle with balsamic vinegar or pomegranate molasses, if desired.
Tip: Since this recipe is using only the Brussels sprout leaves, save the hearts of the leftover Brussels sprouts, toss in some olive oil and pepper and salt and roast for an additional side dish!
Recommended Tools