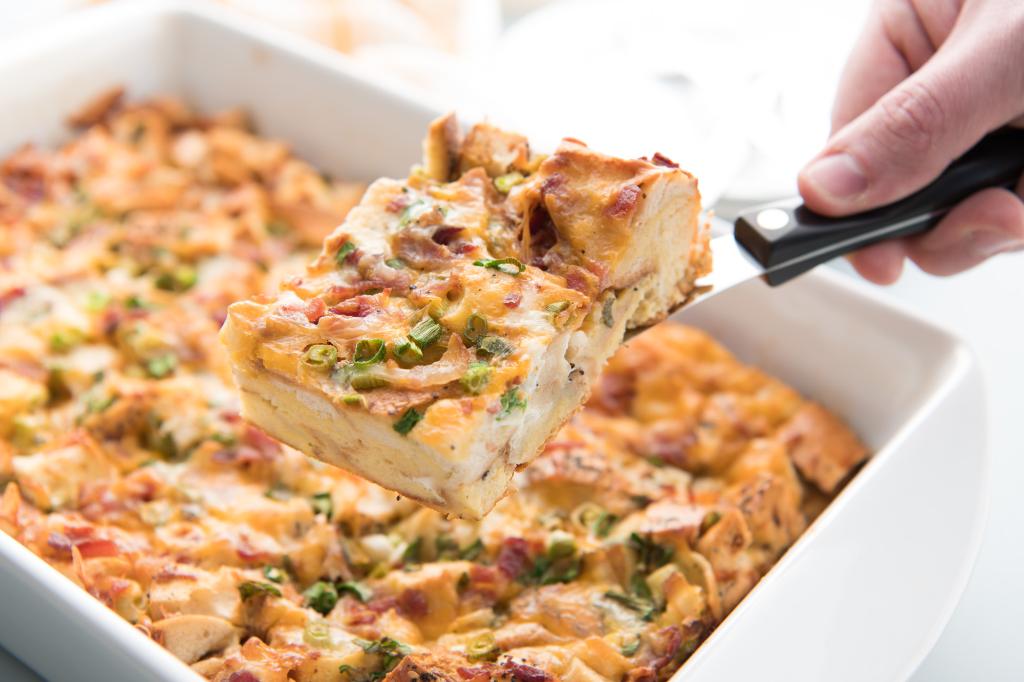 How do you celebrate your mother or other significant women in your life on Mother's Day? Do you take her out to breakfast, lunch or dinner, or do you prepare something special at home?
One of my favorite memories of a special Mother's Day occurred several years ago when our family was blessed to enjoy brunch with four generations; my grandmother, my mom, me and my daughter. It is something I'll never forget.
A dish that is nice to make and serve on special occasions is a breakfast bake. These popular casseroles can be served for breakfast or brunch and can be customized to satisfy everyone's taste.
This Breakfast Bagel Bake recipe calls for just a few ingredients and is easy enough that children can help with the prep.
Everything bagels, with their coating of sesame seeds, poppy seeds, garlic, onions and salt, provide the perfect base for this bake. Slice and then chop the toasted bagels into small pieces using the 7-3/4" Petite Slicer.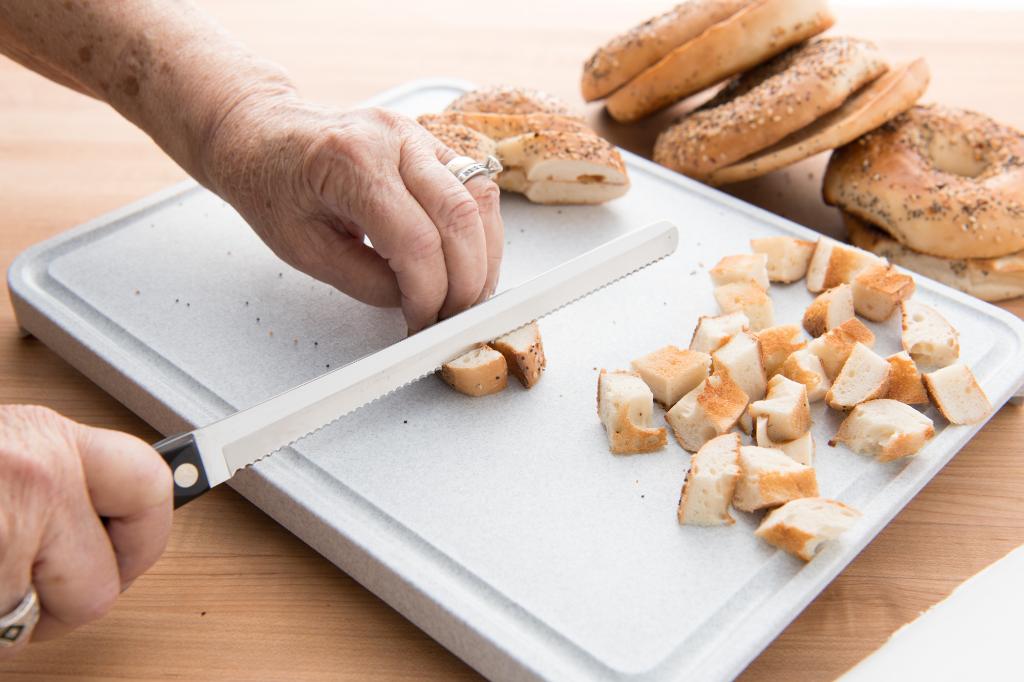 For less mess, cook the bacon in the oven. Line a baking sheet with foil, place a cooling rack in the pan and lay the strips of bacon on the rack. Place in a 400ºF oven (the oven does not have to be preheated) and bake for 15 to 20 minutes. Transfer to a paper towel lined plate and let cool. Use the 5" Petite Santoku to finely chop the bacon and slice the green onions.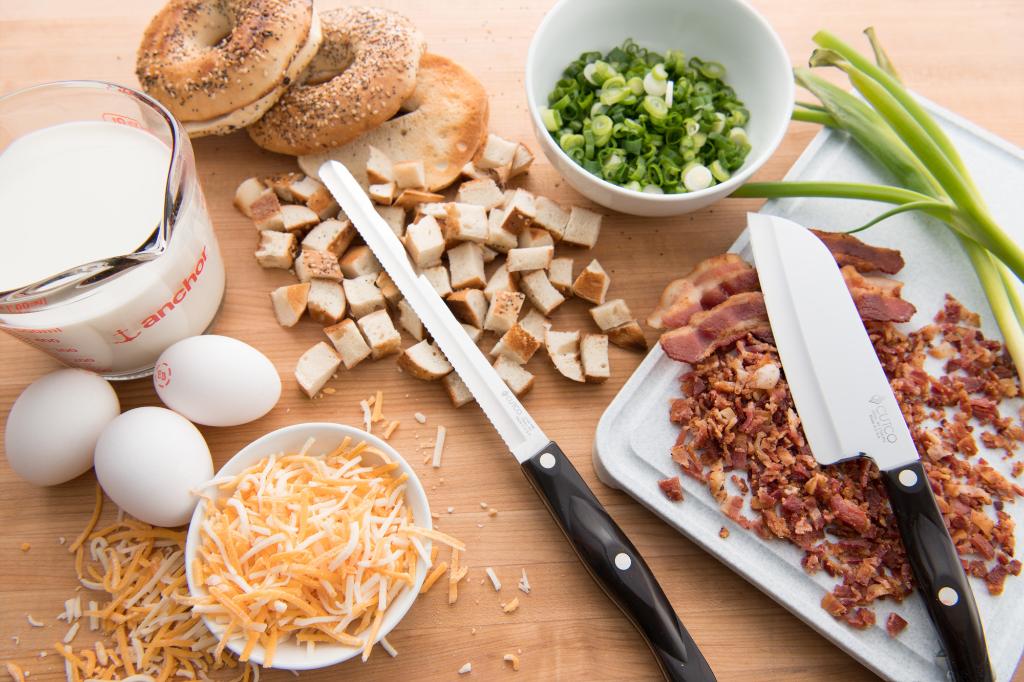 Let the kids crack the eggs into a large bowl, add the milk and the rest of the ingredients and whisk together using the Mix-Stir. Pour over the bagels and you're done. Cover and into the fridge it goes until time to bake.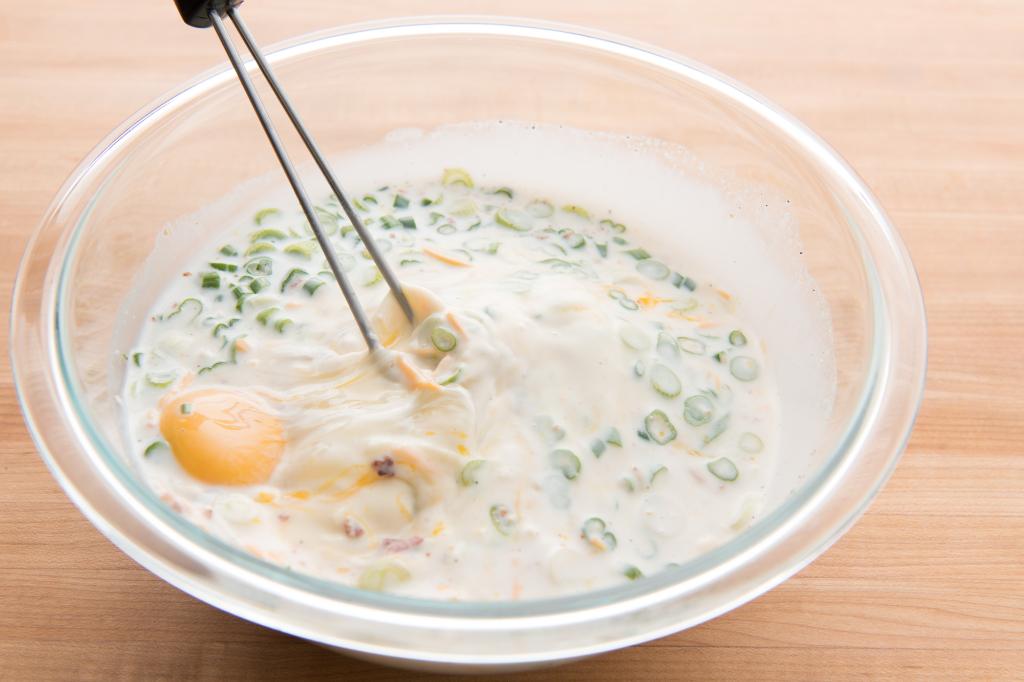 Once baked, used the Spatula Spreader to slice and serve this hearty bacon and egg dish.
Ingredients
4 everything bagels, toasted and chopped into small pieces
6 large eggs
2 cups milk
1 cup shredded 3-cheese combo - Monterey Jack, Colby and Cheddar cheese
6 slices cooked bacon, finely chopped
3 green onion, thinly sliced, both white and green parts
1/2 teaspoon salt
1/4 teaspoon pepper
Directions
Evenly arrange bagel pieces in a 2 to 2 1/2 quart baking dish.
Whisk the eggs, milk, cheeses, bacon, sliced onions and salt and pepper together in a large bowl.
Pour over the bagels, pressing down slightly to submerge the bagel pieces.
Cover and refrigerate for at least 1 hour or up to overnight.
Preheat oven to 350º. Uncover dish and bake 45 to 55 minutes or until set.
Let cool 15 minutes before serving.
Recommended Tools