The name of this recipe is Basic Garlic Sauce, but I think it should be called magic garlic sauce. It is basic in how it's made, but the sauce is anything but since it can be used in so many ways.
Use this sauce on grilled meats and vegetables or drizzled over pasta dishes. It is also a wonderful base for dips and sauces – just add fresh herbs, chili peppers or tahini. I tossed some with a simple pasta salad and it was fantastic.
Learn how to mince garlic for this recipe (and any other recipe for that matter) by checking out Cutco's How to Mince Garlic video. For doing that I recommend using the 7-5/8" Petite Chef to smash, slice and mince.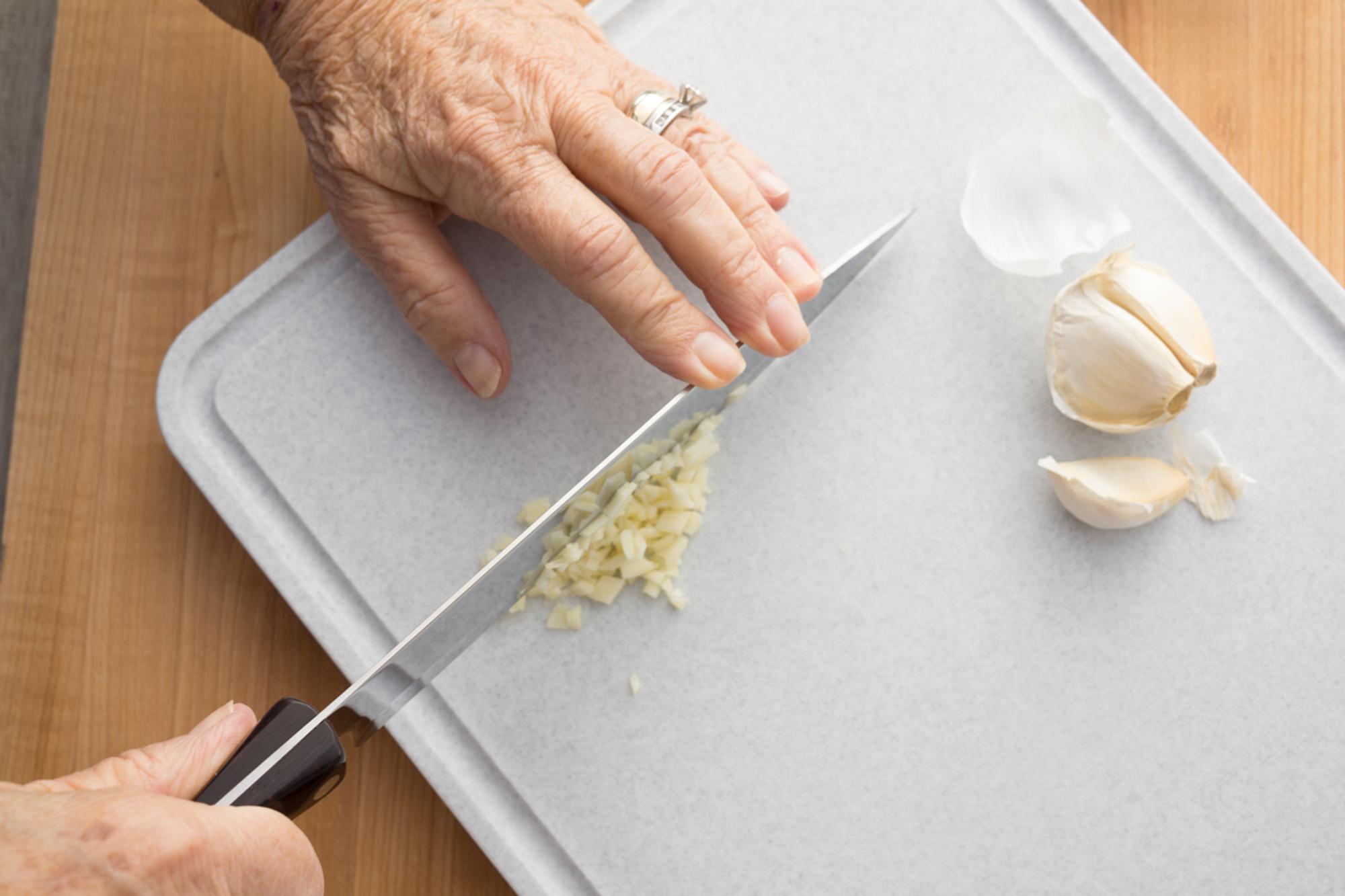 A key to success is to stream the canola oil in slowly to allow it to emulsify. Slow and steady wins the race with this recipe.
If you're a garlic lover like me, you may find yourself making this on a regular basis to have in the fridge to pull out when needed. The beauty of it is that it will keep in the refrigerator for several weeks.
Ingredients
5 large garlic cloves (more or less depending on your taste)
1 teaspoon kosher salt
Juice of one lemon
1 3/4 cups canola oil
4 to 6 tablespoons of ice water
Directions
Rest the flat side of a 7-5/8" Petite Chef on the garlic clove and smash it by pressing down on the flat side of the knife with the heel of your hand. Remove the papery skin and cut off root tip. Finely mince garlic.
Add salt and lemon juice to a food processor.
With processor running, stream oil very slowly. If your processor has an oil hole in the lid use that. After about a ¼ cup of oil has been added, stream in about 1 tablespoon of ice water. Continue alternating oil and ice water until all oil is incorporated.
Add in garlic and pulse a couple times.
Place sauce in an airtight container and refrigerate. It will stay good for several weeks.
Recommended Tools