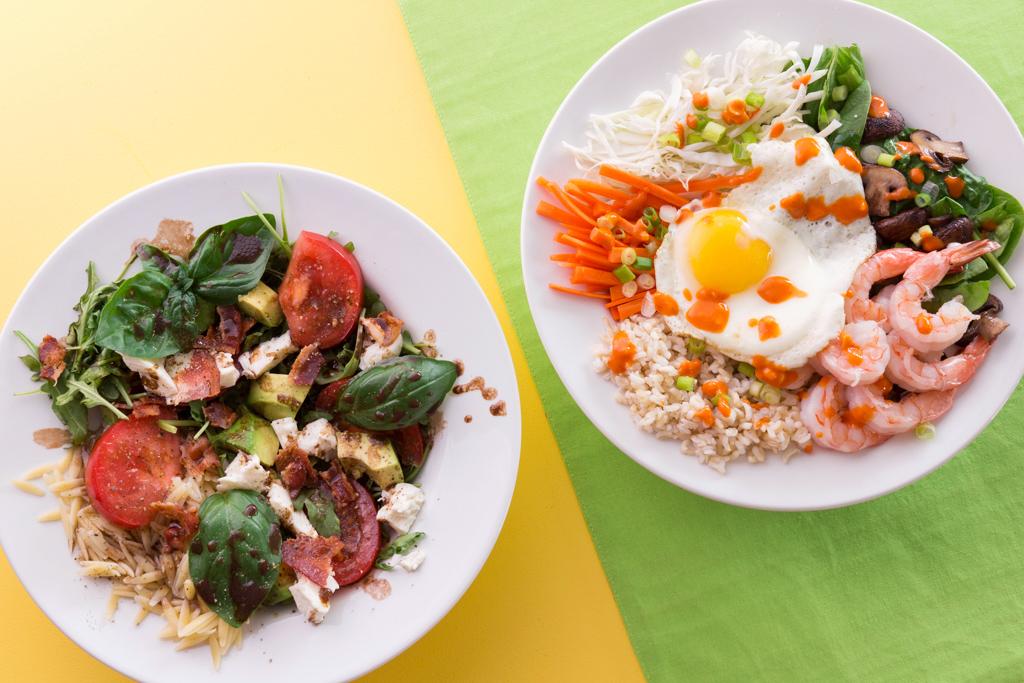 Salad bowls make a meal for breakfast, lunch or dinner. You can mix together just about any ingredient, hot or cold, with a combination of grains, fruits and vegetables, and a protein. They offer the versatility of customizing what you eat.
A breakfast bowl, for example, might contain bran flakes, some fruit, like segmented oranges or pineapple chunks, some crunchy ingredients, like toasted sesame seeds or sunflower seeds, and some chewy ingredients like unsweetened coconut or raisins. Add some yogurt for tang and you have a delicious and nutritious way to start the day.
Lunch or dinner salad bowls typically contain a grain, some greens, a mix of vegetables, some protein and a dressing or sauce to bring everything together.
We prepared two bowls that can be served for either lunch or dinner. Both the Shrimp Barbecue Bowl and Caprese Salad Bowl were relatively easy to make with a minimal amount of actual cooking. It was just a matter of cutting up a few ingredients, arranging everything in the bowl, drizzling them with the dressing, and we were ready to eat.
Be creative when putting a bowl together but also be mindful of the amount and calorie counts of the ingredients you add.
Knife tip: Use a 7-3/4" Slicer to shred the cabbage for the Korean Bowl.