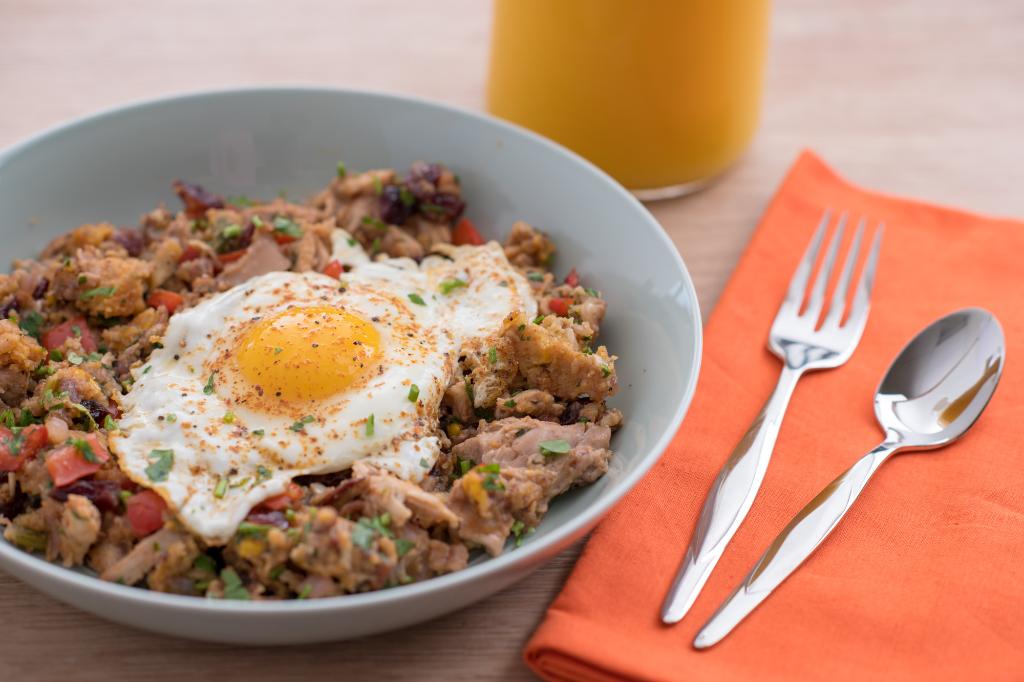 One of the best outcomes of a Thanksgiving feast are abundant leftovers, but who wants to eat the same meal over and over? Grab the various components of your meal and work leftover makeover magic with a delicious Turkey n' Dressing Hash, ready to eat on the day after (the day when no one wants to cook – or do dishes!).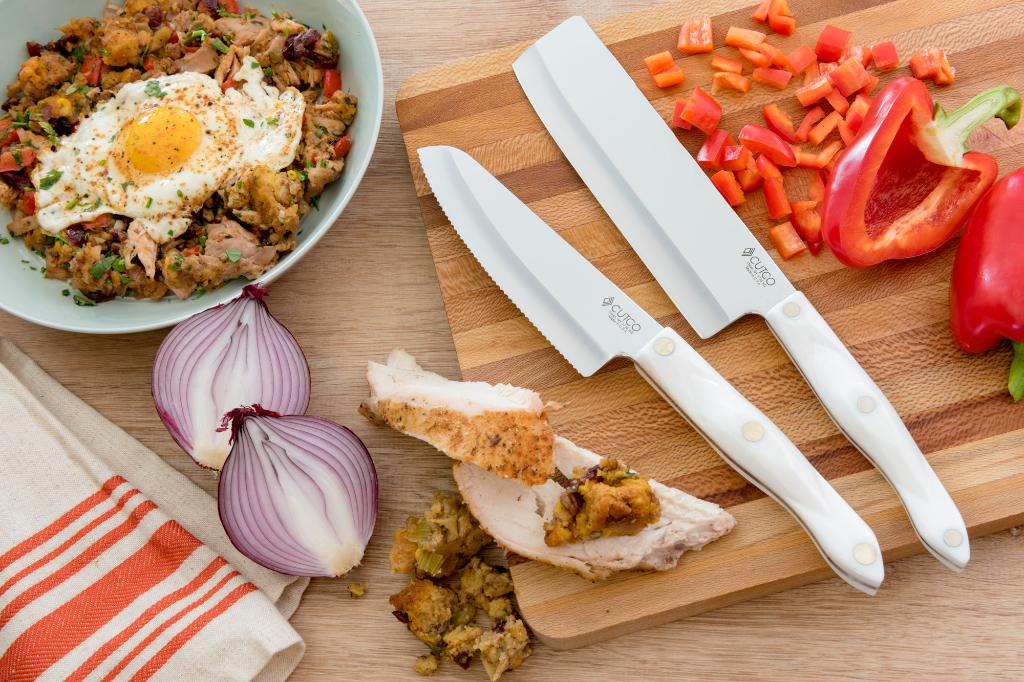 For all the chopping and dicing, Cutco's Vegetable Knife and Hardy Slicer work beautifully. And, when cooking the hash in the skillet use a sturdy spoon, like the Basting Spoon, to scrape up all the great flavors at the bottom of the skillet.
Ingredients
1/2 cup chopped pecans
1 tablespoon olive oil
1/2 cup red onion, diced
1/2 cup red pepper, diced
2 large garlic cloves, minced
3 cups leftover chilled cooked turkey, chopped
1/2 cup dried cranberries
1 cup leftover (chilled) dressing/stuffing, cut into cubes
2/3 cup leftover turkey gravy
1/4 cup chopped Italian parsley, plus additional for garnish
Sunny side up fried eggs, optional
Cranberry sauce, optional
Directions
In a large, heavy skillet (dry) over medium-high heat, place chopped pecans. Stir constantly (to avoid burning) until the pecans become fragrant; 2-3 minutes. Remove and set aside.
Heat olive oil in the same skillet over medium heat. Add onions and red pepper to the skillet and sauté, stirring constantly until the onions begin to become translucent. Add the garlic and creole seasoning and sauté for another 30 seconds to one minute.
Add the turkey, dried cranberries and dressing cubes and stir to mix well. Cook over medium heat, stirring occasionally, until heated through; about 5 minutes.
Add the gravy and toasted pecans to the skillet. Cook until the liquid is absorbed, stirring frequently, scraping the bottom of the skillet to incorporate all the flavors into the mixture. Allow mixture to sit a few minutes in between stirring to develop a light golden crust. Hash should still be moist when done; about 5-10 minutes, add fresh parsley at end of cooking.
Spoon into bowls and top with a fried egg, if desired.
Garnish with additional chopped Italian parsley and serve immediately. If desired, serve turkey holiday hash with a side of cranberry sauce.
Recommended Tools