Triple Berry Shortcake With Triple Berry Sauce and Chai Whipped Cream
1411 days ago
Skip to recipe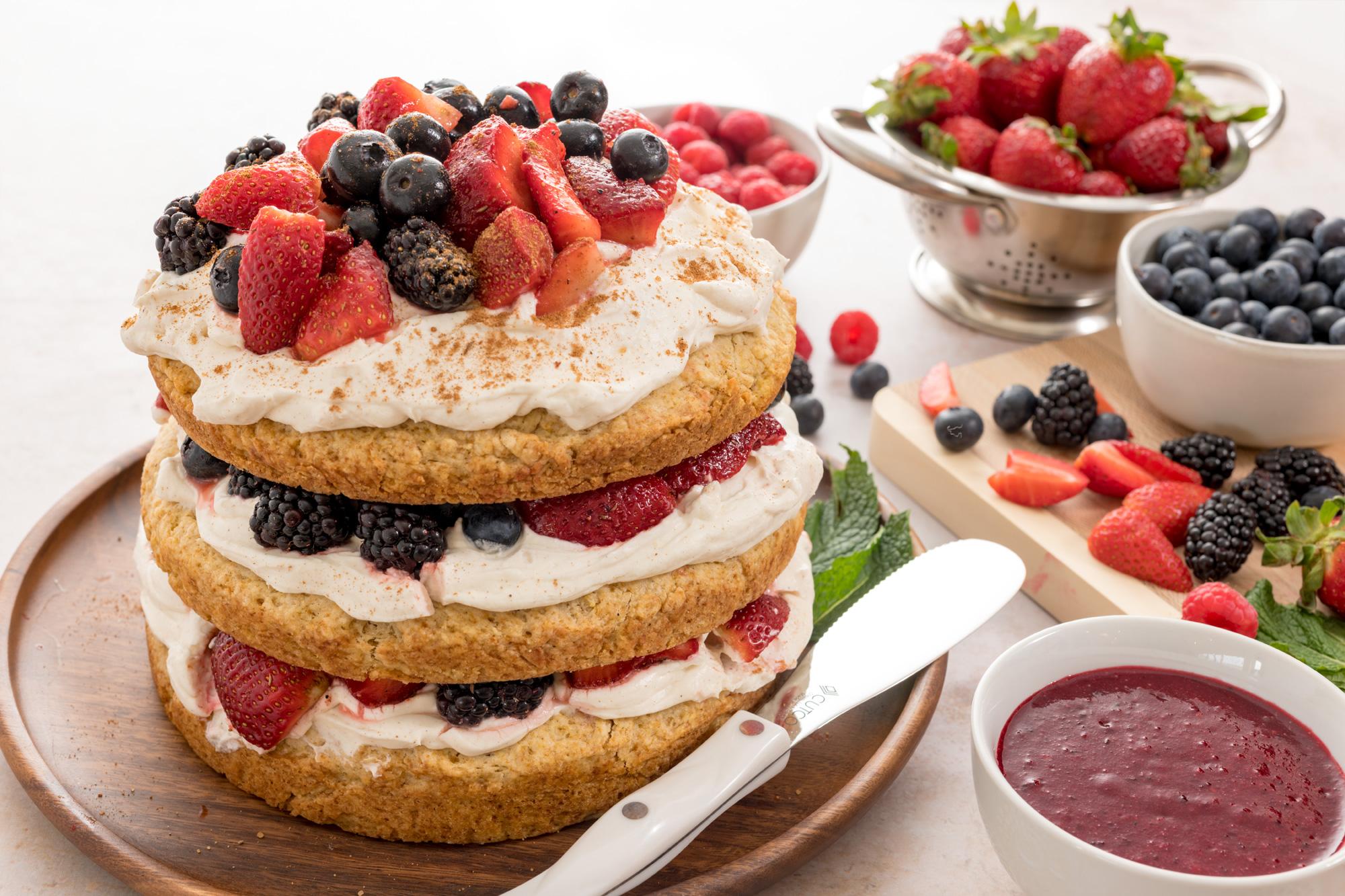 I grew up helping my mom make a lot of deliciousness in our family kitchen; dumplings, soups, pies, cake and strawberry shortcakes.
This sunny Triple Berry Shortcake recipe brings back memories of family parties and picnics. For me, berries and summer go hand-in-hand, the one evoking the other as naturally as berries and cream.
There's a kind of magic in a late summer recipe that you can make wherever you are. One that is so simple you can decide that you're having shortcake for dessert and make it within the hour, and so satisfying that it may become your go-to for summer. This is a recipe to keep in your back pocket whenever fruit is at its glorious best – and berries are the classic choice.
Properly made, a berry shortcake should consist of sweetened biscuits, warm from the oven, split open, piled with sweet ripe berries and mounded with whipped cream. Oh, and yes, I'm from the camp that believes that the best berry shortcake is made with a beautifully tender and flaky biscuit, lightly sweetened, not a cake.
For preparing the strawberries, a 2-3/4" Paring Knife is essential for hulling and slicing them.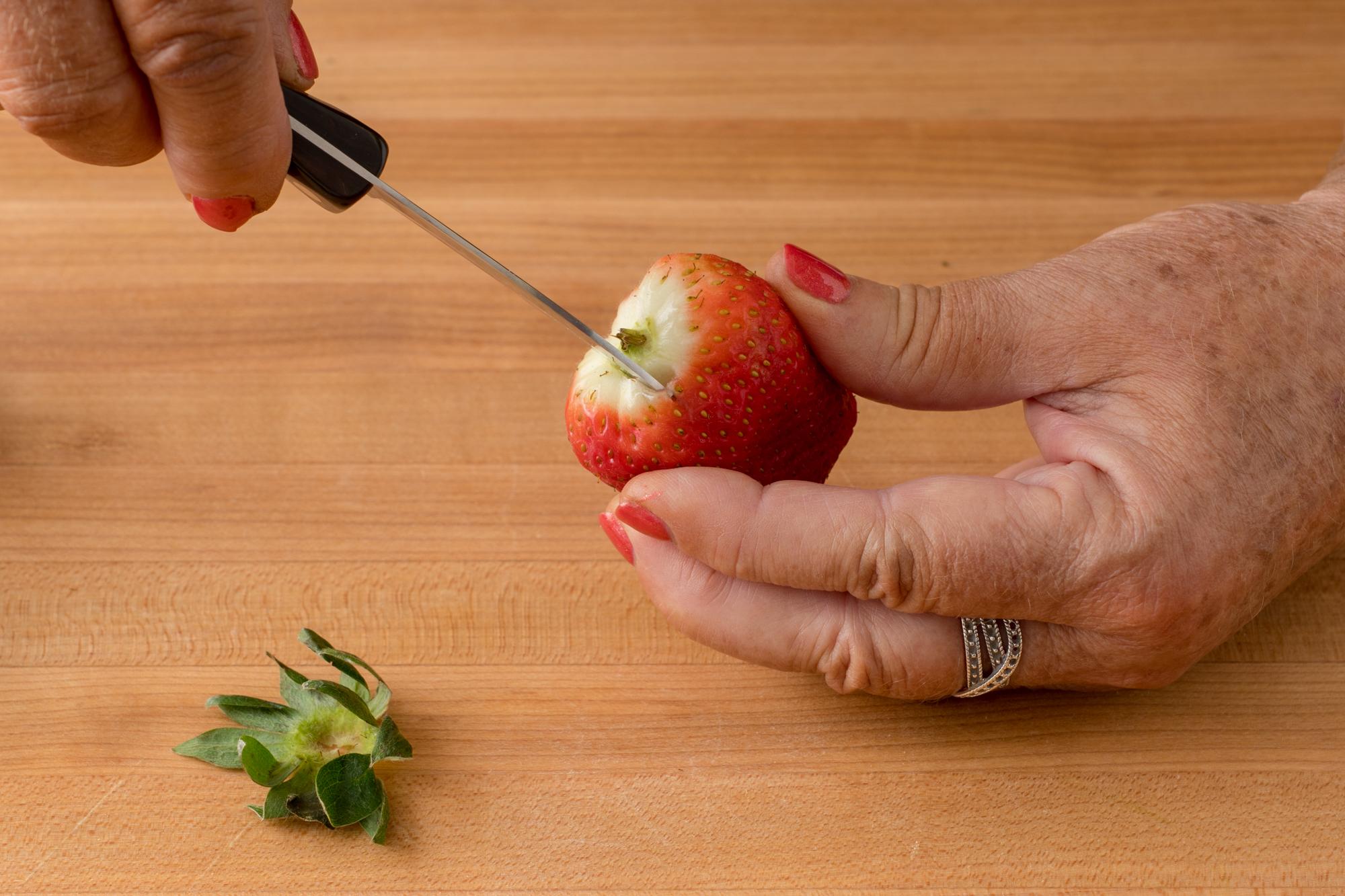 I also used Cutco's wide, flexible Spatula Spreader to spread the berry sauce and whipped cream mixture onto the layers. I also incorporate some of my own artisanal spice blends, P.S. Flavor!™ Citrus Spice and Mai Chai.
Berry shortcake is one of the easiest desserts to prepare. It is a perfect finish to a family meal or for serving a large group of people, because it scales so easily. In addition, extra shortcakes may be baked and frozen, but they should be thawed and warmed before using. They are also quite tasty toasted for breakfast or tea with a little spread of cream cheese and berries.
The Chai Whipped Cream brings a touch of the exotic to this classic recipe. If it seems too daring or downright blasphemous, the P.S. Flavor!™ Mia Chai spice blend can certainly be replaced with a drop of vanilla. The addition of cream cheese to the cream gives a depth of flavor and structure to a whipped cream that's a perfect pairing for the berries. Enjoy!
Triple Berry Shortcake with Triple Berry Sauce and Chai Whipped Cream
Print Recipe
Ingredients
Directions
Prepare the Shortcake:
Heat the oven to 350 degrees F, with a rack in the middle. Spray three 9-inch round cake pans with nonstick cooking spray.
Make the biscuit layers: (Note: If your food processor is smaller than 14-cups in volume, it may be easiest to do this in 2 batches.) In the bowl of a food processor, pulse together the flour, brown sugar, baking powder, baking soda and salt. Add the butter and pulse until the bits of butter are about the size of small peas. Transfer the mixture to a large bowl.
Whisk together the buttermilk, eggs, egg yolk and vanilla in a medium bowl or large measuring cup. Make a well in the center of the flour mixture and pour in the buttermilk mixture. Begin mixing to moisten the flour mixture. Transfer onto a floured board and knead gently (honestly, just about 10 turns), just until the mixture forms a homogeneous dough. Stop no matter how the dough looks!
Divide the dough evenly among the prepared pans*. Press into an even layer—if the dough is sticky and hard to handle, lightly moisten your hands with water.
Sprinkle each layer evenly with about a tablespoon of turbinado sugar.
Bake until the biscuits layers are golden brown on the surface and a toothpick inserted into the center comes out clean, 28 to 32 minutes for the pans, rotating the pans midway if they look like they're baking unevenly. Cool the biscuits in the pans for 20 minutes, then turn out onto wire racks to cool completely.
Prepare the Triple Berry Sauce:
Combine berries, Citrus Spice and water in a saucepan and bring to a boil until berries soften, about 10 minutes, stirring occasionally. Remove from heat and let cool for 5 minutes.
Transfer to food processor, add the preserves and process until smooth. Let cool to room temperature. Holds for one week.
Prepare the Berries:
In a large bowl, gently toss together the berries and Citrus Spice together.
Prepare the Whipped Cream:
In the bowl of a stand mixer fitted with the whisk attachment (or a large bowl, using a hand mixer), whip the cream cheese and powdered sugar until light and fluffy, 2 to 3 minutes. With the mixer running on low speed, add the cream in a slow, steady stream, then whip on medium speed until medium peaks form. Add the vanilla and Mai Chai and mix on low speed to combine.
Assemble the Cake:
Place one biscuit layer on a cake stand or platter. Top it with 1 1/2 cups of the whipped cream, spreading it evenly, followed by one third of the mixed berries. Repeat with the remaining biscuit layers, cream, and berries. Drizzle the Triple Berry Sauce over the finished cake, or drizzle a little on each wedge when serving.
*To Make Individual Shortcakes:
Roll dough out until 1/2-inch thickness, cut out dough with ring molds, and place on sheet pan. Lightly sprinkle the top of each individual biscuit with turbinado sugar. Bake at 375 degrees F for 9-12 minutes. To serve, cut biscuits in half and assemble as above, topping the bottom half with a little of the whipped cream, some berries, the top half and more berries spooned over with whipped cream topping.
Pam's notes: All parts of dessert can be made ahead and stored for up to 1 day (though the biscuits are most delicious on the day they're baked)—biscuits wrapped tightly in plastic wrap, at room temperature, and the strawberries and cream refrigerated in separate airtight containers. Once assembled, the cake should be kept refrigerated and served within 1 day.
Recommended Tools