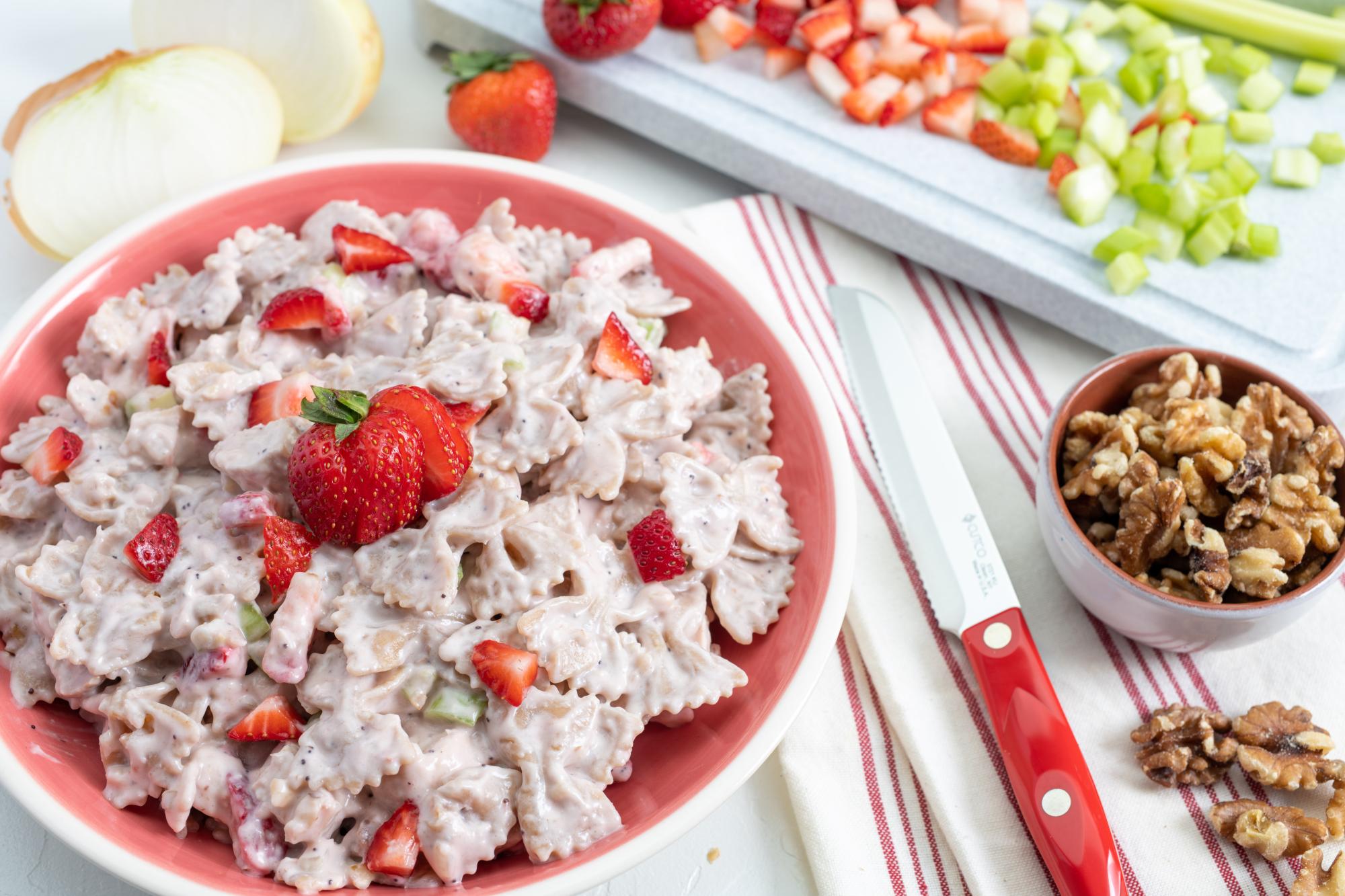 Here's a recipe that's sure to be a show-stopper at your next gathering. Strawberry Chicken Pasta Salad offers the surprising freshness of strawberries in a chicken and pasta salad.
I've always loved chicken salad. I've done a fall twist with apples and nuts, but thought a spring spin was necessary for this time of year. The strawberries add beautiful color, sweetness and seasonality to this recipe.
Preparing the Ingredients
A good utility knife will help pull this salad together quickly. Dicing the cooked chicken with Cutco's Santoku-Style Trimmer takes no time at all.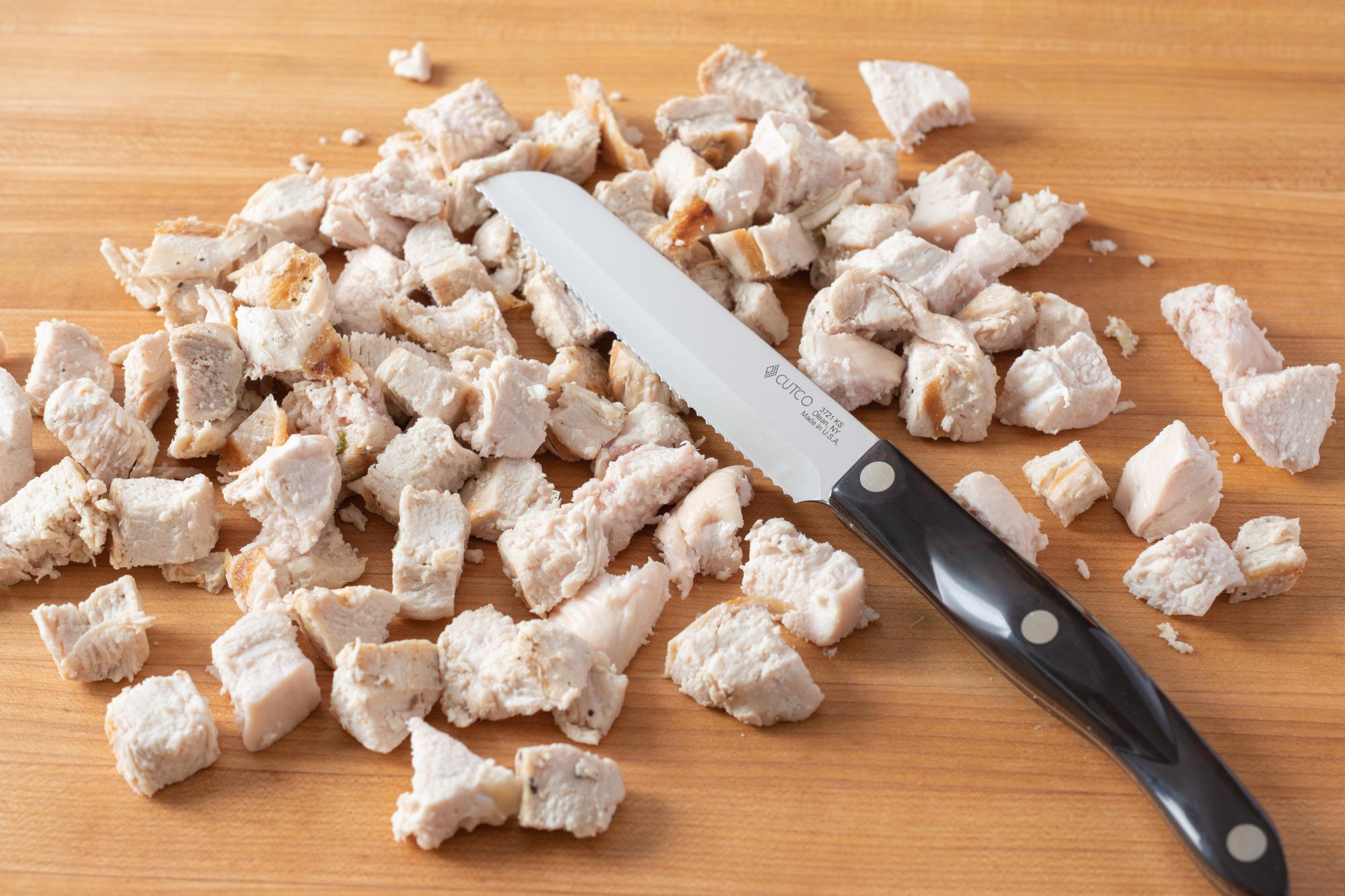 For dicing the strawberries, celery and walnuts, and for mincing the onion, a 7" Santoku knife is a good choice.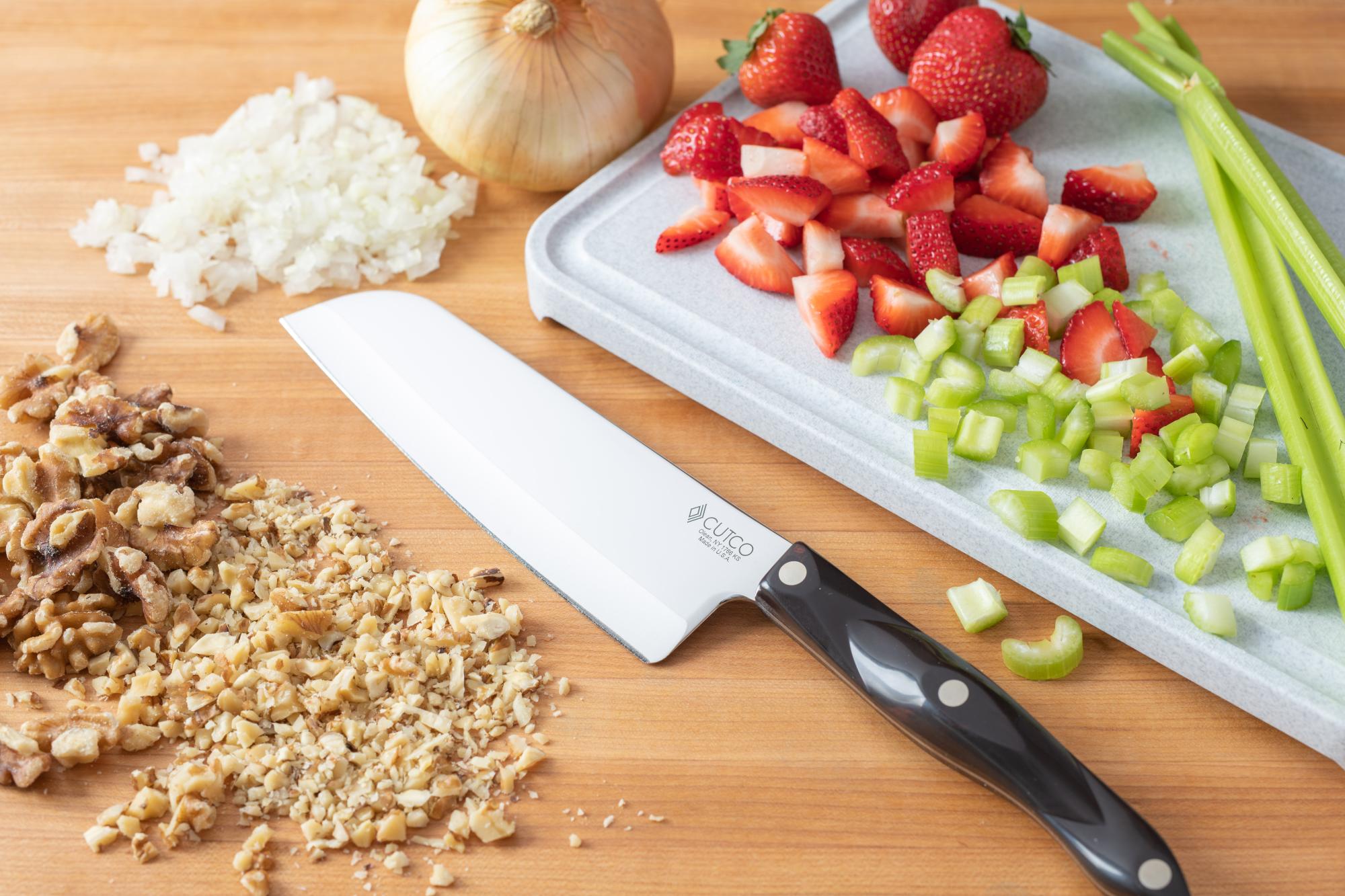 This mix of ingredients offers texture and a surprising taste with each bite.
Serving the Salad
One look at this Strawberry Chicken Pasta Salad and your guests will be intrigued. Its pinkish hue makes it unique, as does its sweet and savory flavors.
I used bowtie (farfalle) pasta for this version. I liked having a pasta with a good surface area that would allow the flavors to cling to it. Other good pasta options for this recipe are shells, spirals (fusilli) or penne.
This dish can be prepped ahead as a quick lunch or a dinner option for a busy night. If you're looking to upgrade the recipe to serve it in a unique way, pile it on top of a green salad for a complete meal.
If you like this pasta salad, try these other great versions from Cutco:
Nutrition per serving: 305 calories, 16.1g fat, 23.3g carbohydrates, 226mg sodium, 17g of protein, 0.7 fiber
Ingredients
1/2 cup poppy seed dressing
8 ounces strawberry cream cheese, softened
1/8 teaspoon garlic powder
Salt and pepper to taste
2 cups cooked chicken, diced
1 cup cooked pasta, cooled
1 cup strawberries, diced
1 stalk of celery, diced
1/4 small sweet onion, minced
1/4 cup diced walnuts
Directions
In a small bowl, mix dressing, strawberry cream cheese, garlic powder, salt and pepper until smooth.
In a large bowl, mix together chicken, pasta, strawberries, celery, sweet onion and walnuts.
Cover the chicken mixture with the cream cheese mixture and refrigerate, until ready to serve.
Recommended Tools