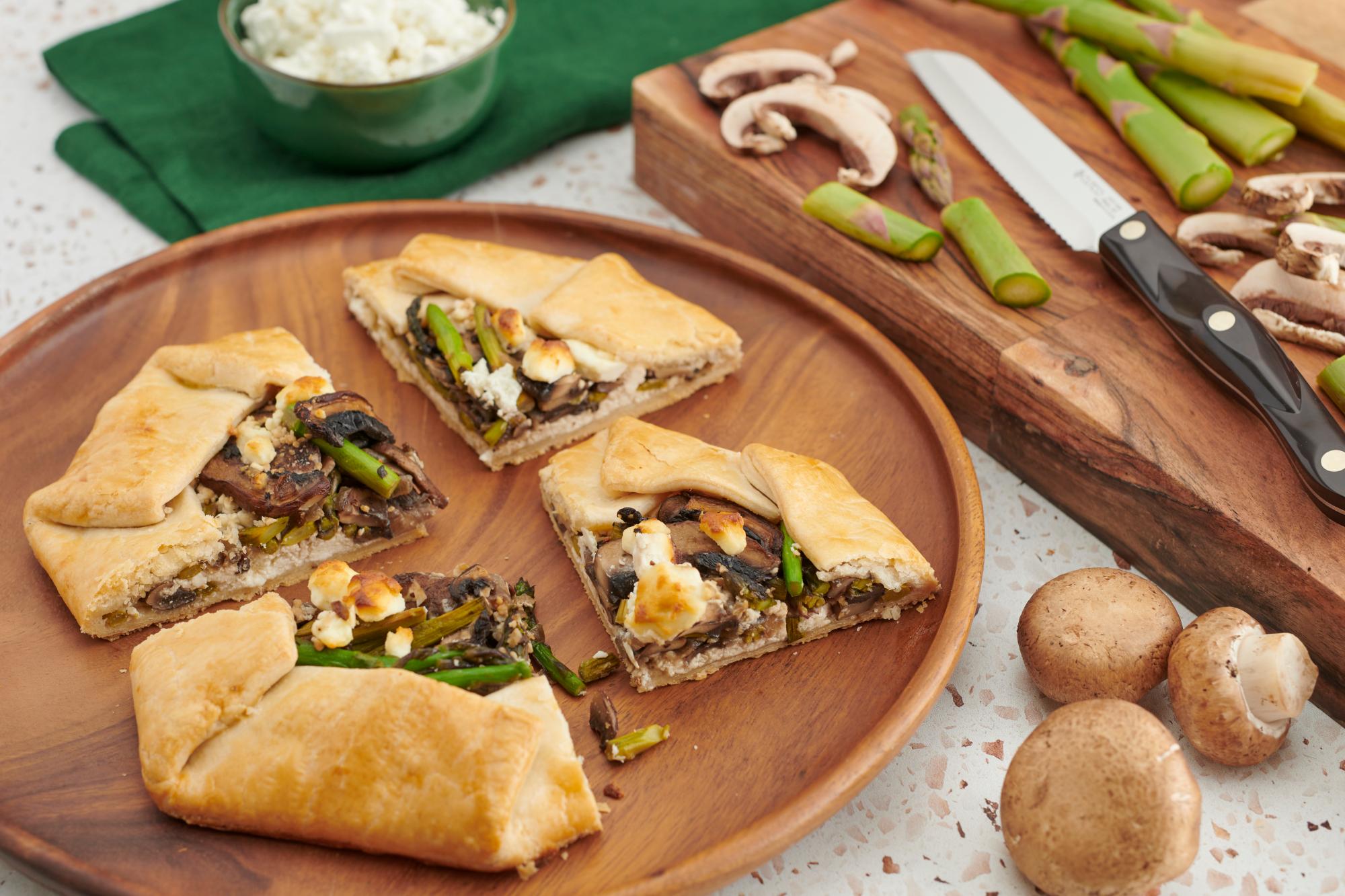 I have always liked the idea of galettes as a way of using up leftovers, usually leftover turkey or ham from a holiday meal. But this Springtime Mushroom Asparagus Galette proves that they can be made with fresh ingredients, too.
If you have a box of ready-made, roll-out pie crust in your fridge, you can quickly make a decent galette.
Prepping the Galette Ingredients
The Santoku-Style Trimmer is a wonderful knife for slicing the mushrooms and asparagus. Its Double-D® edge cuts smoothly, whether moving the knife forward, backward or straight down, for easy control.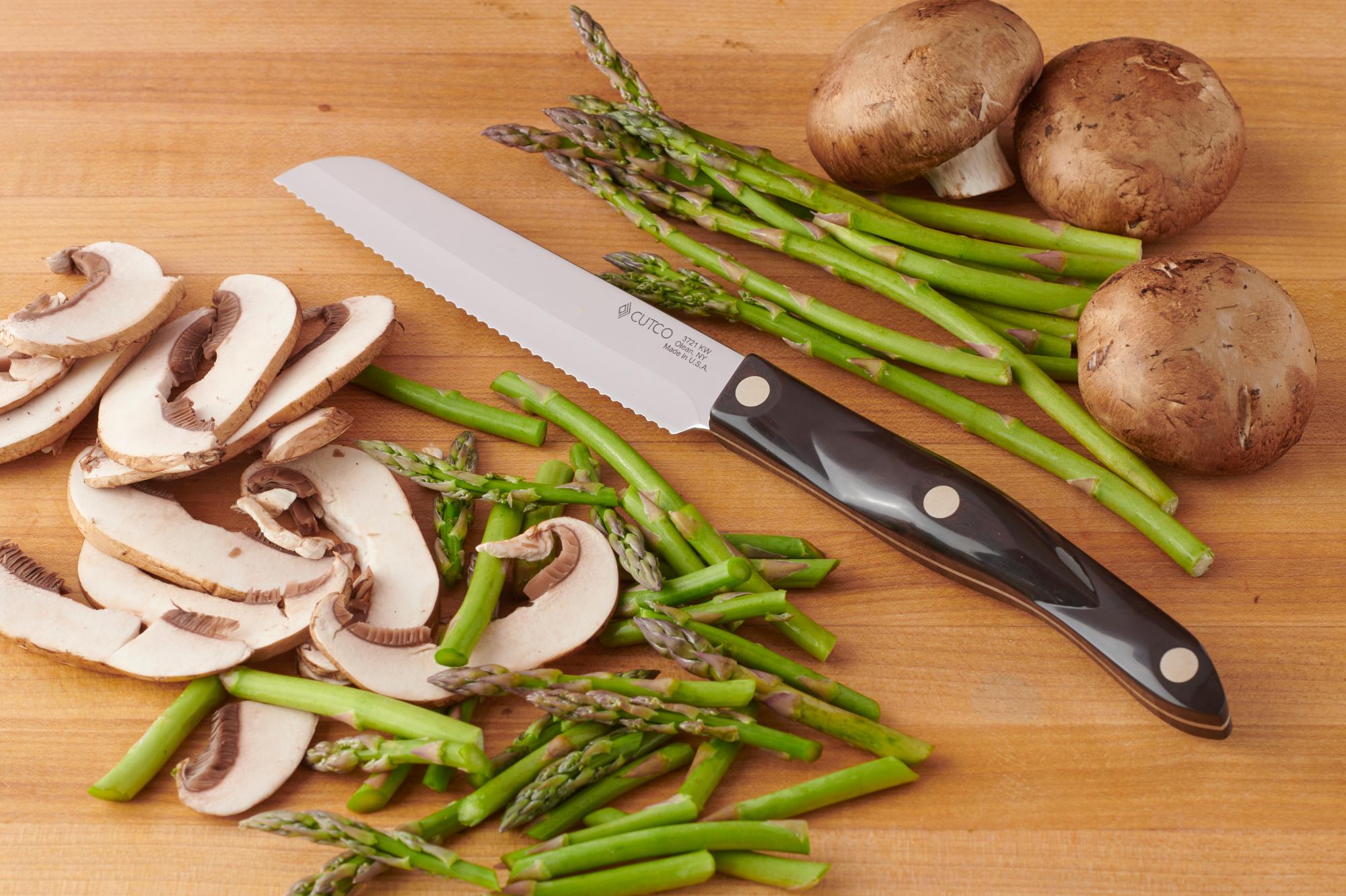 The recipe also calls for some diced onion and, of course, we must have garlic! This recipe only calls for one clove, but if you want more, feel free to add it.
You can easily dice the onion and mince the garlic with a 7-5/8″ Petite Chef knife.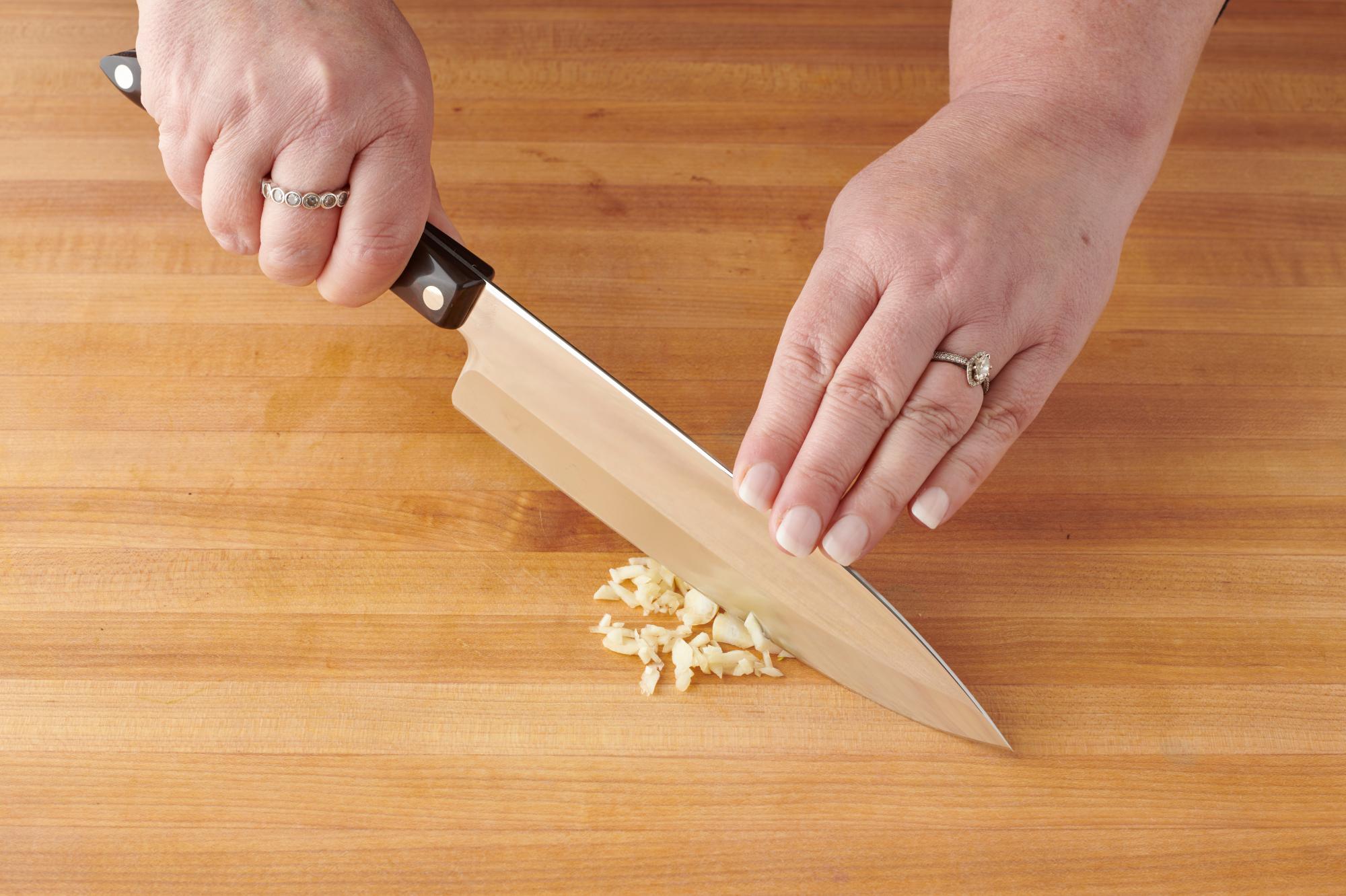 For tips on how to mince garlic, check out Cutco's video tutorial.
The combination of flavors in this recipe are surprisingly good. Although it uses baby portobello mushrooms, I have used other mushrooms and the galette turned out fine, but make sure you have about 10 ounces of them. You can also use a combination of mushrooms, but again, make sure you have about 10 ounces total.
Assembling the Galette
The galette ingredients are all sautéed on the stove before placing on top of a ready-made pastry crust. Place the crust on a parchment-lined sheet pan to make it easier to move the galette to a cooling rack once cooked. It also makes for easier cleanup.
To make the galette, sprinkle some of the goat cheese onto the crust, leaving a two-inch border. Then, spoon the mushroom and asparagus mixture onto the crust, again leaving that border. Top with remaining cheese and carefully fold the dough edges over the mushroom and asparagus mixture, using the two-inch border to cover about two inches over the filling.
Strange as it sounds, I find this Spring Mushroom Asparagus Galette a fun recipe to make. When preparing the onion and mushroom mixture, the aroma is wonderful and while its in the oven, I have about 40 minutes to relax before serving.
This is also good served at room temperature.
Ingredients
1 tablespoon extra-virgin olive oil
1/2 large onion, diced
10 ounces baby portobello mushrooms, sliced
1 bunch asparagus, trimmed, cut into 2-inch pieces
1 garlic clove, minced
6 thyme sprigs
Salt and pepper, to taste
1 ready-made pastry crust
5 ounces crumbled goat cheese, divided roughly into 2 equal measures
1 egg, beaten with 1 tablespoon water (for egg wash)
Directions
Heat oven to 400 F.
Line a large-rimmed baking sheet with parchment paper. Set aside.
In a large sauté pan over medium-low heat, heat the olive oil. When oil is shimmery, add the onions and mushrooms. Sauté just until the onions are translucent and the mushrooms are slightly browned. This will about 5 to 8 minutes.
With the onions and mushrooms still in the pan over medium-low heat, add asparagus and cook until bright green, about 3 to 4 minutes. Stir as necessary and take care not to over stir.
Add garlic and thyme sprigs. Continue to cook mushroom and asparagus mixture until fragrant, about 1 to 2 minutes. Remove from heat, remove thyme and let the mixture cool for a few minutes. Taste and season with salt and pepper as needed.
Place pastry on the prepared parchment paper lined baking sheet. Take about half of the goat cheese crumbles and scatter over the center of the dough leaving a 2-inch border. Season the crumbles with salt and pepper. Spoon the prepared and slightly cooled mushroom and asparagus mixture evenly over the cheese. Top with remaining cheese.
Carefully fold the dough edges over the mushroom and asparagus mixture, using the 2-inch border to cover about 2 inches over the filling. Press the folds gently so they stay together as the galette bakes. Galettes should look somewhat rustic.
Gently brush egg wash over the exposed dough edges.
Bake until crust is golden-brown, about 40 to 45 minutes.
Allow to cool on baking sheet for about 5 minutes, then move the parchment paper with the galette to a cooling rack.
Gently slide the parchment out from under the galette so that it remains on the cooling rack. Allow to cool another 5 to 10 before serving. Use a large spatula to move the galette to a serving plate.
Serve warm or at room temperature.
Recommended Tools