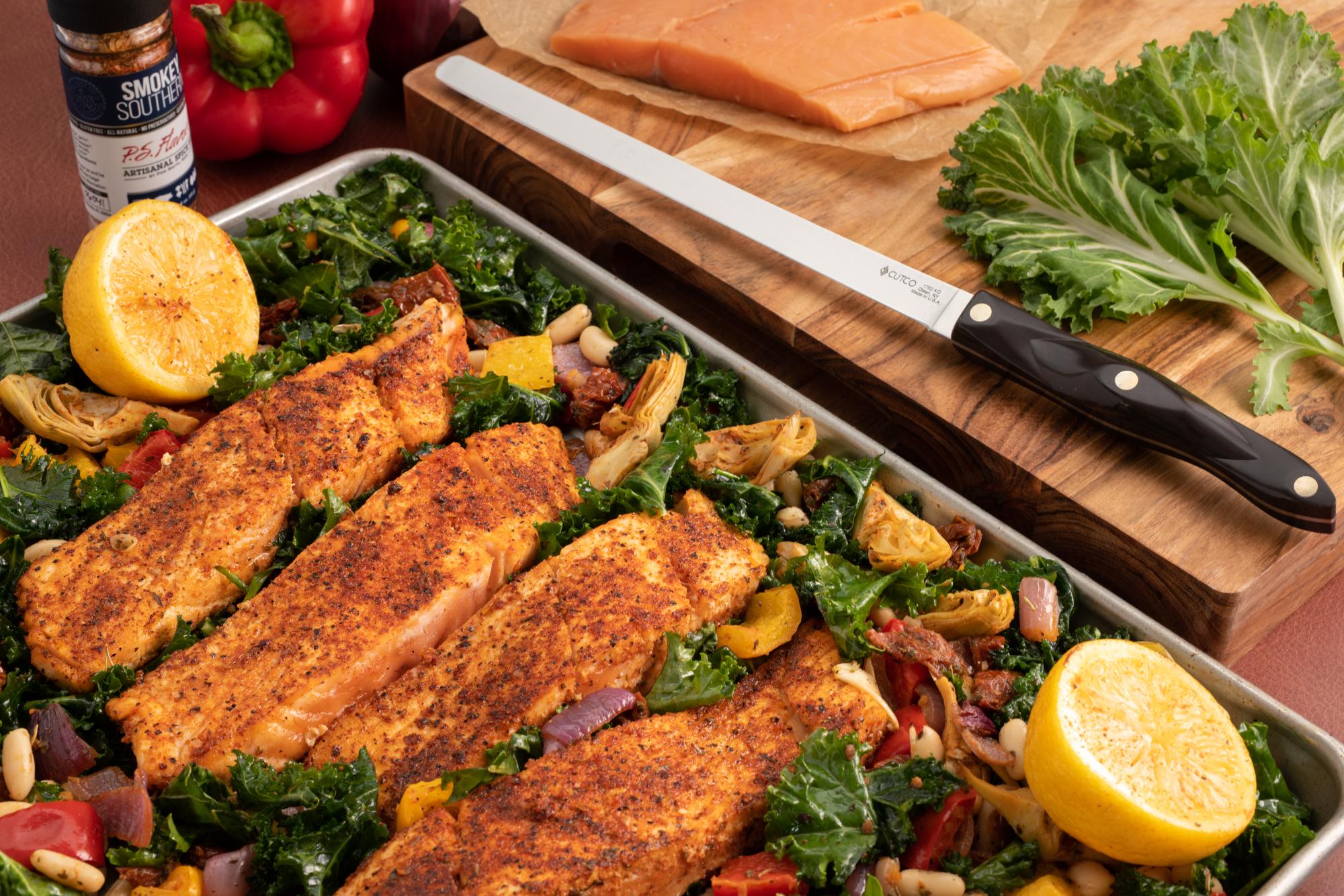 A perfect answer to the "no time or too chilly to grill" woes is the affordable, simple, humble sheet pan. It is an easy foundation for quick, delicious and healthy meals that you can just pop into your oven.
Sheet Pan Salmon With Roasted Artichokes is an all-in-one dinner where everything is roasted on one rimmed baking sheet. It may become your weeknight go-to and not just because it means less dishes to wash.
Chopping the Ingredients
Preparing the ingredients takes no time at all. Use a 7-5/8" Petite Chef knife to chop the peppers and red onion. Try to keep them of uniform size so they cook evenly.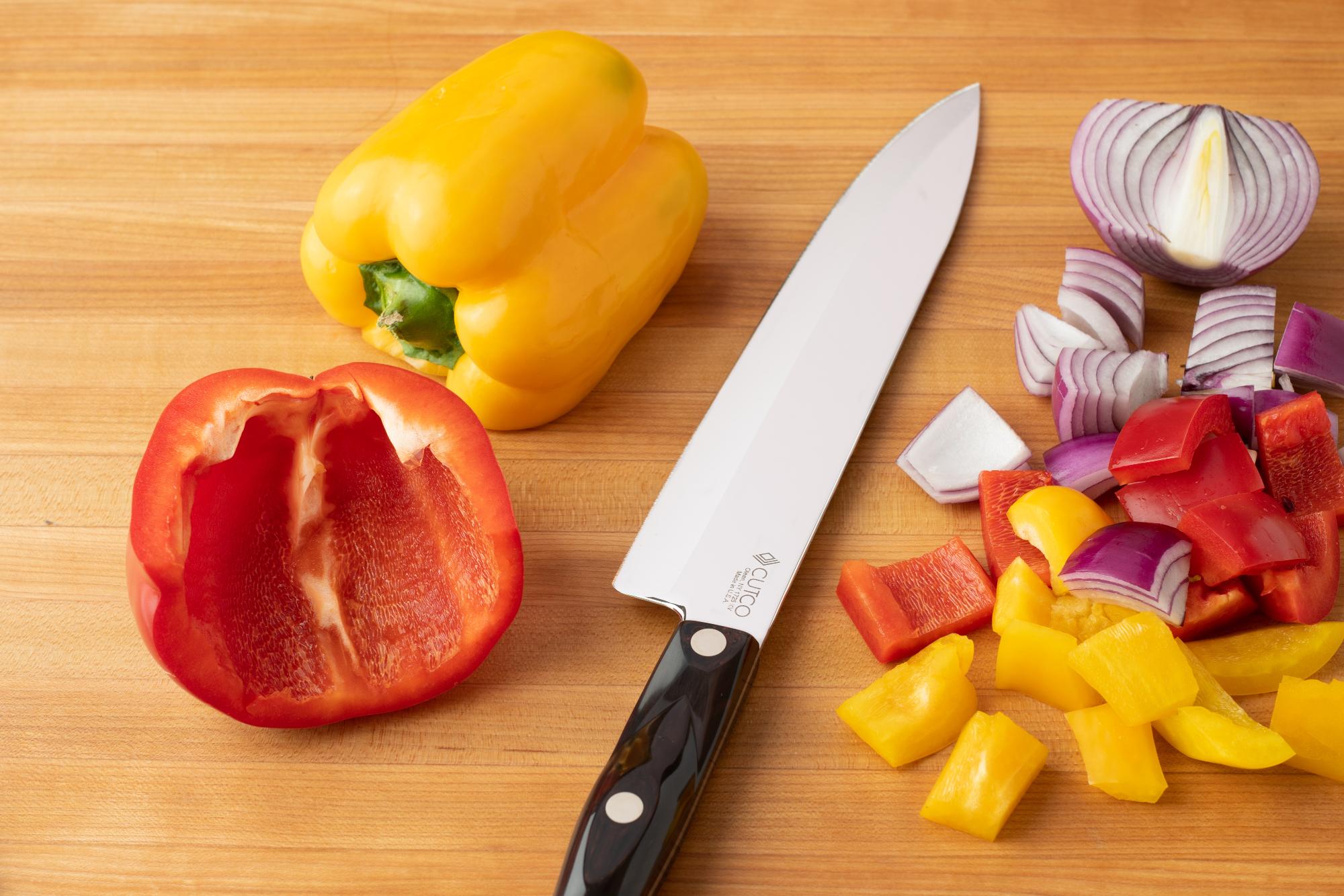 Use the same knife to prep the kale. Remove the leaves from the stem with the knife and then slice crosswise to shred.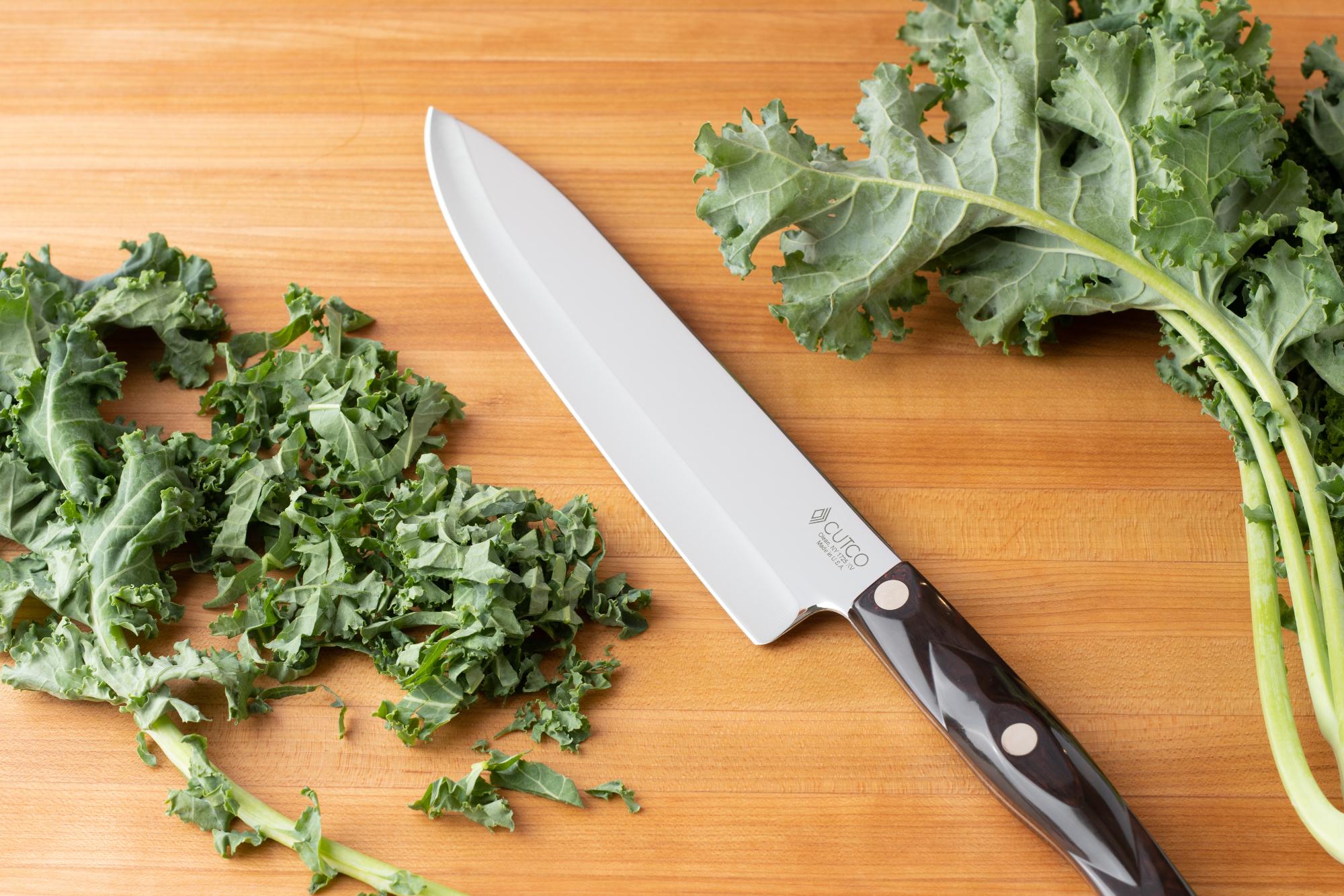 This recipe calls for massaging the shredded kale with olive oil and salt, not only to infuse more flavor, but to break down some of its fibrous characteristics, making it easier to digest.
The only other ingredient to cut is the garlic. For this recipe, I sliced it thin with a Santoku-Style 3" Paring Knife to add just a slightly sweet garlic flavor to the dish.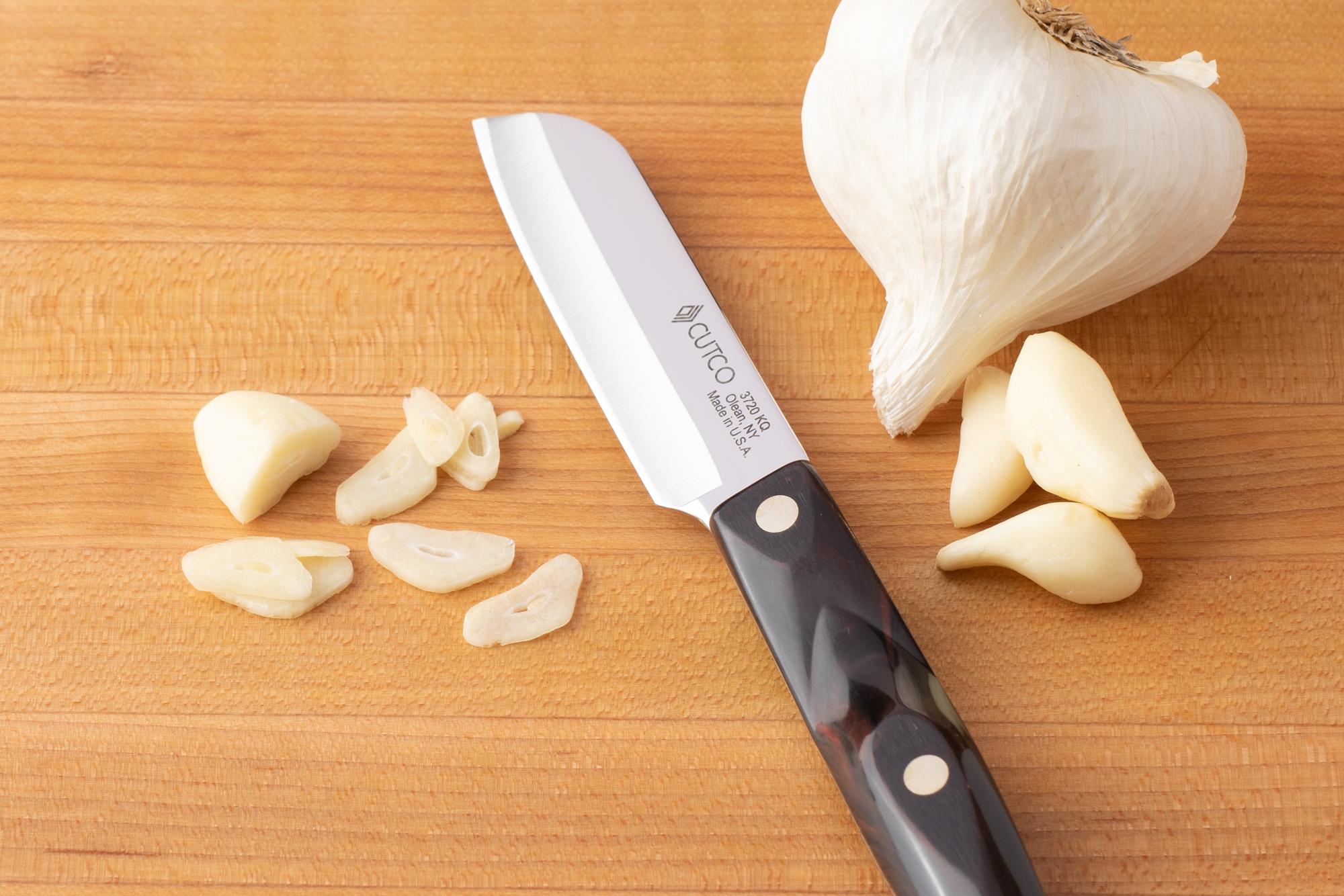 Consider the Ingredients
When planning an all-in-one sheet pan dinner, pair proteins and vegetables that have similar cook times. Otherwise, you'll need to consider cooking them at different stages of the roasting process.
For this Sheet Pan Salmon with Roasted Artichokes recipe, look for Roman style marinated artichokes, with stems. Their shape and texture adds a bit of pizazz.
This recipe also highlights my P.S. Flavor!™ Smokey Southern and Mambo Italiano spice blends, making it easy to season the dish.
The best sheet pan dinners are as beautiful and complex-tasting as any meal you spent hours (and many, many pots and pans) crafting, with vibrant contrasts in texture and flavor.
I simply love this dish, it's easy to achieve incredible flavor and the cleanup is a snap. You will want to have again, and again!
Ingredients
1 (12-ounce) jar Roman style marinated artichokes, drained
1 medium red pepper, cut into 1" to 1-1/2" pieces
1 medium yellow pepper, cut into 1" to 1-1/2" pieces
1 medium red onion, cut into 1" to 1-1/2" pieces
2 teaspoons extra-virgin olive oil, divided
2 tablespoons P.S. Flavor!™ Smokey Southern, or kosher salt and ground black pepper, to taste, divided
1 (15-ounce) can large white beans (such as cannellini), rinsed and drained
1/4 cup sundried tomatoes, drained
2 cups shredded kale, massaged with olive oil and salt
2 large cloves garlic, thinly sliced
1 tablespoon P.S. Flavor!™ Mambo Italiano, or other Italian seasoning
1 1/2 pounds skinless salmon (a favorite is Kvaroy Arctic), cut into 4 pieces
2 lemons, halved
Fresh Italian parsley sprigs, for garnish
Freshly shaved Parmesan cheese, for garnish
Directions
Place large rimmed baking sheet pan on center rack of oven. Heat oven to 425 F.
Toss drained artichokes with peppers, onion, 1 teaspoon of olive oil and 1 tablespoon Smokey Southern, or kosher salt and black pepper, to taste
When oven and pan are preheated, remove pan from oven and then spread vegetables into an even layer on the pan. Return pan to oven and roast for 15-18 minutes, until vegetables are starting to brown.
While vegetables are roasting, combine beans, sundried tomatoes, massaged kale, garlic and Mambo Italiano in a medium bowl. Fold to combine.
Rub salmon with remaining Smokey Southern. Heat nonstick pan or cast iron skillet over medium high heat, add remaining olive oil and add salmon to pan. Sear one side for 1 ½ to 2 minutes, flip.
Remove sheet pan from oven and add the bean mixture, folding to combine with the vegetables. Push the vegetables and beans to the outer edges of the pan, leaving the center bare. Add the seared salmon and lemon halves to the center. Return pan to oven and roast until fish is cooked through, an additional 6-8 minutes.
To serve, evenly divide the salmon, vegetables and beans onto 4 plates, with the half lemon. Garnish with a sprinkle of fresh parsley sprigs and shaved Parmesan.
Recommended Tools