Rustic Broccoli Cheddar Soup in Bread Bowl
440 days ago
Skip to recipe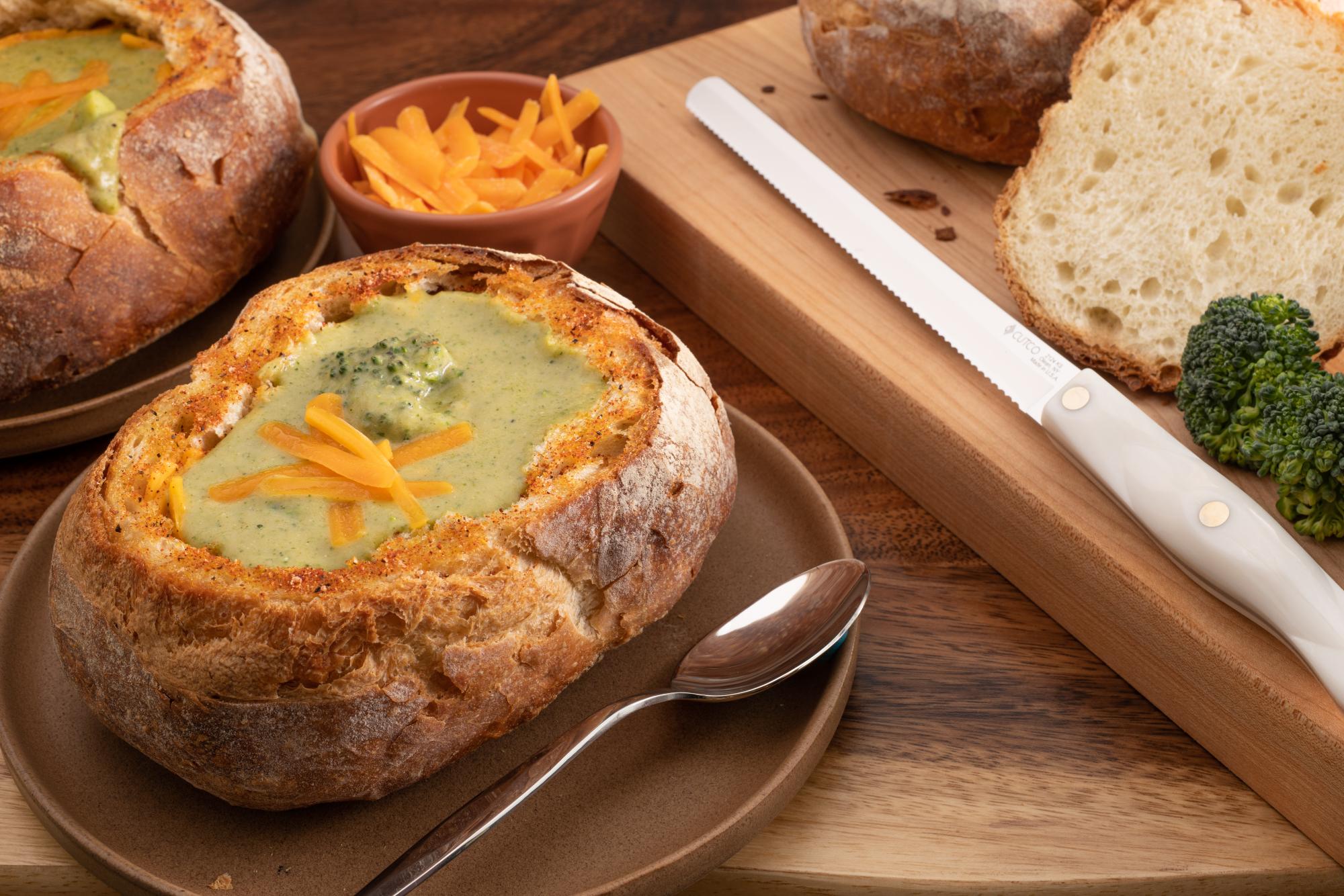 This recipe was created as a homemade and better-for-you version of the classic restaurant favorite. Rustic Broccoli Cheddar Soup in a Bread Bowl is creamy, delicious, and will ward off that chill from the autumn air.
How to Prep Ingredients
For this recipe I use both the florets and the stalks of the broccoli. The thicker stalks are peeled and coarsely chopped and then cooked with the potatoes. The thinner stalks can stay on the florets, which are added to the soup later. For prepping all of it, the Hardy Slicer works like a dream.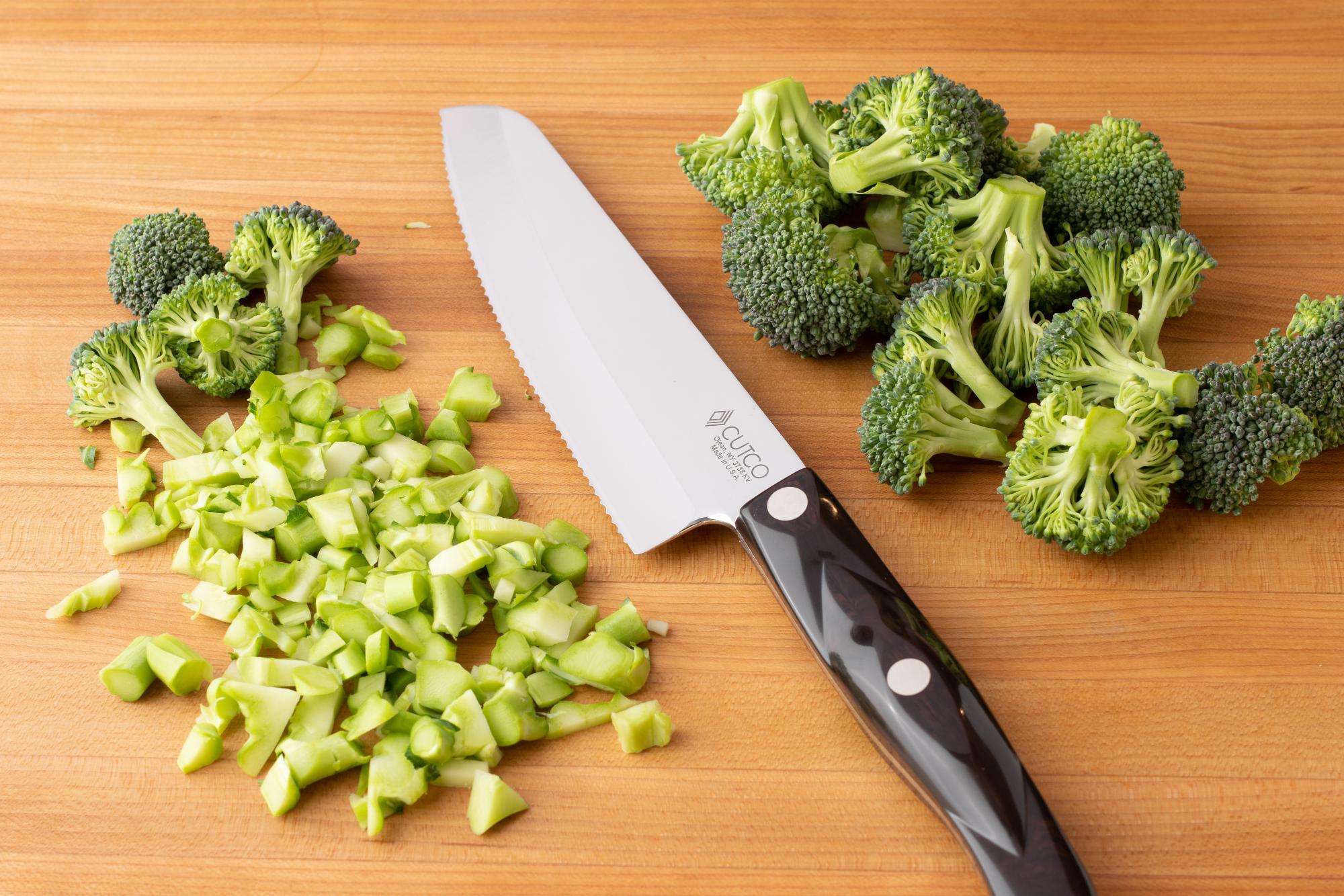 For chopping the onion and potato, and mincing the garlic, Cutco's 7-5/8" Petite Chef knife make quick work of these tasks.
How to Make the Bread Bowl
As the recipe title implies, the broccoli and cheddar soup is served in a bread bowl.
To make the bread bowl, use a 7-3/4" Petite Slicer to cut the top off of small round bread loaves. Insert a drink glass into the center of the loaves and twist to release the bread. Then pull the bread out from the center of the loaf using your fingers or hull it out with a spoon. You should have an unbroken bread bowl when done.
The bread that comes out can be diced, tossed with olive oil and seasoning, and toasted for croutons for the soup or a side salad.
Line the bowl with cheddar cheese slices to create a moisture barrier.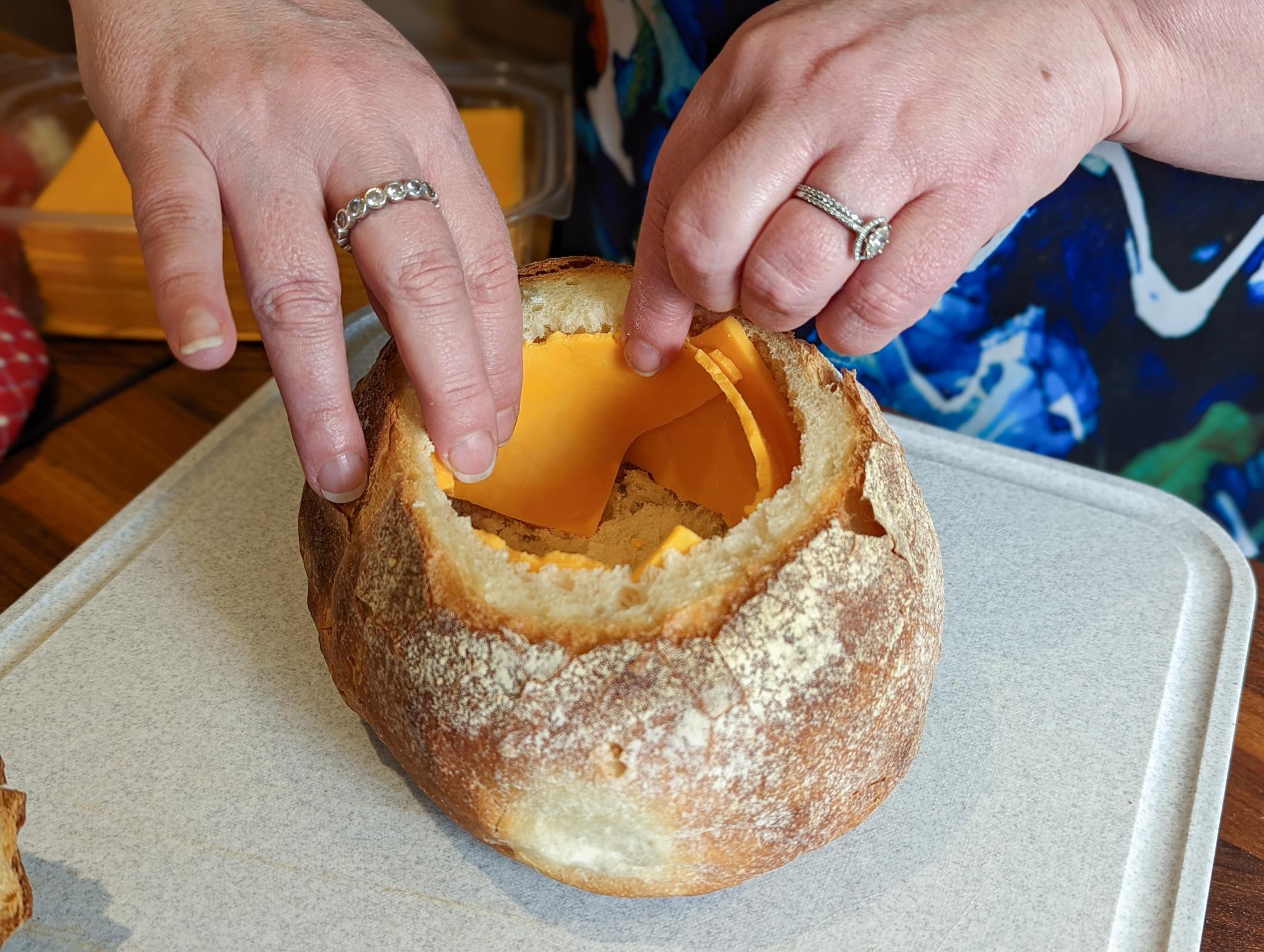 Ladle in the soup, sprinkle on more cheddar cheese and be ready for the compliments.
Recipe Notes
Cooking the potato in the broth along with the broccoli brings a velvety creaminess to the soup, without the cream, when blended.
I love using the entire broccoli stalk for all of its nutrients and vibrancy. Adding spinach or parsley to the pot right before blending also helps to keep the soup's vibrant green color.
The individual bread bowls, although not a must, add a fun and delicious touch as a serving vessel.
Rustic Broccoli Cheddar Soup in a Bread Bowl is the perfect cheesy way to turn a broccoli skeptic into a broccoli seeker. Enjoy!
Ingredients
2 heads of broccoli
2 tablespoons extra-virgin olive oil
1 large onion, coarsely chopped
4 garlic cloves, finely minced
2 teaspoons P.S. Flavor!™ Creole Kitchen spice blend, or your favorite Creole seasoning, divided
1 medium russet potato, peeled, chopped into 1"- 2" pieces
48 ounces (6 cups) lower-sodium chicken or vegetable stock, divided
1 teaspoon kosher salt
1 cup spinach leaves
9 ounces (2 3/4 cups) grated sharp cheddar cheese
1/2 cup plain Greek yogurt or sour cream
4-6 small bread bowls
4-6 cheddar cheese slices
Directions
Trim bottoms of 2 heads of broccoli, then peel. Separate hefty stalks from florets (the thin, little stalks attached to broccoli tops are fine to leave attached to the crowns). Set aside florets. Coarsely chop stalks into 1"– 2" pieces.
Heat a large Dutch oven or pot over medium-low heat. Add extra-virgin olive oil and then add onion and sauté, stirring occasionally, until softened and just starting to take color. Add garlic and 1 teaspoon Creole seasoning, and continue cooking for 30 seconds.
Add broccoli stalks and potato pieces to pot and stir to coat. Pour in 5 cups stock, add another 1 teaspoon Creole seasoning and 1 teaspoon kosher salt (or to taste), and bring to a boil over high heat. Reduce heat to medium-low and keep at a simmer. Cover pot and cook until broccoli stalks and potatoes are completely tender (test with a cake tester, paring knife, or fork), 20–25 minutes.
Meanwhile, chop reserved florets into small pieces. Add half of florets to pot, cover, and cook until bright green, 3–5 minutes. Add spinach the last 30 seconds. Transfer to a blender, let cool for 5 minutes, and purée until smooth. Don't fill your blender more than halfway—work in batches as necessary. To avoid explosions, remove the center lid from the blender and cover with a kitchen towel. Alternatively, use an immersion blender (the soup won't be quite as smooth).
Return purée to pot, and bring back to medium heat; add remaining florets. Cover pot and cook until bright green, another 3–5 minutes. Add 2 cups cheddar cheese and stir until smooth. (Add additional stock if needed, if soup is too thick.) Cover and reduce heat to low for another 2-3 minutes.
Remove soup from heat and stir in ½ cup plain Greek yogurt or sour cream. Adjust flavor with additional Creole seasoning, or kosher salt and black pepper, to taste.
Cut top off each bread bowl, insert a drink glass into the center of the loaf and gently twist to loosen the bread. Hull out bread, leaving an unbroken bread bowl remaining. Line with cheddar cheese slices to prevent leakage of soup.
Divide soup among bowls. Top with a sprinkle of remaining grated cheddar cheese.
Recommended Tools