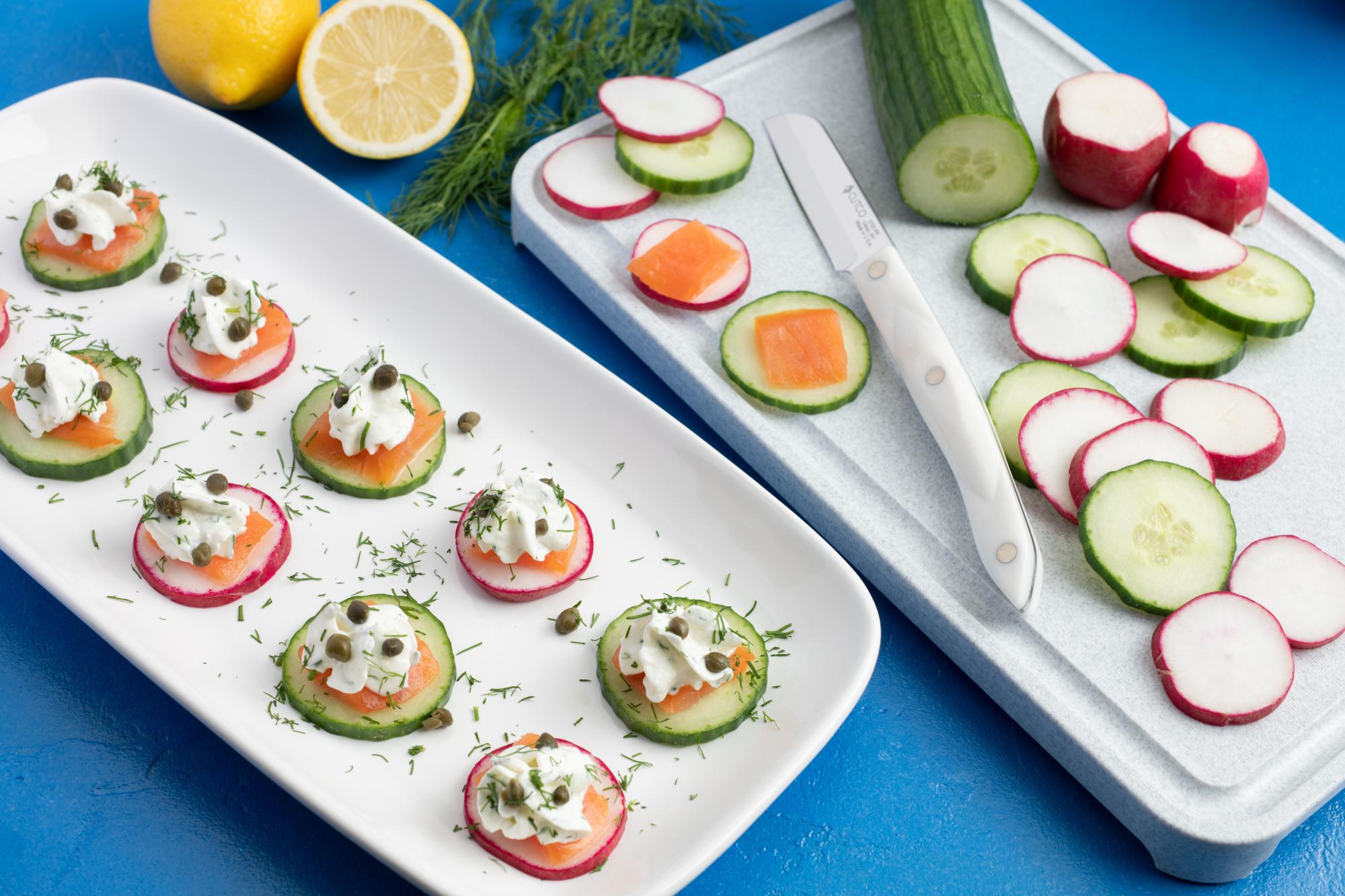 Around the holiday season, I typically feel overwhelmed by all the carbs I'm eating and find that a lot of it comes from appetizers. Dips served with crackers and bread, bruschetta, bread bowl dips, the list goes on and on. It's nice when you can find a quick-prep appetizer that has both vegetables and protein, and tastes good as well.
Radish and Cucumber Smoked Salmon Bites are a light and tasty appetizer, sure to please any crowd. The crunchiness of the cucumbers and radishes combined with smoked salmon and a creamy yogurt and cream cheese topper is a good contrast to the heaviness typically found in an appetizer spread. Did I mention that they only take about 10 minutes to prepare? That fact alone makes this appetizer recipe perfect.
Prepping the Ingredients
Start by cutting the ends off each radish with a Santoku-Style 3" Paring Knife and then cut each radish into four slices. If the radish is smaller, you may need to cut only three slices. This is the base of the appetizer bite, so you want to make sure it's thick enough to hold the salmon and cream cheese mixture.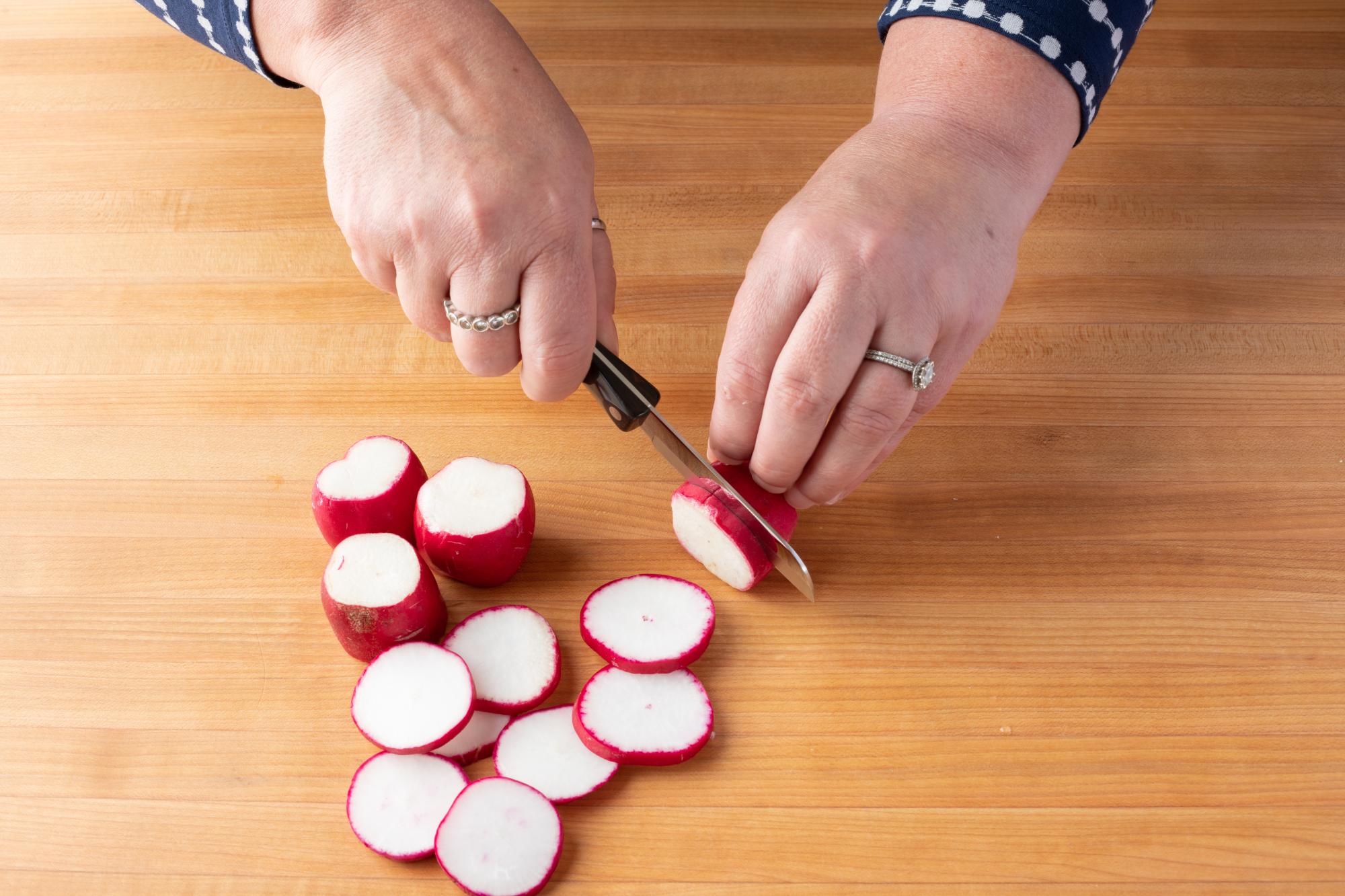 Similarly, cut the ends off the cucumber with a 7" Santoku and then slice the cucumber to the same thickness as the radishes.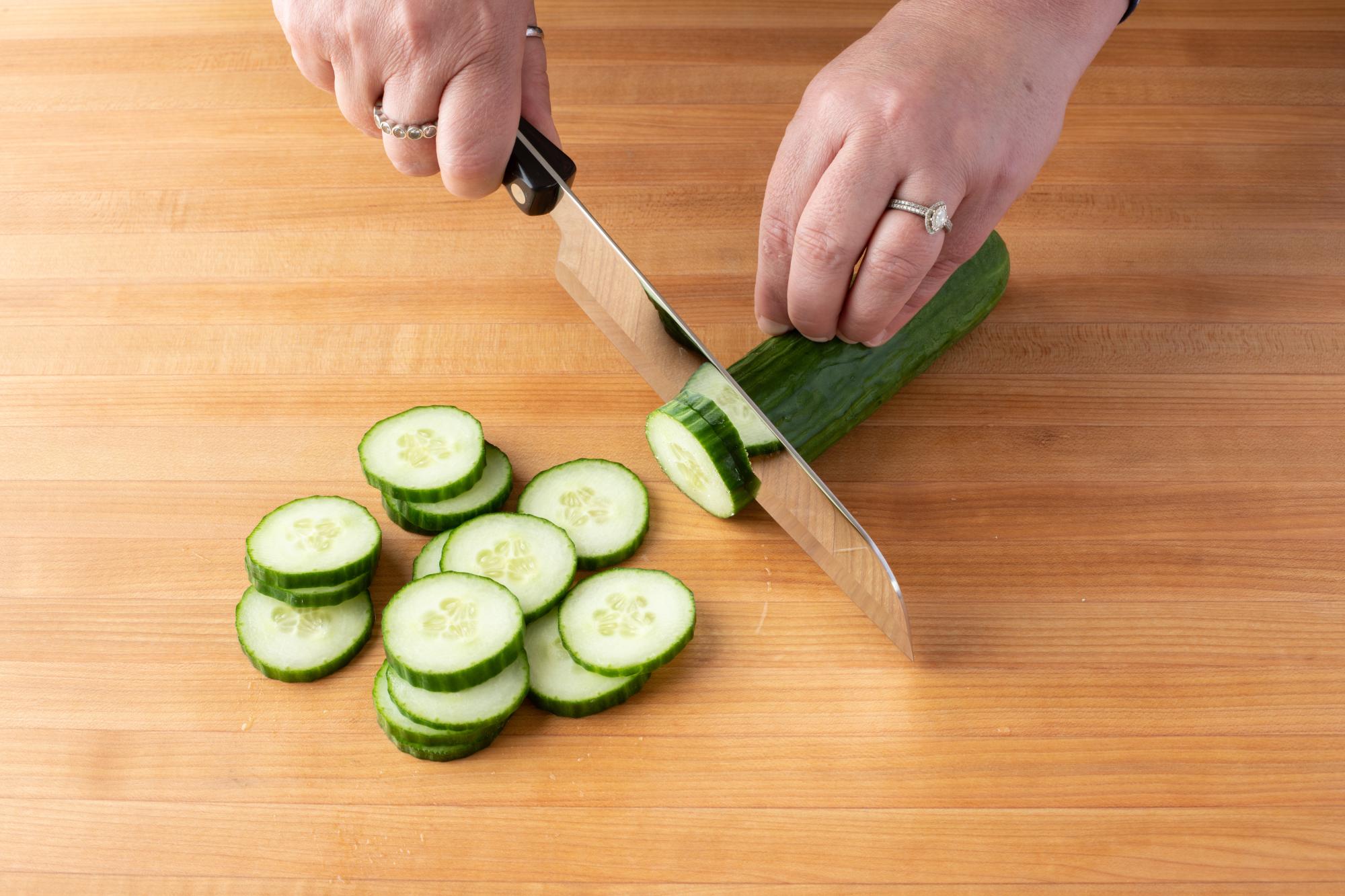 Using a 7-5/8" Petite Chef knife, mince the fresh dill until you have two tablespoons.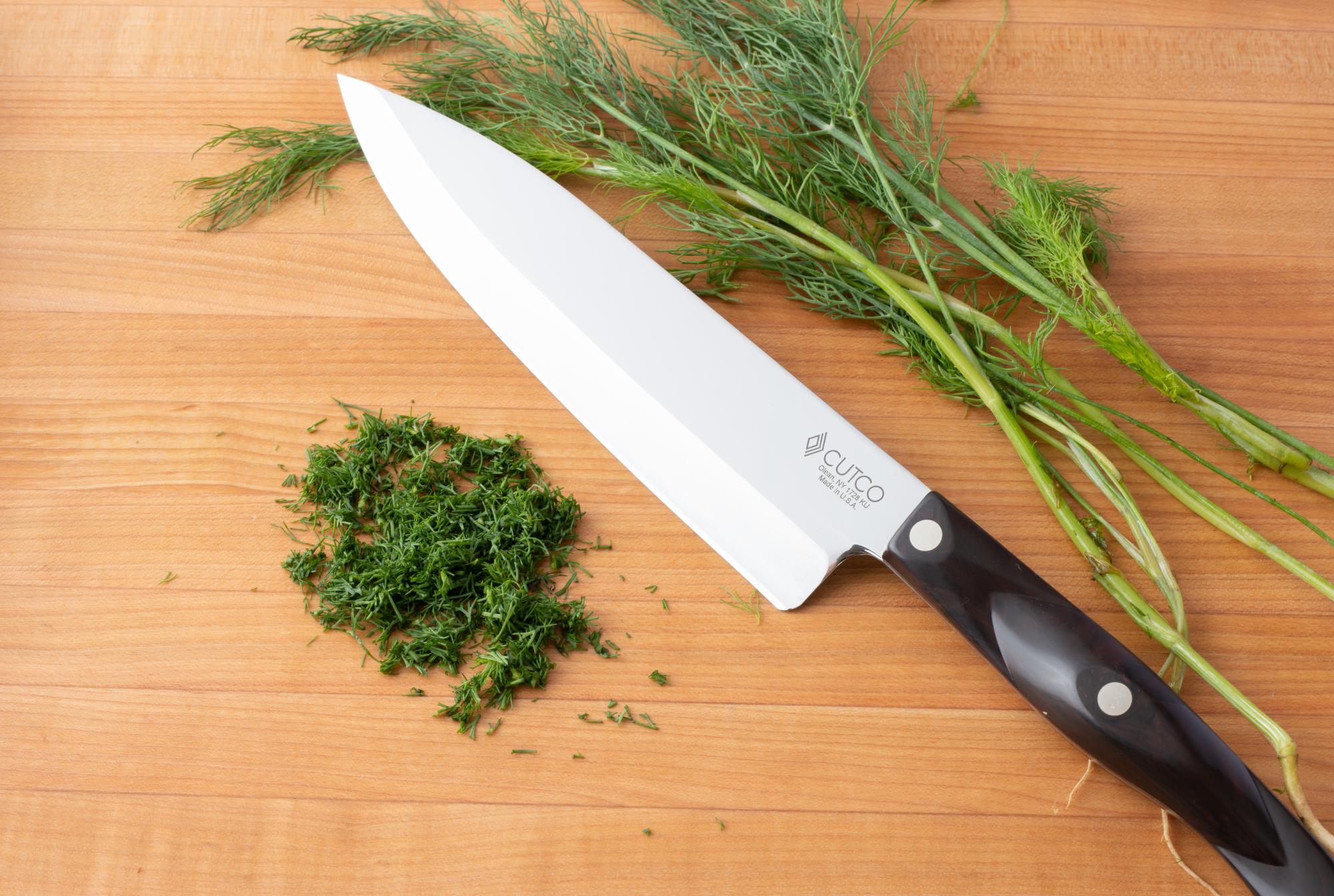 We purchased smoked salmon that was already cut into slices, but then we cut it into bite-size pieces using the Santoku-Style 3" Paring Knife.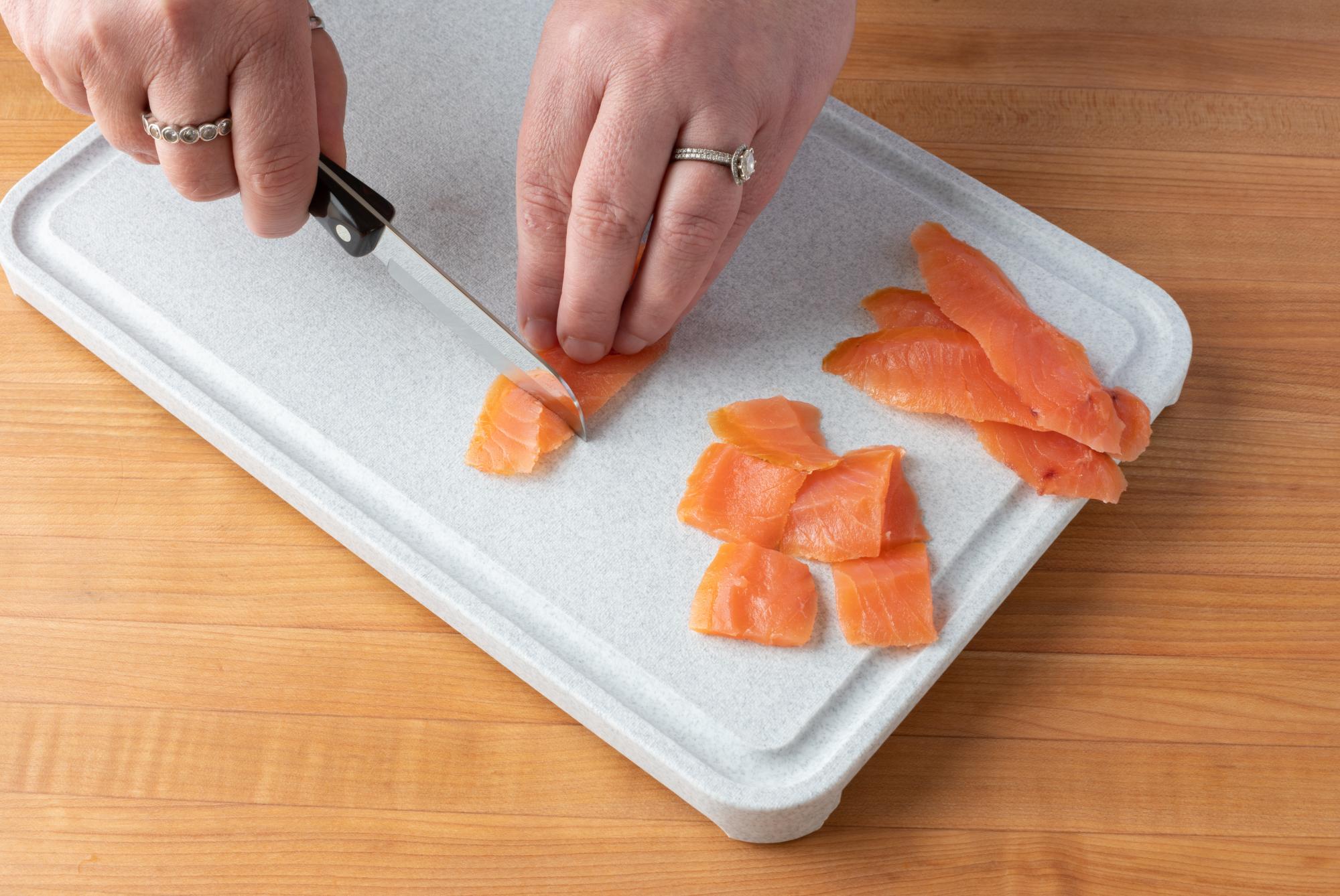 Making the Appetizer
Mix the yogurt, cream cheese, lemon juice and one tablespoon of the minced dill in a medium bowl. Scoop the yogurt and cream cheese mixture into a piping bag with a star tip (or use a resealable bag that you cut the corner out to place the tip) and set aside. Place the cucumber and radish slices on a serving tray and top each with a piece of salmon. Pipe the yogurt and cream cheese mixture over each salmon slice. Top each with a few capers and sprinkle with the remaining dill.
Did I mention that this is an easy appetizer to prepare? Radish and Cucumber Smoked Salmon Bites is something I think you'll make time and time again. The red and green of the radishes and cucumbers, along with the orange salmon, yogurt and cream cheese mixture, capers and dill make a beautiful presentation for a light and tasty bite. If you're not a salmon fan, I encourage you to give this dish a try. It's not overly fishy and the smoky taste of the salmon pairs perfectly with the other ingredients. Bright and light flavors blended in a quick and easy appetizer.
Ingredients
4 radishes, rinsed and each cut into 4 slices
1 small English cucumber, cut into ½-inch slices
1/2 cup plain Greek yogurt
1/4 cup cream cheese, room temperature
1 teaspoon lemon juice
2 tablespoons dill, minced, divided
5 ounces smoked salmon, cut into bite-size pieces
6 tablespoons drained capers
Directions
Place radish and cucumber slices onto a serving platter.
Combine yogurt, cream cheese, lemon juice and 1 tablespoon of dill, mixing thoroughly.
Place a piece of salmon on each radish and cucumber slice.
Spoon ½ teaspoon of the yogurt and cream cheese mixture over the salmon or pipe the yogurt and cream cheese mixture onto the salmon.
Place one or two capers on each slice and sprinkle with remaining dill.
Serve immediately.
Recommended Tools