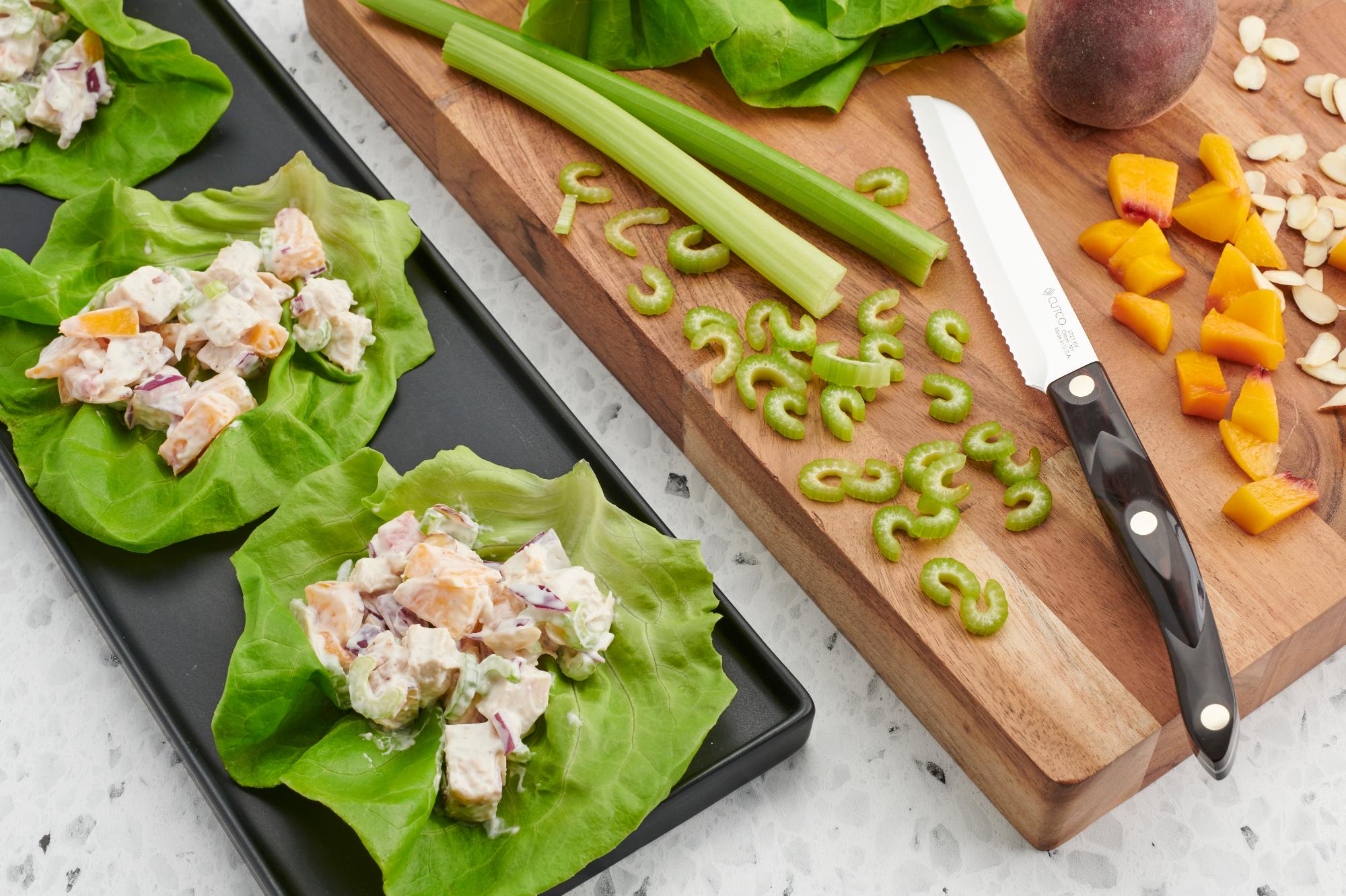 Peaches are one of my favorite fruits and I feel like they often get missed because they come so late in the summer. They are mostly used in desserts or other sweet dishes, but I wanted to make a yummy "not heat up the kitchen" dinner highlighting its versatile flavor. So from that, this recipe for Peachy Chicken Salad Wraps was born.
The classic flavors of chicken salad are stepped up a notch with the addition of sweet and juicy peaches. It pairs well with the savory flavor of the mayo and yogurt, while the almonds add a nice crunch.
Prepping the Ingredients
These Peachy Chicken Salad Wraps are made with cooked chicken. Whether you cook it yourself or buy precooked, a good utility knife will help with the prep. The Cutco Santoku-Style Trimmer is the knife I choose, since its size is right and the sharp Double-D® edge cuts cleanly through the chicken.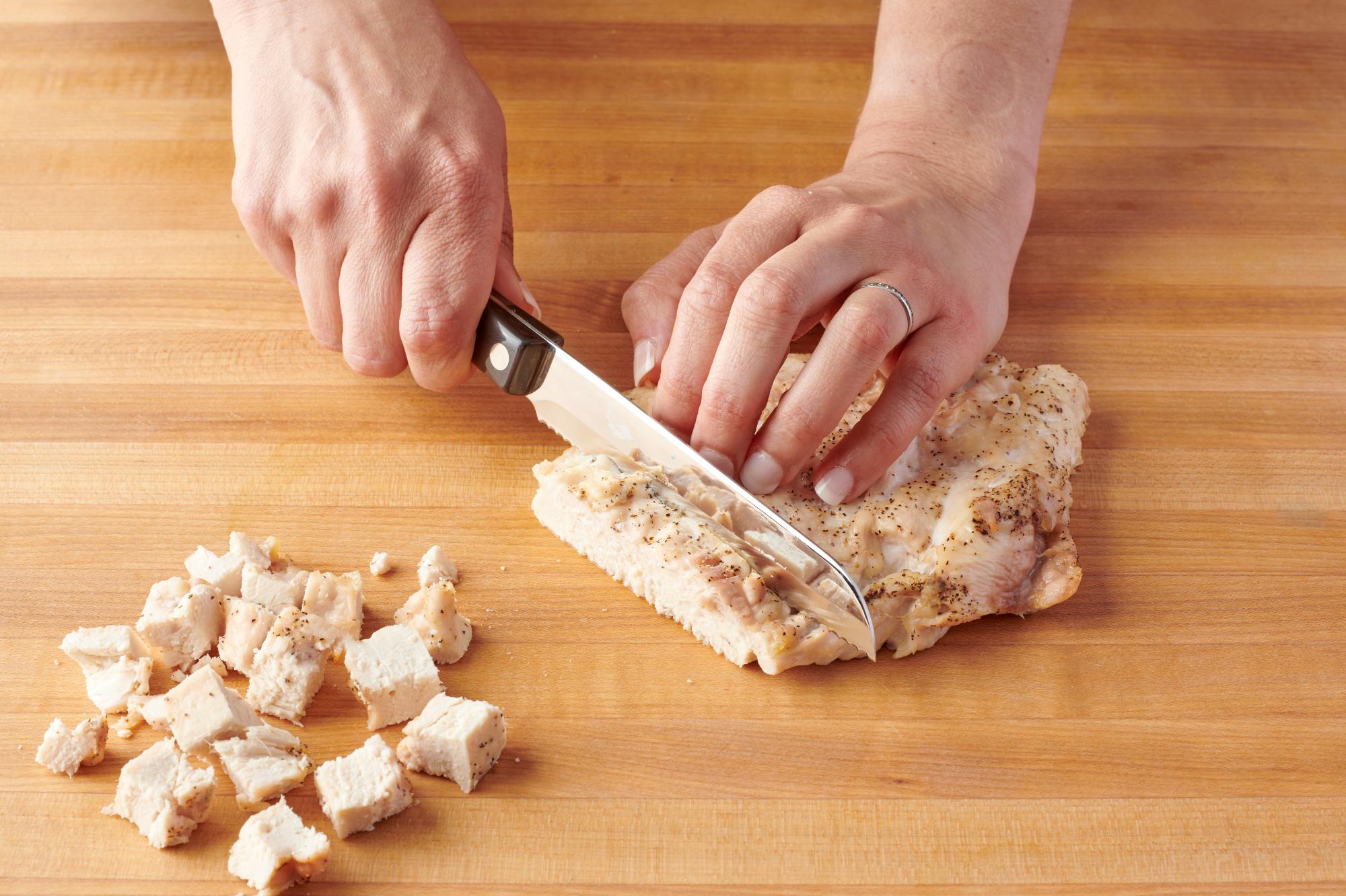 Celery can sometimes be a tricky vegetable to cut because of the strings that run up the length of the stalk. A sharp knife, like the 7" Santoku knife, will easily cut through them to make the thin slices needed for this recipe.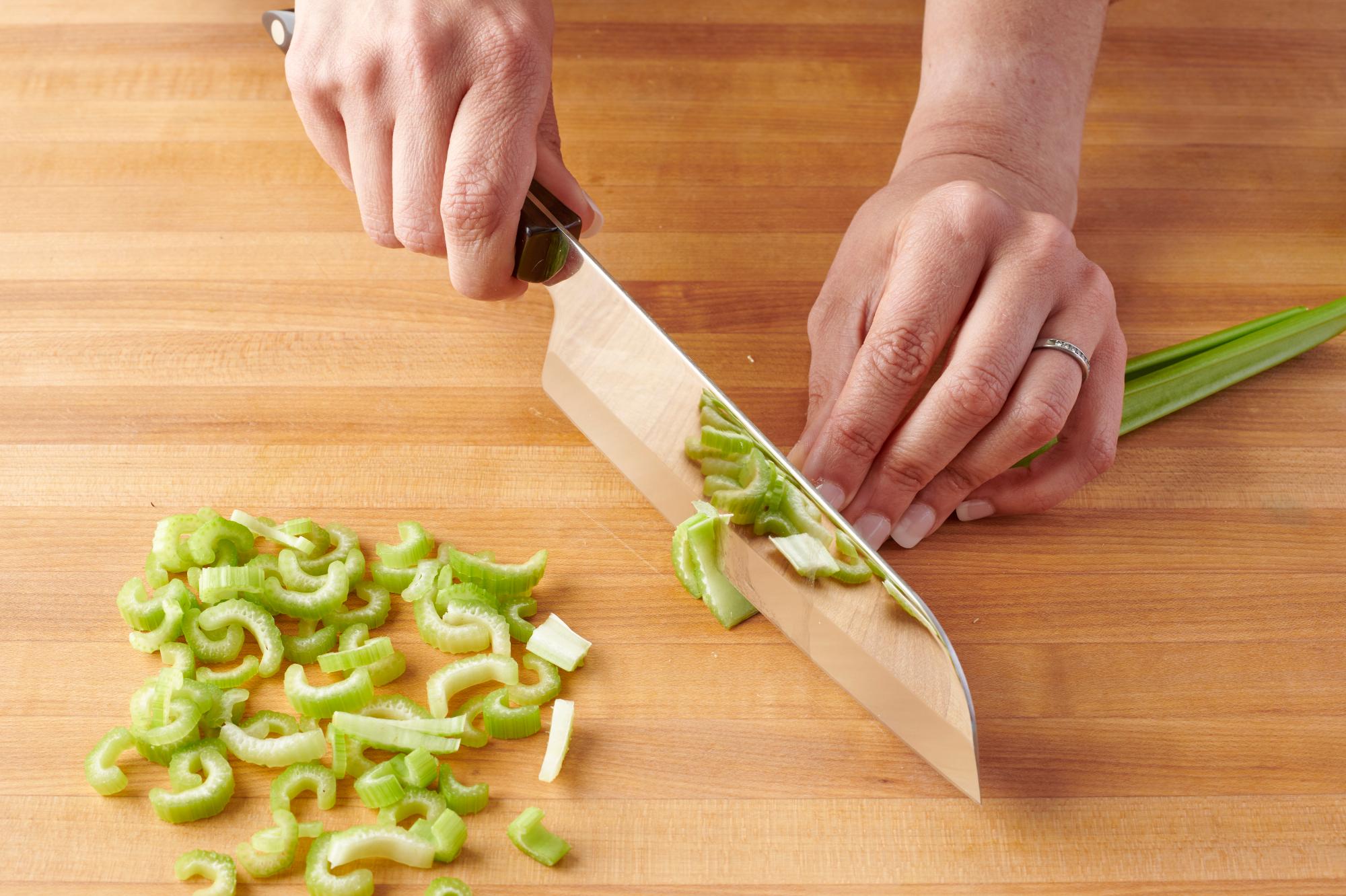 You could use sliced red onion for these, but I prefer to dice it so that it's easier to eat. There's nothing worse than biting into a sandwich and having a big slice of onion pull out.
Dice the onion using a 7-5/8" Petite Chef knife.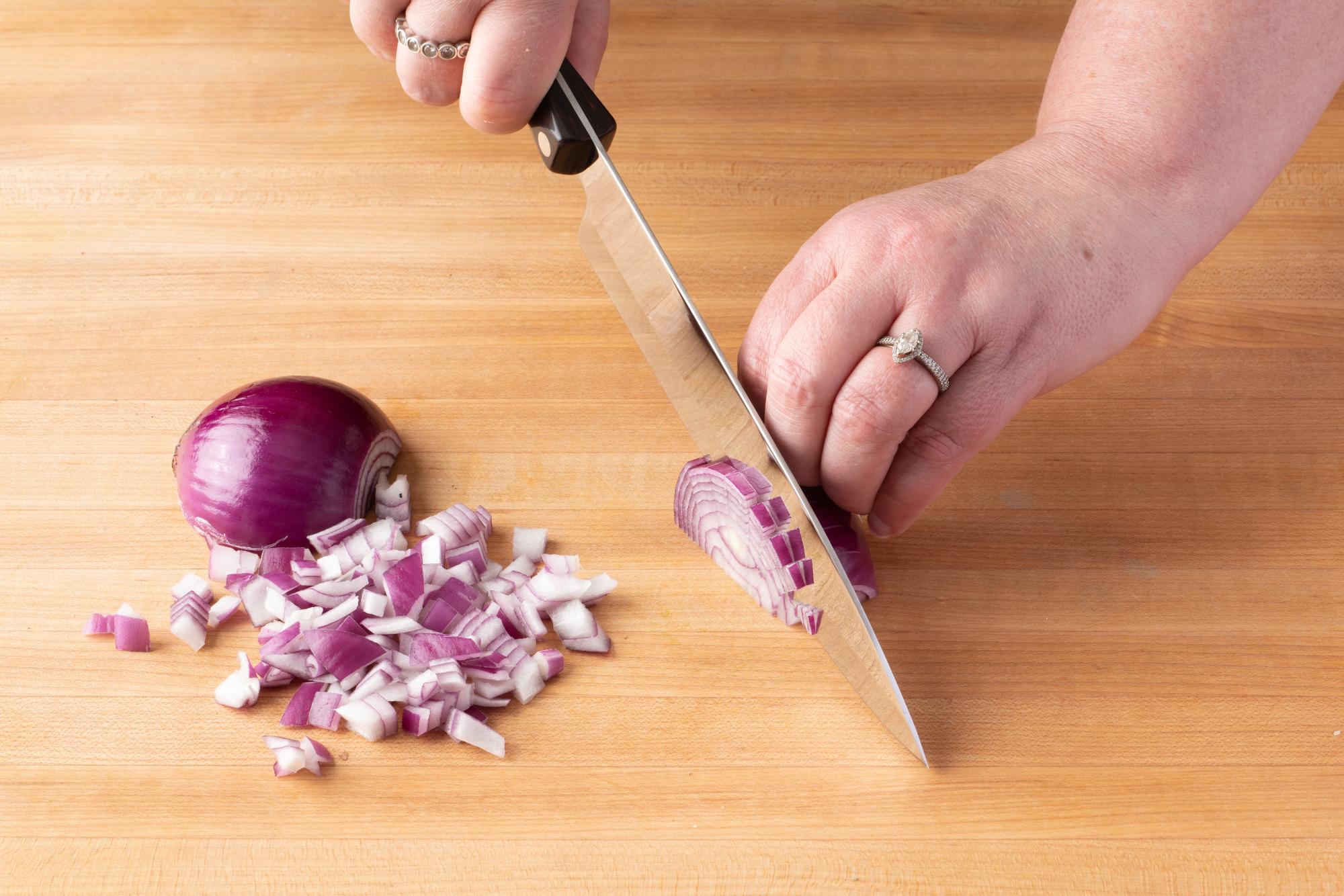 When it comes to cutting the peach. Don't be intimidated, the 4" Paring Knife is a good size for peeling the fruit, cutting around the pit and dicing.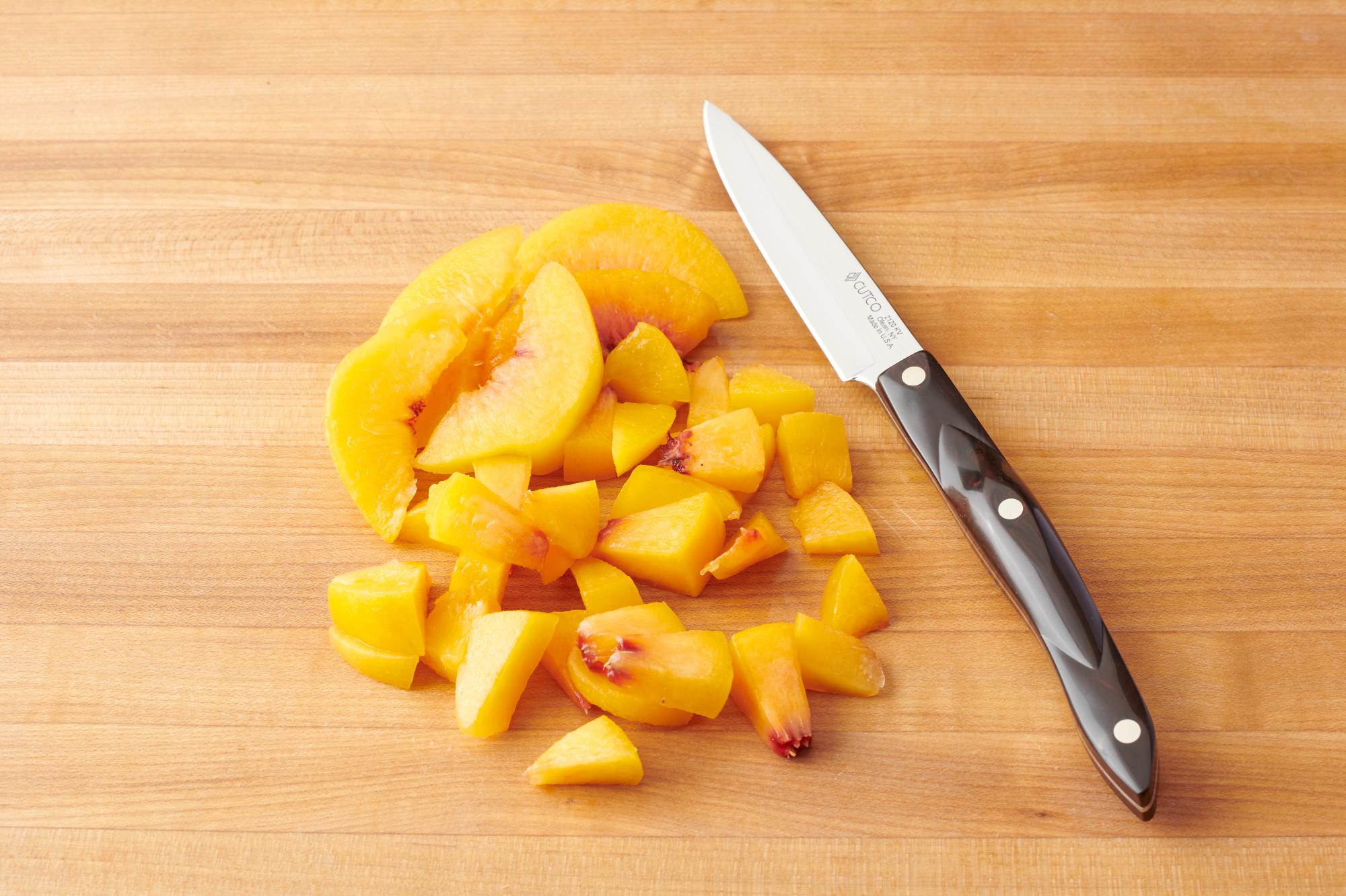 If you need some guidance on how to cut a peach, take a look at Cutco's handy video tutorial.
To make the wrap, place the mixture into a butter lettuce leaf.
Fold in the sides of the leaf and roll it as you would a sandwich wrap.
Chicken Salad Ingredient Options
The beauty of this Peachy Chicken Salad Wraps recipe is that it's easily customizable. Use leftover grilled chicken or a rotisserie chicken to make prep even faster. You can also grill the peaches first, to add another flavor.
Change up the way you eat them. Add the chicken salad to a whole wheat wrap, spring roll paper or even just throw it in a bowl and eat it with a fork.
What I love most about this recipe is the surprise factor. We always see fruits like apples or grapes in chicken salad, but the sweetness of the peach, makes this a perfect summer staple to have in the fridge.
Nutrition (per serving): 292kcal, 10.9g total fat, 68mg cholesterol, 177mg sodium, 23.3g carbohydrate, 4.1g fiber, 26.3g protein
Ingredients
2 cups cooked chicken breast, diced
2 stalk celery, thinly sliced
1 small red onion, diced
2 peaches, chopped
2 tablespoon sliced almonds
2 tablespoon mayonnaise
2 tablespoon plain Greek yogurt
Butter lettuce leaves
Directions
Mix together chicken, celery, onion, peaches, almonds, mayonnaise and Greek yogurt in a small bowl.
Spoon mixture into 4 lettuce leafs.
Recommended Tools