Miso Soup With Tofu, Mushrooms And Bok Choy
816 days ago
Skip to recipe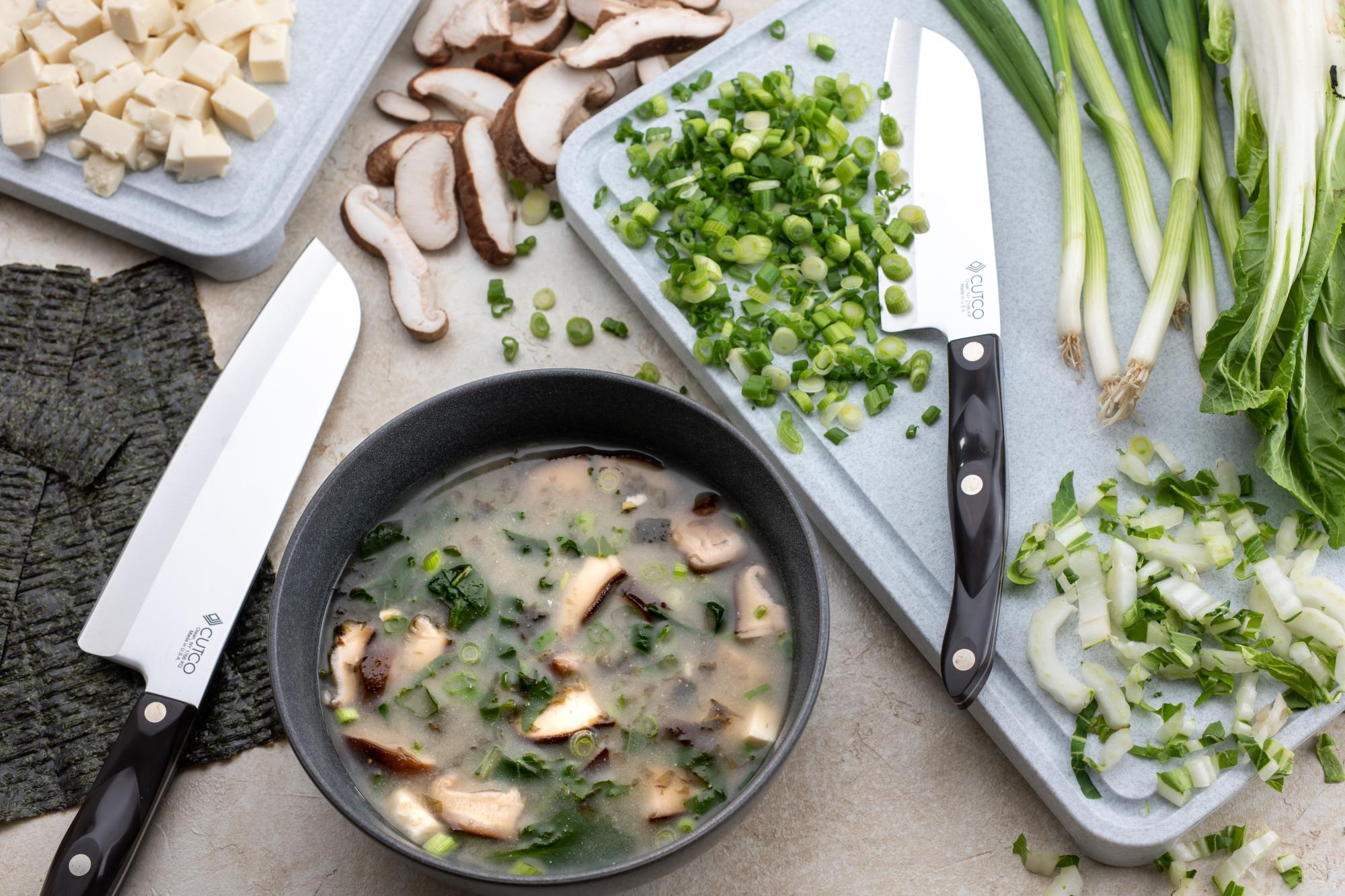 When dining out, if miso soup is on the menu, I definitely order it as an appetizer to my main meal. There is something comforting about this broth soup that can be prepared in so many different ways. Our Miso Soup with Tofu, Mushrooms and Bok Choy is packed full of vegetables but still maintains the broth base that is essential for a good miso soup. When we were discussing recipes in the Cutco kitchen, this soup came up as a suggestion for us to try, and then someone mentioned adding tofu.
What Is Tofu?
Tofu is one of those ingredients that draws an immediate reaction. At least it did in our kitchen. I have cooked with tofu before, making a stir-fry and it was quite delicious. The key is choosing the right tofu for the recipe. It can range from silken to extra-firm. The silken variety is perfect for blending into a dessert or dip and, yes, adding to miso soup. The extra-firm variety contains less water so it's good as a main course or used as a topping.
What is tofu? It's a plant-based protein that is made by curdling soy milk and forming it into a solid block. Sounds appealing, right? Actually, it can be quite tasty if it's prepared correctly and for this recipe, it added some protein to an otherwise vegetable-based recipe.
Preparing The Miso Soup
There are many different methods to prepare miso soup and you can certainly make your own dashi broth, but we were trying to make this recipe easy, so we instead went with dashi granules. If you can't find the granules, you can substitute four cups of vegetable broth.
To prepare this dish, the key is to have all of your vegetables prepped and ready to be added to the broth. This soup doesn't cook that long, so you want to be ready to add the ingredients in the order presented.
We started by chopping up some bok choy, using the 7" Santoku knife.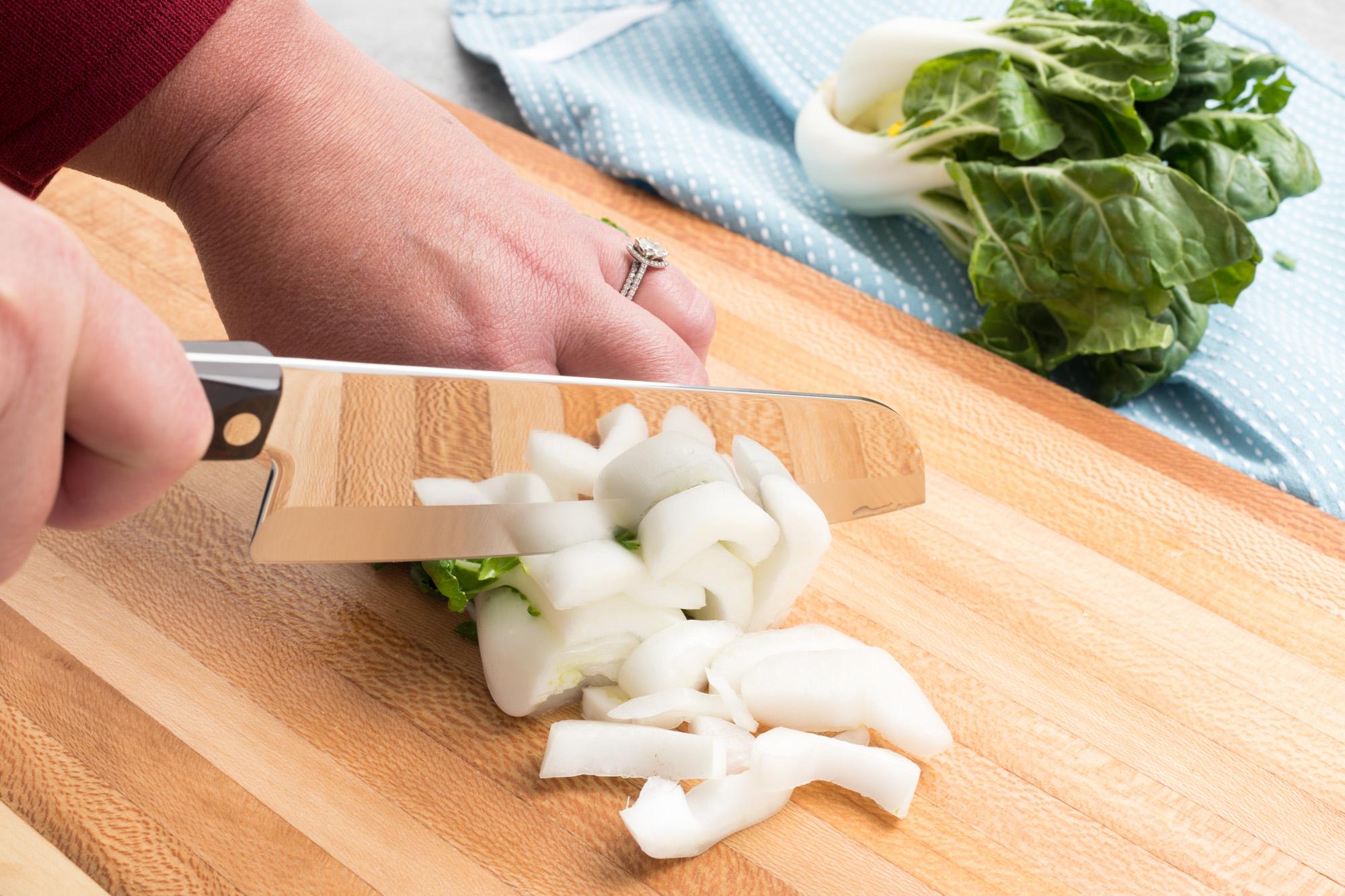 If you're unfamiliar with how to prep bok choy, check out this infographic.
Using the 7" Santoku knife again, we cut our nori sheets into squares.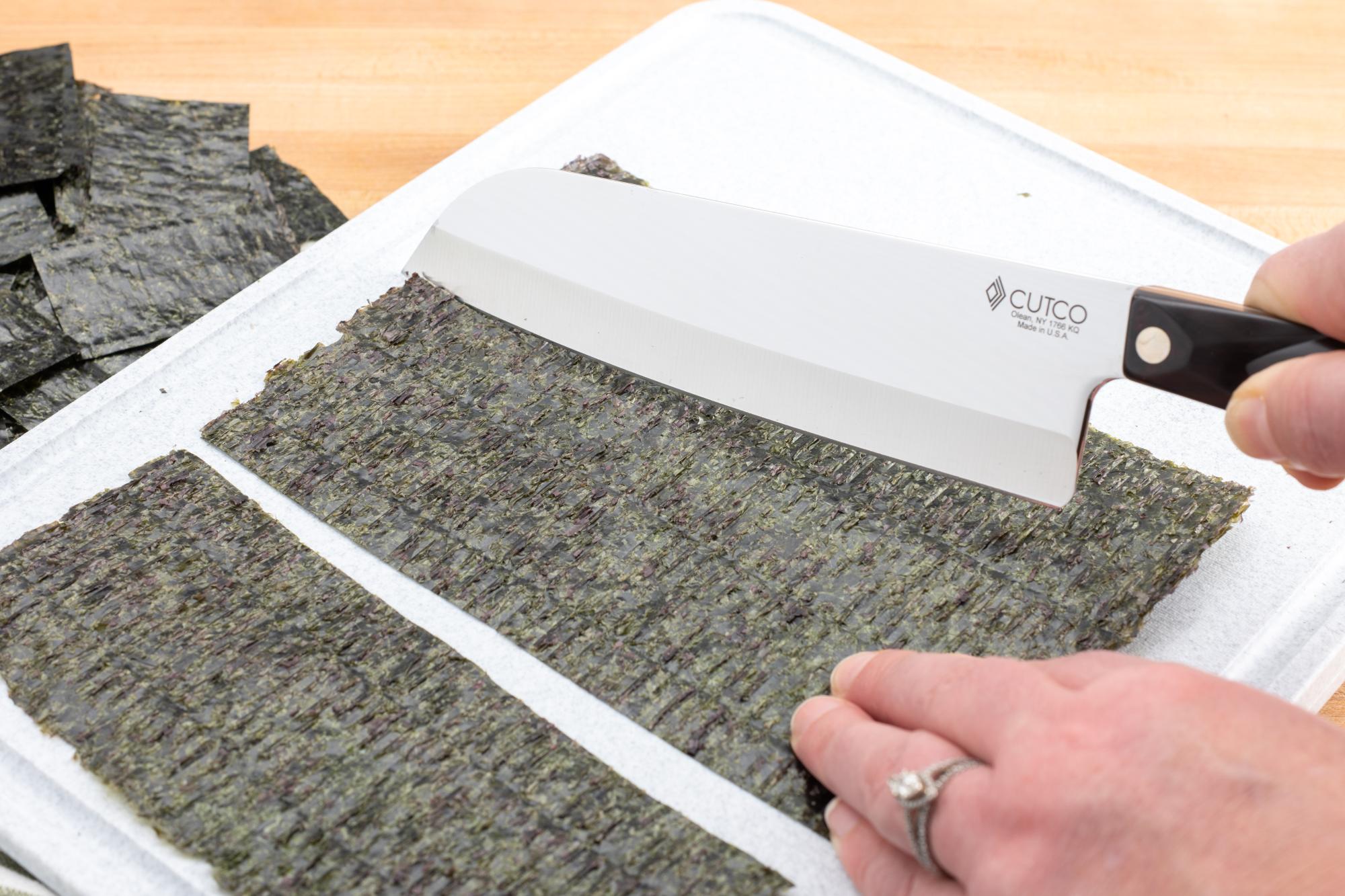 Nori is an edible seaweed that you can typically find in the Asian food section of your grocery story. It is very delicate to work with so simply drawing the knife down the sheet is enough to cut it.
We also used the Santoku to cut our tofu into cubes.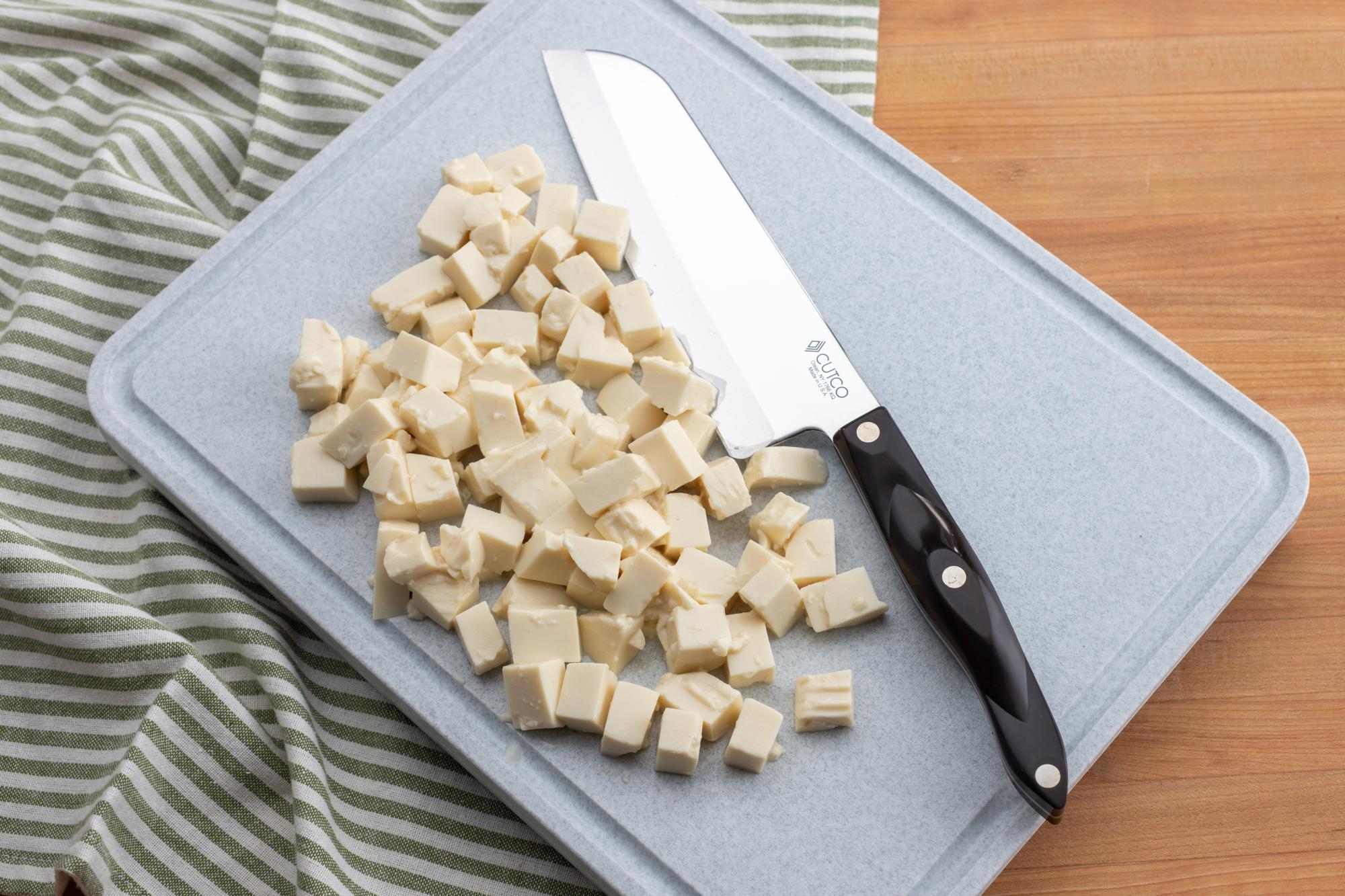 The cubes should be bite-size, so we cut the tofu in half lengthwise, cut strips and then cubes.
To chop the green onion, we used the 5" Petite Santoku to trim off both ends and then sliced them.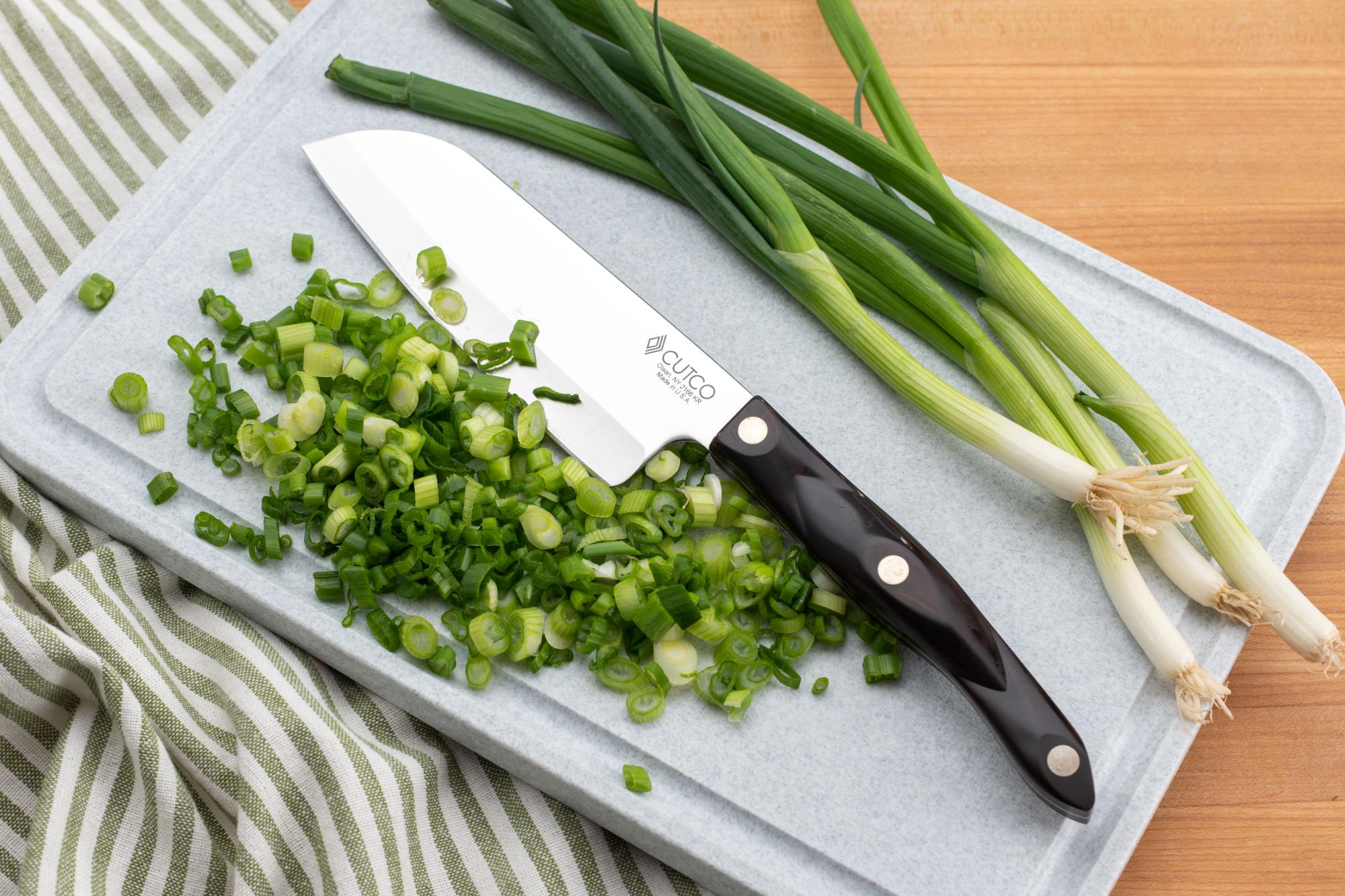 The final piece of prep work that is needed is to thin the miso paste. For this recipe we're suggesting using white or yellow miso paste. To thin the paste, add a little bit of hot water until it can be easily whisked it into a smooth liquid.
Adding The Ingredients
Now that the prep work is done, it's time to put the miso soup together. Start by dissolving the dashi granules in the water and bring the broth to a low simmer. Then add the nori, mushrooms, spinach and bok choy, cooking these vegetables down for approximately five minutes. Add the miso that was prepped earlier and stir to incorporate into the broth. Add the tofu and make sure it is brought to the same temperature as the other ingredients. Remove the soup from the heat, add the green onions and serve. While we have noted that you can add more salt, the miso paste already adds quite a bit of saltiness to the dish so just be sure to taste test it before adding more salt.
This Miso Soup with Tofu, Mushrooms and Bok Choy was everything we hoped it would be – delicious, warm and comforting. The tofu added an additional creamy texture to the vegetables and, in our opinion, was a nice addition to this soup. If you're not a fan of tofu, you certainly don't need to add it but we encourage you to give it a try. You just may be surprised!
Ingredients
4 cups water
2 teaspoons dashi granules
3-4 tablespoons white or yellow miso paste
2 sheets of nori, cut into large squares (optional)
1 cup shitake mushrooms
1/2 cup spinach
1/2 cup chopped bok choy
1/4 cup silken firm tofu, cubed
1/4 cup chopped green onion
Sea salt, to taste
Directions
In a medium saucepan, bring water to a low simmer and dissolve dashi granules. If you can't find dashi granules, you can instead use 4 cups of vegetable broth.
While your broth is simmering, place miso into a small bowl, add a little hot water and whisk until smooth. Set aside.
To the broth add the nori, mushrooms, spinach and bok choy, and cook for 5 minutes.
Add the miso and stir.
Add the tofu and simmer until the ingredients are all warm.
Remove from heat and add the green onions.
Taste and add a pinch of sea salt if desired. Serve warm. Best when fresh.
Recommended Tools