Italian Bolognese Sauce With Pancetta and Papperdelle
845 days ago
Skip to recipe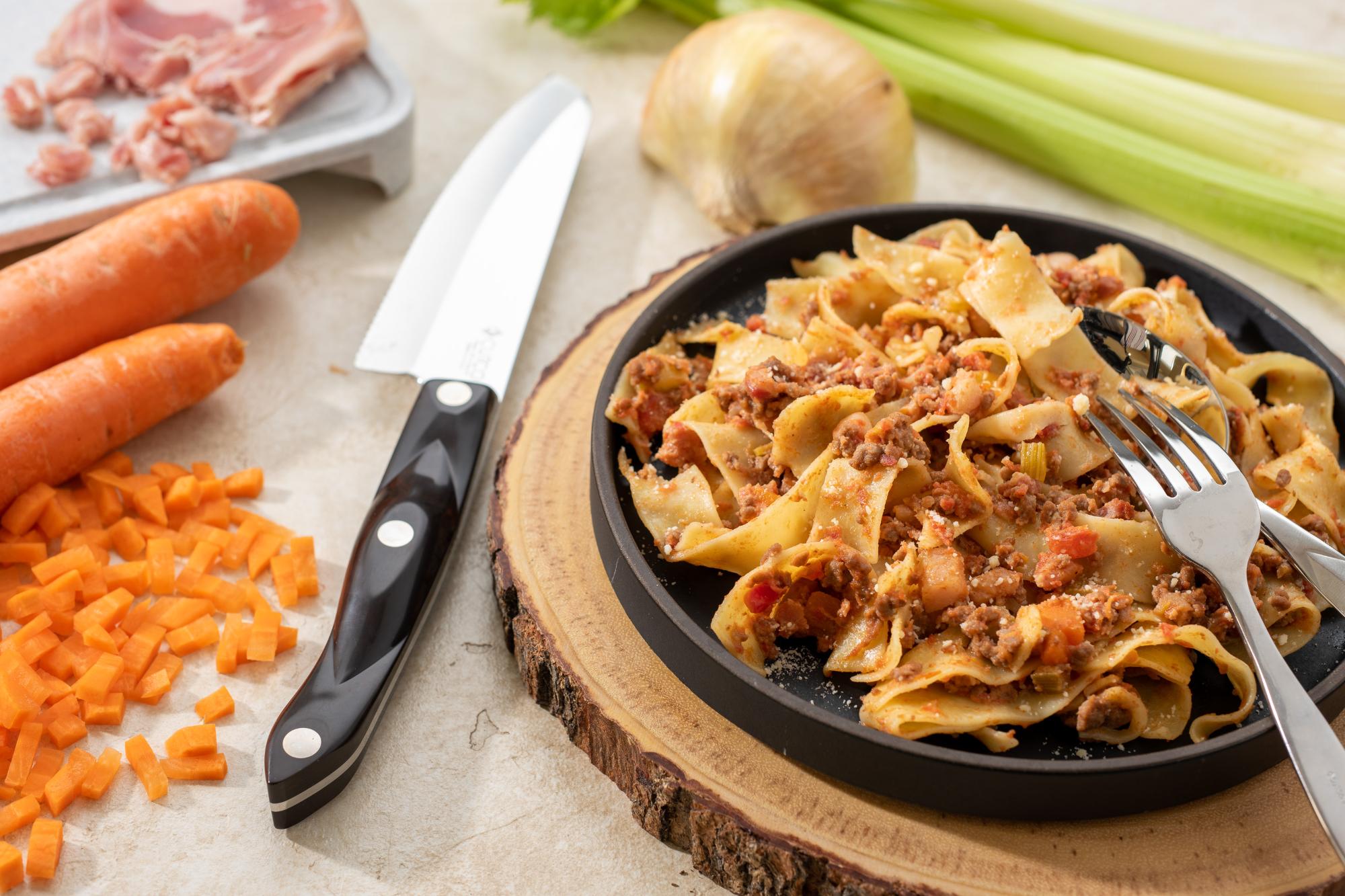 The pasta dishes in Italy are amazing to me, each one from a particular region that has its own special twist or ingredient. Every dish uses a particular pasta that works with the sauce to give you maximum flavor. The sauces that dress the pasta are what make these dishes so delicious and while there are many to choose from, one of my personal favorites is Bolognese sauce, which is a traditional Italian meat sauce.
Unlike the American version of meat sauce that is tomato-based, an Italian Bolognese sauce is much thicker and creamier (since milk and cream are ingredients) and it has just a little bit of tomato. It's a dish that comes from the city of Bologna, which is located in the northern region of Italy (north of Florence) and is known for its fine cuisine. You'll often times hear a Bolognese sauce referred to as a ragù, which is the general term for a meat-based Italian sauce served with pasta. Ragù alla Bolognese is the specific variation of the meat sauce from Bologna that uses white wine rather than red.
This is not a sauce you can rush, but trust me it's worth the time and effort. Our Italian Bolognese Sauce with Pancetta and Pappardelle combines the traditional ingredients of ground beef, plum tomatoes, white wine and whole milk with a twist of pancetta and a little heavy cream. The end result is a hearty dish that is truly mouth-watering and one you'll want to share with others.
To start, we used a large can of plum tomatoes that we put into a food processor and pulsed a few times to break them down. You want the tomatoes to be in pieces – not too big or small.
As I mentioned, pancetta is one of my secret ingredients for this sauce. Pancetta is a pork belly salami that is salt cured and is typically added to soups and sauces for additional flavor. You can find pancetta in the deli section but make sure they cut you at least half-inch slices so you can get a good dice. To dice our pancetta, we used the Hardy Slicer, which was perfect to cut through the fat and meat.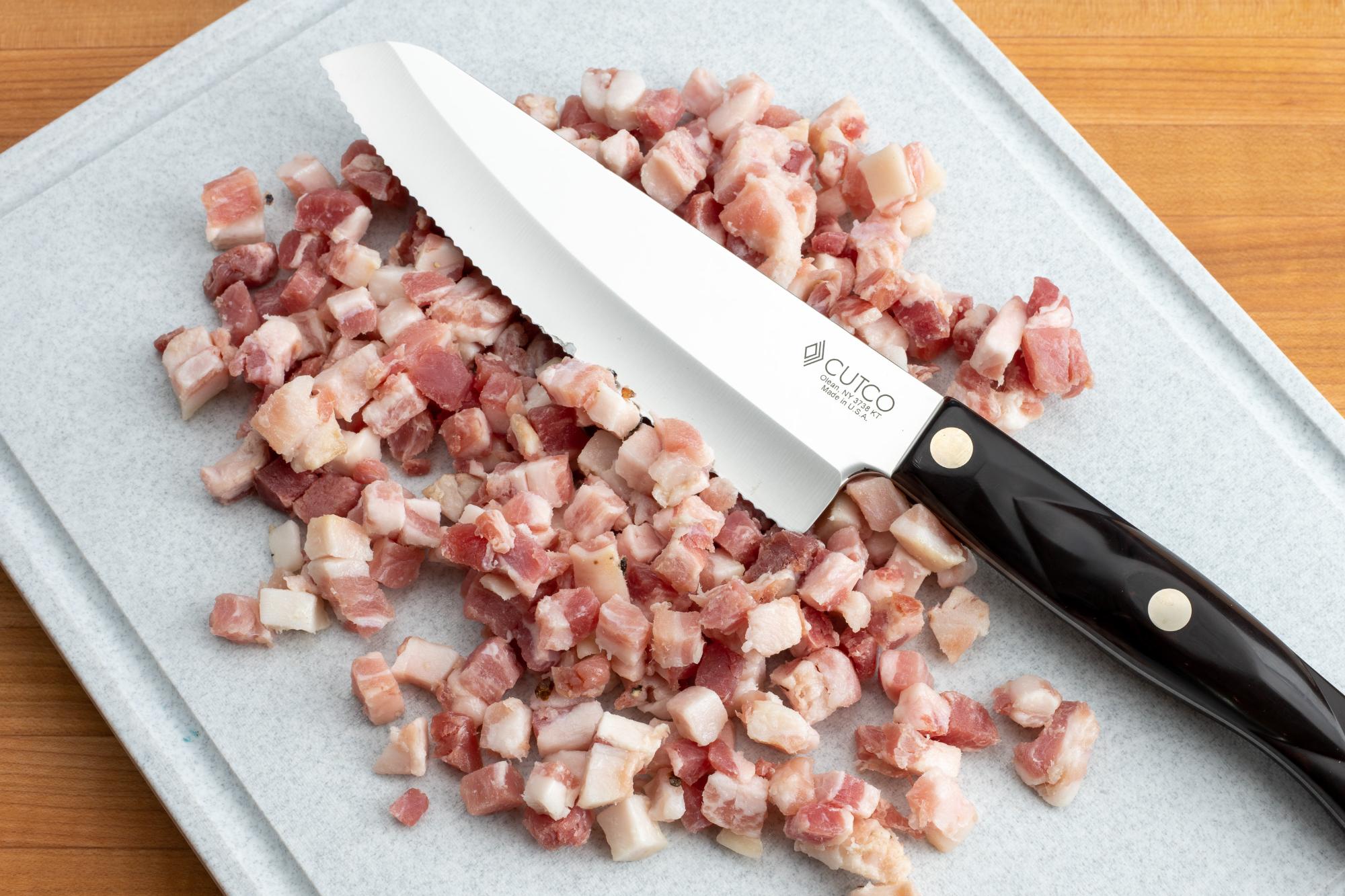 You'll also need to chop up some celery, carrot and onion, which is called a mirepoix (meer-pwah) in some culinary circles. It's the trifecta of ingredients for stocks, soups, sauces and many other things. We used the 7-5/8" Petite Chef knife to quickly dice these three vegetables, ensuring they were of similar size for even cooking.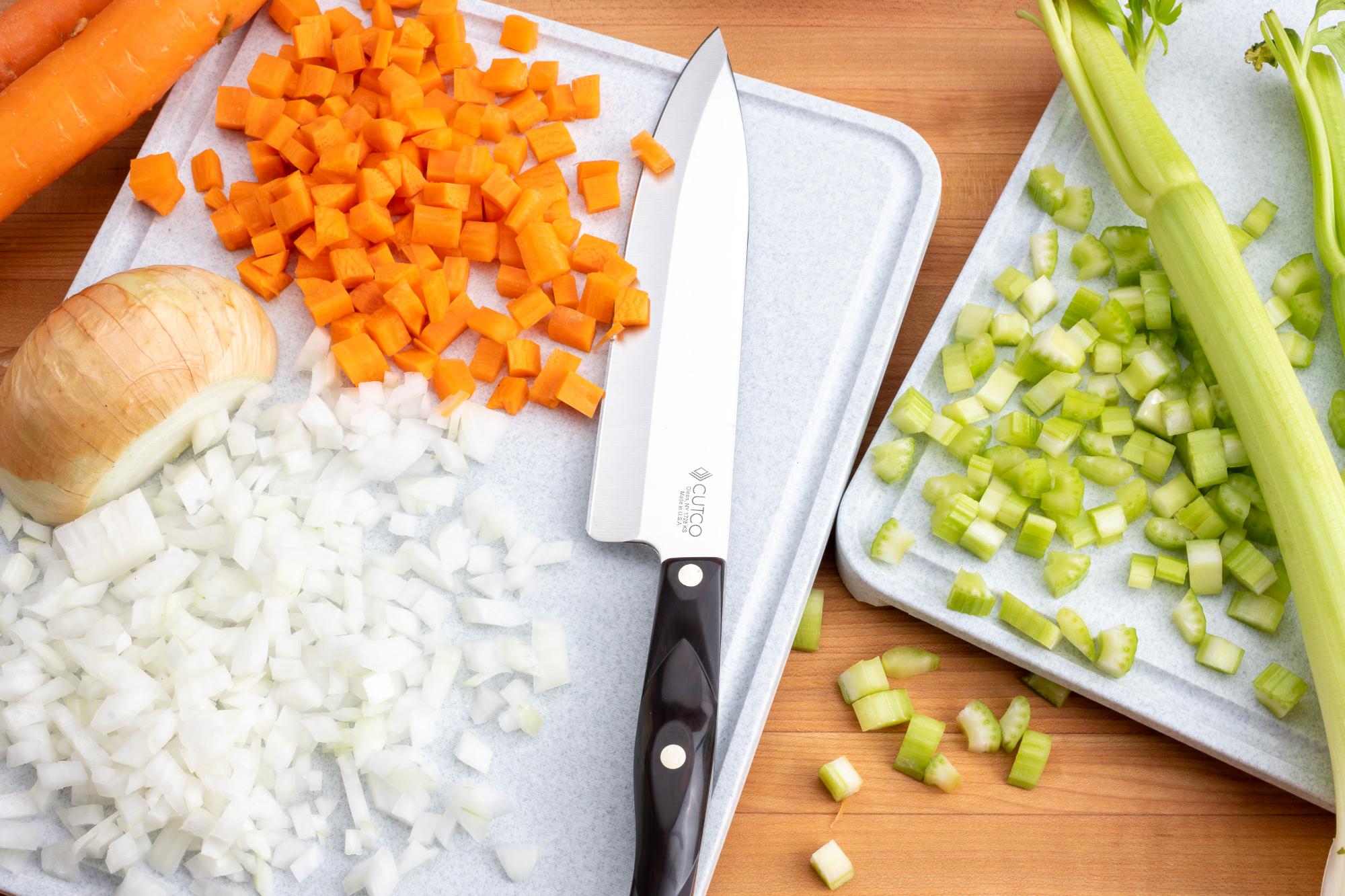 Once these ingredients are cut, you start by adding the pancetta to the olive oil and cooking them for a bit before adding the celery, carrot and onion mixture. Once the vegetables are soft, add the beef and allow that to cook before adding the wine.
The next ingredient is whole milk and here is an important tip. Make sure the milk is room temperature. You don't want to add cold milk to a hot dish as that will make it curdle. That same tip applies for when you add the heavy cream. Now begins the long cooking process and you really do need 2 hours of cooking time over low heat. That is what brings all of the flavors together and thickens the sauce.
Once you've added the cream and cooked for some additional time, the next important tip is saucing the pasta. You want to cook your pasta al dente, to where it still is firm when bitten. Once it is cooked, drain it and add it to the sauce while the sauce is on low heat, stirring it with the Basting Spoon to ensure all of the pasta is covered. This is called saucing the pasta and ensures the sauce sticks to your pasta.
For this recipe, we used papperdelle pasta, which is a wide noodle. You could also use tagliatelle but I wouldn't recommend anything else as you really need a substantial pasta to hold up to this sauce.
For serving, I recommend placing the entire dish on a large platter for presentation purposes or you can dish out individual plates. Just make sure to top it with some freshly grated Parmigiano-Reggiano cheese. I'm not exaggerating when I say this dish is fabulous. The rich meaty sauce with just hints of tomato, rich flavor from the pancetta and the creaminess from the milk and cream are perfection. I highly recommend making this Italian Bolognese Sauce with Pancetta and Pappardelle for a romantic meal or special occasion, but honestly it's good any time. It's sure to impress.
Ingredients
1 28-ounce can plum tomatoes
1 tablespoon olive oil
1/2 pound pancetta, diced
1 large celery stalk, diced
1 medium carrot, peeled and diced
1 medium onion, diced
1 pound ground beef chuck
Pinch salt
Pinch black pepper
1 cup dry white wine
1 cup whole milk, room temperature
1 cup water, if needed
1/4 cup heavy cream, room temperature
1 pound pappardelle or tagliatelle, cooked to al dente and drained
Freshly grated Parmigiano-Reggiano cheese
Directions
Place the tomatoes and juice in a food processor and pulse until they are in pieces and set aside.
Place a large pot on medium-low heat and add the olive oil.
Add the pancetta and sauté for 5 minutes and then add the celery, carrot and onion and continue to cook for approximately 10 minutes until the vegetables are soft and translucent.
Adjust the heat to medium and add the ground beef, salt and pepper to the pot. Make sure to break the meat into small pieces and cook until the meat is browned.
Add the wine and let it simmer until it has evaporated, scraping the bottom of the pot to loosen all the cooked ingredients.
Add the milk, letting the mixture simmer gently until the liquid has cooked down.
Turn the heat to medium and add the pulsed tomatoes and stir the mixture thoroughly. When the mixture begins to bubble, turn the heat to low and cook, uncovered, for at least two hours. Make sure to stir occasionally and check that the sauce is not sticking to the bottom of the pot. If needed, add ½ cup of water at a time and stir to combine. Just make sure the water has completely evaporated.
After 2 hours of cooking, the sauce will have thickened. Stir the sauce to combine all the ingredients again and add the heavy cream. Stir and cook at a low simmer for 15-20 minutes more until the sauce is thick and creamy.
Taste the sauce and add additional salt and pepper as needed.
With the heat on low, add the cooked al dente pasta, stir and cook for 2 minutes so the pasta is coated. Remove from heat.
Stir the mixture to ensure pasta is coated evenly and serve with the grated Parmigiano-Reggiano cheese.
NOTE: Serving - Makes 4 large portions or 6 smaller sized ones.
Recommended Tools