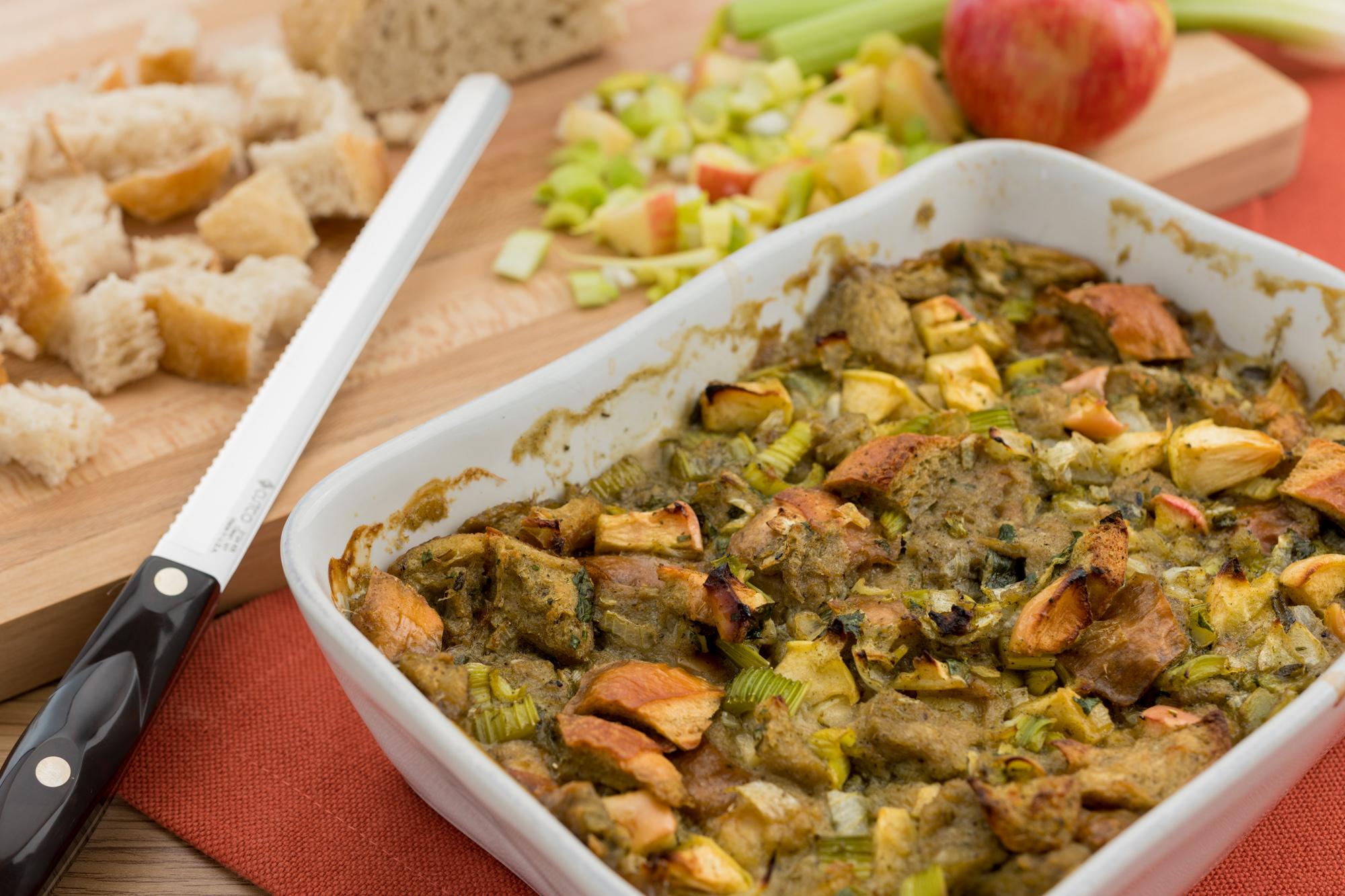 Many families have their tried-and-true recipes for special holidays and ours is no different. Whenever I tried a new stuffing recipe my Dad was disappointed that it wasn't the traditional bread stuffing he was used to. So, in honor of Dad, I am are sharing a very traditional bread stuffing with you.
If there's one knife that you'll need for this job, it's a bread knife, like Cutco's 9-3/4" Slicer. The Double-D® edge on this knife is absolutely amazing.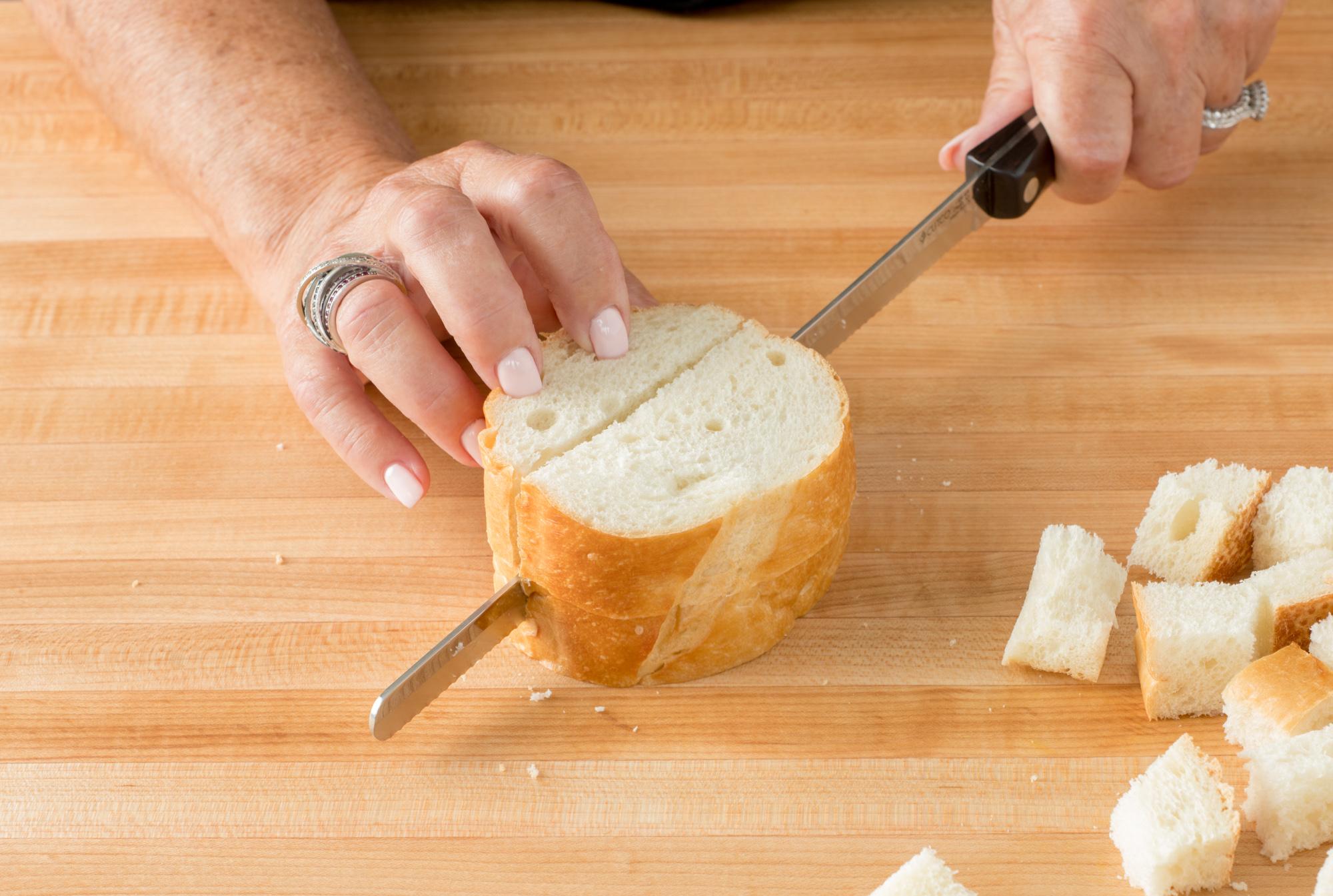 It slices effortlessly through the bread without crushing it. The recipe calls for day-old bread, but fresh bread will work if you place the bread cubes in the oven on low heat until they dry out.
Slicing the apple is a snap with the 4" Gourmet Paring Knife.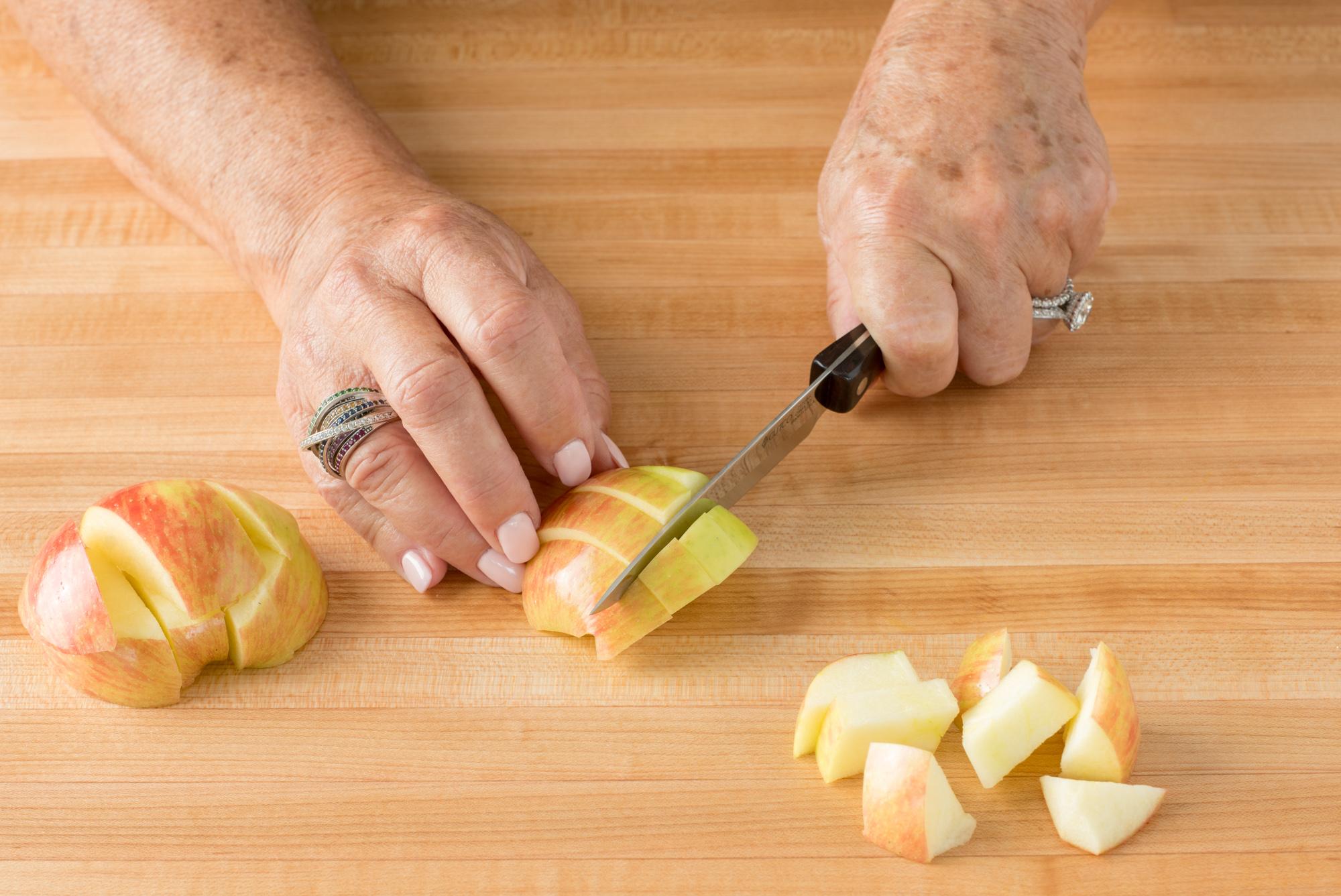 And a good prep knife like the 7" Santoku or 7-3/4" Petite Chef knife is a must for the celery and apples.
---
Calories: 170, calories from fat: 40, total fat: 4.5 g, saturate fat: 0.7 g, trans fat: 0.0 g, cholesterol: 0 mg, sodium: 280 mg, potassium: 215 mg, total carbohydrate: 27 g, dietary fiber: 2 g, sugars: 5 g, protein: 5 g, phosphorus: 65 mg.
Reprinted with permission from the American Diabetes Association. Copyright 2013 by the American Diabetes Association
Herbed Bread Stuffing
Serving Size 1/2 cup, 10 Servings
Print Recipe
Ingredients
2 tablespoons extra virgin olive oil
2 stalks celery, sliced
1 medium onion, diced
1 large apple, diced
1-2 teaspoons poultry seasoning, such as Bell's or McCormick
4 cups low-sodium chicken or vegetable stock
Large loaf of day-old bread, cubed (1 bag unseasoned stuffing cubes)
1/2 cup fresh herbs, such as Italian parsley, thyme, sage, or chives, chopped (a combination of your favorite herbs will also work well)
Directions
Place olive oil in large sauté pan. Add celery and onion and sauté until softened, approximately 3-5 minutes. Add apple and poultry seasoning. Toss well. Add stock and simmer 2-3 minutes. Add bread cubes and fresh herbs and toss well. Set aside to cool before stuffing poultry or pork.
You can also bake this stuffing in an ovenproof casserole dish rather than stuffing the bird. Bake at 350 F for 30 minutes. If you want crispy stuffing, bake uncovered. If you like a softer stuffing, you will want to cover.
VARIATIONS:
Use 1 cup dried fruit such as cranberries or apricots, sun-dried tomatoes, or chestnuts in place of the apple.
Exchanges: 2 starch, 1/2 fat
Recommended Tools