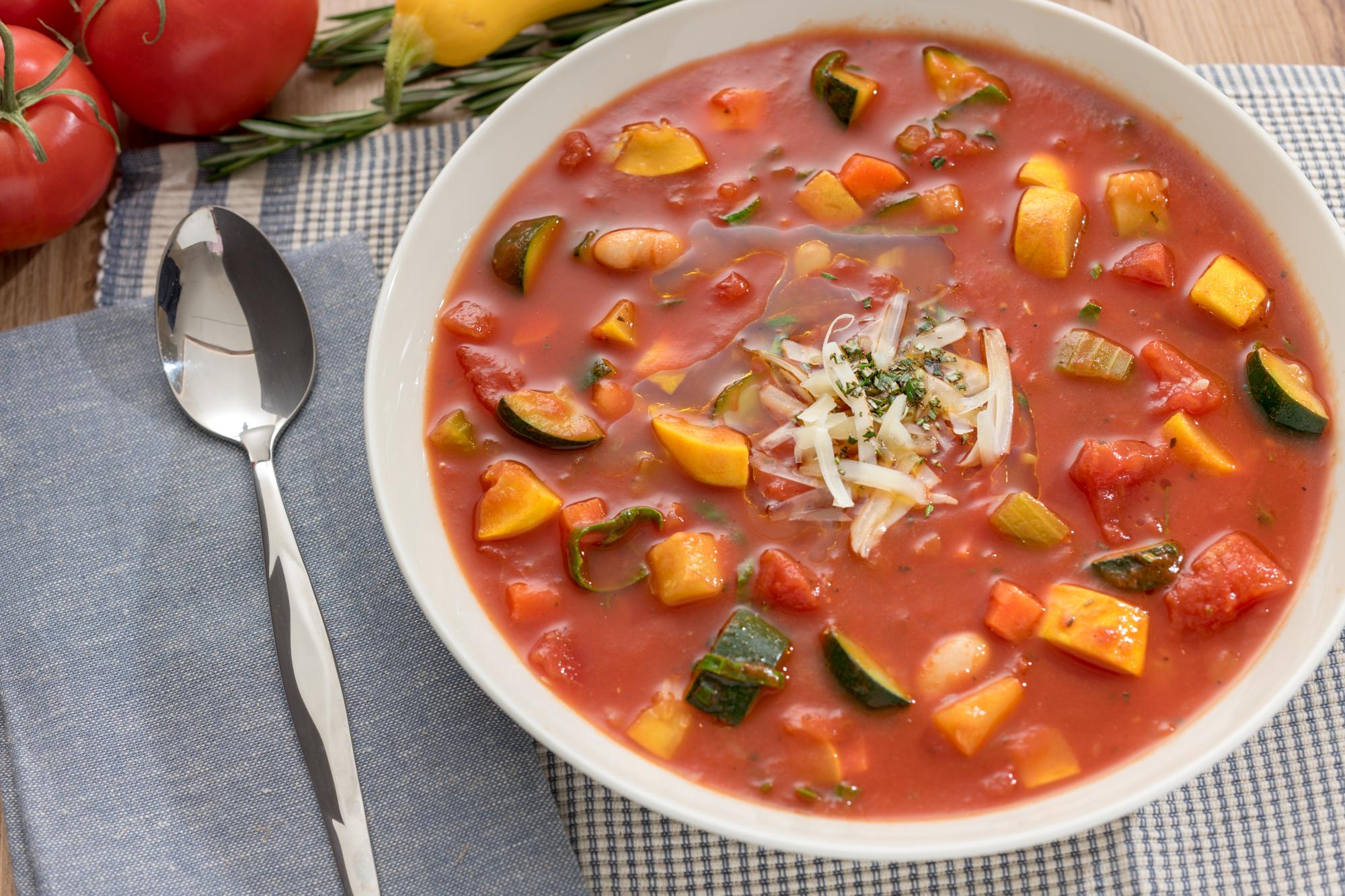 When I was a personal chef in Atlanta, I made double batches of this recipe every week for one of my clients-- who ate it even for breakfast. Then it became the star of my knife skills classes because it utilizes lots of evenly chopped ingredients.
One of the secrets to having vegetables sauté evenly is to cut them the same size. So this really is a great recipe for practicing dicing vegetables to a uniform size. I warm the oil in the pan and then add the vegetables as I dice them in the order listed. (I like to give the carrots a few extra minutes to cook while I prep the other vegetables.)
Do try the optional garnishes listed. Italian cooks have long known that olive oil adds wonderful flavor and richness to a dish, and that is especially true for this soup that contains no meat and very little fat.
A good chef knife is all you'll need to prep this recipe. Use it for dicing the veggies and chiffonade the spinach leaves.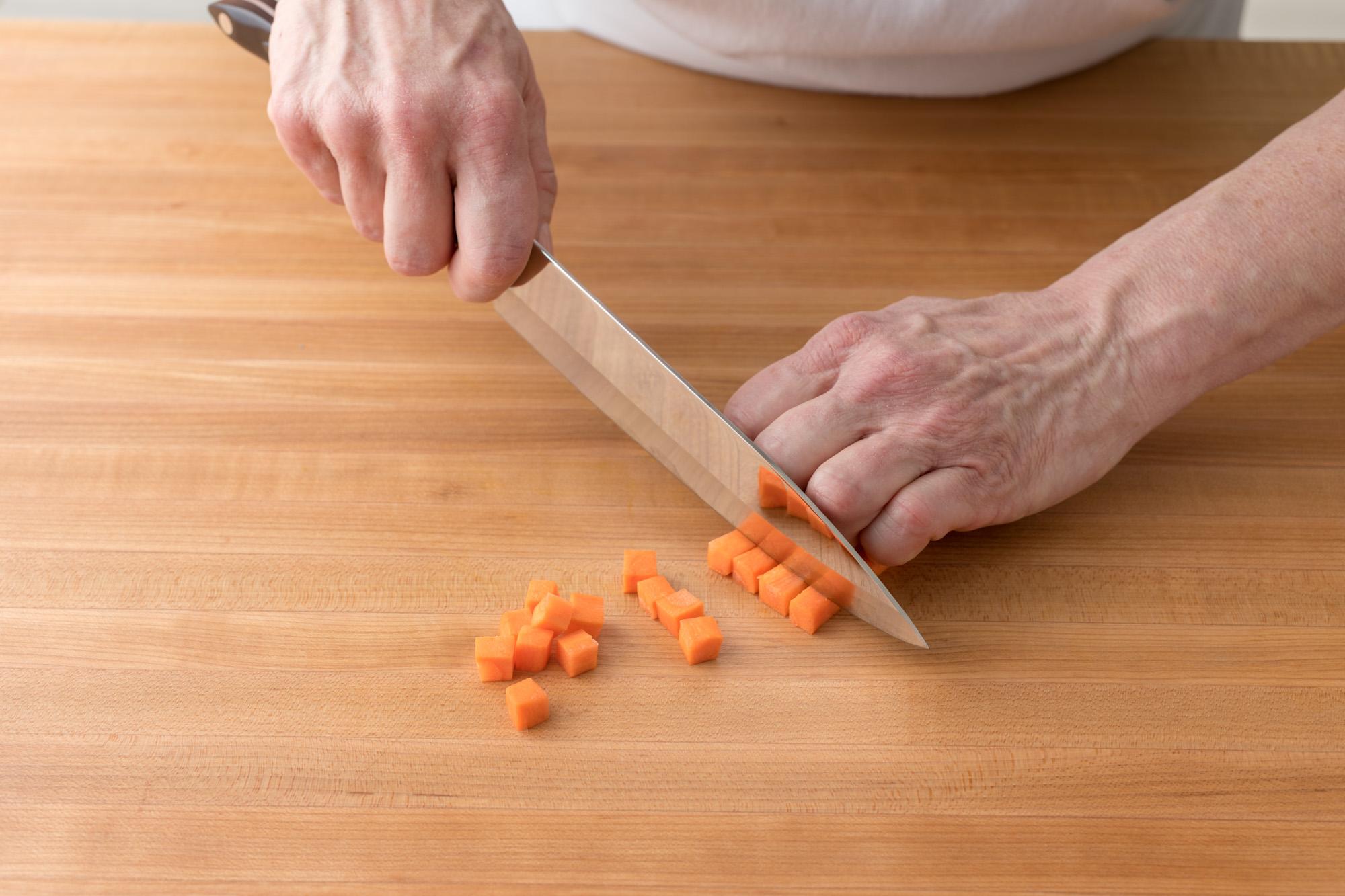 Cutco also has handy step-by-step infographics to show how to dice carrots and how to cut yellow squash.
Ingredients
2 tablespoons extra virgin olive oil, plus more as needed
2 carrots, diced
2 ribs celery, diced
1 large onion, diced
Kosher salt and freshly ground pepper
2 small zucchini, diced
2 small yellow squash, diced
1 teaspoon dried basil
1 28-ounce can diced tomatoes
1 28-ounce can tomato puree
1 15-ounce can cannellini or navy beans, drained and rinsed
2 cups water, tomato juice or chicken stock
2 cups spinach leaves, cut into strips (chiffonade)
Extra virgin olive oil (optional) for serving
Freshly grated Parmesan cheese (optional) for serving
Fresh basil or rosemary, finely chopped, for garnish (optional)
Directions
In a large pot, heat about 2 tablespoons olive oil over medium-high heat. Add carrots, celery and onion along with about a teaspoon of salt and half a teaspoon pepper. Sauté until vegetables begin to soften, about 5 minutes, stirring occasionally.
Add zucchini and yellow squash. Sauté for a couple of minutes, then add dried basil and stir. Add tomatoes and their liquid, tomato puree, beans, and 2 cups of water, tomato juice, or stock. Bring to a boil over medium high heat, then reduce heat and simmer for 20 minutes. (If soup is too thick, add more liquid.)
Stir in spinach leaves and simmer for 5 more minutes. Taste for seasoning and add salt and pepper if needed.
Ladle into bowls, top each serving with about a teaspoon of best-quality extra virgin olive oil and a sprinkle of cheese and fresh herbs, if desired.
Recommended Tools